What is the best ash vacuum cleaner? Well, regular vacuums cannot deal with all kinds of dirt. For you to clean out ash from the fireplace, pellet stove, barbecue, or an old-fashioned oven, you need an ash vacuum.
In this article, we explore everything to do with ash vacuums and how to choose them. We'll also point out the best ash vacuums of 2023 for you to choose from.
Best Ash Vacuum 2023 – Comparison Table
Before we go further, this is a summary of the 8 best ash vacuums that you can buy this year:
What is an ash vacuum?
Simply put, an ash vacuum is a vacuum that is specialized in picking up ash. These cleaners have special features that distinguish them from regular vacuums. We'll take a look at these features in a jiffy.
Ash piles up in the fireplace, barbecue, pellet stove, wood stove, fire pit, and so on. You must regularly clear out the ash so that the wood, charcoal or pellets can burn effectively.
How to choose the best ash vacuum cleaner
Before you settle on a particular vacuum, there are some factors that you need to consider. These are:
Material
The main distinguishing factor of ash vacuums is their ability to resist heat. Normal vacuums are usually made of plastic parts. If you attempt to suck in ash using these, you can cause major damage. So, a good ash vacuum must be made of heat-resistant material.
The canister is supposed to be lined with metal. Also, all the components such as nozzles and crevice tools must be made of metal such as aluminum.
Type of ash
Depending on the specific material you use to generate heat in your fireplace, stove, fire pit, and so on, the type of ash produced will be different. You may have pellet ash, wood ash, or charcoal ash. Also, the ash may be hot, warm or cold. Sometimes, you may have wet ash if you put off the fire using water.
As you shop for a vacuum, keep in mind the kind of ash you expect to deal with. Below is a breakdown of the types of ash that the top ash vacuums can handle:
We advise that you let the ash cool down completely regardless of the ash vacuum you have. This way, you will avoid sucking in hidden embers that may end up damaging the vacuum.
Filtration system
You must find out the type of filters used in your vacuum of choice. The filters must be effective and should also be very easy to clean.
The best ash vacuums have a 3-stage filtration system. In the first stage, a metallic mesh filter captures hot ash and large particles. The second filter is made of cloth and seals the top of the canister. Lastly, there is a HEPA-standard cartridge that traps the tiniest particles in the canister. This way, no ash particles or allergens are allowed back into the air.
Whereas not all ash vacuums have the full package, it is advisable to seek one that has a HEPA filter. This is crucial for anyone dealing with allergies and asthma.
Size, weight & capacity
Always consider how much storage space you have in the house. This is where the size comes in. At the same time, you need to know how heavy a particular vacuum is. You don't want to buy a unit that would be challenging to move. A vacuum that has casters makes the task a lot easier even for heavy vacuums.
You must also check the dirt capacity of the canister. The larger the capacity, the more convenient it will be. It the capacity is small you have to empty the ash more frequently – sometimes midway through one job.
Power cord
A short power cord may force you to buy an extension cord. Why not buy a vacuum with a long cord and get done with it? However, this is not a problem if there's a power socket near the fireplace or stove. Another thing you need to check is if the cord is retractable. This is not critical, but it is an added advantage.
Hose
The hose must be long enough to reach all the ash in the target area. A short hose makes the work a lot more difficult than it should be. Also, as mentioned earlier, ensure that the hose is made of metal so that it can withstand hot or warm ash.
Suction power
Any vacuum must be able to pick up dirt effectively, whether it's for regular house cleaning or for industrial use. The same applies to ash vacuums. You can check the motor rating to know how powerful the suction is.
Full capacity indicator
Some ash vacuums have LED lights that let you know when it's time to empty the ash. However, some require manual checking. Given an option I know which one I'd pick – LED indicators all day, every day!
Budget
Just like when you're shopping for any other item, remember to stick to your budget. Sometimes, you may find that the preferred option costs more than what you had planned for. Instead of spending beyond your means, you can continue saving up for a few more weeks.
Warranty & customer support
Lastly, ensure that the ash vacuum you intend to buy has sufficient warranty coverage. Also, remember to check what parts are covered. The other thing is to find out how you can reach the manufacturer/seller in case of challenges. Reading feedback from existing owners can give you a clear picture of how customer issues are handled.
Reviews of the Best Ash Vacuum Cleaners of 2023
After tens of hours of research, we have settled on 8 ash vacuum cleaners that are worthy of consideration. These are the best ash vacuums that you can buy in 2023:
1. Cougar+ Ash Vacuum A0500 by Love-less Ash – best ash vacuum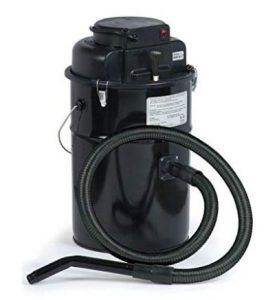 This USA-made vacuum is one of the best in the market. It has powerful suction thanks to a strong motor. With this vacuum, you can pick up ash from all kinds of places. This includes fireplaces, biofuel stoves, pellet stoves, wood stoves, outdoor ovens, fire pits, BBQs, wheat and corn stoves, and so on.
So, if you are looking for the best pellet stove ash vacuum or one for any other location, look no further.
The filtration system is another appealing feature. There's a two-layer filter coated with fiberglass as well as a sealed canister. This way, no ash will blow back onto the floor and furniture in your house. More importantly, you will be able to avoid breathing in ash that could cause major breathing problems.
Please note that the vacuum is meant for cold and warm ash. It is not recommended for hot ash. However, if you happen to suck in hot ash or coal particles, the filters are flame resistant and can withstand temperatures of up to 1000 degrees. Also, other parts are made of plastic material that won't catch fire easily.
This Cougar Ash vacuum has a 5-foot metal flex hose. For convenience, you also get a variety of accessories that make the work easier. This includes a metal nozzle, a horsehair brush, and a crevice tool. A pellet stove hose, two miniature brushes, a miniature crevice tool, and two miniature extension wands are also provided. So, every nook and cranny will be free of ash by the time you're done.
The best thing to do is to let the ash cool down a bit before you use the vacuum. Ultimately, this successor to the Cheetah II Ash Vacuum will serve you for long.
Features
Metal construction
Dual filter system
Sealed canister
5-foot hose
Port size: 1.25 inches
6-foot power cord
Weighs 17 pounds
Height: 22 inches
Airflow: 90 CFM
120V, 6-amp motor
External filter agitator rod
Ash capacity: 3 Gallon
Noise level: 80 dB
Pros
Great suction
Fire resistant
Large capacity
Many accessories
Accessory bag
Easy to carry
Excellent filtration
Great with fine ash
The filters are easy to clean
10-year limited warranty
Cons
It's pricey
Relatively loud
The hose and power cord are short
Click here to see its current price.
2. Shop-Vac 4041300 Ash Vacuum – Best Ash Vacuum for Pellet Stove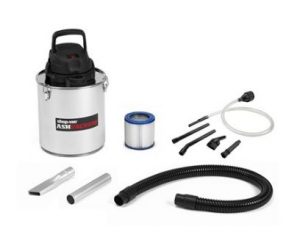 This is the successor of the Shop-Vac 4041200 Ash Vacuum, which is still one of the best ash vacuums. So, you can expect even better service when getting rid of ash from the fireplace, wood or pellet stove, barbecues, and so on.
This unit has powerful suction that is expected of any good ash vacuum. Also, the tank is made of stainless steel to ensure that it lasts longer. It is also easy to carry using a well-designed handle because it's not very heavy.
Unlike most ash vacuums, the Shop-Vac 4041300 is ideal for anyone struggling with asthma attacks and allergies. It uses a dual filtration system that included a HEPA cartridge. HEPA filtration ensures ash and other allergens such as dust and pollen remain inside the tank.
Being one of the best vacuums for pellet stove ash, it also comes with a full pellet stove kit. Also, you get a metal crevice tool and a metal intake nozzle which help to reach all cracks and crevices.
Features
Motor: 120V, 6.3 Amps
2-stage filtration
HEPA cartridge
Airflow: 80 CFM
4-foot, wire wound hose
Hose diameter: 1.5 inches
6-foot power cord
Capacity: 5 Gallon
Weighs 13 pounds
Stainless steel tank
Top-carry handle
Thermal cut off in motor
Height: 17.5 inches
Pros
HEPA filtration
Durable
Large capacity
Easy to carry
Convenient storage
Two-year warranty
Motor shuts off in case of overheating
Inspection window blockage indicator
Cons
Short power cord and hose
Click here to see its current price.
3. Snow Joe ASHJ201 Ash Vacuum – Best Budget Ash Vacuum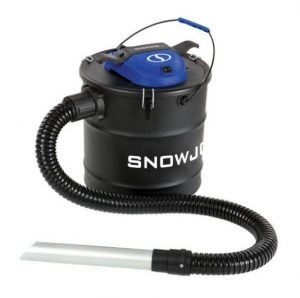 This is another fantastic option for anyone who has a wood stove, pellet stove, fireplace, fire pits, BBQ grills and the like. Snow Joe (and Sun Joe) are popular brands when it comes to home improvement machine, gadgets, and tools. So, you can never go wrong with the company's products.
The vacuum has enough suction power and uses a 2-stage filtration system. The ash is trapped inside the metal canister by a coarse-dust pre-filter in conjunction with a fine-dust pleated filter. This ensures that the air quality remains intact.
Due to its weight and compact size, it is very easy to carry around as you use. Also, storage is a walk in the park. The major downside of this unit is the lack of attachments. This makes it difficult to pick up ash from cracks and crevice in the pellet stove, fire pit, or fireplace.
Features
Dual filtration system
Weighs 8.8 pounds
Hose length: 3.9 feet
Intake nozzle: 11.8 inches
Power cord: 8.5 feet
Motor: 4-amp, 500W
Airflow: 42.4 CFM
Capacity: 4.8 Gallon
Height: 13 inches
Noise level: 92 dB
Pros
Lightweight
Easy to store
Great design
Inexpensive
Large capacity
It's easy to assemble
Filters are easy to clean
Full two-year warranty
Cons
Loud
Short hose
No accessories
The suction power could be better
Click here to see its current price.
4. BACOENG Ash Vacuum Cleaner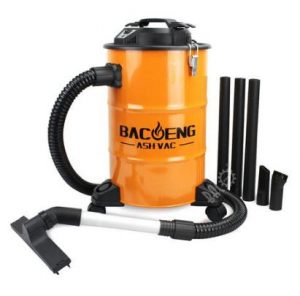 This is a great ash vacuum that can also be used for regular dry shop vac cleaning tasks. Its tank is large and it has enough power to clean out all types of ash. This is thanks to a strong 10-amp motor that is equipped with an overheating prevention mechanism.
When it comes to maintaining top-notch air quality, this unit is among the best. It uses a dual filtration system that is composed of a HEPA filter and a Dacron type filter bag. This ensures that all ashes and pollutants are captured and trapped inside the vacuum. This is particularly ideal for allergy sufferers and the asthmatic.
Convenience is another strong point. With a long power cord, you have the freedom of using the vacuum independent of any extension cords. Also, it has an array of accessories that help to reach ash from all tight spots. These accessories include 3 extension wands, a crevice tool, and an upholstery nozzle. You also get a special attachment for picking up any ash that is strewn on smooth floors and carpets.
Features
Motor: 10 Amp, 120V, 1200W
Capacity: 3.5 Gallon
Power cord: 15 feet
Hose length: 5 feet
Hose diameter: 1 1/16
Weighs 12.2 pounds
Metal construction
2-stage filtration (Dacron filter bag + HEPA filter)
Pros
Powerful suction
HEPA filtration
Full-bag indicator
Washable filter
Long power cord
Convenient storage
It's durable
Cons
The outer filter (Dacron) is too effective that it gets clogged very fast.
Click here to see its current price.
5. PowerSmith PAVC102 Ash Vacuum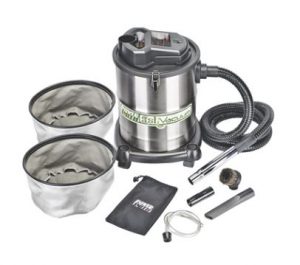 This is the successor of the PowerSmith PAVC101 which has been among the best vacuums for pellet stoves, fireplaces, etc. The brand is renowned for producing efficient cleaners that tackle ash head-on, regardless of the type or location. A powerful 10-amp motor takes care of business.
The unit is made to last. It has a heat resistant metal hose and a strong canister that is made of stainless steel. The filter is also heat-resistant.
The vacuum also allows the user to clean conveniently and comprehensively. A long power cord is available so that you stop worrying about how far the power outlet is. You also don't need an extension cord. Also, it's easy to drag the unit along the floor because it has wheels. An accessory kit is also available.
Some of the attachments included are a metal nozzle, a crevice tool, a brush nozzle, and a pellet stove hose. If you need to clear any leaves from the lawn or backyard, simply connect the hose to the air outlet.
Features
10-amp motor, 120V
16-foot power cord
10-foot hose
Capacity: 4 Gallon
Noise level: 79 dB
Weighs 12.4 pounds
Pros
Powerful suction
Long power cord
Large capacity
Heat resistant
Long hose
Easy to carry or drag
Can be used as a blower
Onboard tool storage
Cons
Click here to see its current price.
6. WORKSHOP Ash Vacuum Cleaner WS0500ASH – Best Ash Vacuum for Fireplaces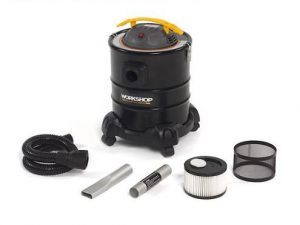 This compact yet powerful vacuum is also one of the best ash vacuums in 2023. It is powerful enough and also has an LED light on the hose. This helps to make the visibility better when cleaning pellet/wood stoves, fire pits or fireplaces.
HEPA filtration is also available to trap all particles in the vacuum so that the air remains clean and fresh. This is positive news if you have breathing problems, allergies or asthma. Also, the filter has a non-stick material coating that prevents clogging.
The vacuum is made of 29-gauge steel that ensures it lasts long. You also get accessories that make work easy (also made of metal). These are a crevice tool: and a metal wand. These attachments allow the user to reach tight spots and access all cracks and crevices without breaking a sweat.
This vacuum is the best for fireplaces, but it can be used in all other areas that ash can be found. Barbecues, pellet and wood stoves, fire pits or chimineas are also applicable.
Features
8-foot power cord
3-foot hose
Hose diameter: 1.25 inches
Motor: 3 peak HP, 120V, 7.6 Amps
Airflow: 47.7 CFM
Capacity: 5 Gallon
Has 4 wheels
Metal construction
Large carry handle
Weighs 13 pounds
Pros
Powerful suction
Large capacity
Onboard tool storage
Easy to move or carry
LED lights for dark spots
HEPA filtration
5-year warranty
Cons
The hose is very short
The cord could be longer
Click here to see its current price.
7. TACKLIFE Ash Vacuum Cleaner PVC03A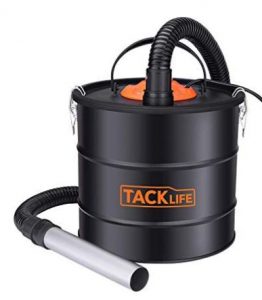 Finally, we have the TACKLIFE PVC03A. It is also great for getting rid of ash from fireplaces, wood burners, wood stoves, pellet stoves, and barbeque grills. It has a strong motor that produces enough power to suck in ash and dust with ease.
For durability, the unit is made of metal (both the hose and the canister), making it fire-resistant. Its nozzle is also made of aluminum. So, it can be used to clear warm ashes.
Features
Weighs 9.53 pounds
Metal construction
Power cord: 16.4 feet
Hose length: 3.9 feet
Hose diameter: 1.44 inches
Motor: 800W, 120V
Capacity: 4.75 Gallon
Pros
Lightweight
Easy to store
Strong suction
Fire-resistant
Durable
Washable, replaceable filter
Cons
Click here to see its current price.
Why you shouldn't use regular vacuums for ash
The temptation to use your Dyson or Shark vacuum to clean ash may be too strong. But you have to resist it! If you insist on using a regular vacuum, you may have to replace parts or the entire unit. There are a few things that limit these types of vacuums:
Filters: Regular vacuums do not have the right filters to handle ash.
Material: As mentioned earlier, ash may be either hot or warm. Most regular vacuums are made of plastic material. This will get burned if they get into contact with hot ash or particles of wood or charcoal that is still burning.
Capacity: Most regular vacuums do not have adequate capacity. So, if you need to clear out ash from a fire pit, you may have to make several trips to and from the pit before you finish the task.
Most ash vacuums are quite cheap. Instead of risking an expensive Dyson for the wrong purpose, it's better to buy the right tool.
Conclusion
Finding the best ash vacuum can be a daunting task. However, we have researched and presented to you the best 7 of the lot. The most important thing is to know what to consider before buying a vacuum to clean your fireplace, fire pit, pellet stove, wood stove or oven.
Once you read our buyer's guide, you will have a clear picture of what to expect. A good ash vac should be powerful, have a large capacity, and must be easy to use. It is also advisable to get one with a few attachments so that no spec of ash is left uncollected.
These are the best ash vacuum cleaners in 2023:
Cougar+ Ash Vacuum A0500 by Love-less Ash
Shop-Vac 4041300 Ash Vacuum
Snow Joe ASHJ201 Ash Vacuum
BACOENG Ash Vacuum Cleaner
PowerSmith PAVC102 Ash Vacuum
WORKSHOP Ash Vacuum Cleaner WS0500ASH
TACKLIFE Ash Vacuum Cleaner PVC03A
Best Ash Vacuums – FAQs
Q. What type of ash can my vacuum handle?
A. Well, there are different types of ashes. These include pellet ash, wood ash, and charcoal ash. Ash may be hot or cold. It can also be dry or wet.
While all ash vacuums can pick up cold ash, only a few can handle hot ash or embers. A good example is Cougar+. By reading a detailed review such as this, you can get a clear picture of what each vacuum can deal with.
Q. What are the best ash vacuum brands?
A. Some of the top ash vacuum brands include Shop-Vac, PowerSmith, Cougar, Snow Joe, TACKLIFE, WORKSHOP, and Vacmaster.
Q. Can I use my ash vacuum for drywall dust and soot?
A. Any ash vacuum that is capable of handling fine ash is also suitable for drywall dust and soot.
Q. Can all ash vacuums suck in warm or hot ash?
A. No. Most ash vacuums are meant for cold ash. Be careful to check whether the manufacturer indicates that the vacuum is capable of handling warm or hot ash.
Q. How do I deal with wet ash?
A. If you deal with wet ash regularly, you need to buy a wet/dry shop vac. Even the best ash vac can get clogged very fast if used wet ash.