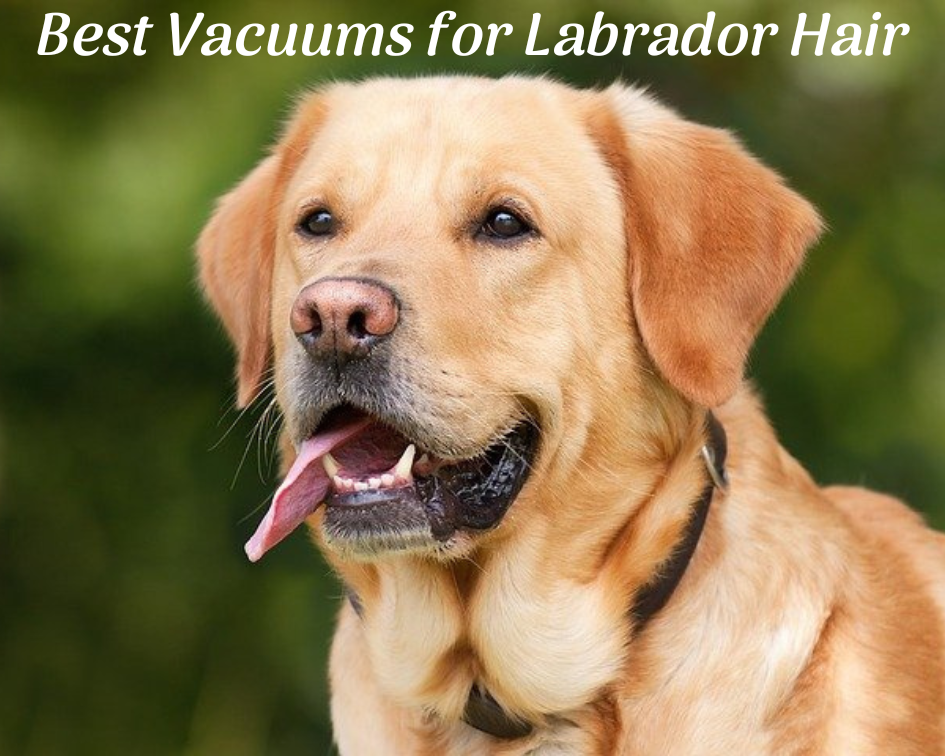 If you have one or more Labs, you must be dealing with lots of hair on the floor, seats, or your bed. But what is the best vacuum for Labrador Retriever hair? Today, we take a look at seven options that will not only meet but also exceed your expectations.
Labrador Retrievers are quite popular in the US and across the globe for many reasons. In fact, the Labrador Retriever is the most popular dog breed. However, they shed a lot, and if you are not well prepared you can be in for a rude shock.
One way of keeping your house in order is buying a good vacuum cleaner and knowing how to use it well.
Best Vacuum for Labrador Retriever Hair – Comparison Chart
In this article, we take an in-depth look at Labradors – where they came from, why people love them, and so on. Our experts have reviewed these vacuums and they certainly offer value for money. Before we discuss more, below is a summary of the top 7 best vacuum cleaners for Labrador Retriever Hair:
Related: Best Vacuums for German Shepherd Hair
A Brief History of the Labrador Retriever
We can trace the origin of the Labrador Retriever to Newfoundland in the 1800s after locals bred a smaller version of St John's Water Dog (Newfoundland) to retrieve fish and nets. This particular breed of dogs had the capability and build to participate in fishing specifically in the Labrador Sea.
Since the name Newfoundland had already been taken, breeders settled on Labrador instead. After all, it is where the dog spent most of its time. Also, it is where all the characteristics that make the dog loveable and a huge asset were clear for all to see.
Some of the features that made Labradors great companions to fishermen include:
Loved swimming
Great stamina
Long leaps
Webbed paws
Otter tail
Layered, oily coat
The Labrador Retriever, as we know it today, was developed in England. In 1903, Labradors became officially recognized by the British Kennel Club. As its popularity grew, the English Labrador Club was formed in 1960.
Across the ocean in the US, the Labrador Retriever was also gaining popularity after being recognized by the American Kennel Club in 1917. Labrador's prowess and loveable nature have seen it grow in popularity in the US and across the globe by tremendous proportions.
Since 1991, the Labrador Retriever has been the most popular dog breed in the US. That's a whopping 3 decades and counting.
Labradors Coat Colors
What's in a Lab's color? Well, this question is quite complicated. Over the years, the dog has evolved and developed a great deal in terms of behavior and appearance. Currently, there are six Labrador colors that you can easily recognize: black, yellow, chocolate, fox red, white, and silver.
However, only three colors are officially recognized by the American Kennel Club – black, yellow, and chocolate. While you may pick a particular color because it's your favorite or you want to match it with your other pets and décor, some traits are synonymous with particular Lab colors.
Black Labradors – very calm and skilled hunters
Chocolate Labradors – very energetic but difficult to work with
Yellow Labradors – friendliest and are the best for children
Out of the six variations, silver Labs are the rarest. So, if you like being unique, you can start the search for your next Labrador.
Why Labradors are the Most Popular Dogs
If you own a Labrador, you never want to look elsewhere. And even if you lose your beloved dog or want to add more, you always stick with this amazing breed. There is a reason why Labs are the most popular dogs in the US for over 30 years.
They are also the most recognizable since so many people have interacted with them in one way or another. Besides, they are adored as household companions and trusted by security forces including the military.
So, there has to be a reason (well, many reasons) why Labrador Retrievers are liked across the world. Below we look at 10 things that attract most people to Labs:
They are quite friendly
One of the most attractive traits of Labs is how friendly they are – to both adults and children. They like to hang around and play in or outside the house. When it comes to kids, they are patient and also love playing fetch. So, you can tend to other chores as they keep the young ones busy.
Also, they are very unlikely to bite unless extremely annoyed. Therefore, if you are looking for a companion dog, this is the go-to breed.
Intelligent and easy to train
If you see any dog breed being used by security detail such as the military, it is a sure way to know that a lot of research has gone into it. Only intelligent dogs that are easy to train can get such levels of engagement.
Because they are so loyal and very smart, it is very easy to train Labs to follow specific instructions. So, whether you just want a dog for company or sophisticated tasks, a Labrador Retriever will not disappoint you.
They are made for water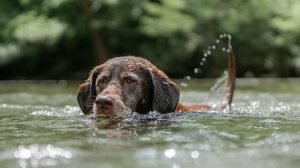 Labradors are perfect for you if you love water activities such as sports such as Dock Diving or fishing. They are strong, have webbed paws, and have otter-like tails that help them swim easily and fast. Besides, they have a layered coat to keep them warm and it's also oily making it waterproof.
Long lifespan
According to The Labrador Site, Labrador Retrievers can live for up to 12.5 years. This means that once you adopt a Lab, it will remain part of your lives for a long time. Of course, other things such as diet and diseases also have an impact on how long the dog lives.
Not too big and not too small
According to Dimensions, "Labrador Retrievers have a withers height between 21.5 to 24.5 inches and a typical weight in the range of 55 to 80 pounds. Their overall body length is roughly 36 to 42 inches and the standing height is between 28 to 33 inches."
Given that this height is not too big or too small, Labs are perfect pets for most families in the US and across the globe. They also look pretty good regardless of the coat color.
Good companions for other dogs and pets
Most pets tend to feel lonely and can get depressed if there are no other animals around. Thankfully, Labs are some of the best companions for other dogs. Their playful nature comes to the fore when they are around people and other pets.
However, not all dogs are compatible with Labradors. If yours is a perfect combination, by all means, go for it and you will have a happier, cozier home to live in.
They eat a wide variety of food
While some dogs are choosy, Labradors eat most of the dog food available on the market. However, you must find out if your dog has any allergies and the foods to avoid in such an instance. In case your dog becomes itchy, take it to the vet for an immediate diagnosis to avoid regrets.
Also, ensure to observe a strict diet since Labradors can easily become obese and get other complications.
Labs can survive in any weather
Unlike some dog breeds, Labs can survive in hot or cold weather due to their inborn stamina. So, you can confidently travel with your favorite pet across the states. However, always protect the dog from extreme weather such as freezing winter nights and particularly hot days.
Given their history in Newfoundland, Labradors generally do better in cold weather.
Easy to adopt
Getting a Labrador from a shelter is affordable for most people because you can get your new companion for as low as $50. However, buying one from an experienced breeder can cost anything from 400 to over 2,000 Dollars.
Overall, Labradors are easy to own whether you approach a shelter or a breeder.
They're very easy to groom
While regular grooming is necessary for all pets, Labradors require less of it than most dogs. So, owning a Lab will save you money and time. You only need to pay a visit to the groomer once in a while. Besides, doing the grooming yourself is easy and fun.
In the same breath, they are easy to clean after. As for the hair, finding the right vacuum can do wonders for you.
Disadvantages of Keeping a Labrador as a Pet
Owning a Labrador is not all sunshine and roses. While there are plenty of things to love about the Labrador retriever, it's also good to know the disadvantages or pros of keeping it as a pet. If you're looking for a vacuum, you're way past looking at the cons since you already know how to live with your dog.
However, learning never stops and we may open your eyes regarding one or two things that you could have missed. So, what are the challenges Lab owners face? Let's see…
Shedding
While they do not shed as much as German Shepherds (or German Shedders if you like), prepare for some work. And since they are so active and like to play a lot, expect to find hair everywhere – literally. Thankfully, you will be a new owner of a good vacuum that will come in handy.
Separation anxiety
Labradors love attention. Just like our children, they may suffer separation anxiety as they grow older. So, if you do not train them early, you can be in for a rough ride. To enjoy the best time with your dog, let them know that you can be away from them from time to time.
I know it's not easy, but it's gotta be done – unless you're 100% sure that the dog will always be by your side.
They eat a lot
As mentioned earlier, Labs eat a lot of food and all the time. This means that you have to spend a lot on dog food. Also, if you don't maintain a healthy lifestyle that involves playing and walking, your lovely pet can become obese.
Also, if you don't monitor what they eat, they can ingest toxic substances and that may lead to an untimely death.
Not the best for introverts and indoor lovers
Labs are so energetic. They love playing outside and going for long walks. So, if you prefer a sedentary lifestyle, this may not be the best pet for you. It can cause harm to the dog because of stress and obesity.
Besides, you need to walk the dog 3 to 4 times a day to maintain a healthy lifestyle.
Prone to some diseases
While Labs are quite active and often live a healthy lifestyle, they are susceptible to some illnesses such as dysplasia which results in pain of the hip joint due to malformation. Some Labradors also suffer from retinal dysplasia which is an eye defect that causes blind spots.
Also, due to their active nature, as they grow older, their knees and elbows may start developing problems.
Next, we look at the best vacuums for Lab hair…
Reviews of the Best Vacuums for Labrador Hair 2023
After extensive research on Labs, how much they shed, and the best way to pick up the hair, we narrowed it down to 7 vacuum cleaners. These are the best vacuums for Labrador Retriever Hair in 2023:
1. BISSELL 2252 CleanView Swivel Pet Upright Bagless Vacuum Carpet Cleaner – best vacuum for Labrador hair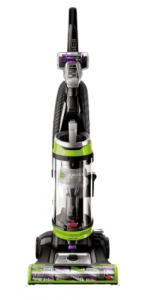 When looking for a vacuum to nominate as the best for Labrador Retriever hair, there are a few things we put down on a checklist. First, it has to be powerful enough to remove the hair from all corners of the house. Secondly, it must be easy to use. Lastly, it must be pocket-friendly.
And BISSELL CleanView Swivel Pet 2252 has all these and more. As you read along, you will find vacuum cleaners that cost over 1000 bucks. Yes, they are quite good but are often out of reach for most people. So, if you would like to save some cash but get the best performance, this is where your focus should be.
When you buy this unit, you can easily remove your Lab's hair from above-floor surfaces such as sofas, upholstery, cushions, curtains, and bedding. Therefore, you will be able to take care of the whole house instead of just the floor.
Apart from the normal attachments such as the crevice tool and a combo dusting brush/upholstery tool, it comes with special pet tools. These include a pet TurboEraser tool and a pet hair corner tool. So, picking up the Lab's hair in the house or inside the car is a breeze.
At a price point of about 100 bucks and a lot of focus on pet hair, you can clearly see why this is our top pick.
Features and specs summary
Color: silver/lime
Type: upright, bagless
Weight: 14.5 pounds
Motor: 8 Amps
Power cord: 27 feet
Hose length: 6 feet
Multi-cyclonic cleaning system
Multi-level filtration
Triple Action brush system
5-level height adjustment
Dual edge cleaning
Cleaning path: 13.5 inches
Dust cup capacity: 1 liter
Swivel head
Convenient carry handle
Dimensions (LxWxH): 13 x 14 x 44.5 inches
Pros
It is made especially for pet parents
Powerful suction
Easy to use because of the swivel head
Ideal for different floor types and above-ground vacuuming
Comes with handy pet tools
Wide cleaning path
Assembling, emptying, and cleaning is a walk in the park
Easy to move from one point to the other
3-year limited warranty
Cons
No HEPA filtration
It doesn't have headlights
Click here to see its current price.
2. Kenmore Elite 31150 Pet Friendly Bagged Upright Beltless Vacuum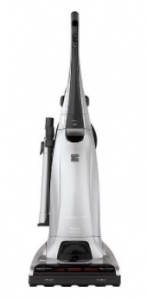 As the name suggests, this is an elite pet hair vacuum. So, expect it to work wonders on your floors and other surfaces. If you have been struggling with removing your Labrador's hair from the floor and other surfaces, Kenmore Elite 31150 Pet Friendly vacuum will definitely solve your problems.
It's our second pick because it is very effective on pet hair and does not cost an arm and a leg. Also, it has very powerful suction and LED lights to ensure that no hair is left on the floor. At the same time, it picks up all dust, dirt, and debris.
For above-floor vacuuming, you get a couple of attachments to help you pick up Lab hair from stairs, curtains, seats, cushions, upholstery, and from the bed. These include a combo dusting/crevice tool and a specialized pet Handi-Mate tool. These tools are also very helpful for removing hair from your car's interior.
Also, you get a telescoping wand to help you pick up hair from tight spaces and under furniture.
Another huge advantage over Bissell CleanView is the filtration system. It has a HEPA filter that ensures all allergens remain inside the vacuum. Besides, bagged vacuum cleaners are known to be better at keeping allergens at bay than their bagless counterparts.
So, it is also a good vacuum for allergy sufferers as well as those who get asthma attacks.
Features and specs summary
Color: silver
Type: upright, bagged
Weight: 21 pounds
Power cord: 35 feet
Motor 3D Inducer (12 Amps)
5-level height adjustment
Cleaning path: 12.75 inches
Filtration: Triple HEPA
Infrared dirt sensor
Fingertip controls
Dirt capacity: approx. 3.5 liters
LED headlights
Dimensions (LxWxH): 14.25 x 13.75 x 45.75 inches
Pros
Strong suction
Has pet tools
Easy to put together and use
It can spot hidden dirt using the dirt sensor
Excellent filtration system
Height adjustment makes it ideal for cleaning bare floors as well as different types of carpet
Cons
It's relatively heavy
Buying replacement bags can be expensive in the long run
Click here to see its current price.
3. Dyson Ball Animal 2 Total Clean Upright Vacuum Cleaner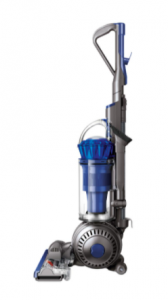 One of the best Dyson vacuums had to make an appearance here. Over the last few decades, Dyson has grown to become one of the leading vacuum cleaner brands. You are, therefore, assured of exemplary performance when it comes to ridding your house of Labrador hair.
Apart from the two floor nozzles, you get up to 6 more attachments so that you can leave no hair lying around. As we all know Labradors play a lot and you end up seeing hair in the strangest of places – even drapes. So, having this wide array of accessories will come in handy.
The attachments available include a combination tool, a soft dusting brush, a multi-angle brush, a stair tool, and a mattress tool. You also get a reach under tool for those tight spots such as under furniture. An accessory bag is also available to make life even easier for you.
Besides, one of the floor attachments called the tangle-free turbine tool is very important for Labrador owners. Unlike other vacuums whereby you have to stop and remove tangled hair, it has counter-rotating brush heads that prevent this common pain point.
Overall, the Dyson Ball Animal 2 Total Clean Upright Vacuum Cleaner is one of the best vacuums you can go for. Not only does it remove pet hair exceptionally well, but it also deals with other dirt mercilessly. It has a great filtration system too.
Features and specs summary
Color: blue
Type: upright, bagless
Weight: 17.5 pounds
Power cord: 35 feet
Maximum reach: 50 feet
Filtration: whole-machine
Dyson's Ball technology
Instant-release high-reach wand
Self-adjusting cleaner head
Washable lifetime filter
Radial Root Cyclone technology
Dirt capacity: 0.55 Gallons
Dimensions (LxWxH): 15.35 x 13.39 x 42.13 inches
Pros
Strong suction
Specialized floor attachment for pet hair (no tangling)
Wide range of tools for above-floor vacuuming
Super filtration system
Long cleaning radius
Works well on both hard floors and carpet
Long warranty (5 years)
Cons
It's a bit pricey
Relatively heavy
The long power cord can be inconvenient if you don't have large rooms
Click here to see its current price.
4. Shark AZ2002 Vertex DuoClean PowerFins Upright Vacuum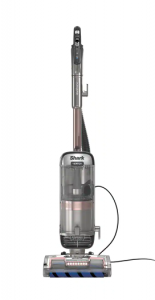 While Shark vacuums are usually good for pet hair, the latest technology dubbed PowerFins is what draws us to the Shark Vertex AZ2002. Instead of the traditional brushroll, fins engage the floor better while picking up the hair from bare floors as well as carpet.
So, you can be sure that apart from picking up the hair, you'll not have to deal with tangled hair. This is also the case if you choose to go for one of the predecessors that use Zero-M technology.
Apart from that, this vacuum is very easy to set up and use thanks to swivel steering and Active Glide technology. Also, you can detach the canister (powered lift-away mode) to make the vacuum more compact. This way, vacuuming the stairs and other above-floor areas becomes a breeze.
Besides, a few attachments are available – a dusting brush, a pet crevice tool, and a self-cleaning pet power brush.
Another loveable attribute that makes the Shark AZ2002 Vertex DuoClean PowerFins outstanding is the filtration system. A combination of Anti-Allergen Complete Seal Technology and a HEPA filter works to trap up to 99.99 percent of pollutants inside the vacuum.
Therefore, it's also a good option for anyone struggling with allergies and asthma.
Features and specs summary
Color: rose gold
Type: upright, bagless
Weight: 16.38 pounds
Power cord length: 30 feet
Power rating: 1344 Watts, 11.8 Amps
HyperVelocity suction technology
DuoClean technology
Cleaning path: 12 inches
PowerFins self-cleaning brushroll
Filters: Washable HEPA, foam, and felt filters
Anti-Allergen Complete Seal Technology
3-level height settings
Dust cup capacity: 1 quart
Active-Glide technology
LED headlights
Dimensions (LxWxH): 12 x 15.09 x 46.25 inches
Pros
You will no longer have to worry about tangled Labrador hair
Powerful, consistent suction
LED headlights
Very easy to use
Ideal for carpet and bare floors
Excellent filtration system
Comes with pet tools for convenience
Long warranty (5 years)
Cons
Slightly pricey though offers and deals are common
Click here to see its current price.
5. Miele Complete C3 Cat & Dog Canister Vacuum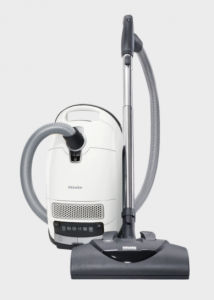 Miele has been around for over a century and has become a household name on matters of vacuum cleaners. While most Miele vacuums do well on pet hair, we recommend the Cat & Dog version because it is made with pets such as Labradors in mind.
So, expect top-notch performance from Miele Complete C3 Cat & Dog. Not only will it remove Labrador hair from your home, but it will also get rid of all kinds of dirt, dust, and debris. Besides, it has an array of convenient features such as an ergonomic handle, cord rewind, and a one-click locking system.
Also, it comes with attachments for above-ground vacuuming. These include a crevice tool, an upholstery tool, a dusting brush, and a handheld mini turbo brush. Any good vacuum should have this to enable you to pick up your Lab's hair from upholstery, furniture, stairs, and bedding.
Lastly, it has a fantastic filtration system that prevents dirt from being blown back into the air.
Features and specs summary
Color: lotus white
Type: canister, bagged
Total weight: 23 pounds
Suction power: 1200W
Power cord: 24 feet
Maximum reach: 36 feet
Active AirClean filter
5-level height adjustment
Convenient foot switch
Automatic cord rewind
Dirt capacity: 4.5 liters
Dimensions (LxWxH): 19.52 x 11.18 x 8.94 inches
Pros
Great for Labrador hair
Strong suction
Comes with handy tools
Durable build
Attractive design
Relatively quiet
Ergonomic design
It has a good filtration system
Cons
It's expensive to buy and maintain because of buying replacement bags
Click here to see its current price.
6. Shark LA502 Rotator Lift-Away ADV DuoClean PowerFins Upright Vacuum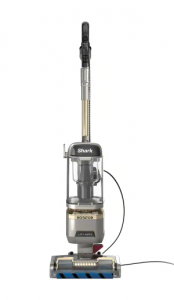 Just like with the Shark Vertex AZ2002, this vacuum is great for Labrador Retriever hair for many reasons. First, the PowerFins anti-hair wrap brushroll picks up all the hair while ensuring that you rarely get your hands dirty.
Besides, it works perfectly on the carpet as well as bare floors such as hardwood, tile, vinyl, and concrete.
Also, you get a few attachments to help you get to the hair on the couch, stairs, bedding, and other above-floor surfaces. These include a crevice tool, a pet power brush, and a pet multi-tool. You can see the focus on pets and pet hair – and that's what makes this unit one of the best for Labs.
Lastly, a good filtration system is critical in ensuring that indoor air remains clean and fresh. As with all the best Shark vacuums, the LA502 Rotator ADV has an Anti-Allergen Complete Seal system that works in tandem with a HEPA filter to trap up to 99.99 percent of airborne particles.
Features and specs summary
Color: metallic grey
Type: upright, bagless
Weight: 12.3 pounds
Power cord: 25 feet
Hose length: 6 feet
Anti-Allergen Complete Seal Technology
Filter type: washable HEPA and foam filters
Dirt capacity: 0.89 quarts
DuoClean technology
Power rating: 910 Watts, 10 Amps
PowerFins self-cleaning brushroll
Cleaning path: 9.5 inches
Lift-away technology
Advanced swivel steering
LED headlights
Dimensions (LxWxH): 10 x 12 x 46.5
Pros
Picks up Labrador hair like a champ
No hair wrap thanks to PowerFins technology
Strong suction
Ideal for bare floors and carpet
Easy to assemble and use
Excellent filtration system
Eye-catching design
Cons
The power cord could be longer
Narrow cleaning path (this may be a plus if there are tight spaces to vacuum)
Click here to see its current price.
7. Kenmore Intuition BU4022 Bagged Upright Vacuum Pet Friendly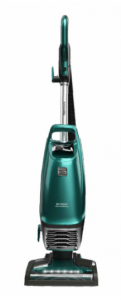 Kenmore is known to make some of the best bagged vacuums on the market. Therefore, it is no wonder that two Kenmore appear in this list. Downsizing from the bigger versions to this compact one is a heaven-sent gift to many people.
Kenmore Intuition BU4022 is one of the few bagged upright vacuums that are not bulky and are therefore much easier to use. Besides, the No-Touch Bag Technology ensures that you don't come into contact with dirt as you empty.
If you want to get rid of Labrador hair from bare floors or carpets, this vacuum will surely exceed your expectations. Also, it comes with some tools for above-floor vacuuming. These include a 3-in-1 combination tool, a dusting brush, and a Pet HandiMate handheld turbine brush.
So, all your surfaces including upholstery, furniture, stairs, bookshelves, and so on will always be free of hair, dust, and dirt. Also, this unit has a superb HEPA filtration system that prevents allergens from getting back into the air you breathe.
Features and specs summary
Color: green
Type: upright, bagged
Weight: 14 pounds
Power cord length: 30 feet
Power rating: 120V, 10A
Suction power: 200W
Filtration: AllergenSeal, HEPA
Lift-up technology
Cleaning path: 11 inches
Dust bag capacity: 3.1 liters
Full-bag indicator
Hygienic emptying (No-Touch Bag Technology)
Swivel steering
LED headlights
Dimensions (LxWxH): 16 x 12 x 47 inches
Pros
Strong suction
Comes with a pet tool that is ideal for Labrador hair
Mess-free emptying is a huge plus
Excellent filtration system
Very easy to use (swivel steering)
Large dirt capacity
Long power cord
Comes with a year's supply of replacement bags
Five-year warranty
Cons
Not ideal for high-pile carpet
No automatic power cord rewind
The onboard storage is not adequate for the tools provided
Click here to see its current price.
Factors to Consider when Shopping for the Best Vacuum for Labrador Retriever Hair
There are many pet vacuums on the market. So, how did we settle on the 7 vacuums? We had a precise checklist to follow, and you should too. Below are the main things to check before settling on a particular brand or model:
Suction
This is the most important aspect of any vacuum cleaner, whether you want to pick up dust or large debris. A vacuum without suction will leave bits and pieces all over the house. So, always go for powerful vacuums.
How do you tell? The best way is to read reviews from experts as well as current owners. You can also watch YouTube videos to get a better feel of what the vacuum can do. Alternatively, you can pass by a local store to test out various models.
Anti-hair wrap or self-cleaning brushroll
Traditional vacuums can be a real pain because of frequent hair wraps around the beater bar/brushroll. Modern vacuums, however, have newer technology whereby the brushroll continuously removes hair thus ensuring that you clean without many stops.
The latest Shark vacuums use fins instead of tough bristles, making vacuuming pet hair a piece of cake. They are a good example of how vacuum cleaners have evolved over the last few years.
Availability of pet tools
Most vacuum cleaners have attachments, but if you get one with specialized pet tools such as the pet HandiMate, go for it. Labradors leave hair all over the place, so you should not ignore above-floor surfaces.
Such tools will help you reach hair in tight spaces, stairs, curtains, upholstery, seats, bedding, and car interiors.
Dirt capacity
Hair tends to occupy a lot of space. So, go for a vacuum that has a large dirt cup or a large bag. This way, you will not have to empty the vacuum too frequently.
Filtration system
Pet hair harbors lots of germs and allergens. So, it's prudent to buy a vacuum cleaner that has a superior filtration system. While it's not a mandatory requirement, HEPA filters are known to trap up to 99.97 percent of particles.
So, once allergens such as dust, pollen, and dust mites are sucked into the vacuum, they remain there. Your indoor air remains clean and welcoming after you finish vacuuming.
Price
Lastly, plan well to avoid overspending on your next vacuum cleaner. Always go for what you can afford because you can still get excellent service from a 100-dollar vacuum if you do proper research. Also, if you take care of your vacuum, it will last long while still producing outstanding suction.
FAQs
Before we finish, below are some of the most frequently asked questions regarding Labradors and the best vacuums for Labrador Hair:
What is the best vacuum for Labrador Retriever hair?
Well, the best vacuum for Labrador hair must be the one that gets the job done. Period. However, finding the best fit can be a time-consuming and tiresome affair. And that is why we have taken it upon ourselves to do the dirty work.
All factors considered, the best vacuum for Labrador hair is BISSELL 2252 CleanView Swivel Pet Upright Bagless Vacuum Carpet Cleaner. However, any of the other vacuums will still offer you value for money.
Where did Labradors come from?
The Labrador dog breed has its ancestry in Newfoundland, now part of Canada. However, Labrador Retrievers as we know them today were developed in England from the late 1800s to the early 1900s.
What is the most important factor to consider when looking for the best vacuum for Labrador hair?
Out of all the factors, the most important ones are strong suction and availability of pet attachments. If a vacuum has an anti-hair wrap brushroll, that is a huge plus. You don't want to keep pausing to pull out hair that is probably mixed with disease-causing germs.
Are Labradors good companion dogs?
Given their playful and active nature, Labs can be very good companions for children, adults, and even other dogs. They are among the few dog breeds that remain puppy-like well into their adult lives.
Conclusion
When you own one or two Labs, you can be sure that hair will be all over the house throughout the year – even though Labrador Retrievers. So, you must have a good vacuum to pick up all the hair from your floors as well as above-ground surfaces.
A vacuum cleaner with powerful suction and a few pet tools is all you need. Also, you need not break the bank to buy a vacuum. While the Miele C3 Cat & Dog works wonders, we feel that it's too pricey. Therefore, we settled on BISSELL 2252 CleanView Swivel Pet as the best vacuum for Labrador Hair 2023.
It is not only cheap, but it also has strong suction, it's easy to use, and has a couple of handy tools for removing pet hair from stairs furniture, and other above-floor areas. However, it lacks HEPA filtration. If that is a must-have, feel free to choose any other vacuum from the list, for example, Shark Vertex AZ2002.
As a recap, these are the 7 best vacuums for Labrador Retriever hair in 2023:
BISSELL 2252 CleanView Swivel Pet Upright Bagless Vacuum Carpet Cleaner
Kenmore Elite 31150 Pet Friendly Bagged Upright Beltless Vacuum
Dyson Ball Animal 2 Total Clean Upright Vacuum Cleaner
Shark AZ2002 Vertex DuoClean PowerFins Upright Vacuum
Miele Complete C3 Cat & Dog Canister Vacuum
Shark LA502 Rotator Lift-Away ADV DuoClean PowerFins Upright Vacuum
Kenmore Intuition BU4022 Bagged Upright Vacuum Pet Friendly