Everyone needs a good vacuum cleaner – a vacuum that effectively gets rid of dust, debris, pet hair, and other dirt. Sometimes, there is a question about how the dirt is collected and how to dispose of it. That's where bagged and bagless vacuums come in. Today, we look at the best bagged vacuum cleaners in the market.
There are many different types of vacuum cleaners e.g. upright, stick, robotic or handheld. However, all the different kinds of vacuums can be categorized as either bagged or bagless. In this article, we explore bagged vacuums, their advantages, and disadvantages as well as the best products.
Best Bagged Vacuum Cleaners – Comparison Table
Before we get into more details, this is a summary of the best bagged vacuums that you can buy in 2023:
Best Bagged Vacuums
Weight
Power Cord
HEPA Filtration
1. Kenmore Elite 31150
(Editor's choice)
20 lbs
35 ft.
Yes
2. Oreck Magnesium RS LW1500RS
7.7 lbs
30 ft.
Yes
3. Bissell Zing Bagged 4122
8 lbs
17 ft.
No
4. Oreck Commercial XL XL2100RHS
8.2 lbs
35 ft.
No
5. SEBO 9587AM Automatic X5
16.9 lbs
40 ft.
No
6. Hoover T-Series WindTunnel UH30310
15.9 lbs
30 ft.
Yes
7. Panasonic MC-UG471
17 lbs
24 ft.
Yes
8. Hoover Tempo WidePath U5140900
14.8 lbs
25 ft.
No
9. Hoover Anniversary WindTunnel U6485900
20.2 lbs
29 ft.
Yes
Reviews of the Best Bagged Vacuums 2023
As usual, we spent hours researching to find out which models offer the best value for money. These are the best bagged vacuum cleaners of 2023:
1. Kenmore Elite 31150 Pet & Allergy Friendly Bagged Upright Vacuum Cleaner – best bagged vacuum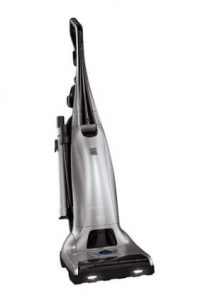 With this vacuum, you get a strong, fade-free suction while cleaning carpets and hard floors. This powerful suction is courtesy of a 3D inducer motor. There are also attachments that allow you to rid above-ground areas of dirt, debris, pet hair and dander. These include a combination dusting/crevice tool, a Pet Handi-Mate tool, and a telescoping wand.
Also, the Kenmore Elite 31150 has one of the longest reaches among all the vacuums in this review. It has a lengthy 35-foot power cord. In addition, the telescoping wand can help you clean up to 10 feet into the hard-to-reach areas.
When it comes to fighting germs and allergens, this vacuum cleaner is among the best. It utilizes triple HEPA filtration to lock in up to 99.97 percent of dust, pollen, dander, and other allergen particles. No wonder it has been certified by the Asthma and Allergy Foundation of America (AAFA). Therefore, it is perfect for pet owners and allergy sufferers.
An infrared dirt sensor automatically activates an LED light that indicates where you need to clean more. Once that area is free from dirt, the LED light turns off.
It's clear to see why we recommend it as the best bagged vacuum in 2023.
Features
Weighs 20 pounds
35-foot power cord
5 height adjustment positions
3D inducer motor (12 Amps)
Cleaning path: 12.75 inches
Beltless agitator
Triple HEPA filtration
Infrared dirt sensor
LED light
Pros
Strong suction
HEPA filtration
Fingertip controls
Easy to maneuver
Multi-floor capability
Easy to assemble
Very long power cord
Has a light that points to the dirt
Cons
Heavy
Relatively loud
The hose is short
Click here to see its current price.
2. Oreck Magnesium RS Swivel-Steering Bagged Upright Vacuum, LW1500RS – best lightweight bagged vacuum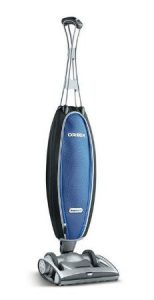 In our quest for the best bagged vacuum cleaner, the Oreck Magnesium LW1500RS is also among the ones that caught our attention. Powerful suction coupled with amazing features and attachments separates it from the rest.
The vacuum boasts of a HEPA bag that captures particles as small as 0.3 microns and retains them inside the bag. This is great news for any allergy sufferer and asthmatic people because no allergen is allowed back into the air. Also, the vacuum utilizes a SaniSeal Docking System that prevents dust from escaping when changing bags.
The Oreck LW1500RS is also one of the easiest bagged vacuums to use. It is very light and its SlimSwivel design allows you to maneuver around furniture and other obstacles with ease. If you need to clean under furniture, it can bend to almost 180 degrees to make it easy for you. It also has LED lights that allow you to see and get rid of dust from darker areas of the room.
Lastly, this vacuum has a wireless QuickSwitch on the handle that let you adjust the brushroll speed. So, you can easily transition from hard floors to carpets and vice versa. It's good for area rugs and pets too.
Features
Weighs 7.7 pounds
LED lights
5-layer HEPA inner bag
SlimSwivel steering
30-foot power cord
Dust bag capacity: approximately 10 liters
Pros
Lightweight
Easy to maneuver
Powerful suction
Multi-surface cleaning
HEPA filtration
Fingertip controls
Long power cord
Does well with pet hair
Extra-large capacity
Flattens to reach under furniture
7-year limited warranty (if purchased from an authorized dealer)
Cons
Click here to see its current price.
3. Bissell Zing Bagged Canister Vacuum, 4122 – best budget bagged vacuum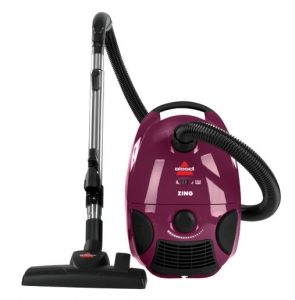 This vacuum is not only cheap but also among the most effective bagged vacuums. You can tell by how the fact that so many people have bought it over the years. The Bissell Zing costs about 75 bucks, but it is powerful enough to get rid of dirt and pet hair from your home. However, it is mostly great for hard floors because it's rather difficult to push on carpets and rugs.
Convenience is the name of the game with this vacuum. First, you can easily move it from one area to the next, thanks to its lightweight design and ergonomic handle. Also, at the push of a button, the power cord rewinds automatically. This makes storage a walk in the park. It is also among the few bagged vacuums with a full bag indicator which is an added advantage.
The vacuum also comes with some accessories. These include an extension wand, an upholstery tool, and a combination crevice tool/dusting brush.
Features
10-amp motor
Weighs 8 pounds
Cleaning path: 10.3 inches
5-foot hose
Swivel head
Full bag indicator
Multi-level filtration
Bag capacity: 2 liters
Power cord length: 17 feet
1-year limited warranty
Pros
Cheap
Easy to carry
Compact and lightweight
Assembly is a breeze
Strong, adjustable suction
The cord is retractable
Easy to maneuver
Cons
Not ideal for carpets and rugs
The hose is relatively short
No HEPA filtration
The power cord is short
Click here to see its current price.
4. Oreck Commercial XL Commercial Upright Vacuum Cleaner, XL2100RHS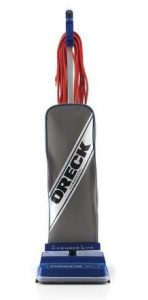 The lightweight Oreck XL2100RHS is another option if you are looking for the best bagged vacuum cleaner to buy. It only weighs 8 pounds. Even though the motor is rated at 4 amps (which is way less than most vacuums), it accomplishes its tasks effectively. A powerful brush roll that has double helix brushes rotates 6,500 times per minute.
The vacuum is also very easy to use. Its Helping Hand handle design makes it very easy to hold as you push it along the floor. Actually, the Oreck Commercial XL XL2100RHS has received an Ease-of-Use Commendation from the Arthritis Foundation.
Also, the vacuum has automatic height adjustments. This means that you don't have to do anything as you transition from hard floors to carpets and vice versa. The machine takes care of that on its own. However, it lacks accessories such as a crevice tool which normally helps in targeting hard-to-reach spots.
Features
Weighs 8.2 pounds
Cleaning path: 12 inches
35-foot power cord
Edge cleaning brushes
Low-profile design
Non-marring bumpers
Helping Hand handle
1-year limited warranty
Pros
Lightweight
Powerful suction
Easy to use
Multi-floor capability
It is easy to replace bags
Long power cord
Great with pet hair
Can lie flat to reach under furniture
Cons
Click here to see its current price.
5. SEBO 9587AM Automatic X5 Upright Vacuum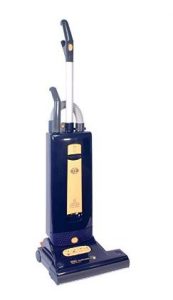 SEBO is known for making among the most powerful vacuums for commercial and home use. And the SEBO 9587AM is among the top bagged vacuums in the world right now. The major downside is that you have to fork out almost 900 bucks to acquire one.
Apart from having strong suction, the vacuum has a large capacity. This reduces the number of times you need to replace the bags. Also, the vacuum has an electronic controller that automatically makes changes for optimal cleaning. For example, if you are transitioning from carpet to hard floors, it adjusts the floor head accordingly.
The electronic controller also prevents damage to the unit by alerting you in case of clogs, a full bag, a worn out brush, or brush roller obstructions. If necessary, it will automatically shut off the unit to prevent any potential damage to the belts or motor.
Another thing to like about this vacuum is convenience and ease of use. First, you can bend it back to almost 180 degrees to reach any dirt under furniture. Secondly, its wheels are rubber-coated to protect floors and improve maneuverability. An instant-use wand and suction hose help you to clean hard-to-reach areas, with a reach of up to 8 feet. Also, an extra-long 40-foot power cord is one of the longest in the market.
Another thing that stands out is the filtration system. Whereas the filtration is not HEPA, it captures up to 99.9 percent of allergens (as tiny as 0.3 microns). This is made possible by S-class pre-motor micro filters alongside three and four-layer dirt bags.
Features
Motor: 10.8 Amps
Weighs 16.9 pounds
40-foot power cord
Capacity: 1.4 Gallons
Wand & suction hose
Bag full or clog light
Brush obstruction light
Rubber-coated wheels
Automatic height adjustment
S-class pre-motor microfilters
Auto shut off
Made in Germany
Pros
Durable
Strong suction
Easy to maintain
Great design
Large capacity
The cord is very long
Wide cleaning path
Full bag indicator
Great for allergies & asthma
Lifetime belt warranty
5-year warranty
Automatic shut off when there is a problem
Cons
Expensive
Relatively heavy
Few attachments
Click here to see its current price.
6. Hoover T-Series WindTunnel Pet Bagged Upright, UH30310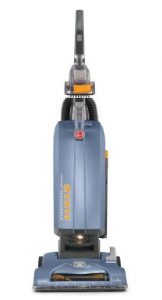 The Hoover T-Series WindTunnel UH30310 is one of the best bagged vacuums overall. It is effective on all kinds of floors ranging from carpets to hard floors. It is also effective in dealing with pet hair and dander. So, if you have cats, dogs or other pets, you have a solution right here.
When it comes to the dirt collection, the Hoover UH30310 bag has filters made of activated carbon HEPA media. This traps up to 99.97 percent of dust, pollen, and other harmful allergens. Also, the carbon helps to absorb any odors so that your home remains clean and fresh after every run.
It is very easy to dispose of a full dirt bag and replace with another. Thanks to a clean-drop bag system, the bag can be easily released directly into the trash.
Hoover's innovative WindTunnel technology agitates tough dirt from the carpet or floor before it's sucked into the vacuum. It then prevents it from being blown back onto the floor/carpet. A brushroll on/off switch helps to quickly transition from carpets to hard floors. It also comes with attachments that include a pet hand tool, a pet upholstery tool, an extension wand, and a crevice tool.
Features
Weighs 15.9 pounds
WindTunnel technology
An activated carbon HEPA filter
One-touch bag door release
Bag capacity: 2.9 liters
30-foot power cord
On/Off brushroll switch
12-foot deluxe stretch hose
Headlight
Pros
Inexpensive
Powerful suction
Long power cord
Multi-floor cleaning
It's easy to change bags
Easy to assemble
HEPA filtration
Odor prevention
Ideal for pets
Comes with attachments
The headlight help with dark areas
Replacement bags are quite affordable
Two-year limited warranty
Cons
Relatively noisy
Short hose
No cord rewind
Exhaust is on the left side tends to blow up dust and pet hair
Click here to see its current price.
7. Panasonic Vacuum Cleaner MC-UG471 Bagged Upright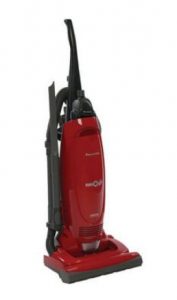 This Panasonic vacuum is another great vacuum with a bag. From what its current owners are saying, it is a champ when it comes to dirt, debris, and even pet hair and dander. Apart from having a powerful suction, it has all it takes to be among the top bagged vacuums this year. Also, it is effective on both hard floors and carpets.
If you or any family member has allergies or asthma, it is an effective tool to fight allergens. A HEPA-standard bag helps to capture up to 99.97% of allergens and prevents them from being blown back into the air.
This vacuum offers a lot of convenience anyone looking to do a quick, effective job. With a wider cleaning path than most vacuums, expect to take a very short time to clean. There is also an automatic headlight so that you can spot dirt even in dark corners.
Lastly, the vacuum comes with a few attachments to make it easier to clean up above-ground areas. These include a stretch hose, a dusting brush, a crevice tool, and two wands.
Features
Weighs 17 pounds
12-amp motor
15-inch wide nozzle
Automatic headlight
HEPA bag
Motor-protection system
24-foot power cord
1-year limited warranty
Pros
Powerful suction
Quiet
Easy to store
HEPA filtration
Large capacity
Comes with attachments
Wide cleaning path
Headlight for dark areas
Automatic cord rewind
Change of bags is easy
Picks up pet hair with ease
Easy to carry
Cons
The cord could be longer
Tips over easily
Relatively heavy
Click here to see its current price.
8. Hoover Vacuum Cleaner Tempo WidePath Bagged Corded Upright Vacuum U5140900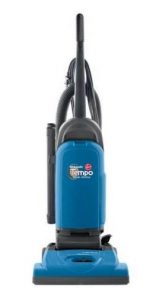 This is yet another Hoover bagged vacuum that does not disappoint when it comes to cleaning. It is quite effective in sucking in all kinds of dirt including pet hair. Also, its wide cleaning path ensures that you only take very little time to clean the house.
Whereas this vacuum does not have a HEPA filter, it effectively traps in up to 99 percent of pollutants. It is still a good percentage if you want to get rid of allergens. The bag is made of allergen media which filters particles as small as 5 microns. Also, as the air moves from the bag, it passes through washable filters as it leaves the vacuum.
With 5 height adjustment settings, the vacuum is ideal for cleaning all kinds of floors ranging from carpets to hard floors. You also get a few tools for a wholesome cleanup job. These include two extension wands, a crevice tool, an upholstery tool, and a dusting brush.
Features
Weighs 14.8 pounds
6-foot hose
12-amp motor
Cleaning path: 15 inches
Washable filters
25-foot power cord
Bag made with allergen media
Height adjustment: 5 positions
Bag capacity: 3.14 liters
1-year limited warranty
Pros
Affordable
Strong suction
Fingertip controls
Wide cleaning path
It is easy to assemble
Has attachments
Not very heavy
Easy to maneuver or carry
Cons
The power cord could be longer
Filtration is not HEPA standard
The hose is a bit short
Click here to see its current price.
9. Hoover Vacuum Cleaner Anniversary WindTunnel Self Propelled Bagged Corded Upright Vacuum U6485900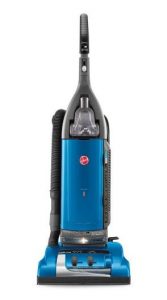 This is the third Hoover in this list. And this is because the Hoover brand is among the best when it comes to bagged vacuums. Just like the best bagged vacuum, the Hoover UH30310, this one is also powerful and uses WindTunnel technology. This works by agitating any dirt that is deeply embedded on carpets and other floors before the vacuum actively sucks it in.
Also, you can clean all floor types. You need to adjust the height as you move from hard floors to carpets to area rugs – 3 positions are available. Also, there are attachments that help you clean every nook and cranny in your house. These include two extension wands, a crevice tool, and upholstery tool, a dusting brush, and an air-powered hand tool.
HEPA filtration in the dirt bag prevents allergens from getting back into the air. This is very important especially if you are struggling with allergies and asthma. Also, there is a dirt finder that turns green when all dirt has been removed from a particular area.
Despite the fact that this unit is quite heavy (about 20 pounds), this is made easier by the fact that it is self-propelled. However, if you have stairs in your home, this may be a challenge.
Features
HEPA bag
Dirt Finder
Weighs 20.2 pounds
29-foot power cord
Cleaning path: 15 inches
3-position height adjustment
Pros
Strong suction
Has many attachments
Long power cord
Multi-floor cleaning
Wide cleaning path
Dirt Finder
Self-propelled
2-year limited warranty
Cons
Heavy especially if you have stairs
The hose is short
Click here to see its current price.
Bagged vs Bagless Vacuums
As mentioned at the beginning of this post, the main difference is in the way dirt is collected and stored inside the unit as well as disposal. Bagged vacuums essentially have a bag into which the dirt is collected. Once it reaches the maximum level, usually 50%, it is removed and disposed of.
On the other hand, a bagless vacuum has a canister (also called dust cup, dust bin, dirt cup, or dirt bin). Dirt is collected into the canister until it reaches the maximum level. Emptying is just a matter of detaching the canister and opening it over a trash can to empty. The canister is then cleaned and reattached onto the unit.
Advantages & disadvantages of bagged vacuums
The fact that a vacuum is bagged or bagless does not necessarily affect its performance. Suction is normally dictated by how powerful the motor is. Also, the choice to buy either type comes down to personal preference.
As expected of any home appliance, bagged vacuums have their merits and demerits.
Advantages of bagged vacuums
Mess-free emptying
Compared to bagless vacuums, bagged vacuums offer a more hygienic approach when it comes to emptying. If you don't handle a bagless vacuum while emptying, the dirt may just blow back on your face and into the air. This is not ideal especially if you are fighting allergies.
On the other hand, when it comes to bagged vacuums, you just need to remove the closed bag and drop it into the trash.
Great for fighting allergies
There are a few things that make bagged vacuums good at keeping allergens at bay. First, all dirt and debris collect into a closed bag. Almost all vacuum bags use HEPA filtration to prevent allergens from being blown back into the air. This is great because the air is left cleaner and more suitable for allergy sufferers and the asthmatic. Take note that HEPA filtration is not limited to bagged vacuums. Most bagless vacuums also have HEPA filters.
Also, as mention in the first point, emptying is easy. There's minimal chance of dirt and other pollutants being released into the air at this point.
Larger capacity
Generally, bagged vacuums have a larger capacity than bagless vacuums. This means that the number of times you need to replace the bags compared to how often you have to empty duct cups is low. This gives you the freedom to clean up without worrying about pausing frequently.
Relatively cheap
Not all bagged vacuums are cheaper than bagless vacuums. This is because vacuum prices are proportional to features such as dirt capacity, build material, suction power, attachments and so on. However, bagged vacuums are generally cheaper.
Disadvantages of bagged vacuums
Replacement bags
Whereas bagged vacuums are normally cheaper than bagless vacuums, you have to buy replacement bags. This may be a costly affair especially if there is a lot of dirt to be dealt with. You may find yourself spending tens of dollars annually to buy replacement bags.
Also, getting replacement bags for specific vacuum models may be difficult in some areas. Most of the time, you have to buy them online. It is also difficult to replace bags in some vacuum models.
Loss of suction as the bag fills up
As the bag fills up, the vacuum starts to lose its suction power. The main challenge is that most bagged vacuums don't have an indicator of when the bag has reached a 'max level'. You can only notice when suction starts diminishing.
Smell
Depending on the type of dirt or debris you clean, the vacuum may start producing odors if the dirt is left inside for too long. This may be a challenge especially if the bag is far away from being replaced. However, you can buy a vacuum freshener to tackle this issue.
Buyer's guide: factors to consider when shopping for a bagged vacuum
There are a few things you need to keep in mind when choosing the best bagged vacuum for your home/office. These are:
Allergies and asthma
If you are struggling with any of these two conditions, you need to get a vacuum that doesn't allow allergens back into the air. HEPA filters are known to capture particles as small as 0.3 microns and are preferred by most people. So, a vacuum with a HEPA bag ensures that dust, pollen, dust mites, and other pollutants are captured and retained within the unit.
Nonetheless, there are some vacuums that are effective in getting rid of allergens without HEPA filters. For example, the SEBO Automatic X5 vacuum uses S-class pre-motor microfilters which are equally effective.
Dust bag capacity
Normally, you have to replace a bag when it gets about 50 percent full. If you wait until the bag is completely full, you may experience loss in suction. So, the bigger the vacuum's capacity is, the better for you.
Weight
Often, you need to lift the vacuum up as you move it from one room to the other. You may also need to lift it as you clean the stairs. A heavy vacuum will make your work more difficult (unless you want to work out while cleaning). Therefore, always check the weight of your preferred vacuum before buying. You may want to consider how strong other occupants of the house are.
Power cord length
The length of the power cord determines how far from the power outlet you can clean without an extension cord. If the cord is too short, you may also be forced to keep changing power outlets. So, always check that the vacuum of your choice has a power cord that is long enough for your house.
Please note that if you have small rooms, a very long cord may be cumbersome. There are bagged vacuums that have short power cords, for example, the Bissell Zing 4122.
Floor type & pets
Another thing to consider is your flooring. There are vacuums that are capable of cleaning different floor types effectively. However, some vacuums struggle with carpets while others do not clean hard floors well. Also, you may want to buy a vacuum that is good with long pet hair and dander if you have any pets at home.
Price
When sourcing for any product, one of the most important things to consider is the cost. The most expensive item does not have to be the best. Similarly, the cheapest item does not necessarily mean that it is the worst. Always check the features to settle on the best vacuum. However, ensure that you always stick to your budget.
Warranty & customer service
There are a few things to check on the warranty. How long is it? What parts are covered? Generally, the longer the warranty is, the better. However, always read customer reviews to see their experiences with how a specific issue was handled under the warranty.
Customer service is another crucial aspect to check. You don't want to buy a vacuum from a manufacturer who is unavailable or even rude/inconsiderate when handling customer issues. From reading feedback from actual buyers who had issues, you can tell if a manufacturer is available, supportive, and ready to help.
Best Bagged Vacuum – Final Thoughts
Whereas most people prefer bagless vacuums because of low maintenance costs, there is quite a large number of bag vacuum enthusiasts. The ones who prefer bagged vacuums say it is because they are generally better at handling allergens and are more powerful.
However, choosing the best bagged vacuum among hundreds of options is a daunting task. That is why we have taken the time to research and come up with the crème de la crème. Therefore, your decision is now much easier. The dominant brand in the review is Hoover, but there are other brands that are well represented and also quite effective.
These are the best bagged vacuum cleaners in 2023:
Kenmore Elite 31150 Pet & Allergy Friendly Bagged Upright Vacuum Cleaner
Oreck Magnesium RS Swivel-Steering Bagged Upright Vacuum, LW1500RS
Bissell Zing Bagged Canister Vacuum, 4122
Oreck Commercial XL Commercial Upright Vacuum Cleaner, XL2100RHS
SEBO 9587AM Automatic X5 Upright Vacuum
Hoover T-Series WindTunnel Pet Bagged Upright, UH30310
Panasonic Vacuum Cleaner MC-UG471 Bagged Upright
Hoover Vacuum Cleaner Tempo WidePath Bagged Corded Upright Vacuum U5140900
Hoover Vacuum Cleaner Anniversary WindTunnel Self Propelled Bagged Corded Upright Vacuum U6485900