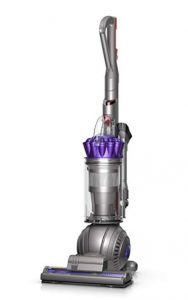 If you are looking to purchase the best vacuum for your house, you are just in the right place. In this article, we review the best vacuum cleaners that you can buy in 2023.
A good vacuum should simply get the job done. It does not matter the cost – what's crucial is getting value for money. If you need a vacuum cleaner for your house or apartment, it should easily get rid of dirt from your carpets, hard floors, upholstery or stairs depending on your needs.
If you have pets, a vacuum that cannot help you clean pet hair and dander is basically a waste of money.
There are hundreds of vacuums that you can get your hands on, but these are the crème de la crème. We will look at each one briefly, mostly concentrating on the features that make them stand out from the rest.
Best Vacuum 2023 – Comparison Table
Before we go into the reviews, here is a summary of the best vacuum cleaners to buy this year:
Reviews of the Best Vacuum Cleaners in 2023
After spending hours researching, we managed to pick out some gems out of tons of options. There are so many options to pick from, but these are the best vacuums in 2023:
Best Vacuum Overall: Dyson Ball Allergy + Animal Complete Upright Vacuum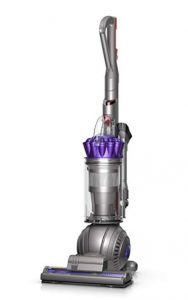 Dyson is one of the leading vacuum manufacturers in the world, producing a wide range of units. Need it? They've got it. Regardless of the floor type or preference, you'll find what you need. The best vacuum to buy in 2023 in the Dyson Ball. It is the immediate successor of the powerful and effective Dyson DC65.
This unit packs a punch. It has it all. The features and capability set it apart from all other vacuum cleaners in the market. Whether you have hard floors or carpets, its powerful yet consistent suction guarantees that all dirt is sucked in. Also, if you there are stairs in the house, you can simply use the available tools to clean them.
Another thing that attracted us to this vacuum is the fact that it tackles pet hair, dander and human hair with ease. It also uses HEPA filtration to prevent any allergen from getting back into the air. So, this cleaner is perfect for pet owners and is great for fighting allergies and asthma.
Lastly, this vacuum's versatility is made possible by a total of 7 attachments. These include a soft dusting brush, a stair tool, a stiff bristle brush, a combination tool, a multi-angle tool, a tangle-free turbine tool and a flat out hard floor tool.
Features
35-foot power cord
Weighs 17.4 pounds
Uses Radial Root Cyclone Technology
Auto-adjusting cleaning head
HEPA filtration
Uses Ball Technology for easy steering
5-year limited warranty
Pros
Cons

Powerful suction
Easy to steer
Great for pets
Helps fight asthma and allergies
Easily gets rid of long hair
A wide variety of attachments
Long power cord

A bit pricey
It's not easy to make the vacuum stand upright
Click here to see this Dyson's current price.
Best Robot Vacuum: iRobot Roomba 980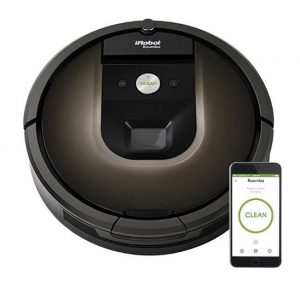 Imagine coming home from work, tired but you have to vacuum the house. Now, imagine getting home from a day's job to a clean, fresh house courtesy of an able assistant – a robot vacuum. With this gadget, you can schedule cleaning as you wish. Just tell the robot what to do and it acts.
The advancement of technology has had a huge impact on home automation. Robot vacuums are just one of many inventions in recent years that have transformed the way we live. The best robot vacuum in 2023 is the iRobot Roomba 980. As you'll see shortly, it has amazing features that are second to none.
First of all, the Roomba 980 is so versatile. Thanks to its auto-adjusting cleaning head and multi-surface brushes, this robot cleans both hard floors and carpets effectively. Dirt detect sensors identify high-traffic areas and for thorough cleaning. It is also up to 10 times more powerful than the initial Roomba models.
This robot vacuum is also ideal for homes with pets and allergy sufferers. The two tangle-free multi-surface brushes get hold of pet hair with ease. Also, there is a highly efficient filter that captures up to 99 percent of allergens.
Another amazing feature of the Roomba 980 is the smart iAdapt 2.0 navigation. This helps the vacuum to move around the floor seamlessly as it sucks in all kinds of dirt and debris. A full suite of smart sensors also allows the robot to maneuver around obstacles, get under furniture and avoid falling off the stairs and edges.
Lastly, you can use the iRobot HOME App to give the robot instructions or schedule cleaning. Also, you can simply tell the vacuum what to do using Amazon Alexa or Google Assistant.
Features
Auto-adjusting cleaning head
3-stage cleaning system
iAdapt 2.0 navigation
Sensors
Automatic recharge and resume
Dirt detect technology
iRobot Home App
Voice control
High-efficiency filter
Capacity: 0.6 liters
Tangle-free multi-surface brushes
Edge-sweeping brush
1-year limited warranty
Pros
Cons

Powerful suction
Fantastic on rugs
Picks up hair effectively
Multi-surface cleaning
Long battery life plus auto-recharge
You can schedule cleaning
Great for asthma and allergies

Expensive
Occasionally gets stuck
Click here to see how much the iRobot Roomba costs.
Best Vacuum for Pets and Allergies: Kenmore 31140 Bagged Upright Vacuum Cleaner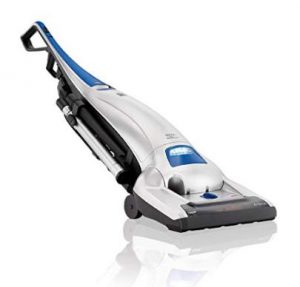 A huge concern with most pet owners is finding the perfect vacuum for pet hair and dander. Pets such as cats and dogs are known to shed hair all over the floor, the stairs and even on furniture. The best vacuum cleaner should be able to tackle this kind of dirt like a boss.
Whereas the best vacuum cleaner overall also gets the job done, you may be looking for a cheaper yet effective alternative. If this is the case, the Kenmore 31140 is the best option. Apart from having powerful suction, a specialized Pet Handi-Mate tool is available to help you deal with pet hair and dander.
Also, the vacuum uses HEPA filtration to get rid of up to 99.97 percent of allergens such as dust, mite, and pollen. This, in addition to how effective it is in cleaning pet hair and dander, has seen the vacuum certified by the Asthma and Allergy Foundation of America (AAFA).
What kind of floors can the Kenmore 31140 vacuum clean? Well, this shouldn't worry you so much. The unit is effective for both hard floors as well as carpets. Also, apart from the pet tool, there are two more attachments. These include a combination dusting and crevice tool and a telescoping wand.
Features
30-foot power cord
Weighs 19 pounds
2-motor system & power flow technology
Triple HEPA filtration
Specialized pet tool
4 height adjustments
LED headlights
2-year limited warranty
Pros
Cons

Inexpensive
Powerful suction
Long power cord
Great for pet hair and dander
Helps to fight allergies and asthma
Multi-floor capability
LED lights for darker areas
It is self-propelling on carpets

The hose is very short
At 19 lbs., it may be heavy for some people
Air from the exhaust vent tends to blows out dust around making cleaning tedious
Click here to see the current price of the Kenmore 31140.
Best Lightweight Vacuum: Dyson Cyclone V10 Animal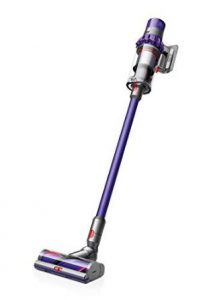 This powerful, lightweight Dyson has all it takes to get the job done in a flash. Weighing about 6 pounds, it is easy to carry as you clean the floor. If you have a big house, you can imagine how convenient it would be if you needed to vacuum stairs as well as multiple rooms. We also recommend it for senior citizens.
Being cordless, you don't have to keep changing power outlets as you vacuum. Once it is fully charged, it can work for up to 60 minutes depending on the mode. A strong Dyson V10 motor provides fade-free power from start to finish. Also, power is only utilized when you are actually cleaning thanks to an instant-release trigger.
Versatility is also guaranteed with the Dyson Cyclone V10 Animal. This stick vacuum sucks in all dirt with ease from carpets as well as hard floors. In fact, it is also great for anyone who loves pets. There is a pet hair attachment that gets the work done.
If you need to do a quick clean up around the house or inside your car, you can quickly transform it into a hand vacuum. It is without a doubt the best 2 in 1 vacuum of 2023. Also, a wall-mounted charging dock doubles up as storage for the vacuum and its attachments.
Lastly, expect an array of attachments to help you clean every nook and cranny in your house. These include a combination tool, a crevice tool, a mini soft dusting brush, and a mini-motorized tool.
Features
Cordless
Weighs 5.9 pounds
Up to 60 minutes run time
Uses Dyson digital motor V10
Converts to a handheld vacuum
Wall-mounted dock
Washable filter
3 power modes
Torque drive cleaner head
5-year limited warranty
Pros
Cons

Very light
Compact
Powerful suction
Very easy to empty
Convenient storage
Easily converts to a hand vac
HEPA-standard filtration
Great for cleaning hard to reach areas
It does a good job on pet and human hair

Expensive
Battery runs out quickly in higher settings
You must push and hold the power button in as you clean
Click here to see its current price.
Best Budget Vacuum: Shark Navigator Lift-Away Professional NV356E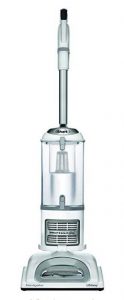 For sure, this would not have been a complete review without a Shark product. This is because Shark vacuums are among the best in the world. The company has produced all types of vacuums over the years, making it a household name.
If you are looking for the best vacuum that has everything to offer at a modest price, then this should be your pick. At just below 200 bucks, this unit will get rid of all dirt and debris from both hard floors as well as carpets. It is also great for pet hair.
A combination of Anti-Allergen Complete Seal Technology and HEPA filtration prevents allergens like pollen and dust from getting back into the air. So, it is perfect if there are any allergy sufferers in the house.
At the press of a button, you can easily detach the canister. That's where it gets the name Lift-Away. This feature makes it easy to clean above-ground areas like stairs and furniture because the unit becomes lighter.
The vacuum also comes with a few attachments namely a pet power brush, a dusting brush, and a crevice tool.
Features
25-foot power cord
Weighs 13.7 pounds
Washable filters
Lift-Away capability
Anti-Allergen Complete Seal Technology
HEPA filtration
Brushroll shutoff
5-year limited warranty
Pros
Cons

Affordable
Powerful suction
Easy to steer
Long power cord
Great for pet hair
Large canister

Short hose
The whole unit is relatively heavy
Click here to see the current price of the Shark Navigator NV356E.
Best Handheld Vacuum: BLACK+DECKER CHV1410L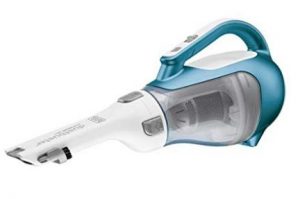 Sometimes you just need to do a quick clean-up of your stairs, furniture, upholstery and other above-ground areas. And you don't need to drag over 10 pounds of an appliance to do this. That's where handheld vacuums come in. They are usually small and light, but you need to identify the one that is the most powerful and effective in accomplishing the task.
The best handheld vacuum, as pointed out in this handheld vacuum review, is the BLACK+DECKER CHV1410L. There are corded and cordless hand vacs in the market, but we feel that this cordless vacuum stands out from the rest.
Black & Decker has a history of making a variety of home appliances. As such, we expect nothing but quality from this hand vacuum. Once you charge the vacuum for 4 hours on its fast-charging base, a lithium-ion battery ensures that it holds the charge for long.
Apart from sucking in regular dirt, this compact cleaner is excellent when it comes to cleaning up cat litter.
Features
Cordless
Lithium-ion battery
Smart charge technology
Washable filters
Rotating slim nozzle
2-year limited warranty
Pros
Cons

Very light
Powerful suction
Long battery life
Easy to empty and clean
Great with cat litter and hair
Quite affordable
Fast charging
Click here to find out how much the CHV1410L costs.
Best Wet/Dry Vacuum: Vacmaster VBV1210 Shop Vac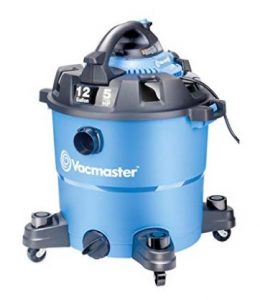 Sometimes, you are faced with heavy messes that ordinary vacuums cannot handle. These include sawdust, nails, screws, and other larger debris. Also, your regular vacuum may also not be able to suck water from your shop, home or garage floor. That is where wet/dry shop vacs come in.
This Vacmaster VBV1210 shop vac is currently the best wet/dry vacuum in the world. With powerful suction, a large 12-Gallon capacity and many attachments, this vacuum gets the job done to perfection. Its detachable blower allows you to blow away leaves from your porch or yard.
Apart from the blower nozzle, other accessories include two extension wands, a car nozzle, a crevice tool, and an 8-inch utility nozzle. Apart from regular cleaning, this wet/dry vacuum can be used to clean car interiors.
Features
12-Gallon capacity
5 peak horsepower
7-foot hose (2.5-inch diameter)
12-foot power cord
210 MPH blowing speed
120 V – 60 Hz voltage
Large drain port
Dust-sealed on/off switch
2-year warranty
Pros
Cons

Powerful suction
Very easy to empty
Large capacity
Relatively quiet
Easily converts to a blower
Many attachments
Long lasting
Balanced top handle design
Click here to see the current price of the Vacmaster VBV1210.
Vacuum Cleaner Buying Guide 2023: How to Choose a Good Vacuum
Well, before you decide which vacuum cleaner to purchase, there are a few things you need to consider. You don't want to buy something that will not give you value for money. The best vacuum must not necessarily be the priciest, but the one that gets the job done.
These are the five factors to consider when buying a vacuum:
Type of flooring
Allergies and Asthma
Portability and storage
Attachments
Price
These factors are explained in detail in this vacuum buying guide we did recently.
Top 10 Best Vacuum Cleaner Brands
While we may not have featured all vacuums from all vacuum cleaner makers, it's good to point out briefly the top companies in the industry.
These are the top vacuum manufacturers in 2023:
1. Dyson
Started in the UK in the year 1991 by one James Dyson, Dyson Ltd has become a household name. The avid inventor is credited for inventing the first bagless vacuum. Not only does the company produce vacuums but it also manufactures an array of home appliances that include lighting, humidifiers, hand dryers, air purifiers, purifier filters, fans, and heaters.
Over the years, the company has spread its footprint to more than 65 countries. The company has produced all kinds of vacuums you can think of. One of the company's best vacuum cleaners is the Dyson V10 stick vacuum. Apart from that, there are other types such as Canister vacuums, hand vacuums, robot vacuums, and upright vacuums.
Visit the Dyson vacuum website for more details.
2. SharkNinja
SharkNinja is among the leading vacuum cleaner manufacturers world over. The company is best known for the popular Shark brand. Actually, we have mentioned one of their products in this review: the Shark Navigator Lift-Away Professional NV356E.
The company has made all kinds of vacuums ranging from uprights, stick vacuums, hand vacuums to robot vacuums. The latest Shark robot vacuum is the SHARK ION Robot Vacuum R75 which offers great competition to more established models.
The company started in 1998 in Montreal, Canada and currently has offices in the USA, UK as well as China. Here is the SharkNinja website.
3. iRobot
iRobot is not necessarily the biggest vacuum cleaner maker in the market. But they are simply the best when it comes to robot vacuums. The company was started in 1990.
The Roomba brand is the one that comes to mind when one thinks about robotic vacuums. Since the first product was launched in 2002, the company has virtually produced the best robot vacuums, generation after generation.
The company has produced a range of robots ranging from the Roomba 600 series to the Roomba 980 to the most recent Roomba i7. More information can be found on the iRobot website.
4. Kenmore
The Kenmore brand has been in existence for over 100 years. Having started in 1913 with sewing machines, evolution has taken it to great heights over that period.
Kenmore makes upright, canister, stick and hand vacuums. The company also makes refrigeration appliances, kitchen appliances, dishwashers, laundry appliances, grills, air, and water treatment equipment and garbage disposals.
One of the best Kenmore vacuums, as reviewed here, is the Kenmore 31140. More information can be found on the Kenmore website.
5. Hoover
Another vacuum cleaner brand to look out for is Hoover. The company is well known for uprights as well as cordless vacuums since inception over 100 years ago in 1907.  It is part of the TTI Floor Care North America, whose headquarters are in Charlotte, NC.
Among the best-selling Hoover products is the WindTunnel 3. You can find more information on the company's website.
6. Bissell
Bissell is also one of the best vacuum brands. The company has been in existence for over 140 years and specializes in a wide range of floor care appliances like vacuums and mops. Also, the company makes air purifiers for its clients in America and other parts of the world.
The company makes all kinds of vacuums. If you need uprights, stick vacuums, robotic vacuums, canisters or hand vacuums, you can get them from Bissell. More information about the company and its extensive history can be found on this website.
7. Miele
Miele vacuums are also among the best in the market. Their products include canisters, bagless, stick, uprights, and robot vacuums. Among the most powerful canister vacuums in the market bear the Miele brand. For example, the Miele C3 Canister Vacuum picks up all kinds of dirt and debris with ease.
8. BLACK+DECKER
Whereas Black & Decker produces other vacuum types such as upright and stick vacuums, it is best when it comes to dustbusters. BLACK+DECKER handheld vacuums are among the best in the world. No wonder we recommend the CHV1410L model as one of the best handheld vacuums in 2023.
For over a century, the brand has become a household name. The vacuum cleaners produced include car vacuums, handheld vacuums, stick vacuums, and upright vacuums. Home improvement tools, batteries, and cookware are among numerous product categories on offer.
9. ProTeam
When it comes to backpack vacuums, ProTeam is among the best brands. Whether you are looking for commercial backpack vacuums or just for home use, you're covered. ProTeam is part of the Emerson Electric Company which also produces canister, upright, hip style, cordless and wet/dry vacuums.
10. Kirby
The Kirby Company is another household name. It has been in the cleaning business for longer than 100 years since Jim Kirby started the firm in 1906. Over the years, Kirby has established its brand in uprights, canisters as well as handheld vacuums.
Other famous brands
There are other brands which have produced fantastic products and are worth a mention. These include Electrolux, Oreck, Eureka, Dirt Devil, Honeywell, Atrix, Shop-Vac, DeWalt, Ridgid, and Vacmaster.
Best Vacuum Cleaners 2023 – Final Thoughts
We decided to break down the products based on the type/kind of vacuum instead of the usual top 10 reviews. This way, you can make a more informed decision based on the needs you have. Identifying the best vacuum is not a walk in the park.
However, we hope that this review makes it easy for you. Nonetheless, nothing is perfect. Under each product review, you can check out the pros and cons and decide which cons you can live with when you pick your best vacuum.
We recommend the Dyson Ball Allergy + Animal vacuum as the best vacuum overall. It can handle all floor types as well as pet hair and dander. Also, it is powerful enough to get rid of even the most stubborn dirt. While it may be a bit more expensive than most vacuums, it is definitely worth the money.
There are also other options you can buy depending on your taste and preference. These include the Roomba 980 robot vacuum and the BLACK+DECKER CHV1410L handheld vacuum. If there's anything you'd want us to know regarding this review, please leave a comment below.
These are the 7 best vacuums in 2023:
Dyson Ball Allergy + Animal Complete Upright Vacuum
iRobot Roomba 980
Kenmore 31140 Bagged Upright Vacuum Cleaner
Dyson Cyclone V10 Animal
Shark Navigator Lift-Away Professional NV356E
BLACK+DECKER CHV1410L
Vacmaster VBV1210 Wet/Dry Shop Vac