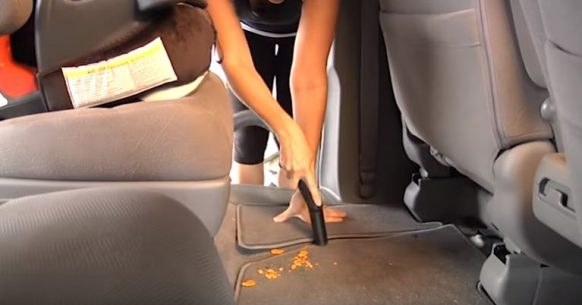 Car detailing is usually both exterior and interior. Today, we focus on interior auto detailing, which requires you to have a suitable vacuum as part of your arsenal. So, what is the best vacuum for car detailing?
In this article, we take an in-depth look at 7 of the best auto detailing vacuums in the market this year. These cleaners are for both professional car detailers as well as car owners. Apart from the features, we'll also identify some cons that you need to be aware of before deciding which vacuum is best for your car.
Best Car Detailing Vacuum Cleaners – Comparison Chart
Before we get into the individual product reviews, here is a summary of the top vacuum cleaners for automotive detailing:
Best Car Detailing Vacuums
Capacity
Power Cord
Hose
1. VacuMaid GV50PRO Wall Mounted
(Editor's choice)
7 Gallon
6 ft.
50 ft.
2. MetroVac Vac N' Blo VNB-94BD
-
12 ft.
6 ft.
3. Bissell 1985
0.4 liters
Cordless
n/a
4. DEWALT DCV581H
2 Gallon
5 ft.
5 ft.
5. McCulloch MC1275
48 Ounces
15.7 ft.
10 ft.
6. Ridgid 50313 4000RV
4 Gallon
20 ft.
8 ft.
7. Vacmaster VF408
4 Gallon
18 ft.
7 ft.
Reviews of the Best Vacuums for Car Detailing 2023
Going to the car wash, even if it's done regularly, is not 100% effective. Once in a while, you need to detail the interior of your car to get rid of all the dirt stuck in the places that are not easy to reach. You may also need to clean your seats in a way that almost takes them back to their "new" look.
You most certainly need a good vacuum for this task. These are the best vacuums for car detailing in 2023:
1. VacuMaid GV50PRO Wall Mounted Garage and Car Vacuum – best vacuum for car detailing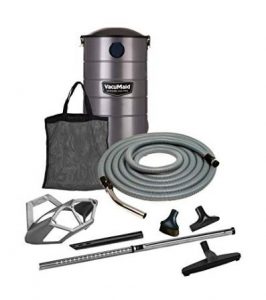 There is no better vacuum for car detailing than the VacuMaid GV50PRO. And it is best rated by professionals and regular car owners alike because of the effectiveness with which it handles car interiors.
This wall-mounted unit is that it is has a large capacity and its suction is among the most powerful. Also, the vacuum comes with a very long hose. This means that unlike most car vacuums, you don't have to keep moving it from one point to the other to access all the parts you want to clean.
What tools do you get? Any good vacuum should have a wide range of attachments that help you reach every nook and cranny in the car. The GV50PRO is equipped with a crevice tool, an upholstery tool, a floor tool, a dusting brush, and a metal telescopic and curved wand.
The vacuum also uses HEPA bags which are great at fighting allergens, and easy to dispose of. You can also use the vacuum as a blower to get rid of leaves and grass or to dry the car.
Features
120 volt Ametek Lamb motor
740 Max Air Watts
5-layer sealed HEPA-style bag
7 Gallon capacity
50-foot hose
Hose hanger bracket
Power cord length:6 feet
The unit is made of rolled galvanized steel and is powder-coated
Pros
Powerful suction
Very quiet
Long hose
Durable
Many attachments
Can be used as a blower
5-year warranty
It's easy to change the dirt bag
The accessory bag makes storage easy
Cons
Relatively expensive
The hose diameter could be larger
Click here to see the current price of the GV50PRO.

2. MetroVac Vac N' Blo Auto Vacuum Cleaner VNB-94BD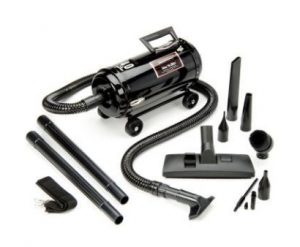 Another great car detailing vacuum is the Vac N' Blo by MetroVac. This vacuum has the desired suction to leave any car interior looking sleek. It is quite portable and effective in getting rid of all kinds of dirt including pet hair.
Because the hose is not too long, you may need to move it around so as to access all corners of the car. Despite weighing about 17 pounds, it is quite easy to carry compared to most of its peers. You can either carry it over the shoulder or roll it on the wheels. Portability is, therefore, one of the perks of owning the Vac N' Blo.
A good vacuum for auto detailing must have all the necessary attachments. These help you to reach all the dirt hidden in areas such as seats. The VacNBlo comes with accessories such as a wand, a duster brush, two hose extensions, and a crevice tool.
Also, if you love outdoor activities such as camping, the air mattress inflator tool comes in handy. You can use it to inflate air mattresses or even rafts. The same can still be used as a leaf blower.
Features
6-foot flexible hose
Two 20-inch hose extenders
4-wheel dolly
Attachments
12-foot power cord
Weighs 17.35 pounds
4 peak HP motor
Pros
Powerful suction
Portable
A variety of attachments
Durable
Cons
The hose could be longer, but there are two 20-inch extensions
Click here to see its current price.
3. Bissell Lightweight Cordless Hand Vacuum and Car Vacuum, 1985 – best handheld vacuum for car detailing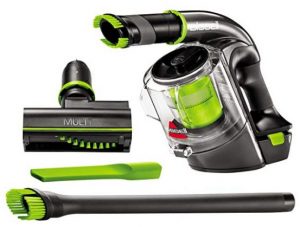 Sometimes, you don't need a big vacuum in order to do a perfect job. That's where the Bissell 1985 comes in. With an ergonomic design, this compact, lightweight hand vacuum is the best in its class when it comes to car detailing.
The fact that it is small yet powerful and it's cordless endears it to many a car enthusiast. Also, there are many tools available to ensure that you do a splendid job. These include a built-in extension hose, an extension wand, a motorized brush roll, a dusting brush, and a crevice tool. The crevice tool is especially crucial in reaching difficult areas such as in between car seats.
Also, the vacuums dirt cup is easy to remove and empty. There is a newer model that should give you similar if not better results. This is the BISSELL Multi Auto Lightweight Lithium Ion Cordless Car Hand Vacuum 19851.
Features
Cordless
Comes with various tools
Weighs 3.9 pounds
Ergonomic design with soft grips
22V Lithium-ion battery (up to 15 minutes)
Dirt cup size: 0.4 liters
Pros
Lightweight
Ergonomic design
Cordless
Great with pet hair
Strong suction
Easy to charge and store
Emptying is a breeze
Cons
15 minutes may not be enough to do a thorough job
Click here to check out its current price.
4. DEWALT DCV581H Cordless/Corded Wet-Dry Vacuum – best wet/dry vacuum for car detailing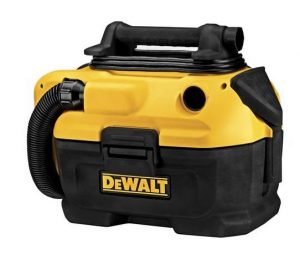 A good wet/dry shop vac should do a fantastic job in your car. Not only are you able to get rid of dry dirt and pet hair, but you can also get rid of any liquid messes on the car floor. With the right attachment (especially a crevice tool), even the dirt in the tightest of spaces should not be a problem.
The best wet/dry shop vac for car detailing is the DEWALT DCV581H. The vacuum is so versatile because it can be used as a corded or cordless one. You can connect it to a power source or use a rechargeable 18 or 20V battery. Please note that the battery and charger have to be bought separately.
At about 10 pounds, the vacuum is easy to carry around given that the handle is expertly made and has on-board storage for the tools. These accessories include a crevice tool and a wide nozzle tool attachment.
The vacuum uses a HEPA filter that helps to get rid of up to 99.97 percent of allergens like pollen and dust. The filter is washable. This may be a good thing for some people, but others prefer bags because you just have to replace instead of washing the dirt away.
Features
5-foot power cord
Can be used as cordless (18V/20V Battery)
5-foot hose (1.25-inch diameter)
Capacity: 2 Gallons
On-board storage
Weighs 10.8 pounds
Pros
Powerful suction
Portable
Can be used as corded or cordless
Washable HEPA filter
Can be used as a blower
On-board tool storage
The hose is crush resistant
Durable
Cons
Relatively short hose
The power cord could be longer
Click here to see the current price of the DEWALT DCV581H.
5. McCulloch MC1275 Heavy-Duty Steam Cleaner – best steam cleaner for car detailing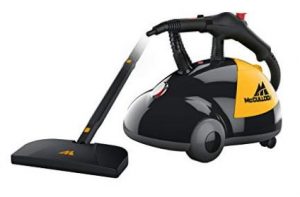 Whereas this is not a vacuum per se, we felt the need to include it here because it is one of the best appliances for car detailing. It works by producing steam to clean and sanitize surfaces. This particular steam cleaner heats water for about 8 minutes (up to 200 degrees Fahrenheit) and releases steam at a pressure of 43 PSI.
After using the steam cleaner, you then have to wipe off the moisture using a piece of cloth. Apart from car detailing, the McCulloch MC1275 can be used to clean other surfaces such as tiles, granite counter tops, sealed wood flooring, grout, laminate floors, grills and more.
The cleaner has a very large tank with a capacity of 48 ounces and so many accessories that makes work easy. These include a steam jet nozzle, two extension wands, a measuring cup, two microfiber pads, and a water funnel. You also get a mop head, a squeegee, a triangle brush, five nylon utility brushes, a brass utility brush, and a scrub pad.
With a 15.7-foot power cord and a long steam hose, 45 minutes of steam should be enough to detail the whole car.
Features
Weighs 10 pounds
43 PSI pressure
45 minutes of steam
Power cord length: 15.7 feet
8-minute heating time
10-foot hose
Capacity: 48 ounces
Pros
Many accessories (18)
Chemical-free cleaning
Large tank capacity
Easy to move around
Long reach
Attractive design
2-year warranty
Cons
Very loud
Not easy to store (no cord and hose wrap)
Click here to see its current price.
6. Ridgid 50313 4000RV Wet/Dry Vacuum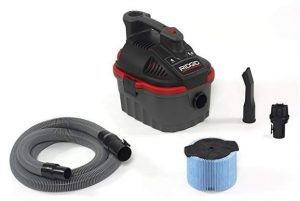 This is the immediate successor of the Ridgid WD4070, which has been one of the best vacuums for car detailing in the world for a long time. It goes without saying, therefore, that the Ridgid 50313 should be on any best car detailing vacuum list in 2023.
This is another wet/dry vacuum that is great for cars. It is very powerful (5 horsepower), with the capability to clean both dry and liquid messes. When it comes to car detailing, you can't go wrong with it, although you need to buy a tool kit separately.
You definitely need attachments such as a crevice tool to reach the tight spots in the car so that the job is near perfect. It also has a hole in the handle where you can stick the end of the hose as you move from one spot to the other.
Features
5 horsepower
Large carry handle
20-foot power cord
Converts to a blower
166 Air Watts
Weighs 14.5 pounds
Capacity: 4 Gallons
Hose length: 8 feet
Pros
Portable
Easy to store
Long-lasting motor
Long power cord
Cons
Click here to see its current price.
7. Vacmaster 4 Gallon Wet/Dry Shop Vac VF408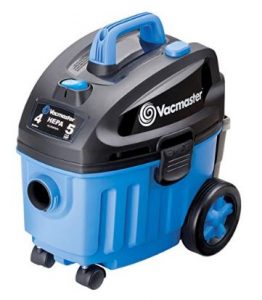 Vacmaster is among the world's best when it comes to making shop vacs. The Vacmaster VF408 is among the company's best wet/dry shop vacs. It is also fantastic at detailing cars and should be considered by any individual looking for a vacuum for detailing.
It has a respectable 5 horsepower motor that produces powerful suction. Also, a 4-Gallon capacity is more than enough since it reduces the number of time you need to empty the vacuum. Another advantage it has is the long power cord with automatic rewind. This makes usage and storage a walk in the park.
The vacuum also has a variety of tools that are critical for cleaning out all dirt. These include a crevice tool, a 2-in-1 utility nozzle, a round brush, and three extension wands.
Features
Weighs 17.2 pounds
4-gallon capacity
5 peak horsepower
18-foot power cord
Onboard storage
Hose length: 7 feet
HEPA filtration
Rear wheels
Pros
Great suction
Cheap
Compact hence easy to store
Portable
Automatic cord rewind
Has useful attachments
On-board tool storage
Very quiet
2-year warranty
Cons
Cord retraction does not work all the time
May not reach the peak power
Click here to see the current price of the Vacmaster VF408.
Most durable hoses for the best vacuum for car detailing
Sometimes, you may have to replace the hose because it is worn out or too short. Other times, you may want to buy a particular wet/dry auto detailing vacuum because it is good, but you know from buyers' feedback that the hose is terrible.
Regardless of your reason, you need to spend your money on the right hose. These are the best hose accessory kits:
Mr. Nozzle M-100-DB Wet/Dry Vac Tool Kit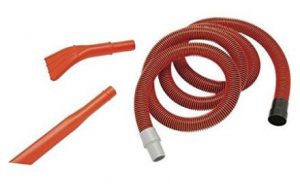 This 12-foot extension hose is strong enough to guarantee increased airflow and optimal performance by your vacuum. The hose is ideal for most wet/dry vacuum brands including Ridgid, DEWALT and Shop-Vac. Also, it comes with a non-clogging claw tool and a rugged crevice tool.
Note that this specific hose will fit any wet/dry vac with a 2.25-inch inside diameter port.
RIDGID VT2534 Auto Detailing Vacuum Hose Accessory Kit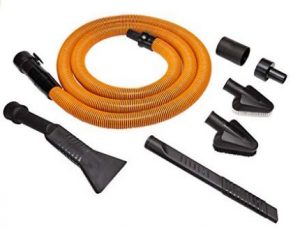 This kit is specifically made for Ridgid wet/dry vacs. Not only do you get a hose but you also get a complete accessory set. Other tools include a crevice tool, a soft bristle dusting brush, a stiff bristle scrubbing brush, one hose-to-hose adapter, and a claw nozzle.
With all these accessories, you are sure to leave your car sparkling clean.
How to choose the best vacuum for car detailing
How do you know that the vacuum of your choice is the best for its intended purpose? These are the factors to consider when shopping for a car detailing vacuum:
Suction
This is the main thing to check regardless of the type of vacuum you want to buy. Whether you want a vacuum for your house, office, shop or car, I'm sure you would want a vacuum that actually sucks (no pun intended).
A unit with powerful suction is the priority when it comes to vacuums for auto detailing. The more powerful the suction is, the more you are assured that the car will be spotless once you are done. In the same breath, you must consider a vacuum with fade-free suction from start to finish.
Attachments
Some vacuum cleaners are sold without attachments, while most come fully equipped with a multitude of accessories. This is a crucial factor to consider because you may not be able to do a perfect job without these tools.
An attachment such as a crevice tool ensures that you clean out dirt even from the most difficult areas such as in between car seats. Other important tools include an extension wand, a dusting brush, and a utility nozzle. You also need an extension hose or two if the main hose is too short.
Build
A vacuum cleaner should be a medium-term to long-term investment. It's not something that you want to buy every month or even every year. The longer it can last the better. You can check the material used to make the unit to gauge whether the appliance is going to last long. Something made of steel, for instance, will last long for sure.
Also, the parts need to be durable. Ensure that you read product reviews to judge this. For example, there are complaints regarding the durability of hoses in particular models. If this is the case for your preferred vacuum, you may need to buy a replacement from the onset.
Power cord length
Whereas there are some good cordless vacuums for car detailing, most are corded. The power cord should be long enough. This allows you to clean the entire car without having to switch power outlets or moving the car around. Personally, I prefer a 20-foot cord to a 5-foot one.
Hose length
The vacuum's hose length should be considered hand in hand with power cord length. The net effect of having a long hose and a long cord is that the total reach is extended. With the proper combination, you only need to plug into one power outlet until you are finished.
Also, once you park your car in the right spot, it remains there till you complete the task. A wall mounted vacuum must have a long hose. For example, the VacuMaid GV50PRO has a whopping 50-foot hose. I'm sure that's more than enough for anybody.
Blowing capability
Well, this is not a priority but rather an added advantage. A vacuum that can be converted into a blower in the blink of an eye gives you options. Before you start vacuuming, you can blow out any large debris that is lying around in the car.
Also, you can use the blower to agitate any dirt hidden in carpet car mats before vacuum cleaning. Another thing a blower can be used for is drying any wet patches on the mats or car seats.
Portability
The best vacuum for automotive detailing must be easy to move around. To know how easy it will be to move it around, you must check the item's size and weight. Of course, the weight that one can carry varies from individual to individual.
A 15-pound machine may be heavy for me but very light for someone else. So, this is down to you to decide depending on how strong you are. Some vacuums such as the MetroVac Vac N' Blo have wheels, making it even easier to move about.
Storage
Unless you have a large storage space in the garage, you may want to get a vacuum that is compact. This makes storage a walk in the park. Other features that make storage easy include wall-mounting, on-board tools storage and ability to wrap the cord or hose on the unit.
Allergies and Asthma
If the owner or other regular users suffer from allergies and asthma, you need to take them into consideration. A vacuum with HEPA filtration is ideal since it guarantees that all allergens such as dust and pollen are eliminated. HEPA filters capture up to 99.97 percent of pollutants.
Budget
Assume you are shopping for any other home appliance. Your budget is among the most important things to consider. Find a vacuum that you can afford. If you feel that your preferred unit is a bit expensive, it's best to wait as you save up. The last thing you want is spending more than you can afford, or buying a sub-standard item in a hurry.
Preferred type
This comes down to personal taste and preference. In our review, we have looked at many different types of automotive detailing vacuums. These include wall-mounted, handheld, cordless, corded and wet/dry vacuums.
We also included the McCulloch MC1275 which is the best steam cleaner for car detailing. Take your pick. Any item in this list will certainly give you the best bang for your buck.
Warranty & Customer Support
Warranty is important when buying any appliance. And the longer the warranty period, the better it is for you. Most manufacturers provide a standard 1-year warranty. However, you can some offering a 2-year or 5-year warranty.
Another thing you need to consider is customer support. Check the company's website on availability and mode of reaching out for support. Generally, it is better if you can reach the manufacturer via telephone than email. You can also go through a few customer reviews to see if there are any complaints from previous buyers.
Best Vacuum for Car Detailing 2023 – Final thoughts
Looking for the best auto detailing vacuum is not an easy task. However, we have gone through many products to identify the best 7 in the market this year. So, whichever you pick from the list, rest assured that you will get great service.
At the end of the day, remember that there are factors to consider as outlined above. Also, most of these cleaners double up as blowers. Please let us hear any feedback you have in the comments.
These are the best vacuums for car detailing in 2023:
VacuMaid GV50PRO Wall Mounted Garage and Car Vacuum
MetroVac Vac N' Blo Auto Vacuum Cleaner VNB-94BD
Bissell Lightweight Cordless Hand Vacuum and Car Vacuum, 1985
DEWALT DCV581H Cordless/Corded Wet-Dry Vacuum
McCulloch MC1275 Heavy-Duty Steam Cleaner
Ridgid 50313 4000RV Wet/Dry Vacuum
Vacmaster 4 Gallon Wet/Dry Shop Vac VF408