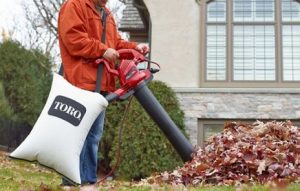 What is the best leaf vacuum mulcher? In this article, we take a look at 9 of the top leaf vacuums that you can buy. Apart from sucking in leaves, these actually "mulch" or "shred" them to tiny pieces thereby making it easy for you to dispose of.
Getting rid of leaves ensures that your compound remains clean and welcoming. Apart from that, it allows grass, flowers and other plants in your homestead to get enough sunlight.
Compare the Best Leaf Vacuum Mulchers
Before we get into more details, here is a summary of the recommended products:
What is a leaf vacuum mulcher?
Mulching is the process through which leaves are shredded into tiny bits by sharp blades inside the leaf vacuum. Leave vacuum mulchers, however, can do more than that. Apart from sucking in (vacuuming) leaves, they can be used as blowers.
Trees usually shed leaves that are strewn all over lawns, yards, driveways, sidewalks, porches, decks, patios and so on. Gone are the days where you needed to use a rake or to physically pick up the leaves. You just need to buy a leave vacuum to simplify the task.
Once the leaves are mulched, they reduce in volume, making it easy to dispose of in the trash. Also, the leaves make for a great addition to your compost pile in case you have a garden or flower bed.
Types of leaf vacuum mulchers
Depending on their source of power, leaf vacuum mulchers can be either gas powered or electric. Let's look at the differences:
Gas vs. Electric Leaf Vacuums – Comparison Table
| | |
| --- | --- |
| Gas | Electric |
| Run on gasoline | Run on electricity |
| They are usually backpack or handheld | Usually handheld and can be corded or cordless |
| Noisy | Less noise |
| Heavy | Lightweight |
| Air pollution | No emissions |
| Generally expensive | Generally cheaper |
Whereas gas leaf vacuums are still in the market and are still being used, most buyers currently prefer electric models. Apart from being lighter, cheaper and less noisy, they also do not emit pollutants that known to be detrimental to the environment.
Electric leaf vacuum mulchers can either be corded or cordless. Obviously, both have advantages and disadvantages. Using a corded leaf vacuum limits you in terms of reach. However, you can use an extension cord if need be. The advantage you get is that you can work as long as you want without stopping.
A cordless leaf vacuum mulcher, on the other hand, gives you the flexibility to go as far as you need. The only downside is that battery life is normally limited. Sometimes, the charge may run out before you complete the task at hand.
Buyer's Guide: Factors to Consider When Shopping for a Leaf Vacuum Mulcher
Before you settle on one mulcher, there are a few things that you need to take into account. At the end of the day, you have to get the best bang for your buck.
The type
As mentioned above, leaf vacuum mulchers can either be gas powered or electric. Further, electric ones can either be corded or cordless. So, you need to make your decision based on the pros and cons of each as well as your home's set up.
Mulching ratio
One of the advantages of leaf vacuum mulchers is that they reduce the volume of a pile of leaves. This makes it easier to empty into the trash without filling it up. Of course, the higher the ratio is, the better. Most manufacturers promise a ratio of between 10:1 and 18:1.
Whether a particular ratio can be achieved has to be tested practically. Usually, the reduction ratio varies with the condition of the leaves (wet/dry) as well as the presence of other material.
Size of the collection bag
Apart from the mulching ratio, you need to know if the collection bag's capacity suits your needs. If you have a large area to cover or many trees that are shedding leaves, you need a bigger bag. Similarly, if you only deal with a few leaves, a small-sized bag would be enough.
Speed adjustment
This is another vital factor to consider. While most leaf vacuum mulchers allow you to regulate the speed, just double-check to be sure. This is necessary if all you are going to preserve any delicate flowers or plants while getting rid of leaves. However, the higher the top speed the better. Leaf vacuums' air speed is measured in miles per hour (MPH).
Suction power
This is a very important consideration regardless of whether you are looking for a vacuum for your house or a leaf vacuum. The more powerful a vacuum is, the more efficient it will be. What you need to check is the motor's power rating. A standard 12-amp motor or anything close should do a fantastic job.
Air flow is also a strong indicator of a leaf vacuum's power. It is measured in CFM (cubic feet per minute). For example, a leaf vacuum with a 100CFM means that it moves 100 cubic feet of air per minute. The higher the CFM, the more effective the vacuum mulcher will be.
Weight/Portability
If you're going to get rid of all the leaves from your backyard, the machine you are using better be light. Well, unless you want to work out at the same time! Check the item's weight in the product specifications to see whether you can comfortably handle it. Since most leaf vacuum mulchers are handheld, this is a crucial point. Otherwise, go for backpack leaf vacuum for convenience.
Impeller
Regular vacuums for homes/offices normally filter out debris before it gets into contact with the fan. However, when it comes to leaf vacuums, hard debris passes through the fan system together with the leaves. The "fan system" in leaf vacuum mulchers is called the impeller.
On the impeller, you find blades that help to shred leaves into tiny bits. Unfortunately, the impeller and impeller blades can be damaged by nuts, pieces of wood, small rocks and so on. So, it and the must be made of either flexible or high-quality material.
Some leaf vacuum mulchers have plastic impellers. However, the ones that are made of metal are more durable. A good impeller improves the mulching ratio and prevents clogging.
Price
Leaf vacuum mulchers are generally affordable. Actually, the most expensive unit on this review costs about 150 bucks. A good percentage is below the 100-dollar mark. However, you must have a budget before shopping for anything. Always remember that the most expensive item is not necessarily the best out there.
Warranty & customer service
Lastly, you need to establish the nature and length of the product's warranty. You also can check out a few reviews by previous owners to see how a particular manufacturer handles customer issues. Positive feedback is a clear indication of what to expect in case you encounter problems.
The Best Leaf Vacuum Mulchers 2023 – Product Reviews
There are tons of products from which to select your preferred option. We have narrowed it down to the top 9 which we are going to look at briefly. These are the best leaf vacuum mulchers that you can buy in 2023:
1. Toro 51621 UltraPlus Leaf Blower Vacuum – best leaf blower vacuum mulcher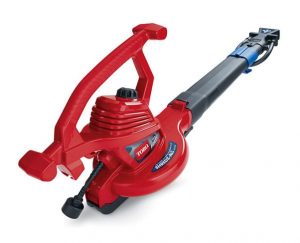 This is one of the most powerful leaf blower, vacuum and mulcher combos in the market. A respectable airflow of 410 CFM in vacuum mode allows it to suck in leaves and other debris with ease. Also, it has a patented shreds-all shred ring. This works in conjunction with a metal impeller to reduce up to 97 percent of mulched debris to less than 0.5 inches in size.
This mulcher is also very easy to use. It has an oscillating nozzle that sweeps the air back and forth automatically. This helps to make the blowing path on hard surfaces wider without moving the wrist.
You also get a variety of attachments to sort out leaves in whichever condition. The main blower tube is designed for dry leaves while a power insert is available for wet leaves. A concentrator helps to deal with leaves hiding in hard-to-reach areas like corners and crevices.
Features
Handheld
Electric (corded)
Weighs 8.9 pounds
Motor: 12 amps
Voltage: 120V
Metal impeller
97% leaf reduction
Noise level: 68 dB
Max air speed: 250 MPH
Variable speed
Vac mode air flow: 410 CFM
Blower mode air flow: 350 CFM
Cord storage hook
Shred-all shred ring
Pros
Durable
Very powerful
Easy to carry
Oscillating nozzle
Easy to store
It is relatively quiet
Electric hence no fumes
Excellent, adjustable speed
Inbuilt power cord locking hook
The zipper is at the bottom of the bag
3-in-1 vacuum, blower, and mulcher
2-year full warranty
Cons
No anti-vibration
There are a few complaints about the quality of the bag and the zipper
2. Worx WG518 Electric Blower/Mulcher/Vac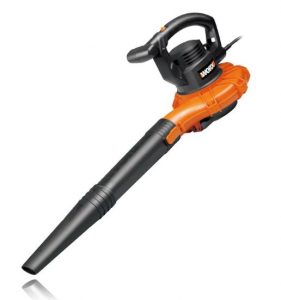 This is yet another powerful 3-in-1 leaf blower, vacuum, and mulcher. Being lightweight, it is easy to use and store. Some other benefits you get to enjoy with the Worx WG518 include fast air speed, and a one-touch blower/vacuum conversion. Based on our research, its performance is better than that of WG430, WG505, WG509, and WG510.
Depending on the task at hand, you can use one or both hands. Also, the dual-speed adjustment allows you to decide which amount of force you need for a particular area.
Features
Handheld
Electric (corded)
Weighs 7.5 pounds
Air speed: 160-250 MPH
Max air flow: 400 CFM
Voltage: 120V
2-speed blower
12-amp motor
Noise level: 82 dB
Mulching ratio: 16:1
Metal impeller
Collection bag capacity: 1.2 bushels
One-touch blower/vac conversion
Pros
Lightweight
High speed
Powerful
Easy to assemble
Ergonomic design
3-in-1 vacuum, blower, and mulcher
3-year warranty
Cons
It is not the best for wet leaves
3. Toro 51619 Ultra Electric Blower Vac – best budget leaf vacuum mulcher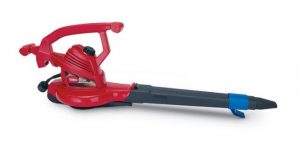 This 3-in-1 leaf vacuum is also great in getting rid of leaves from sidewalks, yard, patio, yards, and the like. Just like the Toro 51621 UltraPlus, it is powerful and easy to use. All the features and specifications are also similar.
However, the leaf reduction ratio is a bit lower. Its leaf reduction is 88% which is a bit less than the 97% offered by the Toro UltraPlus. Also, the only accessories you get are a power insert and a concentrator.
Features
Handheld
Weighs 8.5 pounds
Electric (corded)
Voltage: 120V
Max air speed: 250 MPH
Variable speed
Noise level: 68 dB
Vac mode air flow: 410 CFM
Blower mode air flow: 350 CFM
12-amp motor
Metal impeller
Pros
3-in-1 capability
88% leaf reduction
Easy to store
Relatively quiet
Variable speed
Great for both wet and dry leaves
Built-in power cord locking hook
The zipper is at the bottom of the bag
2-year full warranty
Cons
The power switch may be a bit too sensitive
4. Husqvarna 125BVX 28cc 2-Cycle Gas Leaf Blower/Vacuum 952711902 – best gas powered leaf vacuum mulcher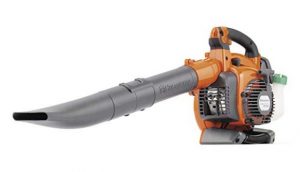 This is the first gas-powered leaf vacuum mulcher on this list. As expected of any good leaf blower, vacuum, and mulcher combo, it is quite powerful thanks to a 1.1-horsepower, two-cycle engine. With a large fuel tank and efficient consumption, you can work for hours. Also, it uses cruise-control function to automatically maintain the fan speed at a constant.
This leaf champion is also very easy to carry and use. It is light and ergonomically designed so that you can use it for long without risking fatigue or injury to your wrist. It also has a smart engine start so that you don't struggle to get it going.
Features
Gas powered
Handheld
Weighs 9.6 pounds
Air speed: 170 MPH
Max air flow: 470 CFM
Bag capacity: 17 Gallons
Auto return stop switch
Mulch ratio: 16:1
Noise level: 107 dB
Adjustable tube length
Fuel tank volume: 16.91 fl oz
Fuel consumption: 575 g/kWh
Cruise control
Smart Start
Engine: 2-cycle, 28cc, 1.1 HP, 8,000 RPM
Pros
Powerful
Lightweight
Intuitive controls
Ergonomic design
2-year limited warranty
Cons
More expensive than most mulchers
5. BLACK+DECKER BV6600 High Performance Blower/Vac/Mulcher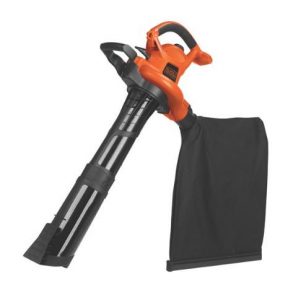 This Black & Decker handheld 3-in-1 leaf blower, vacuum, and mulcher is another powerful machine that is worth a punt. It is easy to use and you can control the speed depending on the task at hand. Also, conversion between the vacuum mode and blower mode is a breeze.
Apart from the usual blow tube and vacuum tube, the BLACK+DECKER BV6600 also comes with one concentrator. There's also a shoulder strap which is a great option if you have to clean up a large lawn or backyard.
With a large leaf reduction ratio of 16:1 and EZ-Empty reusable leaf bag design, you will save a lot of time and effort.
Features
Weighs 8.1 pounds
Handheld
Electric (corded)
Max air flow: 400 CFM
Air speed: 140-250 mph
2-speed
Motor: 12 Amps
Bag capacity: 1.5 bushels
Noise level: 68 dB
Mulch Ratio: 16:1
Voltage: 120V
Pros
Powerful
Reasonably quiet
Variable speed
3-in-1 functions
Many straps make it easy to handle
2-year limited warranty
It is easy to switch between vacuum and blower
Cons
Gets clogged occasionally
6. Sun Joe SBJ605E 14-Amp Electric Blower/Vacuum/Mulcher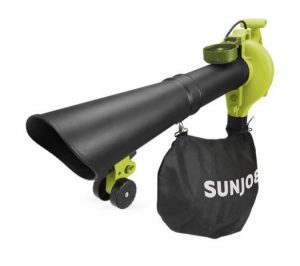 Snow Joe and Sun Joe are household names when it comes to home improvement tools and machines. This includes pressure washers, air compressors, leaf blowers and vacuums, hedge trimmers, snow shovels and so much more. As the respective names go, the outdoor tools are useful during sunshine and when the snow is falling.
One of their most innovative products is the Sun Joe SBJ605E 3-in-1 electric leaf blower, vacuum, and mulcher. With a powerful motor, lightweight design and durable parts, expect to clean your homestead with ease and efficiency.
Features
Weighs 8.6 pounds
Handheld
Electric (corded)
Max air flow: 440 CFM
Max air speed: 250 MPH
14-amp motor
Voltage: 120V
Noise level: 96 dB
Aluminum alloy impeller
Reduction ratio: 16:1
6-speed settings
Pros
Very powerful
Variable speed
Durable impeller
2-year full warranty
Cons
The collection bag is relatively small
7. Remington RM1300 Mulchinator 12 Amp Electric Vacuum, Mulcher/Blower Combo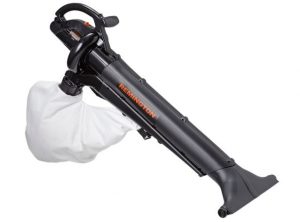 The name Remington "Mulchinator" is a clear indication of where the main focus was when developing this great machine. Apart from blowing away leaves, you can use it to vacuum leaves and then automatically shred them into tiny pieces.
Whereas the leaf reduction ratio is lower than that of most leaf vacuum mulchers, it still gets the job done well. This is thanks to a powerful 12-amp motor. Also, the process of switching from the blow mode to vac mode and vice versa is easy because you don't need any tools.
Also, if you want to get rid of any debris from hard surfaces, you can use the rolling nozzle attachment. This one lets you glide over the surface easily.
Features
Handheld
Electric (corded)
2-speed
Weighs 10 pounds
12-amp motor
Max air speed: 150 MPH
Max air flow: 350 CFM
Mulching ratio: 10:1
QuickShift lever
Voltage: 120V
Noise level: 68 dB
Bag capacity: 1 bushel
Attachable rolling nozzle
Pros
Great for artificial turfs
3-in-1 functionality
Easy to use
Relatively quiet
Quickly converts from blower to vacuum
2-year limited warranty
Cons
The collection bag could be larger
Its impeller gets damaged fairly easily
8. Worx WG509 TRIVAC 12 Amp 3-In-1 Electric Blower/Mulcher/Vacuum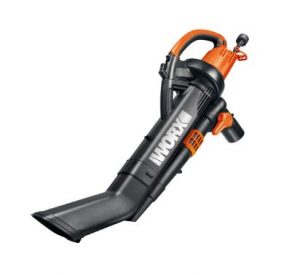 Worx is one of the leading brands when it comes to leaf blowers, vacuums, and mulchers. Apart from the Worx WG518 reviewed earlier in this article, the WG509 is another fantastic option. It is powerful enough to capture and shred all the leaves in your homestead into little bits.
Due to its impeccable design, this lightweight machine is easy to handle as you clean up. The angled nose increases its efficiency when picking up leaves.
Features
Handheld
Electric (corded)
Weigh 9.3 pounds
12-amp motor
Voltage: 120V
Mulch ratio: 18:1
Noise level: 50 dB
Bag capacity: 1.2 bushels
Max air speed: 210 MPH
Max air flow: 350 CFM
Pros
Easy to switch functionality
3-in-1 design
Variable speed
Attractive design
It is easy to empty and clean
3-year limited warranty
Cons
The bag could be bigger
Not great with wet leaves
The on/off switch is cumbersome
9. BLACK+DECKER BEBL7000 Back Pack Leaf Blower Vacuum & Mulcher – Best Backpack Leaf Vacuum Mulcher
Convenience is the name of the game when it comes to backpack vacuums. Whether you are looking for a vacuum for your house, office or for the outdoors, portability is a key aspect. At it doesn't get better than this. Carrying a 15-pound machine on your back is definitely easier than carrying one by hand.
The innovative BLACK+DECKER BEBL7000 lets you carry most of the weight on your back. Your hand is then free to move the blow or vac tube along the floor as you get rid of the leaves. This leaf vacuum, blower, and mulcher combo is very powerful but also easy to use.
Features
Backpack
Electric (corded)
Weighs 11.1 pounds
Power boost button
Noise level: 68 dB
Mulching ratio: 16:1
Max air speed: 250 MPH
Max air flow: 400 CFM
12-amp motor
Voltage: 120V
2-speed
Pros
Powerful
Easy to carry and use
Large capacity
Variable speed
It's easy to switch between function
Cons
The bag could be larger
May clog if leaves are not dry
Best Leaf Vacuum 2023: Final Thoughts
Leaf vacuum mulchers are generally cheap, so the main area of concern should be the performance. In this review, we have sifted through tens of products to identify the ones that are outstanding. Whether you are looking for an electric or a gas leaf vacuum, we have recommended one for you.
Also, while there are cordless options, most of the recommended units are corded. This gives you an advantage of cleaning for an unlimited time. Other variations include handheld vs backpack leaf vacuum mulchers. Other than performance-related features your tastes and preferences should dictate your choice.
Whereas shop vacuums can be converted to blowers, they cannot vacuum and mulch leaves. That's why you need to purchase a leaf mulcher separately.
In summary, these are the best leaf vacuum mulchers 2023:
Toro 51621 UltraPlus Leaf Blower Vacuum
Worx WG518 Electric Blower/Mulcher/Vac
Toro 51619 Ultra Electric Blower Vac
Husqvarna 125BVX 28cc 2-Cycle Gas Leaf Blower/Vacuum 952711902
BLACK+DECKER BV6600 High Performance Blower/Vac/Mulcher
Sun Joe SBJ605E 14-Amp Electric Blower/Vacuum/Mulcher
Remington RM1300 Mulchinator 12 Amp Electric Vacuum, Mulcher/Blower Combo
Worx WG509 TRIVAC 12 Amp 3-In-1 Electric Blower/Mulcher/Vacuum
BLACK+DECKER BEBL7000 Back Pack Leaf Blower Vacuum & Mulcher