What is the best vacuum for college dorm rooms? Well, there are hundreds of vacuum cleaners in the market. Most of them are great for heavy-duty jobs in homes, offices or shops. However, there are some that are ideal for small tasks. Today, we look at the top 8 best dorm room vacuums in 2023.
You can use the below table to jump straight to a particular vacuum cleaner.
Best Vacuum for College Dorm Rooms – Overview
Before we get into more details, here is a summary of the best vacuums for dorm rooms:
How to choose the best vacuum for college apartment or dorm
Dorm rooms are usually very small in size. Also, the kind of dirt to deal with is not very tough – even if you decide to hold a party there. Before you buy a vacuum for your dorm room, there are a few factors to consider. These are:
Weight and size
Space is not a luxury in college dorms. So, the vacuum you buy must be small in size. This makes it easy to store once you are done with the cleanup. Also, you don't want to be dragging a 20-pounder every time you want to vacuum. A lightweight vacuum is ideal for college/military dorms.
HEPA filtration
While this is not a mandatory requirement for dorm room vacuums, it is necessary if you are asthmatic or if you're fighting any allergies. What HEPA filters do is to prevent up to 99.97% of allergens such as dust, pollen and dust mites from getting back into the air once they are sucked into the canister or dirt bag.
Floor type
Dorm rooms will either have bare floors or carpets. You may decide to spruce it up by buying a better quality carpet and maybe a small area rug. So, before you decide which vacuum to purchase, check the specs to ensure that it has the capability to clean up the specific floor type in the dorm.
Attachments/Versatility
Vacuum cleaning is not limited to the floor. You may want to dust your bed, bookshelf, upholstery or drapes. A vacuum that has attachments such as a crevice tool, an upholstery tool, and a dusting brush would be the best option here.
Alternatively, you can buy a 2-in-1 vacuum that can be easily converted into a lightweight hand vacuum.
Suction
You need a vacuum that sucks! Literally. Whereas you are not going to be dealing with heavy messes, your vacuum of choice must have enough power. It should not have a problem picking up dust or pieces of chips from the floor.
Bagged vs. Bagless
While it is easier to empty a bagless vacuum, bagged vacuums are known to be more allergy-friendly and stronger. However, if I had to pick one for my college dorm room, I'd go for the bagless options. Who wants the hassle of removing bags and buying (sometimes costly) replacements?
Corded vs. Cordless
Generally, cordless vacuums are okay for dorm rooms. Given the size of the room, you must have finished the task by the time you are the battery dies. On the other hand, you don't need to worry about that if you have a corded vacuum. However, always ensure that the cord length is enough to cover the entire place.
Price
This is another crucial aspect. You don't have to break the bank to get the best vacuum for college dorm room. Sometimes, the most expensive vacuum is not necessarily the most efficient. Luckily for you, most of our recommendations cost less than 100 bucks. There's even one that costs just $30 but gets the job done.
Reviews of the Best Vacuums for College Dorm Rooms 2023
Let's look at each of the products briefly. These are the best dorm room vacuums that you can buy in 2023:
1. VonHaus 2 in 1 Corded Lightweight Stick Vacuum Cleaner – best 2-in-1 vacuum for dorm rooms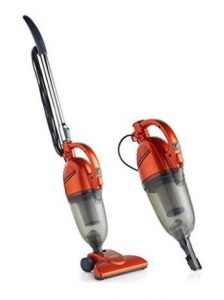 We recommend this one as the best vacuum for dorm rooms because of its versatility, price, and accessories. It is very easy to remove the stick and use it as a handheld vacuum for quick cleanups. You can also the crevice tool, the small brush attachments to ensure that every nook and cranny in the room is taken care of.
The 1.3-liter dust cup is very easy to remove and empty once full. Also, the vacuum uses HEPA filtration to get rid of up to 99.97 percent of allergens; hence it is a great option for the asthmatic and allergy sufferers.
At 5.6 pounds, it is lightweight and compactly designed so as to make your experience smooth. It also has a quick-release 6-meter power cord.
Click here to see its current price.
2. BLACK+DECKER BDH2020FL – best handheld vacuum for dorm rooms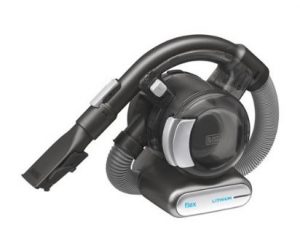 Given the size of most dorm rooms, you may not necessarily need the regular vacuum cleaners. A hand vacuum can be enough to do the job. The Black & Decker BDH2020FL is hands down best hand vacuum for dorm rooms. It is very light (3.2 pounds) and ergonomically designed. So, it is very easy to use on the floor and all above-ground areas.
It is very easy to empty and wash once it fills up. Also, it uses a 3-stage filtration system to capture pollutants. Being cordless, you need to charge it before use. However, once it is fully charged, it gives you fad-free, powerful suction until you're done.
If you have a pet, this is one of the best options. There is a pet brush that takes care of pet hair and dander.
Click here to see its current price.
3. Shark Navigator Lift-Away Professional NV356E – best upright vacuum for dorm rooms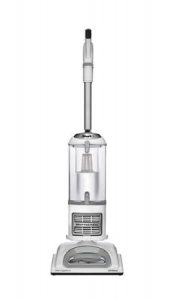 You may not expect to see a Shark vacuum recommended as one of the best cleaners for dorms. However, the Shark NV356E is one of the best dorm vacuums around. It is relatively light, compact and also easy to store. Once you're done, you can place it in the corner, leaving a lot of space for other things.
It is one of the most versatile vacuums because it can clean carpets and bare floors with the same efficiency. Also, fighting allergens is another battle won thanks to the innovative Anti-Allergen Complete Seal Technology and HEPA filtration.
If you need to clean above-ground areas such as the bed, you can easily detach the canister at the press of a button. This is dubbed the "Lift-Away" feature. Once the large-capacity dirt cup is full, it is easy to empty and clean.
The only demerit we can point out is that it is the most expensive on this list. Click here to see its current price.
4. Bissell Zing Canister 2156A – best bagless canister vacuum for dorm rooms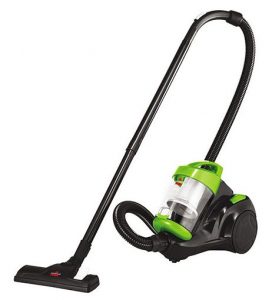 Canister vacuums are usually large. However, for a dorm room, you need one that is light and compact in design. The Bissell Zing 2156A is one such vacuum. It weighs less than 8 pounds but it is powerful enough to clean up small messes in the room.
When it reaches the max dirt level, emptying is a walk in the park. It also comes with a few attachments for wholesome cleaning. These include a crevice tool and a dusting brush. Other positives include an automatic cord rewind and an air flow regulator.
Lastly, most college students prefer nice-looking items to ugly, rugged looking ones. This vacuum's design and color are pleasing to the eye and should pass the test.
Click here to see its current price.
5. Dirt Devil Tattoo Crimson Bouquet SD30040BB – best bagged canister vacuum for dorm rooms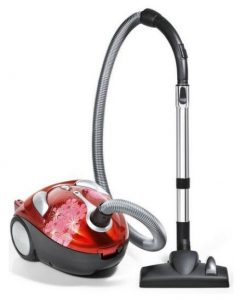 This is another attractively designed vacuum cleaner for dorm rooms. It is compact, lightweight and also easy to store in a small space. It is powerful enough for the common dirt found in dorms and has a long 20-foot power cord.
Its add-ons include a dusting brush and a crevice tool. Also, it has an automatic cord rewind capability that is a huge plus. Being a bagged vacuum, expect to buy replacement bags from time to time.
Click here to see its current price.
6. Hoover Cruise BH52210PC – best stick vacuum for dorm rooms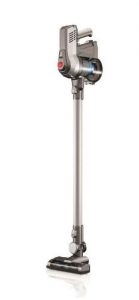 Stick vacuum enthusiasts can tell you for a fact that they are very easy to use. And the Hoover Cruise BH52210PC is no exception. Emptying the dirt and cleaning the vacuum is a breeze. A wall-mount is also provided for convenient storage. It weighs only 4.7 pounds; hence portability is not an issue.
Just like the VonHaus 2 in 1 vacuum, you can detach the stick and use it as a handheld vacuum for quick cleanups. It also has a few accessories so that you can clean even the hard-to-reach places. These include a crevice tool, a dusting brush, and an upholstery tool.
Being cordless, you only get so much time before the battery charge runs out. However, this should not be a problem given that dorm rooms are usually small.
Click here to see its current price.
7. Eureka Blaze 3-in-1 Swivel Lightweight Stick Vacuum – best cheap vacuum for dorm rooms under $30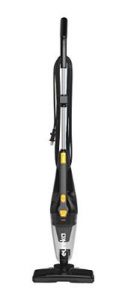 If you are on a tight budget, you can still get a vacuum that costs around 30 bucks. Remember that cheap does not necessarily mean that it is bogus. The Eureka Blaze 3-in-1 vacuum is light but has enough suction to meet your needs.
Also, it is compact hence easy to store in small spaces. Swivel steering allows you to maneuver easily as you clean. It is recommended for bare floors, low-pile carpets, and area rugs. A crevice tool is also provided for dirt hiding in corners and other hard-to-reach areas.
This vacuum also has a relatively long 18-foot power cord.
Click here to see its current price.
8. ILIFE V3s Pro Robotic Vacuum – best robot vacuum for dorm rooms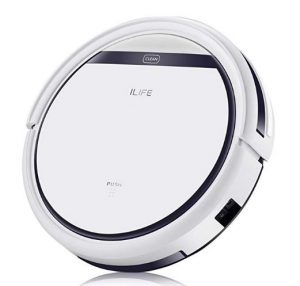 Who needs a robot to clean such a small space? Anyone who has been anywhere near college knows that sometimes all you wanna do is lie around in the bed. Other times you have so many assignments that you literally have no time to clean up. That is where the ILIFE V3s robot vacuum comes in.
A robot vacuum literally does all the work for you on the go or under a schedule. The ILIFE V3s lets you issue commands using a remote control. It also charges itself and has smart sensors that prevent it from bumping into obstacles.
This vacuum is best suited for low-pile carpets as well as hard floors. If you have a pet, it also sucks in pet hair and dander with ease. While there are other better robotic vacuum cleaners in the market, they are much more expensive. Also, given the nature of the task at hand, you really don't need a monster robot vacuum to do the job.
Click here to see its current price.
Conclusion
As you have seen, you don't need a very powerful or very expensive vacuum to clean dorm rooms. Any vacuum that has a substantial suction power is enough. Also, you don't have to break the bank to buy one. Even with 50 bucks, you can get a fantastic appliance.
In summary, these are the best vacuums for dorm rooms in 2023:
VonHaus 2 in 1 Corded Lightweight Stick Vacuum Cleaner
BLACK+DECKER BDH2020FL
Shark Navigator Lift-Away Professional NV356E
Bissell Zing Canister 2156A
Dirt Devil Tattoo Crimson Bouquet SD30040BB
Hoover Cruise BH52210PC
Eureka Blaze 3-in-1 Swivel Lightweight Stick Vacuum
ILIFE V3s Pro Robotic Vacuum