SEBO is one of the best vacuum cleaner brands in the world. Thousands of homes and businesses use SEBO vacuums because of how effective they are in picking up all kinds of dirt and debris. And they clean a wide range of flooring types too – carpets and bare floors. Today, we review the best SEBO vacuum cleaners in the market this year.
A Comparison of the Best SEBO Vacuums in 2023
Before we get into more details, these are the top 3 best SEBO vacuums that you can buy in 2023:
| Best SEBO Vacuums | Picture | Weight | Capacity | Power Cord |
| --- | --- | --- | --- | --- |
| 1. Automatic X5 (9587AM) | | 16.9 lbs. | 1.4 Gallons | 40 ft. |
| 2. Airbelt D4 (90641AM) | | 15.9 lbs. | 1.5 Gallons | 40 ft. |
| 3. Airbelt K3 (9687AM) | | 12 lbs. | 0.8 Gallons | 25 ft. |
A brief history of SEBO vacuums
The SEBO brand came about when the company Stein & Co. GmbH was founded in Velbert, Germany over four decades ago (1978).
Since the year 1979, SEBO has been exporting both commercial and home vacuums to the US. While the company manufactures an array of floor and carpet cleaning tools and accessories, the vacuums stand out.
The two main vacuum types produced by SEBO are upright vacuums and canister vacuums. They are very powerful, effective, and easy to use. The company also boasts of the fact that it has pioneered some of the world's most innovative vacuum-related technologies and systems. These include:
S-class filtration
Safety shut off
Dust bags that fill from the top
Electrostatic micro-filters
Electronic brush control
Integrated suction hose for upright vacuums
Electronically controlled automatic height adjustment
Timing-belt-driven brushes that have clutch protection
Soft bumpers on canister vacuums for protection of the vacuum and furniture
Apart from the US, SEBO vacuums are sold all over the world. SEBO vacuums can be found in North America, Europe, Australia, New Zealand, and Africa. So far, over 4 million SEBO vacuums have been sold worldwide.
The SEBO 350 upright vacuum was the first model to be made in 1978. Since then, other models have come about. These include the Automatic X series, Airbelt C series, Airbelt D series, Airbelt E series, and the Airbelt K series. Other SEBO product lines made over that period include Professional D, Professional G, Felix, Dart, Evolution, and Comfort.
Reviews of the Best SEBO Vacuums 2023
There are many SEBO vacuums in the market. However, only a few make the cut in this list. These are the best SEBO vacuums for 2023:
1. SEBO 9587AM Automatic X5 Upright Vacuum – Best Sebo vacuum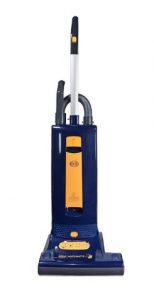 Since the SEBO Automatic X series was first introduced in 1991, there has been a tremendous improvement. The latest model is the Automatic X5 which is the immediate successor of the SEBO Automatic X4. Without a doubt, it has more to offer in terms of usability and performance.
The vacuum can be used on both carpets and hard floors. It has an electronic controller that automatically adjusts the floor head height. Therefore, the transition from carpets to hard floors and vice-versa is a breeze. Also, the controller is able to shut off the vacuum in case of clogged filters, a worn-out brush, a full bag or brushroll obstructions. This prevents further damage.
When it comes to filtration, the SEBO Automatic X5 doesn't use the normal HEPA filters. Instead, it uses SEBO filters. Just like HEPA filters, SEBO's S-class pre-motor microfilters can capture particles as small as 0.3 microns in diameter. This means that the vacuum is HEPA-standard and is, therefore, ideal for allergy sufferers and the asthmatic.
The fact that the vacuum is tightly sealed and uses bags means that handling of allergens is taken a notch higher. No wonder it has been recommended by the British Allergy Foundation.
Lastly, unlike most vacuums, this unit has a very long power cord and a large dirt capacity. Also, there are a few attachments to help with above-floor cleaning. These include a crevice tool, a dusting brush, and an upholstery nozzle.
Features
Type: upright, bagged
Body weight 16.9 pounds
40-foot power cord
Hose length: 6 feet
Capacity: 1.4 Gallons
Cleaning path: 14.5 inches
Airflow: 103.8 CFM
1300W motor
Rubber-coated wheels
S-class pre-motor microfilters
Automatic height adjustment
Instant-use wand and suction hose
Pros
Strong suction
Easy to use
Large capacity
It's long lasting
Multi-floor capability
Fantastic with pet hair
Very long power cord
Full bag indicator
Relatively quiet
Wide cleaning path
Low-profile design
Shuts off to prevent damage
Lifetime belt warranty
Has attachments
Great for asthma and allergy sufferers
Indicator lights for clogs, worn brush, and brush obstruction
Five-year limited warranty
Cons
It is expensive
The hose could be longer
Clearly, this is the Best upright SEBO vacuum 2023. Click here to see its current price.
2. SEBO 90641AM Airbelt D4 Premium Canister Vacuum with ET-1 Powerhead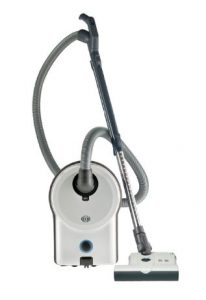 This is the best SEBO canister vacuum cleaner in the market. Ideally, it's meant for commercial purposes, but that's not to say you can't use it for your own home. In fact, the only difference is the volume of work. Its powerful suction allows it to suck in the dirt, debris, and pet hair with ease.
Airbelt D4's ET-1 power head effectively cleans all types of floors, whether bare or carpeted. A 4-level height adjustment plus brushroll shut-off makes it easy to transition from carpets to rugs to hard floors.  You can also adjust the suction to suit the surface you want to clean. Then, the floor head swivels up to 180 degrees. So, it is easy to maneuver around furniture as you clean.
Just like the Automatic X1, this unit has a very long reach (a total of 50 feet). This means that is suitable for small to large rooms. Also, it has a few accessories that allow you to do a wholesome cleanup job. The SEBO Airbelt D4 comes with an upholstery nozzle, a crevice tool, and a dusting brush. You also get a parquet brush that's specifically for bare floors.
As is common with SEBO vacuums, the filtration system is superb. SEBO's S-class exhaust microfilters capture particles as tiny as 0.3 microns in diameter. Therefore, it is ideal for anyone struggling with allergies and other respiratory problems. Up to 99.9 percent of pollutants are trapped inside that dirt bag. Also, it has pre-motor filters that help to protect the motor from damage.
Features
Type: canister, bagged
Weighs 15.9 pounds
40-foot power cord
Hose length: 7 feet
Capacity: 1.5 Gallons
1250W motor
Airflow: 120 CFM
Cleaning path: 12 inches
4-level height adjustment
Swivel steering
Rubber-coated wheels
Soft foam bumper
LED suction-power indicator
Pros
Sturdy
Strong, variable suction
Very long power cord
Excellent filtration
Easy to maneuver
Quiet operation
Great with pet hair
Multi-surface cleaning
Has attachments
Ergonomic handle
Low-profile design
Full bag or clog indicator
Large capacity
Shuts off the brushroll in case of obstruction
Five-year limited warranty
Cons
It's very expensive
Narrower cleaning path compared to the Automatic X5
Click here to see its current price.
3. SEBO 9687AM Airbelt K3 Canister Vacuum with ET-1 Powerhead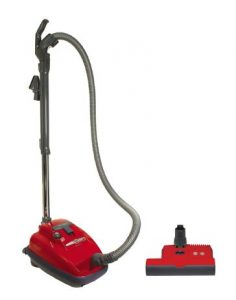 Lastly, we have the Airbelt K3. Given the overall high quality of SEBO vacuums, you can also expect top-notch performance from this unit. Most of its features are similar to the Automatic X5 and the Airbelt D4. However, the total reach is curtailed by the power cord which is only half as long.
The vacuum can be used for carpets, area rugs, and hard floors. Also, swivel steering allows you to avoid furniture easily as you clean. For extensive cleaning, you get a few tools in case you need to clean upholstery, drapes and other above-floor surfaces. These are a crevice tool, a dusting brush, and an upholstery nozzle.
Furthermore, the filtration system incorporates SEBO filters just like in the first two vacuums. This is ideal for asthmatic people and allergy sufferers. So, a recommendation from the British Allergy Foundation is not surprising.
Features
Type: canister, bagged
Weighs 12 pounds
25-foot power cord
Hose: 7 feet
1250W motor
Airflow: 120 CFM
Capacity: 0.8 Gallons
4-level height adjustment
Cleaning path: 12 inches
Swivel steering
Pros
Powerful suction
Lightweight
The suction is adjustable
It's easy to maneuver
Lightweight design
Strong build
Soft bumper
Great for pet hair
Full bag or clog light
Low-profile design
It has attachments
Fantastic filtration
Retractable power cord
5-year limited warranty
Cons
It's expensive
The power cord is relatively short
Click here to see its current price.
What's so special about the best SEBO vacuums?
There is a reason why SEBO vacuums are among the best in the world. In this section, we look at what features make SEBO vacuums warrant a place in any vacuum podium.
Suction
A vacuum without suction is as good as a piece of wood. The sole purpose of a vacuum is to pick up dirt and debris. So, if your vacuum of choice can't do that, you must look elsewhere. SEBO vacuums have very strong suction. Therefore, cleaning your home or office will be a breeze if you decide to buy one.
Multi-surface cleaning
Another amazing feature of all the SEBO vacuums in this list is that they can be used for carpets and hard floors. This is made possible by height adjustment or brushroll or a combination of both. Also, you get an assortment of attachments that help with above-ground cleaning.
Asthma and allergy friendly
All SEBO vacuums are fitted with SEBO filters that are HEPA-level. They can capture allergens as small as 0.3 microns in size. In addition, the vacuums are tightly sealed. Then, bagged vacuums are better than bagless ones when it comes to dirt disposal.
While emptying dirt from a bagless vacuum may be easy, it can be messy. That cannot be said of bagged vacuum. They are the best to allergy sufferers and asthmatic people because emptying is mess-free. You just need to remove the bag, throw it into the trash, and insert a new one into the vacuum.
Pet-friendly
If you are a pet guardian, I'm sure you have struggled with pet hair at one point or the other. You might have bought a supposedly good vacuum, only to be disappointed. Well, your troubles may just be about to end. SEBO vacuums are among the best pet hair vacuums in the market this year. They pick up pet hair in upholstery as well as carpets, rugs, and hard floors.
Indicator lights
Not many bagged vacuums have lights that prompt you to change the bag. What's impressive is that SEBO vacuums go a step further. The indicator lights not only tell you when the bag is full, but they also alert you in case of clogs. This way, your vacuum maintains powerful suction and lasts long since damage to the filters is prevented.
Long reach
To avoid the need to use extension cords, you can buy a vacuum with a long power cord. SEBO vacuums have very long cords that allow you to clean large rooms conveniently. Actually, the Automatic X5 and Airbelt D4 have 40-foot cords – pretty long, right? The Airbelt K3 has a relatively short power cord, but the total reach is 37 feet, which is still great.
Easy to clean brushes
A few people who have used different vacuums agree that SEBO vacuum brushes are among the best in the market. They are very easy to clean, whether you use the vacuum for regular dirt and debris or for pet hair.
Price
If you happen to check the prices of these vacuums, I'm sure you might think that it's too high. Well, given the average price of vacuums, SEBO vacuums are actually a bit pricey. However, the performance and durability justify the prices. Instead of buying ten 200-dollar vacuums in just a few years, why not spend a tad more and get a unit that will serve you for ages?
Conclusion
As we come to the end of this SEBO vacuums review, our hope is that you find the perfect match for your home or workplace. SEBO vacuums are some of the best vacuums out there. Despite their seemingly high price, their versatility and performance can only be matched by a few.
What is the best Sebo vacuum? By now, you have the answer. We recommend the Automatic X5, but any of the other two options are also great. So, whether you have carpets or bare floors, pets or no pets, you will not be disappointed in your choice.
As a recap, these are the 3 best SEBO vacuums in 2023:
SEBO 9587AM Automatic X5 Upright Vacuum
SEBO 90641AM Airbelt D4 Premium Canister Vacuum
The SEBO 9687AM Airbelt K3 Canister Vacuum