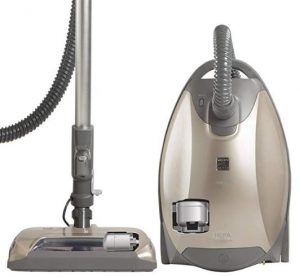 If you have one of those soft plush carpets, you need to find a vacuum that is designed to specifically handle it with the care it deserves. If you get the perfect vacuum, you will enjoy using the carpet for a long time without the need for a replacement. We have researched far and wide and today we bring you our best vacuum for plush carpet recommendation.
If for one reason or the other you want to buy a different one, we will also recommend two alternatives that also do an exemplary job on plush carpets.
Best Vacuum for Plush Carpet 2023 – Comparison Chart
Before we get to the reviews, here is a list of the top rated vacuums for plush carpets, starting with our top pick followed by the two alternatives:
Best Vacuum for Plush Carpet
Corded/Cordless?
Bagged/Bagless?
HEPA filter?
1. Kenmore Elite 81714 Pet-Friendly Ultra Plush Bagged Canister Vacuum
(Our top pick)
Corded
Bagged
Yes
2. Electrolux EL4335B Corded Ultra Flex Canister Vacuum
(Alternative 1)
Corded
Bagless
Yes
3. Miele Complete C3 Soft Carpet Vacuum
(Alternative 2)
Corded
Bagged
Yes
When making plush carpets, manufacturers shear the top of the fiber making them evenly smooth. Plush carpets are preferred by most people because they are soft and attractive. Choosing the right color also complements your efforts in improving your home décor.
We all know that getting the perfect carpet for your home is a costly, time-consuming affair. You want a carpet to serve you for years and years without going back to the market for another. If you buy a good vacuum that will be gentle on the fibers while leaving it sparkling clean, you are half-way there.
So, which vacuums do we recommend?
Reviews of the Best Vacuums for Plush Carpet 2023
After thorough research, we have narrowed down to a three options. These are the best vacuums for plush carpet in 2023:
1. Kenmore Elite 81714 – best vacuum for plush carpet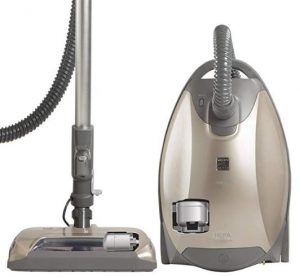 The reason we picked this one as the best vacuum for plush carpets is that it is both powerful and has a special feature to deal with dirt in plush carpets. Not only is it great for plush carpets, it is ideal for pet owners as well as asthma and allergy sufferers.
The main feature that makes it perfect for plush carpets is the Ultra Plush nozzle. The nozzle utilizes powerful airflow technology to get rid of all kinds of dirt, including stubborn pet hair from the carpet. The nozzle also works on furniture and other floor types such as hardwood.
The Kenmore Elite 81714 has a 2-motor system with a powerful inducer. This produces up to 20 percent more air power than most upright vacuums. Also, suction remains constant from the start to finish so that you can do a perfect job.
As mentioned earlier, the vacuum is also great for fighting allergens. It uses HEPA filtration to get rid of up to 99.97 percent of allergens. To prove how effective it is, the vacuum has been certified by the Asthma and Allergy Foundation of America.
Features summary:
26-foot retractable power cord
Bagged (uses canister HEPA bags)
Ideal for dense, ultra plush & super plush carpets
Height adjustment
Powerful 2-motor system
Bag change indicator
Telescopic wand
Stair grip
Swivel steering
Headlights
Motorized pet PowerMate pet tool
Other accessories: Ultra Plush nozzle, crevice tool, dusting brush
Click here to see the latest price on Amazon.
2. Electrolux EL4335B – best vacuum for plush carpet (Alternative 1)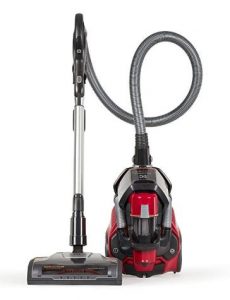 The first alternative to the Kenmore Elite 81714 is the Electrolux EL4335B. It is also powerful enough to leave your plush carpet free of all dirt while ensuring that the fibers are preserved. There are some incredible features that make it stand out among many other vacuums.
Powerful suction eliminates dirt and debris from plush and super plush carpets with superior performance. In fact, consistent suction is maintained until you finish the job. This is thanks to cyclonic action that keeps large particles away from the filter. Apart from plush carpets, you can clean other floor types because it has a 3-level height adjustment and an on/off brushroll switch.
Apart from versatility, this vacuum also offers convenience. First, you get up to 33 feet of cleaning radius. Secondly, at just 11.6 pounds, it is lightweight enough for you to move it up and down the stairs and from room to room with ease.
Lastly, it is also ideal for asthma and allergy sufferers. The vacuum employs HEPA filtration to get rid of up to 99.97 percent of dust and other allergens for a cleaner, fresher home.
If you're looking for the best vacuum for soft carpet floors, this is definitely an awesome option.
Features summary:
21-foot power cord
Bagless
Easy to empty dirt cup
12-Amp motor
Motorized, self-cleaning brushroll
Adjustable suction power
Cyclonic action
On/off brushroll switch
3-level height adjustment
HEPA filtration
Fingertip controls
LED nozzle headlights
5-year limited warranty
Accessories: telescopic wand, crevice tool, dusting brush, upholstery nozzle, bare floor nozzle
Click here to see the current price on Amazon.
3. Miele Complete C3 Soft Carpet Vacuum – best vacuum for plush carpet (Alternative 2)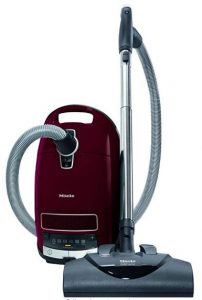 Even from the name, you can tell that this vacuum was made specifically to deal with soft carpets such as the plush ones. It does a fantastic job on plush carpets with ease and efficiency as is expected of any machine that costs almost 1,000 bucks. So, if you don't have a tight budget, this is another great option if you don't fancy the Kenmore Elite 81714.
Specialized features ensure that it delivers impeccable results with the care required on plush carpets. First, this vacuum has an SEB 228 SoftCarpet Electrobrush. Secondly, it comes with a 7-speed motor that allows you to select the 'SoftCarpet' mode whenever you want to vacuum your soft plush carpet. Also, it has 5 height adjustment levels that allow you to clean all kinds of floors, including medium to long pile carpets.
Just like the other two vacuums in this article, the Miele Complete C3 Soft Carpet Vacuum also has HEPA filtration. This ensures that up to 99.97 percent of all allergens are eliminated. So, it is also great for dealing with asthma and allergies.
Features summary:
Bagged
33-foot cleaning radius
Automatically retractable cord
Silence motor
SoftCarpet mode
SoftCarpet Electrobrush
Five-level height adjustment
Adjustable suction control
Footswitch pedals
Parquet twister with 180-degree rotation
Three 360-degree swivel wheels
Telescopic, stainless steel wand
HEPA AirClean filter
3D bumper
Attachments: an upholstery tool, dusting brush, crevice nozzle
Click here to see the latest price on Amazon.
Here are some tips on how to effortlessly clean your soft carpet by Miele USA (YouTube video):
Best Vacuum for Plush Carpet 2023 – Final Thoughts
Unlike in other reviews we have done, this time we have decided to narrow it down to 3 products. Any of our top 3 best vacuum for plush carpet picks will definitely meet your expectations. The fact that we have strongly recommended the Kenmore Elite 81714 does not mean that the other two are not great. They are fantastic options as well if you're looking for something different.
All in all, I'm sure that whichever you decide to buy will leave your carpet deeply cleaned and ensure that it lasts for years on end. If you have some rooms that are not carpeted, you can check out some of our other articles such as the best vacuum for hardwood floors. In the meantime, let's hear your thoughts on this article in the comments section below.
In summary, these are the best vacuums for plush carpet in 2023:
Kenmore Elite 81714
Electrolux EL4335B
Miele Complete C3 Soft Carpet Vacuum