Owning or living in a recreational vehicle (RV) has its own perks. Nonetheless, you have to keep it constantly clean just like you would a regular house. One of the most important appliances to have in an RV or a camper is a vacuum. But what it the best vacuum for RVs?
Today, we take a look at the 7 best RV vacuums in different categories. Before we get to the product reviews, we'll have an overview as well as a guide on how to choose the best vacuum for an RV.
Best RV Vacuum 2023 – Comparison Table
Here is a summary of the 7 best vacuums for campers (also known as RVs, motorhomes or travel trailers):
Factors to consider when choosing the best vacuum for your RV
Before you settle on a particular product, there are a few things you need to keep in mind. This is a brief explanation of each.
Vacuum type
There are many types of vacuums in the market. Most people prefer to install central vacuum systems in their campers. Other popular types include canister, upright, stick, handheld and wet/dry vacuums. Each type has its own merits and demerits. In this article, we have selected the best in each category to make your decision easier.
Suction power
Just like regular vacuums, an RV vacuum must possess enough suction to pick up dirt effectively. Otherwise, it will be just a total waste of money. The best vacuum for RVs must also be very capable of performing its intended tasks.
Portability & storage
In an RV, there's no luxury of space. So, the more compact a vacuum is, the easier it would be to store. Also, you must consider buying a lightweight unit. This allows you to easily carry, pull or push it as you clean.
Carpets & rugs
If you have a carpet on the floor and/or a few area rugs, you need to buy a vacuum that is suited for such. A vacuum with a motorized brush or a specialized carpet tool is ideal in this case. If the floor is bare, any good RV vacuum should suffice.
Pet & human hair
Do you have a cat, a dog or any other pet? Pets, as well as humans, tend to shed hair regularly. Not all vacuums can pick up hair effectively. So, always check that the vacuum of your choice can easily handle pet and human hair. A vacuum with a specialized pet tool and an anti-wrap brushroll is the best choice in this case.
Allergies & asthma
Indoor air quality is paramount. If you are struggling with allergies or asthma or both, the last thing you need is a vacuum that blows allergens back into the air. A vacuum that uses HEPA filters or HEPA bags is the best for you. This is because HEPA filtration traps up to 99.97 percent of allergens like dust, mold, pollen, and dust mites.
Bagged vs. bagless
A bagged vacuum stores dirt in a sealed bag. Once dirt reaches the max level, you just need to remove the bag and throw it into the trash. On the other hand, if you are not careful, bagless vacuums may blow dust onto your face when emptying.
However, bagged vacuums involve the extra cost of buying replacement bags. Bagless vacuums do not need any extra investment. You just need to hold the dirt canister over the trash, press a button to empty, clean it and place into back onto the vacuum.
Corded vs. cordless
Corded vacuums allow you to work as long as you want. However, if a cord is too long, it may prove cumbersome to deal with in the RV. On the other hand, cordless vacuums' batteries can only last for so long. But given the size of most RVs, this should not be an issue – especially if you vacuum regularly.
So, you can make the choice between a corded and a cordless vacuum based on your preference.
Attachments
For you to leave every inch of the RV clean, you need to have a few accessories. A vacuum that comes with a crevice tool, an upholstery tool, a dusting brush and/or a pet tool is an easy pick.
Warranty
Just as with any home appliance, check whether the vacuum has warranty coverage. You need to know how long the warranty period is and what parts are covered.
Price
Lastly, you need to consider your budget when making a vacuum purchase. However, the best RV vacuum is not necessarily the most expensive. So, always look at the performance aspect of a vacuum in relation to its price. You'd be surprised at how many vacuums are quite cheap yet very effective in picking up dirt and debris.
Reviews of the Best Vacuums for RVs in 2023
If you live in or own a motorhome, you need to find the right vacuum cleaner. However, there are tons of options to pick from. After thorough research, these are the best vacuum cleaners for RVs in 2023:
1. H-P Products 9880 Dirt Devil Central Vacuum System (CV1500) – best central vacuum for RV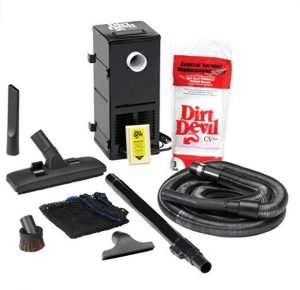 Central vacuums are among the best and easiest to use in RVs. They also help to save the much-needed space. Usually there is a large dirt canister installed in a cabinet, closet or inside the storage area wall. They can also be mounted.
Whenever you want to clean you just insert a hose into the inlet valve and use the relevant tool attachment to vacuum different surfaces. Most RV central vacs are easy to install. However, if in doubt, you can always get a professional to handle the installation for you.
The Dirt Devil Central Vacuum System is the best RV central vacuum system in the market right now.
Once installed, this powerful vacuum is very easy to use and is quite effective in picking up dirt and debris. Also, it uses HEPA filtration that captures and traps allergens such as pollen and dust. The vacuum's all-metal construction also ensures that it lasts longer.
For a comprehensive cleanup job, you need different attachments. And this central vacuum has quite a number. These include a rug/floor tool, an upholstery tool, a dusting brush, and a crevice tool. If you love life on the road, this is an ideal companion.
Features
Type: central vacuum
Weight: 14 lbs.
Motor: 11.7 Amps, 120V
Air Watts: 501
Airflow: 100 CFM
Dirt capacity: 1 Gallon
HEPA bag
Dimensions: 6.25 x 7 x 14.5 (inches)
7-foot hose (extendable to 35 feet)
Pros
Powerful suction
HEPA filtration
It is durable
Easy to install
Compact storage
Flexible, extendable hose
Many attachments
5-year warranty
Cons
The stretch hose may be cumbersome
Click here to see its current price.
2. BLACK+DECKER BDH2020FLFH MAX Lithium Flex Vacuum – Best Handheld Vacuum for RV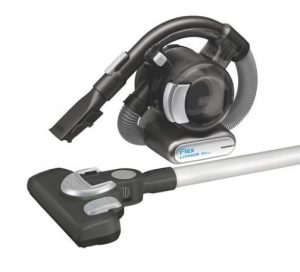 Handheld vacuums are very easy to use for quick a cleanup of RV seats, upholstery or curtains. They can also be used to pick up dirt from the floor. Hand vacuums can be used independently or as an addition to other vacuum types such as central vacuum systems.
The best hand vacuum for RVs, the BLACK+DECKER BDH2020FLFH MAX, has all it takes for simple to tough jobs. Being cordless, it relies on a 20V lithium-ion battery for strong, fade-free suction. Amazingly, it can be converted into a stick vacuum using the new stick vac attachment with a pivoting floor head.
This compact, lightweight vacuum is capable of getting rid of dirt from all the corners of a camper. Apart from the stick vacuum attachment, it has other accessories. These include a flexible 4-foot hose, a pet hair brush, a 2-in-1 nozzle/brush tool, and a crevice tool.
Features
Type: handheld, bagless
Cordless
Charging base
Washable filters
Air Watts: 24
Weight: 3.2 pounds
4-foot flexible hose
Dirt Capacity 18.9 oz.
20V lithium-ion battery
Charge duration: 4 hours
3-stage filtration system
Pros
Relatively strong suction
Many attachments
Easy to empty and clean
Good with pets
Multi-surface cleaning
Light and compact hence easy to store
Can be converted into a stick vacuum
Two-year limited warranty
Cons
It is loud
No onboard tool storage
Click here to see its current price.
If you are looking for the best dustbuster for RVs, Black & Decker BDH2020FLFH the best pick. The Shark Rocket Corded Ultra-Light Hand Vacuum HV292 is a worthy alternative.
3. Eureka Mighty Mite Bagged Canister Vacuum Cleaner 3670H – Best Canister Vacuum for RV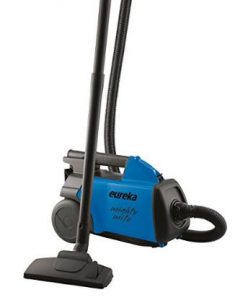 Canister vacuums are also a great choice for RVs. Most of them are compact and lightweight. This means that they are easy to use and store. To move the canister from one point to the other, you need to lift the canister by hand or drag it along the floor if it has wheels. Some canisters also have the shoulder-strap option. They are also bagged, making the emptying process mess-free.
The Eureka Mighty Mite 3670H is our choice for the best canister RV vacuum category. It has enough suction power to get rid of all kinds of dirt from the floor, carpets or area rugs. A crevice tool, a dual-purpose dusting brush, an upholstery nozzle, and extension wands are provided. This makes cleaning of above-floor areas a breeze.
Also, if there are any leaves that have found their way into the camper, you can easily convert and use it as a blower. This is also true of its yellow sibling, the Eureka Mighty Mite 3670G.
Features
Type: canister, bagged
Weighs 8.6 pounds
10-amp motor
20-foot power cord
Blower port
Capacity: 1 Gallon
Pros
Strong suction
Lightweight
Durable
Easy to store
Great with pet hair
Has attachments
Can be converted into a blower
Cons
It's loud
The hose is a bit flimsy
Click here to see its current price. If you want a cheaper canister vacuum, the Bissell Zing 4122 is a good alternative.
4. Shark Rocket Corded Ultra-Light Vacuum with Zero-M ZS351 – Best Corded Stick Vacuum for RV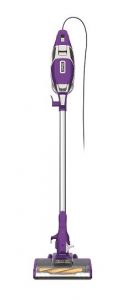 The advantage of stick vacuums is that they are usually very light, and compact. A stick vacuum literally looks like a stick and therefore should be very easy to store. This vacuum type can be either cordless or corded. We begin with the latter.
There are many options out there, but the Shark Rocket ZS351 is the best corded stick vacuum for RVs. It is not only powerful, but it is also capable of cleaning all floor types – bare and carpets. Also, it is great for pet and human hair. An innovative anti-hair wrap technology called Zero-M ensures that hair is actively removed from the brushroll.
It is also very easy to use. Swivel steering makes it easy to maneuver around furniture. Also, it can easily reach and clean under furniture. Another plus is that it can be converted into a hand vacuum in the blink of an eye. This Shark Vacuum comes with a few accessories. These include a duster crevice tool, a pet multi-tool, an onboard clip, and a wall mount.
Thanks to LED lights on the floor head, you can target and clean dirt hiding in the darker corners of the RV.
Features
Type: stick, bagless
Weighs 8.8 pounds
25-foot power cord
Zero-M technology
Swivel steering
Capacity: 0.8 dry quarts
500 Watt, 4.2 Amp motor
LED headlights
Pros
Lightweight
Easy to store
Strong suction
Easy to maneuver
LED headlights
Has several attachments
Good for pet and human hair
Multi-surface cleaning
5-year limited warranty
Cons
Loud
Small dust cup
It feels top heavy
Click here to see its current price. A cheaper alternative is the VonHaus 600W 2-in-1 Corded Stick Vacuum.
5. SharkNinja DuoClean Cordless Ultra-Light Vacuum IONFlex IF201 – Best Cordless Stick Vacuum for RV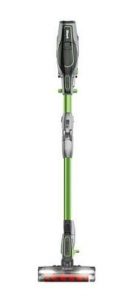 Power cords, especially if they're long, may prove cumbersome in small spaces. So, instead of buying a corded stick vacuum, you can go for a cordless alternatively. The only issue here would be the short battery life that is common in most cordless vacuums. However, if you clean regularly, this shouldn't be a problem.
The best cordless vacuum for RVs is the Shark IONFlex IF20. As expected of any SharkNinja product, this cleaner is very powerful. It can pick up all kinds of dirt from all floor types, ranging from bare floors to carpets.
There are also a few attachments that allow you to clean your RV thoroughly. These include a duster crevice tool, a dusting brush, a wide upholstery tool, and an anti-allergen dust brush. You can also convert into a handheld vacuum at the push of a button.
Storage is a major issue in RVs. Thankfully, this is one of the easiest vacuums to store. This is partly due to its small size and compact design. More importantly, the MultiFLEX technology allows you to bend the vacuum at the wand for convenient storage. The same feature comes in handy when cleaning under furniture.
Features
Type: stick, bagless
Cordless
DuoClean technology
Removable lithium-ion battery
Weighs 8.7 pounds
Capacity: 0.3 dry quarts
Pros
Lightweight
Powerful suction
Easy to store
Has attachments
Can be converted into a hand vac
Cons
Small dust cup
Short battery life
Click here to see its current price. The Deik Cordless Vacuum Cleaner is also a good, more affordable alternative.
6. Vacmaster VQ607SFD 6 Gallon Wet/Dry Vacuum – Best Wet/Dry Vacuum for RV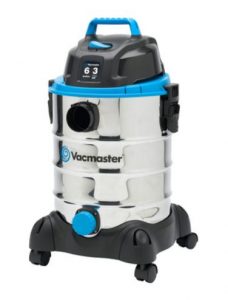 If there are regular spillages in your motorhome, you need more than a regular vacuum. Wet/dry vacuum cleaners are made to deal with both solid as well as liquid messes. The Vacmaster VQ607SFD is the best wet/dry shop vac for RVs. If you have to deal with any liquids, you won't go wrong with this 3 horsepower beast.
The vacuum's nozzle can deal with dirt on all floor types. Also, the large 6-Gallon capacity tank is more than enough for any camper.
For thorough cleanup, this unit comes with a few accessories. These include two extension wands, a multi-surface floor nozzle, a 2-in-1 utility nozzle, a crevice tool, and a dust brush. In case you need to look at more options, we have written a detailed wet/dry shop vac review.
Features
Weighs 14 pounds
Capacity: 6 Gallon
12-foot power cord
Peak horsepower: 3
Balanced top handle
7-foot hose
Dust-sealed switch
Stainless steel body
Pros
Powerful suction
Onboard accessory storage
Easy to carry
Lasts long
Many attachments
Multi-surface cleaning
Ideal for liquid messes
2-year warranty
Cons
Easily tips over
Relatively loud
If you're looking for the best vacuum for RV detailing, the Vacmaster cleaner is a wise pick. Click here to see its current price.
7. Shark Rotator Powered Lift-Away TruePet NV752 – Best Upright Vacuum for RV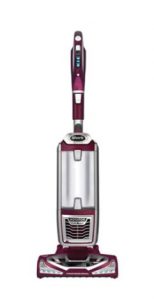 Even though most upright vacuums may be bulky for RVs, with enough effort you can find the perfect fit. The best upright vacuum for RVs is the Shark Rotator Powered Lift-Away TruePet NV752. It is very easy to use thanks to swivel steering. Also, you can "lift away" the canister from the unit at the press of a button. This makes it easy to clean under furniture.
This vacuum is also perfect if there are any pets in the motorhome. It comes with specialized TruePet motorized brush and a pet multi-tool to handle pet hair with ease. Apart from that, you get a duster crevice tool. There are also LED lights to help you clean dark areas better.
Moreover, if there are any allergy sufferers or asthmatic people in the RV, the vacuum is ideal. Anti-Allergen Complete Seal Technology plus HEPA filtration ensures that no allergen is allowed back into the air.
Features
Type: upright, bagless
Weighs 15.6 lbs.
30-foot power cord
Has pet tools
HEPA filtration
LED lights
Swivel steering
Capacity: 1.5 dry quarts
Powered lift-away capability
Pros
Powerful suction
Easy to maneuver
Allergy and asthma friendly
Easy to empty and clean
Multi-surface cleaning
LED lights help with dark corners
7-year limited warranty
Cons
It's heavy
The vacuum's neck makes it difficult to reach tight corners in the RV
Click here to see its current price.
Conclusion
The best RV vacuum must be able to meet expectations in terms of performance. Also, it must be easy to store, given that the space in a camper is usually limited. For anyone living or traveling in a motorhome (or travel trailer), finding the perfect match is an uphill task.
That's why we have made this list of the best vacuums for campers. Regardless of your preferred type, you will find a solution here.
As a recap, these are the best vacuums for RVs in 2023:
Dirt Devil Central Vacuum System CV1500
BLACK+DECKER BDH2020FLFH MAX Lithium Flex Vacuum
Eureka Mighty Mite Bagged Canister Vacuum Cleaner 3670H
Shark Rocket Corded Ultra-Light Vacuum with Zero-M ZS351
SharkNinja DuoClean Cordless Ultra-Light Vacuum IONFlex IF201
Vacmaster VQ607SFD 6 Gallon Wet/Dry Vacuum
Shark Rotator Powered Lift-Away TruePet NV752