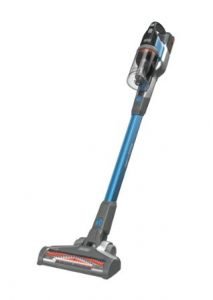 The BLACK+DECKER POWERSERIES Extreme will amaze you with its thrilling ability to clean carpets, area rugs, and hard floors. It features BLACK+DECKER's 3 X Cleaning System, extended run-time, and built-in filter cleaner.
BLACK+DECKER has a reputation for producing top-performing and long-lasting vacuum cleaners and the POWERSERIES Extreme maintains those standards. You will enjoy the convenience of using a cordless stick vacuum and also get above-average clean-up on both carpets and hard floors.
In this review, we discover its features and what sets the POWERSERIES Extreme apart among its peers. We discuss the features at length in addition to their pros and cons. We'll also share our verdict on the vacuum's overall performance. Let's dig in.
BLACK+DECKER POWERSERIES Extreme Cordless Stick Vacuum BSV2020G: Main Features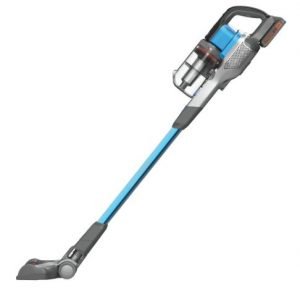 There are several appealing features on this vacuum. Here are the major ones:
3X Cleaning System
This is one of BLACK+DECKER's latest innovations. It's a powerful combination of a tangle-free brush bar, a multi-surface cleaner, and a multi-debris picking system. The combination boosts this stick vacuum's performance to the level of upright vacuum cleaners – or even better in some cases.
Power source
You get to experience cordless convenience with BLACK+DECKER POWERSERIES Extreme BSV2020G. It uses a chargeable 20-volt interchangeable lithium-ion battery. This is a lightweight battery charged using a 3-in-1 multi-way charger. The battery runs for close to an hour when fully charged and on a low setting.
There are three ways to recharge the battery. First, you can detach it and charge it separately. Secondly, you can charge it while it's still attached to the vacuum cleaner in the self-standing mode. Lastly, you can charge the battery while the vacuum is wall-mounted.
Suction
Unlike other stick vacuums, the BLACK + DECKER POWERSERIES Extreme has sufficient suction for whole-house cleaning. It's commendable that the suction remains fade-free throughout even when transitioning between various floors.
The only hindrance to good suction would be cleaning while the dirt can is full or filters are clogged. But, why would you risk vacuuming without regularly emptying or washing and replacing filters? We talk more on the dirt can next.
Dirt disposal
The BLACK+DECKER POWERSERIES Extreme is equipped with a 0.65-liter dirt can, fitted at the front of the vacuum (front-facing). It empties at a button press and cleans easily as well.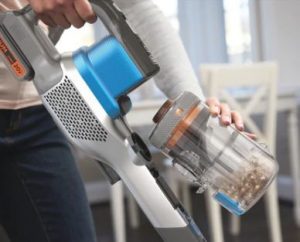 To ensure that suction remains constant from start to finish, always empty when the dirt can is half-full. This will also prevent unwanted odors from building up inside the canister and eventually leaking out.
Floor head angle (v-shaped bristle pattern)
If you are a pet lover or have a family, you are also catered for. The vacuum's v-shaped bristle pattern enables you to effectively collect messes regardless of the size. It could be dust, pollen, pet dander, food particles, mold, or any other dirt.
Multi-floor cleaning
BLACK+DECKER POWERSERIES Extreme is suitable for cleaning area rugs, cleaning carpets, tiles, wood, and vinyl. So, you can feel comfortable using it whether you have bare floors or carpet flooring.
The v-shaped bristle design enables you to pick all debris in detail regardless of size. You can also switch to hand-held mode to clean furniture, upholstery, stairs, car interiors, and other above-floor areas.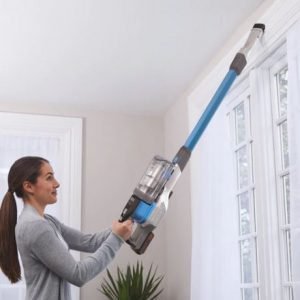 Versatility & maneuverability
You will love how low-profile this vacuum is – it almost lays flat to clean under furniture. Being a lightweight unit, moving up and downstairs is also pretty easy.
Besides, the anti-tangle brush bar – which is part of the 3 X cleaning system, delivers its promise. It will effectively pick the hair without it wrapping around the brush. You won't need to pause and de-tangle.
Also, the roller brush head is quite efficient. The vacuum moves swiftly on the floor (without much effort) whether you are cleaning hard floors or carpets. It equally does well on the hand vacuum mode.
Everything in this vacuum enables speedy cleaning. For instance, switching between the two modes is not rocket science.
LED lights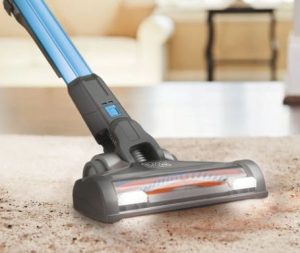 Most manufacturers overlook the importance of headlights on vacuums, but they are extremely essential. Whether you use it as your complimentary quick-pick vacuum or as the only vacuum, the headlights are bright enough for spotting hidden dirt in dark corners and under furniture.
3-speed control
Regulating speed on a vacuum can be the difference between clumsy and spotless cleaning. Do you know what happens when you don't regulate suction on hard floors? Instead of sucking in dirt, the vacuum will keep spinning the dirt and will definitely frustrate you.
That's why you need speed control options. Only a handful of vacuums have this feature, so we commend Black and Decker for ensuring it's available on this unit.
Filtration
This vacuum uses a washable filter and a pre-filter. The pre-filter is replaceable every 6 to 9 months depending on the intensity of use. The other filter is washable, so you only need to rinse it under running water and let it air dry (for about 24 hours).
Maintenance of filters is essential to ensure that a vacuum's suction isn't hampered. If filters are clogged, the vacuum's overall performance will be poor.
Storage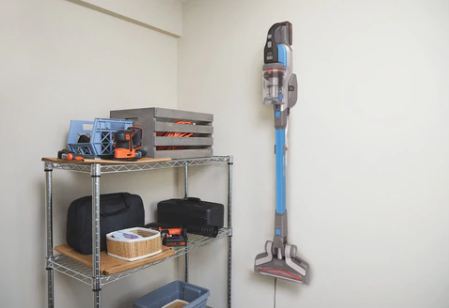 The vacuum comes with a mountable storage/charging dock. It can also stand alone stably meaning that it does not need to lean on anything.
Attachments
This may be the last feature we look at, but it's by no means the least important. In fact, a vacuum must come with accessories to help you clean all nooks and crannies. Luckily, Black and Decker are well aware of this and offer a tool to aid in the above-floor cleaning.
When you purchase the BLACK+DECKER POWERSERIES Extreme BSV2020G, you get a crevice tool with a flip-out brush. While it's only one, the 2-in-1 functionality offers versatility and compact storage that many desire.
BLACK+DECKER POWERSERIES Extreme BSV2020G Review: Features & Specifications Summary
Here is a breakdown of all you need to know about this amazing cordless stick vacuum:
Type: stick vacuum, bagless
Cordless (uses 20V lithium-ion battery)
Maximum runtime: 55 minutes
Weight: 3.89 pounds
Dirt capacity: 0.65 liters
Converts to a handheld vacuum
3X Cleaning System
Washable filter
LED headlights
3-in-1 multi-way charger
Wall-mount
3-speed control
Self-standing design
Dimensions (HxWxD): 45.5 x 10.75 x 8 inches
BLACK+DECKER POWERSERIES Extreme Cordless Stick Vacuum Pros & Cons
What are the advantages and disadvantages of this cordless vacuum? Let's see below:
Pros
Powerful and consistent suction
Efficiently cleans hard floors, carpets, and area rugs
You enjoy tangle-free vacuuming
The dirt canister is easy to empty and clean
Converts easily to a handheld vacuum for above-floor cleaning
The headlights make it easy to spot any hidden dirt
Lightweight and easily maneuvered
Self-standing – does not topple
Commendable run-time of up to 55 minutes
2-year limited warranty
Cons
As with most vacuums, it is relatively loud
It's fairly difficult to reach edges and corners
The battery takes long to charge fully – about 4 hours. You can, however, buy an extra battery to minimize distractions and to extend the runtime.
Click here to see its current price.
Our verdict
This vacuum's most outstanding feature is the 3X Cleaning System. Combining a tangle-free brush bar, a multi-debris picking system and multi-surface cleaning ability was a brilliant innovation. It literally makes the Black & Decker POWERSERIES Extreme perform better than most competitors.
Besides that, it's lightweight, easy to assemble and dis-assemble, and also switch between stick and handheld mode. It also effectively cleans all floor types and transitions easily from one floor to the other.
If you want this vacuum to serve at the optimum level, get an extra battery. This ensures you have un-interrupted cleaning sessions. Secondly, be careful to wash or replace the filters at the right time, this determines how strong the suction will be. You also need to empty the dirt can in due time.
The limiting factor that puts it at a disadvantage when compared to corded stick vacuums is the runtime. However, this is the case with all cordless vacuums ad should not be a deal-breaker. Besides, you can buy an extra battery or two to solve this setback once and for all.