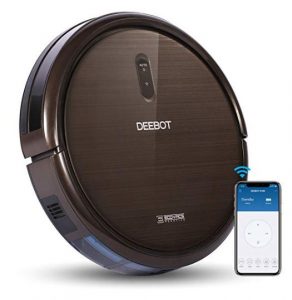 The era of robot vacuum cleaners such as this is well and truly here. And like old wine, robotic vacuum cleaners like ECOVACS DEEBOT N79S get better with age. In this ECOVACS DEEBOT N79S review, you will learn everything about this amazing robot vacuum.
If you were lucky to use any of the pioneer models, you know what I mean. They were a bit handicapped, would often fail to pick some of the mess like pet hair, and were generally hard to steer across rooms.
What about today? These handy gadgets have undergone a drastic metamorphosis and are now some of the hottest selling vacuuming appliances.
A Word on Robot Vacuum Cleaners
Whether you are a tech-savvy homeowner, live in an apartment and hate cleaning, or an elder who wants a dependable cleaner that can do a quality job on demand, you will love robot cleaners.
Certainly, they don't pretend to have the suction or the daring attitude of commercial vacuum cleaners. But, they fully compensate what they lack for in terms of muscle with an outstanding intelligence and nimbleness that leaves your living space spotless.
Again, these devices have gradually become more affordable. So, unless you often have tons of cleaning to do, a robot vacuum is a great choice.
Of concern is the battery life. Most of the robotic vacuum cleaners lack resilient batteries and will give you about 2 hours per charge or less. But as I mentioned, the machines are slowly coming of age and today's batteries are much better than those from older brands.
A Look at the ECOVACS DEEBOT N79S Robotic Vacuum Cleaner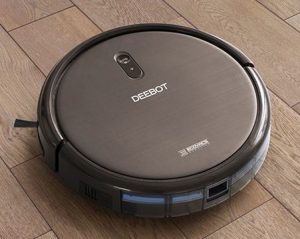 Now, one of the best robot vacuum cleaners ever released into the market is the ECOVACS DEEBOT N79S. Of course, we knew from what we had seen prior to its release that it could be a very good machine. But, to be frank, we didn't expect it to be this good.
A successor to the hugely popular DEEBOT N79, the N79S has adopted all the awesome features of the N79 and further upgraded the suction power to reach even better levels. This helps it attain double the cleaning power of its predecessor and it should generally take much less time to clean the same space.
Additionally, the device is now compatible with Alexa. You can, therefore, control its performance using Alexa or even Google Home voice control to ensure a flawless job. That's not all…
You can use its ECOVACS App to set up a custom cleaning session, direct it when to start, set the rooms to concentrate on, and still monitor its performance from your smartphone.
And we have barely scratched the surface on what this robot vacuum can do.
***Click here to see its current price on Amazon***
ECOVACS DEEBOT N79S Review – What to Expect
Cleaning
The N79S comes with 3 specialized cleaning modes to help you tackle various messes. The auto mode is perfect for general cleaning on ordinary surfaces. If you are wiping hard-to-clean edges, you set the device to edge mode so as to reach hidden dirt even on corners.
If you have zones which are in deep dirt and in need of a thorough job, just set it to spot cleaning and max vacuum option. Also, the robot deploys an innovative 3-stage cleaning system to adeptly clean your floor including carpets.
Its V-shaped brush sweeps, lifts, and finally vacuums crumbs, hair, and dust from your floors in one pass radically cutting down on cleaning time. It also does a wonderful job cleaning the air. It has a high-efficiency filter that effectively battles allergy-causing and asthma-worsening particles.
Navigation
Unlike some of the cheaper types, the N79S is equipped with the unprecedented Smart Motion technology which helps it establish and maintain a precise cleaning path for thoroughness. This explains its distinct ability to make multiple passes on stubborn dirt and the resulting shine.
On the same note, its unique obstacle detection technology helps it to sense obstacles such as furniture and to avoid hitting them. Then, it is further enhanced with the stair safety technology to prevent it from falling down the stairs.
This robot allows for systematic cleaning at the push of a button (YouTube video by ECOVACS UK).
The robot also flaunts the find me feature which enables you to quickly locate it if stuck somewhere in a dark corner, or under furniture!
Battery
Charging can be a pain in the butt with many robotic cleaners, but not with the N79S! The device automatically returns to the designed dock station and charges, all on its own, when its battery gets low.
Once full, the vacuum cleaner will conveniently deliver at least 120 minutes of full-bloodied cleaning.

Maintenance
Not only does it need little supervision when working but it also requires minimal maintenance. So, you are saved from the stress of constant repairs.
Multi-floor ability
The N79S comes primed to serve a variety of surfaces including hardwood and tile floors as well as low-pile carpets. However, the device may struggle with thick carpets and rugs.
Noise level
The robot's noise level is fairly comfortable. In the standard suction mode, the device remains at about 67 dbA though it can hit 70 dbA in max mode. So, you can watch your favorite TV series or chat on your phone as it cleans.
ECOVACS DEEBOT N79S Review – Features, Pros & Cons
Features
3-stage cleaning system
Anti-collision & anti-drop sensors
Durable protective bumpers
Battery life: 2 hours
Auto-return charging
Automatic software update
Air filtration
Large wheels and dustbin
ECOVACS App & Alexa compatibility
Remote control
Pros
The robot vacuum has excellent suction and will finish the job in substantially reduced time.
It's easier to operate either using the app or the remote control.
You can schedule cleaning at your most convenient time – even when you are out shopping.
The robot's 3 cleaning modes help it to deliver a sparkling job on various surfaces.
This robot cleaner easily cleans hard-to-clean edges thanks to the targeted edge cleaning mode.
Its dustbin is installed in a way to make it easier for you to empty.
It recharges automatically.
Cons
The Ecovacs App only works with a 2.4G Hz Wi-Fi.
This robotic vacuum cleaner may struggle with rugs and thick carpets.
ECOVACS DEEBOT N79S Review – Final Thoughts
The N79S is one of the most powerful robotic vacuum cleaners. It picks up more dirt and dust in one pass, maintains a precise cleaning path, and immaculately wipes hard-to-reach spots.
All these, coupled with its awesome app control – a feature normally reserved for the high-end models, makes it look like a gift at its price. As ECOVACS says:
"live smart, enjoy life"
Feel free to tell us what you think about this ECOVACS DEEBOT N79S review in the comments section below.