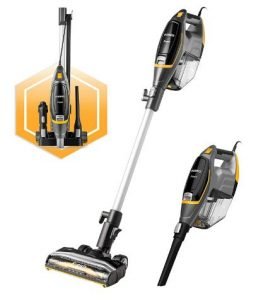 Stick vacuum cleaners are ideal for small apartments or offices. They are convenient, lightweight, compact, and easy to maneuver. For larger apartments, they are perfect for quick pick-ups in-between your regular vacuuming schedules.
Modern corded stick vacuums have advanced features similar to those of upright vacuums. Eureka Flash NES510 has most of these technologies. It's a low profile multi-floor vacuum with advanced steering. Also, it has a strong and durable structure.
See it below: (YouTube video courtesy of Eureka)
Made by one of the oldest US vacuum making companies, the brand has been tested and proven. In our Eureka Flash NES510 Stick Vacuum Cleaner Review, we explore its features in depth as well as its pros and cons.
Eureka Flash NES510 Stick Vacuum Cleaner Review: Main Features
In this section, we explore the features that make the Eureka Flash stick vacuum a worthy investment.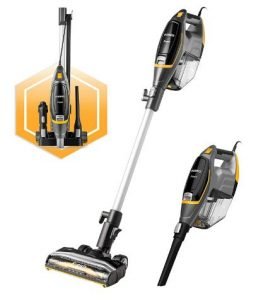 Power and suction
Eureka Flash NES510 has more power than most stick vacuums. It's a 120-Volt unit with a power rating of 500 Watts. The strong, fade-free suction allows you to pick up all kinds of dirt from all floor types – dust, dirt, debris, pet hair, and dander.
Using a long 30-foot power cord, it offers wall-to-wall reach in small to large rooms. While some consumers prefer cordless vacuums for the convenience it offers, this vacuum's long cord partially solves that.
Besides, corded vacuums are generally more powerful. Also, you will not be worried about the battery dying midway through your vacuuming session.
Versatility and ease-of-use
The Eureka Flash has a basic, simple-to-use (regular) handle but the maneuverability is awesome. The vacuum has advanced swivel steering and the motorized floor nozzle self-propels. So, you can move around the house effortlessly – no need to use a lot of energy.
Also, you can switch between stick and handheld mode in the snap of a finger. Assembling and disassembling the unit is also a walk in the park.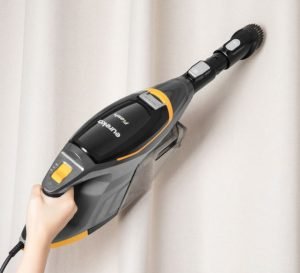 Conveniently placed fingertip controls make it easy for you to select your preferred cleaning mode. Choose the first position to switch to hard floor cleaning mode and the second position to activate the brush roll in case you need to vacuum carpets.
Multi-surface cleaner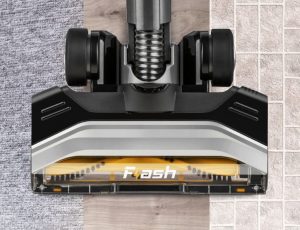 Owing to its superb suction and self-propelled floor nozzle, the vacuum deep cleans low to medium pile carpets efficiently. It's equally thorough on hard floors and picks debris effortlessly.
Besides, you can turn the brushroll on or off for a smooth transition between surfaces. Also, automatic height adjustment comes in handy as you move from bare floors to carpets and vice versa.
LED headlights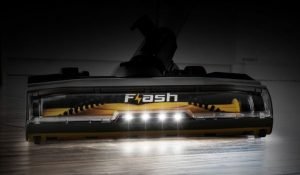 Eureka Flash NES510 is fitted with four LED lights placed in the middle of the floor head. They make cleaning corners, under the furniture, and the dark rooms in your house more effective as you can see all the dirty spots.
Disposal system
This is a bagless vacuum cleaner with a detachable dirt cup that holds up to 1 liter of dirt. Besides, the emptying process is straightforward as you only need to take off the lid and pour contents into the trash. Alternatively, you can detach the bin at a button press, empty, clean, and replace.
Extended reach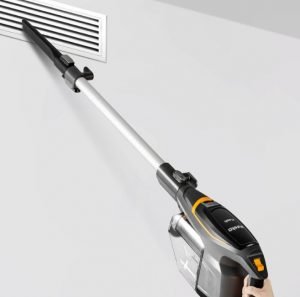 Apart from the 30-foot power cord, Eureka Flash NES510 does not have other extensions like a hose or telescoping wand. However, you can still enjoy an extended reach. It offers a cleaning path of up to 11 inches and it also lays flat to clean under the under furniture. Being a lightweight vacuum, above-floor cleaning is also stress-free.
Accessories & storage
You only get two attachments with this vacuum. One is the crevice tool which is ideal for cleaning tight spots – all nooks and crannies, cracks, and crevices. It's also a great tool for furniture especially cleaning cushions on sofas.
The second attachment is the 2-in-1 dusting brush, a regular tool but essential for above-floor cleaning.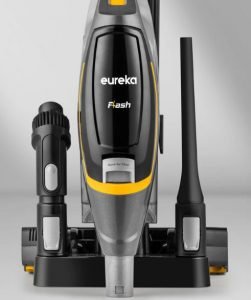 The vacuum offers convenient storage for the main unit and accessories. It comes with a portable storage base that is small-sized so it won't take up much of your space. It can comfortably fit in your closet and corners. Besides, you can carry it along as you vacuum for easier access to the tools.
Filtration
Unfortunately, this vacuum cleaner doesn't have a HEPA filtration system. Instead, it uses three regular filters. There are two washable pre-filters and an extra post filter. However, the filtration efficiency is good because the vacuum is sealed and doesn't let dust get blown back into the air.
The filters are relatively cheap to buy and maintain. You only need to wash them under running water and leave them to dry for 24 hours or more if need be. However, to maintain optimum suction, you need to replace them once in a while.
Eureka Flash Review: Features & Specs Summary
Type: stick, bagless
Weight: 7.4 lbs
Power cord length: 30 feet
500-Watt motor
120 Volts
Low-profile design
Cleaning path: 11 inches
Dirt cup capacity: 1 liter
2-in-1 unit – switches between handheld and stick vacuum
Multi-floor cleaner – suitable for carpets, area rugs, and bare floors
2-in-1 dusting brush and crevice tool
LED headlights
Portable storage base
Dimensions: 11.1 x 7.9 x 45 inches
Eureka Flash NES510 Review: Pros & Cons
Before you make a decision, it's good to know the merits and demerits of the vacuum. There are many wonderful things, but a few areas of improvement.
Pros
Strong suction
Relatively quiet
Lightweight and compact – it's easily portable
Moves effortlessly – has a swivel steering head
Edge to edge cleaning supported by the long power cord
It's a multi-surface vacuum (carpets and bare floors)
Comes with a crevice tool and 2-in-1 dusting brush for above-floor cleaning
LED lights help you to spot dirt in darker areas
Switches easily between stick and handheld mode
Has a good-sized dirt cup
Picks up pet hair and dander
Convenient storage – comes with a portable storage base
Three-year limited warranty
Cons
It doesn't have HEPA filtration
Not recommended for vacuuming high pile carpets
Although it picks pet hair, it tangles easily. The brush doesn't self-clean so you will need to cut off hair from time to time.
The power cord does not automatically rewind – considering it is 30 feet long, it can be tedious to store.
Click here to see its current price.
Our Verdict
Except for high pile carpets, Eureka Flash NES510 does a commendable job on all other floor types. Its motorized floor nozzle allows you to transition easily from bare floors to carpets because of automatic height adjustment and a brushroll on/off switch.
Besides, it is lightweight and has a long cord that allows you to do more than 'quick-picking'. If you live in a small apartment, or you need one for a small office, you will not need an additional vacuum to get the vacuuming done.
If you are looking for an affordable unit that will vacuum excellently, this is an ideal pick. The cons of this unit are common in most stick vacuums because of their compact design and should not be a deal-breaker.