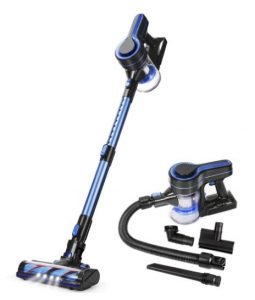 In the recent past, manufacturers have invested largely in cordless stick vacuums making them more all-rounded and convenient. Over the last few years, more and more companies have delved into the vacuum cleaner market. One of the newer vacuum brands is APOSEN.
So, it's possible to get a stick vacuum that deep cleans, maintains consistent suction power, and supports whole-house cleaning at just a fraction of the cost of the mainstream brands.
APOSEN 5 in 1 Cordless Stick Vacuum bears these features and that's how it ranks among the best affordable stick vacuums on the market today. It has great features that achieve more than quick-cleaning. On hand-held mode, it allows you to use the attachments to clean high places such as the drapes and shelves.
In this review, we explore each of its features in detail. We'll also check out its pros and cons, share a brief maintenance guide, plus our verdict.
APOSEN 5 in 1 Cordless Stick Vacuum H251 Review: Main Features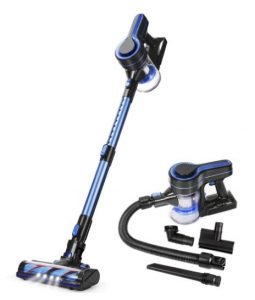 It's good to know what to expect from an appliance before committing to buy it. Here are this vacuum's main features in detail.
Suction
APOSEN's 250W brushless digital motor delivers up to 18KPa (18000Pa) of suction power on Max mode. The suction power has 2 levels and remains constant through different surfaces but it is easily affected by the dirt level in the dirt cup and how clean the filters are.
To maintain fade-free suction, empty the dirt cup before it fills up. Also, clean the filters frequently. Notably, you don't need to vacuum on a high setting to get optimum results. Cleaning on the low setting does equally well while consuming less power.
Power
APOSEN H251 cordless stick vacuum uses one 2200mAh lithium-ion battery. This large battery is removable and can be charged separately. It takes 4.5 hours to fully charge on the mountable charging unit, then runs for an average of 30 minutes.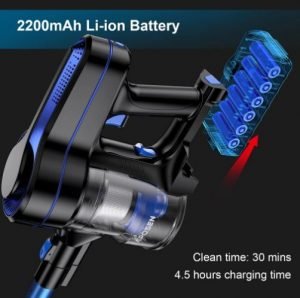 However, the runtime will be drastically reduced when you engage the high setting. It lasts for less than 15 minutes when running at maximum power.
Multi-surface cleaner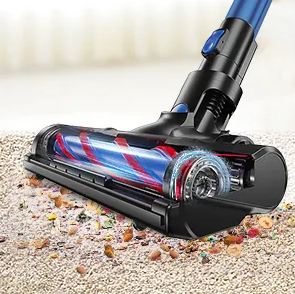 Whether you are cleaning bare floors or carpets, the APOSEN 5 in 1 delivers powerful cleaning. It helps to remove dust, dirt, large and small debris, as well as pet hair. However, expect better performance on bare floors such as hardwood and tile than on high-pile carpets and rugs.
LED headlights
The vacuum's floorhead has LED lights making it easier to illuminate dark surfaces, under low furniture, and tight corners. The vacuum also has indicator lights for various statuses. Red indicates low power while green shows that there's sufficient power during use. Lastly, it flashes red while charging.
Versatility
The brush head design of APOSEN 5 in 1 allows it to bend in either direction (up to 270 degrees). This plus the slim brush head makes it superbly flexible and easy to access tight corners with.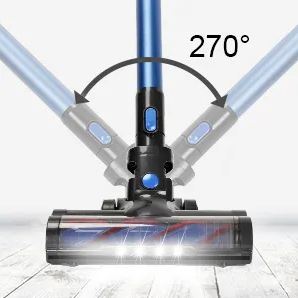 You also experience minimal fatigue and wrist discomfort since you bend less. Besides, the accessories ease the vacuuming process. Some of the attachments you get include a round brush, an electric sofa brush, a crevice tool, and a hair cleaning tool.
Further, APOSEN 5 in 1 transforms easily between stick and handheld. This is good for above-floor cleaning.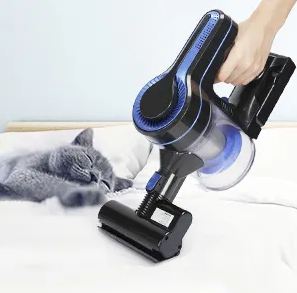 Filtration
This vacuum has a superb filtration system. It's equipped with a 4-stage filtration system with complete allergen sealing. So, allergens including dust, mold, pollen, pet hair, and pet dander have no chance of escaping back into the air after vacuuming.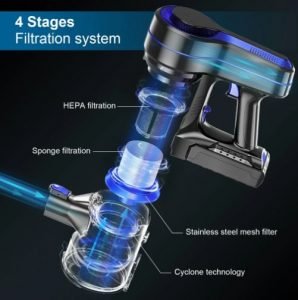 It uses washable filters, (a HEPA filter, a stainless steel mesh filter, and a sponge filter). These filters need frequent cleaning to ensure consistent suction. Filter change is required after two to three months of use depending on how dirty the house is or how often you vacuum.
Overall, up to 99.97% of allergens are trapped inside the vacuum thanks to the HEPA filter.
Accessories
Apart from a charging base which doubles as the storage base, the vacuum comes with a crevice tool, a motorized floor tool, an electric sofa brush, pet hair brush plus the hose and wand extensions. These tools ease above-floor and external cleaning.
APOSEN H251 Cordless Stick Vacuum: Features & Specs Summary
Features
Type: stick vacuum, bagless
Weight: 5.5 pounds
Cordless (uses a 2200mAh li-ion battery)
Charging time: 4.5 hours
Maximum runtime: 30 minutes
Suction power: 18000Pa
4-stage filtration system
HEPA filter
Wattage: 250W
Dirt capacity: 1.2 liters
Cleaning path: 9.25 inches
Hose length: 46cm
Noise level: <75dB
LED headlights
Converts into a handheld vacuum
Wall mountable (charging and storage base)
Dimensions: 17.4 x 10.3 x 8 inches
Pros & Cons of APOSEN H251 Cordless Stick Vacuum
There are many things that we love about this vacuum. But there are also a few pain points that we need to point out.
Pros
Commendable suction
Cordless convenience
Great value at a fair price
Lightweight – easily portable and comfortable to clean with
Converts easily to handheld mode for above-floor cleaning
It has several attachments
Emptying and cleaning the dirt cup is easy
Cleans multiple floor types
The dirt cup is larger than that of most cordless vacuums
The detachable battery enhances convenience as it can be charged separately
2-year limited warranty
Cons
Short run time
It takes long to charge
Not ideal for high-pile carpets and rugs
Click here to see its current price.
How to Keep Your APOSEN in Tip-Top Shape
Maintaining APOSEN 5-in-1 suction is not complex. With proper routine maintenance, the vacuum hardly needs repairs. Here are a few routines you need to observe.
Proper storage
The vacuum has a charging/storage base. So, ensure that you hang the vacuum after use. This minimizes impact falls. The charging base may be screwed to the walls using nails or wall-stickers. While the attachments do not have storage slots, you can get a spare bag to store them.
Cleaning the filters and dirt cup regularly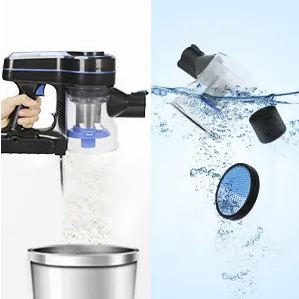 There are two ways that the vacuum can lose suction. One, if the dirt cup is full and two, if the filters are clogged. So, always empty the dirt when the bin is half or three-quarters full. Also, when you experience loss in suction, wash the filters under running water and air-dry for 24 hours.
All the filters, including the HEPA one, are washable.
Our verdict
Evidently, you don't need an expensive vacuum to clean effectively. You only need one with the right features – and to vacuum regularly. The best stick vacuum features include great suction, easy maneuverability, and effective filtration.
APOSEN 5 in 1 meets these requirements. It's built with super-strong suction and a relatively narrow, low-profile floor brush that accesses every part of the house. It is also fitted with an ergonomic handle to make your cleaning experience enjoyable.
Three other features stand out for this vacuum cleaner. These are its high performing electric brush, the four-stage filtration system, and the Clean Slide dirt disposal technology. We also love the multiple accessories.
Besides the fact that the runtime is quite limited, APOSEN 5 in 1 is definitely one of the best budget stick vacuums on the market today. When compared to other stick vacuums such as Dyson V11, it is quite affordable.