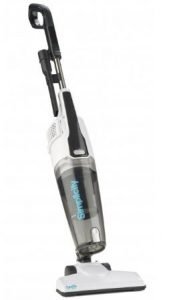 I'm sure by now you have heard about Simplicity vacuums – either by your research or from praise in online forums. So, you may be wondering what the best Simplicity vacuum is. Journey with us as we explore some of the top options to pick from.
In the vacuum cleaner world, it takes lots of effort to penetrate the market. First, the market is already flooded with options and there are giant vacuum companies that have been there for ages. Simplicity may not be a legend yet, but it has made its mark by producing top performing and consumer-friendly vacuums.
As a brand, Simplicity focuses on durability, cleaning power, and simple structural designs. Being an innovative company and having the right combination of technologies, the brand has enjoyed acceptability and gained popularity over the years.
Overall, we love that Simplicity vacuums outdo most premium vacuums in the same cluster in terms of debris collection and overall suction. We also appreciate the way they are generous with accessories even though their prices are way lower than those of most high-end vacuums performing at the same level.
In this best Simplicity vacuum cleaners review, we have analyzed the features, pros, and cons, and we have also declared our verdict.
Best Simplicity Vacuums 2023 – Comparison Table
Before we look at each of the five options, here is a summary of their main features:
Reviews of the Best Simplicity Vacuums 2023
Simplicity vacuums are known to be reliable, efficient, and long-lasting. In a market overflowing with vacuum cleaner brands, it's not easy to pinpoint the perfect vacuum for your home. However, you'll never go wrong with Simplicity, as evidenced by the widespread positive feedback from previous owners.
After thorough research, we have narrowed down to these five options. These are 5 of the best Simplicity vacuums to buy in 2023:
1. Simplicity S20PET Bagless Upright Pet Vacuum Cleaner – best Simplicity vacuum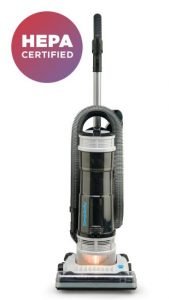 Some pet lovers have had to sacrifice their plush carpets to keep up with hygiene. Well, not anymore. Simplicity S20PET will allow you to keep both your lovely pets and have plush carpets. Its efficiency at deep cleaning and picking pet hair makes it the best Simplicity vacuum.
Besides, it comes with a pet turbo brush to help you get any pending hair off your furniture, automobile, or beds. Other attachments include a crevice tool, a dusting brush, and an upholstery tool, complete with onboard tool storage.
The long power cord also helps with edge to edge cleaning without the need for multiple plugging. Reaching above-floor surfaces and under furniture is easy as you have a 14-foot extended hose plus a handheld extension wand.
The Simplicity S20PET is designed with 5-level height adjustment to help you with vacuuming different surfaces. There is an adjustment knob to help you transition easily between carpets and bare floors and vice versa.
Lastly, a non-marring furniture guard plus rubber wheels leave your furniture and floors unscathed. It's a fantastic upright vacuum to consider.
Features
Type: upright, bagless
Weight: 18 pounds
Power cord length: 30 feet
1440 Watts, 12 Amps
HEPA filter
5-level height adjustment
Rubber wheels
Furniture guard
Hose length: 14 feet
Headlights
Multi-surface vacuum
Onboard storage for tools
Dimensions: 12.5 x 12.5 x 45 inches
Pros
Great for pet hair
Fairly priced
Excellent HEPA filtration
Has perfect suction for deep cleaning
Comes with multiple accessories – simplifies above-floor cleaning
The dirt can is relatively large. It's also easy to empty and clean.
Cleans multiple floors – best performance on bare floors, carpets, and rugs
The long power cord facilitates edge to edge cleaning
Convenient onboard storage for accessories
1-year limited warranty
Cons
The cord doesn't automatically rewind
The vacuum's brush roll does not turn off which may be a bother to some users
Click here to see its current price.
2. Simplicity S100 Canister Vacuum Cleaner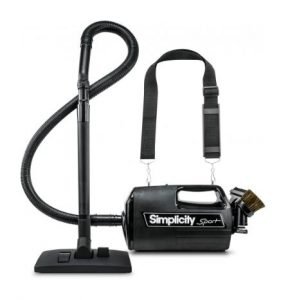 Simplicity S100 is one of the fairest priced and best Simplicity vacuums regarding comfort and ease of use. At less than 5 pounds it's light enough for any user, young or old. The shoulder strap adds to the ease of movement too.
We love that Simplicity is generous with tools. The S100 comes with an angle adapter, two extendable wands, a dusting brush, a crevice tool, and upholstery tool. This vacuum is also equipped with a 7-piece micro tool kit. Also, built-in storage offers the convenience that is rare in most vacuums.
So, cleaning above-floor surfaces such as drapes and upholstery as well as computer keyboards is a breeze. Besides, the vacuum can pick up all kinds of dirt and debris from carpets and bare floors. This is thanks to the height adjustment capability.
The adjustable suction control adapter is another plus to your cleaning experience. Other amazing features include a flexible hose and an odor-absorbing activated charcoal filter. This canister vacuum can also be converted as a blower in the blink of an eye.
Features
Type: handheld canister, bagged
Weight: 4.5 pounds
Power cord length: 25 feet
700 Watts, 6 Amps
Activated carbon filtration
Built-in tool storage
It has a shoulder strap
Multiple-floor cleaner
Ergonomic carry handle
Manual height adjustable using the on-nozzle switch
Blower port – used to inflate and as an instant blower
Dimensions: 4.5 x 12 x 8 inches
Pros
Lightweight
Fairly priced
Superb suction
Height adjustment allows vacuuming of different floor types
Comfortable to carry around the house using the shoulder strap
Eliminates odors using the absorbing carbon filter
It has a wide range of accessories
Convenient onboard tool storage
Can be used as an inflator and blower
1-year limited warranty
Cons
The power cord could be longer
Bags are usually expensive in the long-run though more hygienic
Click here to see its current price.
3. Simplicity S60 Spiffy Bagless Stick Vacuum Cleaner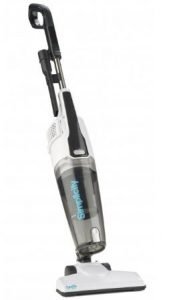 Although Simplicity S60 Spiffy lacks the agility to deep clean high-pile carpets, it does exemplary well on bare floors and low-pile carpets and rugs. It's a 2-speed, 9 amp unit with commendable suction. Besides, Simplicity designed it with a small nozzle thus fits easily between obstacles and under furniture.
It's also lightweight and easy to maneuver. So, it can be used by petite individuals as well as seniors and arthritis sufferers. If you are allergic and have zero tolerance for allergens, you will appreciate the use of a HEPA filter in this vacuum.
It protects your floor too because it's fitted with rubber wheels, a furniture guard all around the nozzle, plus a squeegee for thorough bare floor cleaning. We also like the extended reach provided by the long power cord. You also get a crevice tool that helps you to reach all nooks and crannies in the house.
Features
Type: stick, bagless
Weight: 7 pounds
Power cord length: 30 feet
2 power speeds
5 Amps
HEPA filter
Ergonomic handle
Furniture guard
Rubber wheels
Bare floor squeegee
Aluminum wand
Dimensions: 8 x 10.75 x 40.5 inches
Pros
Lightweight – highly portable
Optimum cleaning enabled by the 2-speed setting
Allergens are captured using HEPA filtration
The long power cord enables wall-to-wall vacuuming
Suitable for cleaning multiple floor types – especially hard floors and low pile carpets
One-year warranty
Cons
Not recommended for high-pile carpets
Click here to see its current price.
4. Simplicity AGOGO Slim Cordless Stick Vacuum Cleaner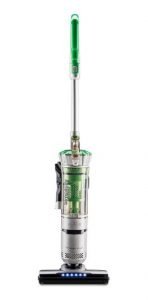 The Simplicity AGOGO stick vacuum is a very good alternative to Simplicity upright vacuums. It's stable and agile on carpets and bare floors. The general outlook, versatility, lightweight and compact design, the swivel ability, and even the headlights rank it among the best Simplicity vacuums.
Though it doesn't fit comfortably low-profile under furniture, it comes with a 2-in-1 combination tool (dusting brush and crevice tool), and a stretch hose to help you access the tight corners and crevices. Besides, you can apply a little agitation when vacuuming rugs to ensure all dust and dirt are taken care of.
One challenge you may face with Simplicity AGOGO is the battery charging time, it takes on average 6.5 hours to recharge – that's half a day. That is a long wait considering you will have less than an hour of cleaning time.
Lastly, HEPA filtration ensures that up to 99.97 percent of allergens are trapped inside the vacuum. So, the Simplicity A-Go-Go Cordless Stick Vacuum is a good option for allergy sufferers.
Features
Type: stick, bagless
Weight: 7 pounds
Cordless (uses a 40V li-ion battery)
Max runtime: 50 minutes
Charging time: 6.5 hours
140 motor Watts
HEPA filter
LED headlights
Rubber wheels
Two-speed settings
Floor stand – battery charger and storage
Dimensions: 9 x 10.5 x 42.5 inches
Pros
You enjoy cordless convenience
Easily maneuvered between and under furniture
The bright LED lights illuminate dark corners
Captures all allergens with HEPA filtration
Lightweight – easy to move around
It comes with a dusting brush and a crevice tool for more detailed cleaning
One-year warranty
Cons
It takes an eternity to charge the battery to full capacity
Click here to see its current price.
5. Simplicity F1 Tiny Handheld Vacuum Cleaner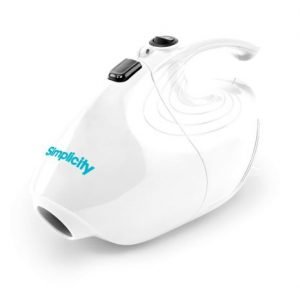 Doesn't it look cool? While it looks like an innocent little vacuum, do not mistake its timid appearance for weakness. The Simplicity F1 Tiny Handheld Vacuum Cleaner is small but efficient at handling small messes.
It is your quick-clean tool, possibly the best Simplicity vacuum cleaner for quick pickups. It's a handheld corded vacuum with amazing versatility. With its 14-foot power cord, you should have sufficient reach when vacuuming upholstery, shelves, drapes, and other above-floor surfaces.
An extension hose may come in handy if the power outlet is far from where you need to vacuum.
Besides, the Simplicity F1 Tiny is complimented by several handy tools. It comes with a specially designed upholstery brush, a crevice tool, and dusting brush, plus a flexible hose. It may be tiny as its name suggests but don't despise it.
You'll get superb power to suck debris whether big or small. It also picks pet hair and pet dander efficiently.
Features
Type: handheld, bagless
Weight: 2.6 pounds
Power cord length: 14 feet
Power: 600 Watts
Washable dirt cup
On-handle on/off switch
Dimensions: 9 x 6.25 x 4.75 inches
Pros
It's ultra-light
Sleek outlook
Commendable suction
It has a full set of attachments
Conveniently placed on/off switch
The dust cup is easy to empty and wash
Efficient pet hair and debris pick up
Cons
Short power cord
The filter is not washable
Click here to see its current price.
Benefits of being a Simplicity vacuum owner
Many things will reaffirm your decision to purchase a Simplicity vacuum. Let's have a look…
a) Simplicity vacuums provide long-lasting value
Except for bag replacements and filters maintenance, Simplicity vacuums seldom require repairs. The parts scarcely need repair or maintenance. You are assured of getting value on your investment.
b) They are energy efficient
Most Simplicity vacuums range between 700 Watts and 1400 Watts. This is a fair range considering their cleaning power. So, you get to save on power expenses.
c) Multiple tools
Simplicity is generous with accessories. Each of these vacuums has at least one attachment. For example, the Simplicity S20PET comes with a pet turbo tool that is great for pet hair. You also get a crevice tool, a dusting brush, and an upholstery tool.
Another merit is that some vacuums have onboard storage thus provide easy access and compact storage.
d) Fair prices
If you want high-level vacuuming at a cheaper cost, Simplicity vacuum cleaners will offer you that. Most of these units cost half the price of premium vacuums on average, yet deliver at a premium level.
e) Multi-floor cleaning
With Simplicity vacuums, you get the versatility you need for whole-house cleaning. They are effective with vacuuming carpets, area rugs, hard floors, upholstery, stairs, drapes, and crevices. Aided by the multiple accessories, uniquely designed brush rolls, and great suction, you will get detailed debris pick up as well as pet hair removal.
Note that you may need to control suction and adjust the height for optimal performance on different surfaces.
f) Ease of use
Simplicity vacuums are mostly lightweight and have great swivel ability. The control buttons are conveniently placed on the handle so you can easily access them. Other controls include the height adjustment knob/switch and they are similarly easy to use. The vacuums also assemble and disassemble in a snap.
g) Allergen capture
Carpets and rugs make the house warm and comfortable, but they also harbor allergens such as pollen, dust, and pet hair. Your home may also harbor mold and mildew especially in wet areas like the kitchen and bedroom.
Simplicity vacuums are equipped with HEPA media filters thus help to eradicate these microparticles and keep your home allergen-free.
Our verdict
We love Simplicity's ability to coin products that directly address consumer needs. The provision of accessories makes it so much easier to vacuum and clean above-floor areas. Simplicity vacuums are also generally lightweight.
The vacuums featured in this review are some of the best and most convenient Simplicity vacuums. It's a bit hard to point out which one stands out. However, Simplicity S20PET seems to be more agile than its peers. It comes with a pet turbo tool as earlier mentioned, an upholstery tool, a dusting brush, and a crevice tool.
We appreciate its extended reach owing to the long power cord and a 14-foot hose. We also love its superb ability to deep clean and transition among different floor types seamlessly. The height adjustment feature makes vacuuming a lot easier. Overall, its versatility qualifies it as the best Simplicity vacuum.
As a recap, these are the Top 5 Best Simplicity Vacuums 2023:
Simplicity S20PET Bagless Upright Pet Vacuum Cleaner
Simplicity S100 Canister Vacuum Cleaner
Simplicity S60 Spiffy Bagless Stick Vacuum Cleaner
Simplicity AGOGO Slim Cordless Stick Vacuum Cleaner
Simplicity F1 Tiny Handheld Vacuum Cleaner