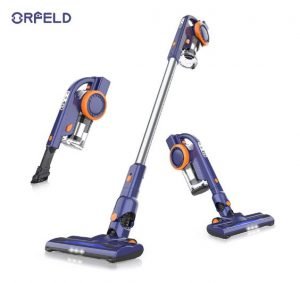 As ORFELD penetrates the household market, their commitment to producing convenient and powerful home products is evident in their vacuums. They have simple designs yet they deliver epic results. In a market dominated by bigger brands, ORFELD is slowly but surely gaining popularity.
Stick vacuums are meant for quick cleaning. But as we progress, manufacturers like ORFELD keep enhancing them to handle whole-house cleaning. Consequently, they are fiercely competing with other brands in terms of market penetration and consumer acceptance.
They may have simple, compact, and lightweight designs but they are capable of handling tasks that were earlier believed to be too complex for them.
Beyond effortless cleaning, ORFELD EV679 delivers fade-free high suction of up to 18000Pa. It maintains this suction across all surface types on 2 modes. The Turbo mode is high-powered and is almost twice the power of Normal mode.
We discuss this further under the features.
ORFELD EV679 18kPa Cordless Stick Vacuum Review: Main Features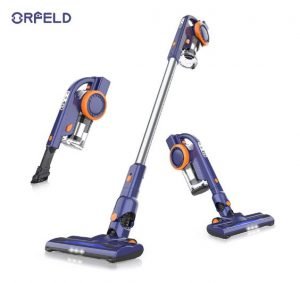 To understand this vacuum well, we need to expound on its main features. Later on, we'll look at its pros & cons and finally we share our verdict.
Two cleaning modes
The vacuum allows you to choose which cleaning mode suits your surfaces best. If you are not planning to deep clean, the Normal (standard) mode will serve efficiently. It may require a few passes but it picks debris in detail. Some users opt to mop afterward but that's optional.
If you are planning to deep clean, choose Turbo mode. This allows you to effectively clean carpets and area rugs. The incredible thing is that the suction remains consistent in each mode.
Power supply
This is a cordless stick vacuum. So, it uses one removable battery (lithium-ion). You can get up to 50 minutes of runtime on standard (Normal) mode. However, Turbo mode uses more power and the vacuum can only run for a maximum of 20 minutes.
It's a 2-in-1 vacuum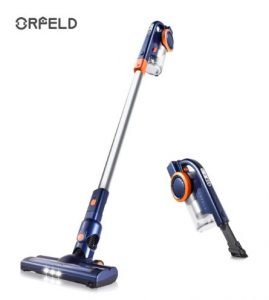 ORFELD EV679 quickly transforms between stick and handheld modes for above-floor cleaning. It also allows you to use attachments to reach the ceiling, far corners, and crevices. The crevice/dusting brush attachment snaps easily into the wand making your cleaning experience enjoyable.
Flexible floorhead
The unit comes with a flexible electric brush with swivel steering. The floorhead has a soft roller brush that helps you pick debris and pet hair in detail as well as deep clean carpets and rugs. It also has a low-profile design that makes vacuuming under furniture easy.
LED headlights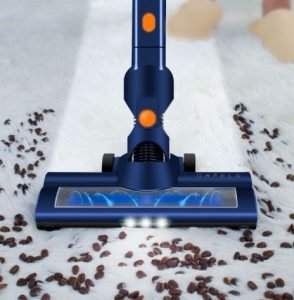 The ORFELD EV679 cordless stick vacuum is equipped with strong LED lights strategically placed on the electric floor brush to help you locate all the hidden dirt in dark areas.
Filtration
Over 99.9%of allergens can be captured using a HEPA filtration system. This ensures you enjoy an allergen-free atmosphere even if you have pets. The beauty of this system is that the filters are washable thus more economical in the long run.
Versatility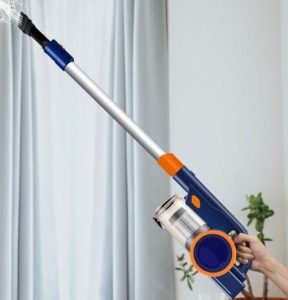 Versatility is the name of the game here. Apart from having a swivel steering head, there are many other awesome features. For example, it virtually drives itself and steers its way around immovable objects and tight spaces. The vacuum also boasts a low-profile design thus can lay flat to reach under furniture.
With a weight of less than five pounds, you can easily carry it up and down stairs without strain. You can also carry it outside for external cleanings such as car interiors or windows.
Multi-floor cleaning
Modern stick vacuums surpass traditional vacuums in their ability to clean almost every surface. The debris collection on either surface mostly depends on the floorhead openings. The wider they are, the more efficient they are on picking debris – especially the larger ones.
The challenge with larger openings on the floor head is that they pick debris efficiently but they make the vacuum less efficient on deep cleaning. The ORFELD EV679 stick vacuum however maintains a good balance. With a few passes, it manages to effectively pick debris on bare floors as well as deep clean carpets.
While on handheld mode, the vacuum manages to clean various above-floor areas with the help of an attachment. We also recommend it for automobile cleaning, windows, ceiling, and drapes.
Disposal system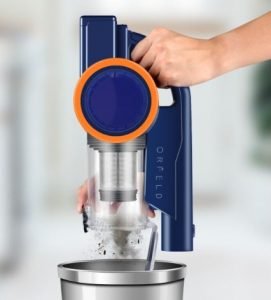 This is a bagless vacuum. Therefore, it uses a removable dirt can that is strategically placed on the handle. It has 2 finger-operated buttons. One removes the whole unit and is usually used when you intend to rinse the dirt cup. If you only intend to empty it, a separate button is provided. This flips the dirt cup lid open for quick dirt disposal.
The one downside with ORFELD EV679 is that you may need to empty more often because the dirt can is pretty small.
ORFELD EV679 Cordless Stick Vacuum Review: Features & Specs Summary
Below is a summary of all the features and specifications of this marvelous cordless stick vacuum:
Type: stick, bagless
Weight: 4.62 pounds
Wattage: 200 Watts
HEPA filtration
Maximum suction: 18000Pa (18kPa)
T10 Smart Seal Allergen System
Converts into a handheld vacuum
Cordless (uses 1 lithium-Ion removable battery)
Max runtime: 50 minutes on Normal mode, 20 minutes on Turbo mode
Flexible floor head
LED headlights
Dirt capacity: 0.5 liters
Dimensions: 4.3 x 9.65 x 10.94 inches
Pros and Cons of ORFELD EV679 Cordless Stick Vacuum 18000Pa
Like anything else, this vacuum has many advantages. However, there are a few things that may disappoint you. One you know its merits and demerits, you will be able to make a wise decision.
Pros
Lightweight and compact
Strong, consistent suction whether you are using the main unit or extensions
Quick to assemble, attach and detach the attachment
Strong build (durable)
Cordless vacuuming convenience
Favorable battery life especially on Normal mode
Bright LED lights illuminate dark places enabling spotless cleaning
Fairly priced considering its performance
The small head allows you to access small spaces and tight corners
It has a comfortable handle that offers a firm grip
Effectively tackles allergens using the T10 Smart Seal Allergen System and HEPA filtration
Hygienic disposal – easy to empty and rinse dirt cup
1-year warranty
Cons
It lacks a variety of attachments
The dirt can is relatively small – you may be required to empty frequently
The runtime is quite short on Turbo mode
Click here to see its current price.
Our verdict
ORFELD EV679 Cordless Stick Vacuum's top qualities are ease of use, superb mobility, and efficiency. It does have an appealing look too but these are not the only merits. It is very light and its ergonomic handle makes it fun to use. We also love its simplistic design and the freedom of cordless vacuuming, plus the ability to do whole-house cleaning.
This vacuum's hygienic disposal system is also a great attribute though the dirt can is slightly smaller than those of its peers. It can be detached and emptied separately or while still on the unit.
Besides, the vacuum can run for up to 50 minutes on Normal mode which is commendable. This is great for bare floors. However, if you have carpets, you may need to use Turbo mode. Unfortunately, this curtails the runtime to less than 20 minutes.
The only way to avoid the occasional frustrations brought about by cordless stick vacuums is to find a good corded stick vacuum.
There are many stick vacuums in the market today but ORFELD EV679 presents great value for money considering its performance and pricing. Whether you intend to use it as the main vacuum cleaner or an additional cleaning tool, the level of effectiveness is praiseworthy.