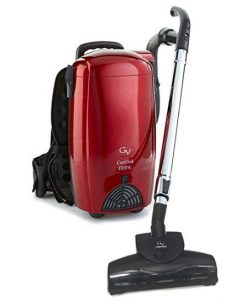 ISSA's study on the best backpack vacuum was historical in the long-running battle between uprights and backpack vacuum cleaners. Not only because it was the first time a professional body had done such a match-up, but also because the results heralded a new sparkling future for backpack vacuums.
And the whitewash was not a fluke as backpacks have time and again come out ahead in subsequent tests making them a favorite choice for cleaning contractors and in homes.
Best Backpack Vacuum 2023 – Comparison Chart
Before we delve into everything to do with backpack vacuums, here is a quick overview of the best backpack vacuum contenders:
| Best Backpack Vacuum | Home/Commercial? | |
| --- | --- | --- |
| GV 8 Qt Light Powerful BackPack Vacuum | Home | |
| Atrix VACBP1 HEPA Backpack Vacuum | Home | |
| Proteam Super Coach Pro 10 QT Backpack Vacuum Cleaner | Home | |
| Hoover Commercial Lightweight Backpack Vacuum, C2401 | Commercial | |
| ProTeam Super CoachVac Commercial Backpack Vacuum Cleaner | Commercial | |
| ProTeam ProVac FS 6 Commercial Backpack Vacuum Cleaner | Commercial | |
What Makes Backpack Vacuums an Outstanding Choice
Backpack vacuum cleaning systems have undergone major improvements. They now use the latest technologies and are much more ergonomic.
In short:
They provide a thorough cleaning in less time.
Contemporary backpacks are more lightweight.
Leading brands are so comfortable to wear and allow you to work while standing.
They also maneuver more easily without bumping on walls and other obstacles.
These are easier to handle thus reducing strain, backaches, and pressure.
They are also more versatile and can take on furniture, walls, carpets, cars, RVs, all types of floors, overhead vents, blinds, stairs, and more.
Some modern day backpacks run at about 63dBA allowing conversations even when cleaning is in progress.
They have bigger bags so you can clean for longer without emptying.
Backpack vacuums are slimmer hence easier to store.
Should I Pick a Backpack or an Upright Vacuum Cleaner?
The design of a backpack is such that you wear it on your back while cleaning. This style is to help you become more productive by covering large swathes. You can cover as much as 5 times more area than uprights within the same time.
So, if you want a reliable, pleasant, and a thorough option for vacuuming virtually everything, these could be the best shot.
The one drawback is the pricing. You generally have to cough up a bit more on backpack vacuums than on canister and upright models. However, looking at their efficiency and comfortable operation, it's fair to say they compensate fully.
Reviews of the Best Backpack Vacuums for Home Use
While a big number of these cleaners are purposed for commercial janitors, we managed to squeeze out a few models which are ideal for home use.
1. GV 8 Qt Light Powerful Backpack Vacuum – best backpack vacuum for home use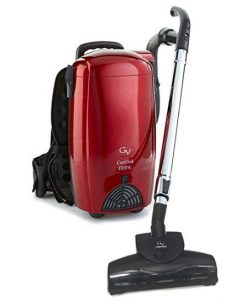 This backpack vacuum stood out from the crowd in several fronts, one of them being the thick padded straps that it comes with. These make it a very comfortable fit on your back.
The backpack is also so compact for ease of use while the 8-Quart bag capacity should be big enough. It is 3 times bigger than standard household vacuums, allowing for longer cleaning without emptying.
Also, its features make it superb for users who want a portable cleaner. This home grade backpack vacuum weighs just about 10 lbs. and has a powerful motor plus a set of 7 tools. It can do a quick job; whether vacuuming low pile carpets, high pile carpets, tiles, hardwood flooring, stairways, cars, boats, and even RV's.
It also uses a robust 4-stage HEPA filtration system to purify the air indoors. So, irritants and germs including dust, pollen, fibers, bacteria, mold, radon, attached viruses, and smoke will be a thing of the past.
The 25ft cord allows plenty of scope for you to reach most places. For example, you can vacuum higher walls or furniture and also suck up particles in the stairs or crevices conveniently.
It's also one of the quieter backpack vacuums in the market today.
What's unique?
Pneumatic powerhead
4-Stage HEPA filtration
Weight: 10 lbs.
7 tools/attachments
8-quart bag
25ft cord
Pros
It's so lightweight, with thick padded straps which give it a comfortable fit and makes it so easy to use.
The powerful pneumatic head allows it to clean with minimal effort.
It's versatile enough to work on any floor type, upholstery, walls, cars, boats, and more.
The extra-large bag allows you to clean for longer without emptying.
It's a quiet runner hence fantastic for home use.
Cons
It would have been great if the hose was a bit longer.
Bottom line
The GV8 Qt backpack vacuum is a truly powerful and portable cleaner. Plus, it's versatile and a super comfortable fit. Holding everything else constant, it's one of the best backpack vacuums hands down.
Click here to find out its latest price.
2. Atrix VACBP1 HEPA Backpack Vacuum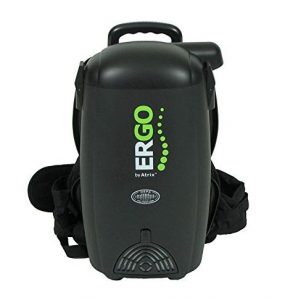 The Atrix VACBP1 HEPA backpack vacuum certainly strikes the right chords when it comes to intensive vacuuming tasks.
One of the outstanding things about this backpack vacuum is the powerful 1400 Watt electric motor which can output a high of 106 CFM (cubic foot per minute). This means that it will always get the job done within record time.
The fact that the attachments allow it to be easily converted into a blower makes this vacuum backpack a handy equipment to have at home.
Impressing further is its ergonomic design which is an upgrade on prior models. You see, it is light (about 10.3 lbs.) and measures approximately 12″ by 9″ by 20″.
This, plus the adjustable belt loop and shoulder straps ensure not only a cozy fit but also firm back support. Also, its hands-free handling reduces pressure on your back as well as providing extra comfort for long hours of cleaning.
Also, don't forget that you can easily shift it to the left or right hand.
To us, this is one of the best backpack vacuums for home use. Or what would you say about the accessories storage in the belt where you conveniently store the essentials for any job?
This backpack vacuum also has quite a number of attachments. These include a 6-inch hose, high-powered beater brush attachment plus the longer- reaching metal wand. Also, it has the usual 4-stage HEPA filtration for backpack vacuums at this level guarantee glittering results in stairs, ceilings, blinds, entryways, drapes, and hard-to-reach corners.
What's unique?
Weight: 10.3 lbs.
Belt loop accessories storage
4-stage true HEPA filtration
1400 Watts (106 CFM airflow)
Blower sets
Beater brush attachment
Metal wand attachment
Pros
Weighs just 10.3 pounds. So, it is easy to carry around.
The powerful motor can hit up to 106 CFM, making it one of the most efficient and super-fast backpack vacuums.
The storage in the belt loop helps you to easily carry the relevant attachments for the job at hand.
Its wide range of able attachments makes it ideal for basically any job.
It's a backpack vacuum cum blower.
Cons
It's a bit hard to put together.
Bottom line
With one of the most robust motors and a plethora of adaptable attachments, the Atrix VACBP1 HEPA backpack vacuum is a good option for domestic tasks.
Click here to find out its latest price.
3. ProTeam Super Coach Pro 10 QT Backpack Vacuum Cleaner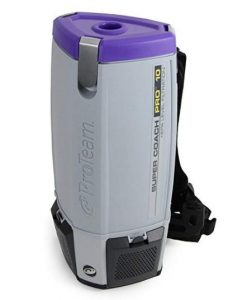 The ProTeam Super Coach Pro 10QT backpack vacuum cleaner is clearly meant to serve all your cleaning needs and is often mentioned in the same breath as any best backpack vacuum.
With it 10 Quartz size, it has an even bigger bag than the previously mentioned GV8 Qt backpack vacuum. This allows users to vacuum high square-footage areas without emptying the bag often.
It also has an improved ergonomic design, with the innovative harness increasing range of handling, reducing fatigue, and subsequently boosting efficiency.
This ProTeam vacuum is lightweight. In addition to that, its weight is distributed uniformly to the center of gravity giving you a better balance when moving.
The new triangular shape fits precisely to your body and moves accurately with the cleaner, ensuring that you can maneuver across narrow doorways easily to access walls or furniture.
The 1108 W motor (159 CFM) and a lowly 66dBA noise level are enough to deliver a superior performance in environments where a low sound is critical.
The backpack vacuum comes with a formidable collection of attachments. These include a 14-inch Xover floor attachment, 5-inch upholstery tool, 17-inch crevice tool, and a 3-inch dust brush with a reducer among others.
What's unique?
HEPA filtration
10 Qt. capacity
1108 Watts (159 CFM airflow)
Four-level filtration
50-foot extension cord
Noise level: 66dBA
Pros
It comes with an unmatched 3-year warranty on parts, labor, motor, and a lifetime warranty on the molded parts.
The ergonomic backpack design and excess padding relieve pressure from your back ensuring maximum comfort as you battle dirt.
You can maneuver easily past narrow doorways, walls, or squeezed furniture thanks to its triangular shape.
It has all the required attachments for wiping walls, upholstery, and floors.
The excellent HEPA filter does an awesome particle-capturing job and leaves the air clean and smelling fresh.
Cons
Not as multi-functional as the Atrix VACBP1 HEPA backpack vacuum.
Bottom line
The ProTeam Super Coach Pro 10QT backpack vacuum makes for a wonderful cleaner for those looking for a solution for high areas. Its advanced features don't disappoint.
Click here to find out its latest price.
Reviews of the Best Commercial Backpack Vacuums
Cleaning professionals have more options when choosing backpack vacuums. Here are some of the most impressive models including an award winner:
1. Hoover Commercial Lightweight Backpack Vacuum C2401 – best commercial backpack vacuum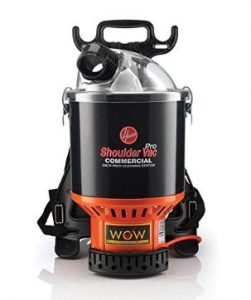 Perched at the apex of our 3 best commercial backpack vacuums is the Hoover Commercial Lightweight Backpack Vacuum. It's a productivity powerhouse built to tackle the toughest cleaning challenges.
The vacuum's hypercone filter is made with the reliable HEPA media and assures of a consistent air flow while maintaining a super-strong suction. This is crucial for efficiency in most commercial environments.
Its chiropractor-designed ergonomic harness reduces strain so that you can comfortably battle the dirt for as long as it takes. However, cleaning shouldn't take long anyway considering that it has an impressive 897.7 gal/min (120 CFM) capacity.
Also, once locked in, the hose remains in place even as the extra-long 48 feet quick change 3-wire cord helps you reach far-flung spots without the inconvenience of switching outlets.
The overall engineering is superb from the point of view of portability and ease of use across rooms. The backpack vacuum weighs a remarkable 9.20 lbs., making it a seriously lightweight choice.
As expected, it comes well-armed with a tremendous cleaning accessory pack which includes a turbo floor tool, crevice tool, dusting brush, and an upholstery tool.
What's unique?
Chiropractor-designed harness
Weight: 9.2 pounds
Hypercone filter with HEPA media
1000 Watts (120 CFM airflow)
48-foot cord
66dBA
Pros
You don't have to keep switching outlets thanks to its 48-foot 3-wire cord.
Rated 66dBA, it is ideal for premises where noise is a nuisance such as computer labs.
The harness ensures that you are wearing your backpack correctly and comfortably for ultimate productivity.
It fits a wide range of cleaning tasks thanks to its inclusive cleaning attachments – carpets, floors, upholstery, hardwood…name them.
The excellent filter makes it ideal for applications where clean air is critical, for example, in medical facilities.
Cons
Its 6.4 quarts dust capacity is a bit on the lower side for commercial backpack vacuums.
Bottom line
The Hoover Commercial Lightweight Backpack Vacuum delivers a terrific performance without disrupting the serenity of the surroundings. Also, its 9.2 lbs. weight makes for an amazing lightweight convenience.
Click here to find out its latest price.
2. ProTeam Super CoachVac Commercial Backpack Vacuum Cleaner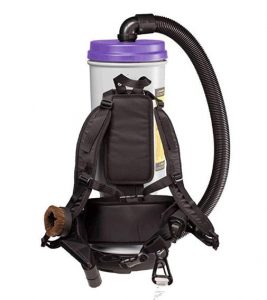 With its famed efficiency which cuts cleaning time by as much as half, the ProTeam Super CoachVac Cleaner remains one of the best commercial grade backpack vacuums.
Featuring a 10-Quart dust bag, a solid 1188-Watt motor (150 CFM), and a 100-inch static lift, the Super CoachVac backpack vacuum is a true marvel and happily accepts any cleaning challenge.
When cleaning hard floors, stairs, carpets, and upholstery, this compact vacuum backpack leaves a lasting impression. Also, it is one of the few backpack vacuums to be awarded the Carpet and Rug Institute's Seal of Approval (SOA), Gold Rating.
Movement is a breeze thanks to its tiny footprint and a fine harness that responds to a user's motion as you're vacuuming. This ensures utmost cleanliness everywhere and reduced fatigue.
It's a very good fit for schools and university halls, considering that it comes with all the accessories needed to clean classrooms/campuses. Also, at 66dBA, it is super quiet, making a great fit for such places.
The unit also comes with a four-level HEPA media filter, complete commercial toolkit, and a telescoping wand making it ideal for vacuuming other high square-footage areas besides students' halls and convention centers.
It indeed moves easily across hard surfaces (hardwood and linoleum included), low-pile carpets as well as letting you clean above-the-floor areas including stairs, vents, and light fixtures.
What's unique?
50-foot power cord
66dBA
CRI Gold Rating
10-quart
Weight: 11 lbs.
Telescoping wand
1188-Watt (150 CFM airflow)
Pros
It has a super-powerful suction motor hence perfect for cleaning tough multi-surface floors, stairs, carpets, tiles, and upholstery.
This ProTeam backpack vacuum has been made with meticulous workmanship and finer materials making it durable and of top quality.
Its whisper-quiet operation makes it advantageous in premises where quietness is a must, such as classrooms and campuses.
Its vacuum bag is 3 times bigger and allows you to catch more debris and dust in larger square footage areas without having to change bags.
This vac uses a unique adjustable harness which transfers weight to your body's core plus leg muscles. Hence, you clean without straining.
Cons
Some of the accessories are a bit hard to fit.
Bottom line
Looking at the accessories and the powerful motor, the ProTeam backpack vacuum is ideal for high-traffic areas including universities, schools, and college campuses. Also, it is quiet and should not cause any disturbance in such places.
Click here to find out its latest price.
3. ProTeam ProVac FS6 Commercial Backpack Cleaner, with HEPA Filtration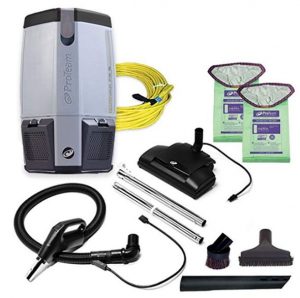 Coming with a unique commercial power nozzle toolkit, this backpack vacuum is dedicated to fulfilling stubborn commercial as well as a wide variety of residential cleaning needs.
The power nozzle is especially adept at cleaning in and around furniture as well as various carpet heights including deep-cleaning. On the other hand, the gas pump handle (with an electrified hose) conveniently turns the power nozzle on/off for super-efficient cleaning.
The FlexFit harness perfectly dissipates heat through its open weave material. It has been boosted with more padding for optimum comfort during complex cleaning duties. It also features enhanced lumbar support and an easy-to-adjust sternum strap.
If you're looking for a lightweight and durable unit that can handle large areas or even small but hard surfaces, carpets, and high/low surfaces, this backpack vacuum expertly saves your time and effort.
The advanced four-level filtration system, an athletic 1108-Watt motor with a 159 CFM airflow and a 96-inch static lift, plus the 50-foot power cord are a testament to its compelling talent.
At 65.8dBA, this is one of the quietest machines in its class. Also, it's made of durable molded materials. We were also won over by its load of accessories – it has everything to leave floors, ceilings, carpets and everything in-between immaculate.
Overall, all these make it a top choice for cleaning professionals
What's unique?
FlexFit harness
Weight: 11.6lbs
Four-level HEPA media filtration
Commercial power nozzle toolkit
50-foot power cord
1108-Watt (159 CFM airflow)
Pros
The unit is durable and low-maintenance making it wonderful for owners of cleaning businesses.
It's armed with a multi-capable commercial power nozzle which makes it exceptional in handling a variety of stubborn jobs.
The open-weave harness dissipates heat enabling you to work in comfort even during hot summer days.
The gas pump handle turns on/off the power nozzle, enhancing its efficiency when cleaning.
This vacuum's slim frame makes maneuvering easy and also minimizes accidental contact with furniture and walls.
Cons
At 11.6lbs, it's a bit heavier compared to the Hoover Commercial Lightweight Backpack Vacuum which weighs just 9.2 lbs.
Bottom line
Despite being a bit heavier, the commercial power nozzle toolkit makes the ProTeam Super CoachVac Commercial Backpack Vacuum a great option for commercial operators.
Click here to find out its latest price.
Best Backpack Vacuum 2023 Buyer's Guide
Over time, backpack vacuums have risen to prominence in homes and cleaning businesses, with more and more users preferring them over their more established competition.
Your best choice comes down to knowing the features that can make a difference. Here are some tips:
Comfort
Certainly, comfort is by far the most crucial attribute. So, if you can't clean with your backpack vacuum stress-free for as long as it takes to complete the task, then it would be a bad decision.
Padding, the design of the harness, and the fabric used for the cleaner are major factors in ensuring that you feel cozy.
Weight
The best backpack should be very portable – that's what the nature of its work demands. At least you will be able to move swiftly and cut down the dusting time.
So, anything bulky won't cut it. Thankfully, our list has nice options such as the Hoover Commercial Lightweight Backpack Vacuum which tips the scales at an admirable 9.2 lbs.
Typical use
If you're a commercial janitor, there are some features that put you at a distinct advantage. Durability and low maintenance mean you won't be spending much on spare parts while versatility allows you to take up a bigger variety of jobs.
On this note, the ProTeam Super CoachVac Commercial Backpack is one of the most durable units around – it delivers uncompromising quality.
How long is the cord?
A longer cord allows you to dust far-flung points and reach multiple rooms without suffering the annoyance of fixing a temporary outlet.
How many attachments does it come with?
Some of the leading backpack vacuums have climbed to the top of the pile thanks to a wide assortment of the attachments they come with. Ideally, it should pack all the tools to clean floors, ceilings, carpets, various surfaces and everything else in-between.
Performance
A powerful suction, whisper-quiet noise levels and efficiency in capturing harmful airborne particles are just some of the parameters that sum up the quality of your backpack vacuum.
Regardless of whether you are a professional cleaner or a homeowner who is looking at top-notch hygiene, you deserve the best that your equipment can deliver.
Conclusion
In spite of its price being a bit higher, a backpack vacuum is definitely a magnificent acquisition. It not only cuts cleaning time drastically but also maneuvers easily to clean hard-to-reach spots; something upright vacuum cleaners struggle to do.
Backpack vacuums also deliver a glittering job whether cleaning upholstery, floors, carpets, walls, and more making, them one of the most multi-functional cleaning aids.
Our list has backpack vacuums of spectacular ability including the award-winning ProTeam Super CoachVac Cleaner and should give you a fantastic start when hunting for the best backpack vacuum.
In summary, these are the best backpack vacuums in 2023:
GV 8 Qt Light Powerful Backpack Vacuum
Atrix VACBP1 HEPA Backpack Vacuum
ProTeam Super Coach Pro 10 QT Backpack Vacuum Cleaner
Hoover Commercial Lightweight Backpack Vacuum, C2401
ProTeam Super CoachVac Commercial Backpack Vacuum Cleaner
ProTeam ProVac FS6 Commercial Backpack Cleaner
The first three are ideal for home use, and the next three for commercial use. You can watch this YouTube video of How a Vacuum Cleaner Works by eSpares: