Are you looking for a good vacuum for your family? You'll find the best vacuum for large families in this collection. But first, let's get this out of the way. If you have kids, you need to get them a toy vacuum. This way, they will stop nagging you as you clean and join in the 'fun' activity.
When you have a large family, it's hard to maintain a clean house. It's even harder if you have young children and ultimately insane if you add pets to the equation. However, if you invest in the best vacuum cleaner for families, you will be well on your way to freedom.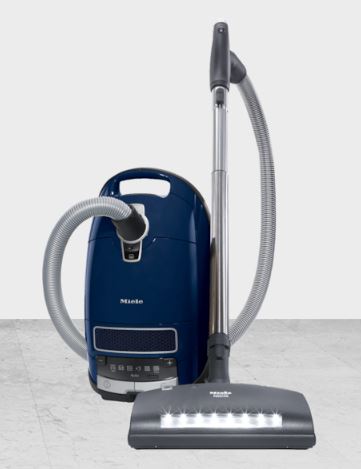 Statistics predict that robotic vacuum cleaners will be generating 4.98 U.S dollars in revenue by 2025. We can only imagine how high that figure would be if we included all other vacuum types. No wonder it's becoming increasingly difficult to choose a suitable vacuum nowadays.
We took the time to research and find lightweight and powerful vacuums that are family-friendly. We will list their features, pros, and cons so that this review guides you in making the right decision. Dive in and explore as you also learn what features to look out for in the best vacuum for a large family.
Best Vacuums for Large Family – the Types
When looking for a good vacuum for a large family with pets and/or kids, you must keep in mind that different vacuum types offer different ways of cleaning. In today's post, there are a variety of vacuum types as described below:
Canister vacuums – most canister vacuums are bagged; hence they have excellent filtration. This goes a long way to fight allergies and asthma. Also, canister vacuums typically have a large dirt capacity as well as undeniable suction power.
Upright vacuums – the most common vacuums are uprights. Not only do they have strong suction, but they also have a large dirt capacity that is ideal for large families. However, they tend to be relatively heavier than other vacuum types.
Wet/dry shop vacs – do you need to clear spilled milk or water? Shop vacs are ideal for large families with kids because they not only tackle dry dirt and debris, but they also help with liquid messes. Also, they are powerful and usually have large capacities.
Robot vacuums – how about hands-free cleaning? Robot vacuums offer hassle-free cleaning. You simply need to give the bot a command from your phone or via voice control (Alexa or Google Assistant) and it gets to work as you tend to other tasks. Also, you can schedule cleaning to take place at your convenience.
Central vacuums – once you install a central vacuum, you'll just need to plug into an outlet on the wall and get cleaning. They also have a very large capacity and can last for ages.
Backpack vacuums – lastly, backpack vacuums offer convenient cleaning, strong suction as well as large dirt capacity. Simply sling the unit onto your back and get to work.
Comparison Table – Best Vacuums for Large Family
After understanding what each vacuum type offers, we present a summary of the main features of our top 8 picks. This will help you make a wise decision based on facts.
Reviews of the Best Vacuums for Large Families 2023
There are tons of vacuums out there. However, only a few can offer exemplary cleaning, large dirt capacity, as well as longevity. A large household needs a vacuum that meets all these requirements to realize value for money spent.
These are the best vacuums for large families in 2023:
1. Miele Complete C3 Marin Canister HEPA Canister Vacuum Cleaner – best vacuum for large family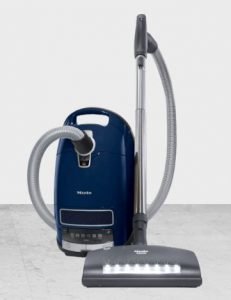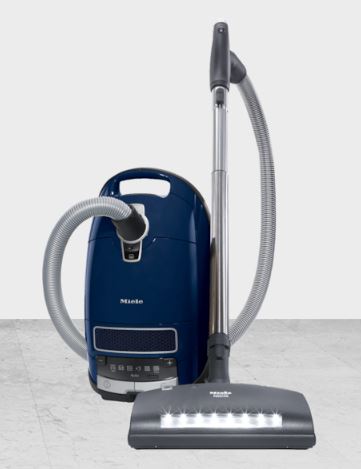 If for no other reason, invest in Miele C3 Marin for its durability. The manufacturer approximates its lifespan to 20 years. And we have no reason to doubt Miele since it's one of the most trusted vacuum brands worldwide. The vacuum uses a 1200W Vortex Motor which runs quietly yet cleans powerfully.
Miele C3 Marin also ranks as the best canister vacuum cleaner for large families because it's a light vacuum that is easy to maneuver. Also, your family will love that it has the most effective filtration systems – HEPA filter supported by pre-filters that lengthen HEPA filter's life.
Besides, it's a bagged vacuum that comes with multiple genuine Miele filters which include 16 filter bags, 4 pre-filters, and 1 HEPA filter. So, you need not worry about messy emptying of dirt that can result in allergic reactions.
It also comes with a 180-degree rotating Parquet Twister floorhead. The total cleaning radius is also enhanced to reach a whopping 36 feet. So, it is ideal for vacuuming large rooms.
Features
Type: canister, bagged
Weight: 10.3 pounds
Power cord length: 25 feet
Total cleaning radius: 36 feet
Cleaning path: 13.75 inches
Power: 1200-Watt Vortex Motor
Filtration: HEPA filter and pre-filter
90-degree rotating parquet brush
SBB300-3 Parquet Twister
SEB236 Premium Electro brush
5-level height adjustment
Dirt capacity: 4.5 liters
Footswitch pedals
6-stage automatic speed setting
Accessories: crevice tool, telescopic wand, dusting brush, upholstery tool
Pros
Strong suction
Excellent filtration
Ergonomic design
Large dirt capacity
Full-bag indicator
Very easy to maneuver as you clean
Wide cleaning path
Efficient pet hair pick-up
Cleans carpets as well as bare floors
You can easily reach under furniture
Cons
It's the most expensive in this list
Buying replacement dirt bags adds to its maintenance costs
Click here to see its current price.
2. Shark APEX DuoClean Powered Lift-Away Zero-M (AZ1002)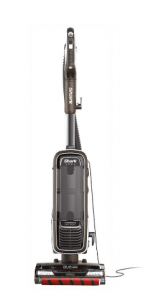 Do you have pets? The Shark APEX AZ1002 is the best vacuum for a large family with pets. It picks pet hair in detail, sweeps all sizes of debris and allows you to access hard-to-reach areas. Also. Zero-M technology boosts its performance by keeping the brushrolls tangle-free as they can self-clean as you vacuum.
Getting a pocket-friendly vacuum that can deep clean and also serve for all floor types is rare. Shark combines the latest technologies to ensure you get the level of cleaning you deserve for your family using this vacuum.
You also get protection from allergies with over 99.9% filtration efficiency using a HEPA filter and advanced Anti-Allergen Complete Seal Technology.
Features
Type: upright, bagless
Weight: 17.1 pounds
Powered lift-away technology
DuoClean technology
Zero-M technology
Power cord length – 30 feet
Cleaning path – 11 inches
Wattage: 1350
Amps: 11.3
HEPA filter
Advanced Anti-Allergen Complete Seal Technology
Dirt capacity: 1.5 quarts
12-inch crevice tool
Hose length: 5.5 feet
Pros
It's not expensive
Excellent ability to deep clean
Serves all floor types
Tangle-free convenience using Zero-M technology
Great hair pick up
Its long power cord is perfect for large rooms
Efficient at capturing allergens using a HEPA filter
LED lights illuminate dark corners make it easier to spot dirt
Lift-away technology makes it easy to clean under furniture, up the stairs, and around obstacles
5-year limited warranty
Cons
Slightly heavy for the petite and seniors
The power cord is not retractable
Click here to see its current price.
3. Hoover Commercial Lightweight Backpack Vacuum C2401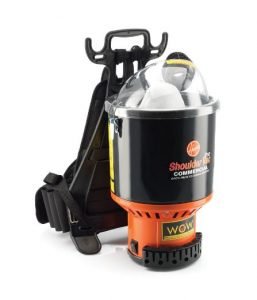 The Hoover backpack C2401 is the best vacuum cleaner for families that have teens, elderly and petite people. Being a light-weight vacuum with a chiropractor-designed harness makes it easy to use and strain-free.
It's also equipped with an extra-long power cord that allows you to conveniently clean even the largest rooms. The fact that it's labeled as commercial enhances its suitability as a vacuum for large households. You can rest assured that it can powerfully handle all messes from all floor types.
We ranked this among the best vacuums for families with kids and pets due to a large dirt capacity.  At 6.4 quarts, you can enjoy uninterrupted cleaning regardless of how messy the house is. The Hoover Backpack C2401 also comes with accessories such as a turbo floorhead that makes cleaning seamless.
Also, when it comes to talking allergies and asthma, it is one of the best products. It uses HEPA filtration to capture and trap up to 99.97% of all pollutants.
Features
Type: backpack, bagged
Weight: 9.2 pounds
Power cord length: 48 feet
Dirt Capacity: 6.4 quarts
Motor: 120V, 8.5 Amps
Accessories: upholstery tool, crevice tool, 2 extension wands, dusting brush, turbo floor tool
Pros
Powerful, consistent suction
It's lightweight
Large dirt capacity
It has a very long power cord
Multiple accessories
Excellent filtration
Very easy to assemble and use
Backpack comfort minimizes straining
2-year warranty
Cons
Not the best for high-pile carpets
Buying of replacement bags is an extra maintenance cost
Click here to see its current price.
4. WORKSHOP WS1600SS 16 Gallon 6.5 Peak HP Wet/Dry Vacuum Cleaner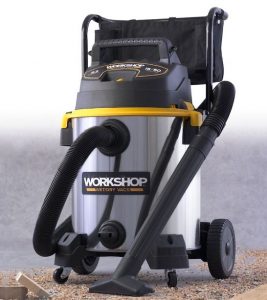 Sometimes, you not only get to vacuum dust, and dry debris. Kids can make your life a nightmare especially when they pour or knock over liquids in the house. So, where kids and pets are, messes can build up.
But only a handful of vacuums can pick wet and dry messes better than WORKSHOP WS1600SS.
This shop vac is equipped with an ergonomic carry handle and large wheels enabling swift movement and comfortable vacuuming. This vacuum is also fitted with a drum that is large enough to hold 16 gallons.
The WORKSHOP WS1600SS also offers comprehensive vacuuming because it has numerous accessories. So, you not only get to clean the floor but also above-ground surfaces. These attachments include a utility nozzle, a crevice tool, a wet nozzle, a car nozzle, and two extension wands.
You also get a bag to store the accessories.
Features
Type: wet/dry shop vac
24 Gauge stainless steel drum
12 Amps, 120V motor
Capacity: 16 Gallon
Airflow: 167 CFM
Water-lift: 45 inches
Max Air Watts: 266
Weight: 37.7 pounds
Peak Horse Power: 6.5
Power cord length: 20 feet
Drain port
Integrated blower port
Ergonomic handle
Cart design
7-foot DualFlex locking hose
Hose diameter: 2.5 inches
Pros
Powerful suction when dealing with both dry and wet messes
Large storage capacity – up to 16 gallons
Durable and appealing in design
Fabulous maneuverability supported by the cart design
It has many attachments
Durable
Onboard storage for all accessories
It is UL listed
Large drain port that is conveniently placed
5-year limited warranty
Cons
The power cord could be a bit longer
A HEPA filter can only be bought separately
It's heavy and bulky although the vacuum's cart design compensates for that.
Click here to see its current price.
5. Oreck XL2100RHS Commercial Upright Vacuum Cleaner XL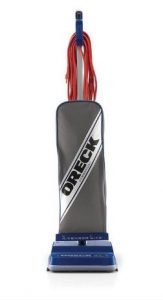 Oreck XL2100RHS is one of the best vacuums for a big family especially if there is a family member who suffers from arthritis. It's designed with a helping hand handle – accredited by the Arthritis Foundation for its ease of use. Also, it is very light and easy to maneuver.
This is a high-speed commercial grade vacuum whose brushes whirl at 6500RPM. Besides powerful suction, it has a balanced brush roll and is fitted with a 35-foot power cord making cleaning larger rooms convenient.
Besides that, its automatic floor adjustment facilitates swift movement between various surfaces – no manual settings required. So, the Oreck XL2100RHS is a multi-floor cleaner best suited for bare floors and carpets.
Features
Type: upright, bagged
Weight: 8.2 pounds
35-foot power cord
Helping hand handle
Automatic floor adjustment
Cleaning path: 12 inches
Uses disposable top-fill bag
Non-marring bumpers
Edge-cleaning brushes
Dirt capacity: 11 quarts
Pros
It's very light yet powerful
Has an arthritis-friendly handle
Well-priced
Large dirt capacity
Top-notch filtration system
Easy to use and empty (mess-free)
Has a convenient long cord with a cord guard
Maintains fade-free power until the bag fills up
Allows compact storage
It's also suitable for commercial use
Cons
Can be expensive to maintain – buying bags
Unlike most uprights, it lacks attachments
Click here to see its current price.
6. iRobot Roomba i7+ (7550) Robot Vacuum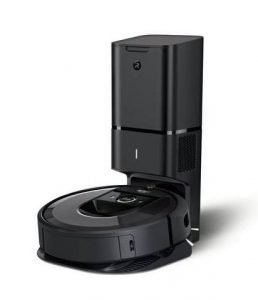 Instead of fighting about who vacuums the house and who doesn't, why don't you get a robot vacuum? Invest in this intelligent, hands-free robotic vacuum and clear your schedule of the most important task.
What's the most interesting thing about this Roomba? It empties itself! You see, most robot vacuums have very little dirt capacity (less than 1 liter). So, you can imagine how much you'd have to intervene if you have a large family. Luckily the Roomba i7+ takes care of emptying the bin on its own.
It goes back to the Clean Base Automatic Dirt Disposal once full and keeps on cleaning. The base can hold up to 30 dirt bins. So, you can go for days without handling the dirt yourself.
You will also love the Roomba i7+ if you have pets that shed. It has uniquely made multi-purpose brushes that are tangle-free. Brushes adjust to constantly keep in touch with the carpet's fiber. It also picks debris from hard floors effectively.
The i7+ also joins the best vacuum for large family list owing to its 3-stage premium cleaning system and its powerful dual rubber brushes. Besides, it uses high-efficiency filters to trap 99% of all allergens.
Lastly, as expected of the Roombas, automatic recharge & resume, sensors, navigation, and room mapping is unrivaled. Also, you can control the vacuum from the iRobot Home app or via Alexa or Google Assistant. You can also schedule cleaning to match your routine.
Features
Type: robot, bagless
Maximum runtime: 120 minutes
Weight: 7.45 pounds
Thickness: 3.6 inches
iAdapt 3.0 Navigation
Scheduled cleaning
Cleaning reports
High-efficiency filter
Recharge & resume
Advanced dirt-detect technology
Charging duration: 3 hours
Automatic emptying
3-stage cleaning system
Edge cleaning brushes
iRobot home app
Voice control via Alexa or Google Assistant
Pros
Automatic dirt disposal
Powerful suction
Long runtime
You can issue voice instructions
You enjoy scheduled cleaning
Multi-floor cleaner
Great with pet hair
Excellent filtration system helps to fight allergens
The Clean Base Automatic Dirt Disposal has a large dirt capacity
Keeps off unauthorized areas using iRobot's Virtual Wall feature
It can clean specific rooms on a specified schedule
1-year warranty
Cons
Pricey
It can get noisy when cleaning
Click here to see its current price.
7. OVO Heavy Duty Powerful Central Vacuum System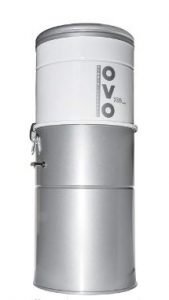 The notable thing about central vacuums is that they have huge capacities and are usually very powerful. Also, once installed, they last for years on end. If you land on a good brand, you can be assured of great service.
Besides, you only need to plug into an outlet on the wall and get vacuuming. This removes the need to drag a heavy canister of push an upright across the room as you clean.
We're yet to interact with another powerful central vacuum with the option of using dirt bags or the dirt can. That makes this vacuum unique and deserving to be ranked among the best vacuums for families. Another plus for OVO heavy duty is its silent system. It runs quietly yet delivers extremely powerful suction.
Also, the OVO Heavy Duty delivers over 99% filtration efficiency courtesy of OVO's Hybrid Filtration System. This system comprises of permanent washable filters and the cyclonic filtration.
Features
Type: central vacuum system
Capacity: 9.25 Gallon
Weight: 27 pounds
Max Air Watts: 700
30-foot hose
Power cord: 3 feet
Coverage: up to 9000 square feet
2-stage 1800W Ametek Lamb motor
Soft Start/Stop technology
LED light system
Washable filters
Pros
Great suction
Operates quietly unlike most vacuums
Convenient optional use of filter bags or can
Gets rid of over 99% of allergens
It's durable
Very easy to install or remove
LED indicator lets you know when to empty or if there's a problem
The Soft Start/Stop technology increases the motor's lifespan
10-year warranty
Cons
Inlets are not included
Accessories cost extra money
Click here to see its current price.
8. Shark Rocket Ultra-Light Hand Vacuum (HV292)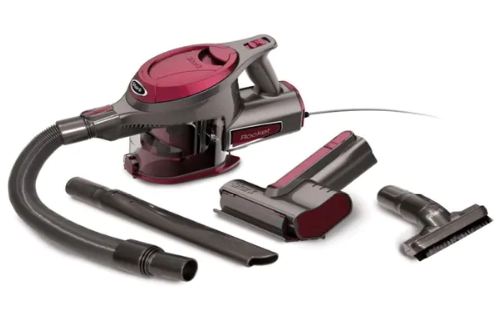 Last but not least, you need a handheld vacuum. This will come in handy for small messes that need quick pickups. With tens of options out there, we feel that the Shark Rocket HV292 tops them all – for its sheer power as well as accessories provided.
One of the best hand vacuums for a big family with kids is Shark Rocket Ultra HV292. Whenever kids are in the picture, litter and debris are certain. The best way of ensuring the house remains clean is having quick dirt pick up in between vacuuming.
And the Shark Rocket Ultra HV292 handheld vacuum comes in handy in such instances. It also allows for easy dirt collection and emptying anywhere you go.
Also, it has a motorized TruePet brush that handles deep cleaning effectively. Other accessories include a 12-inch crevice tool, a dusting brush, and a stretch hose that allows for extended reach. Armed with a 15-foot power cord, this vacuum allows you to plug and clean freely.
It's no wonder that it is also one of the best vacuums for stairs.
Features
Type: handheld, bagless
Weight: 3.7 pounds
Power cord length: 15 feet
Washable, reusable filters
Button-press emptying
Power: 400 Watts
Pros
It's very light
It has many accessories
Excellent with pet hair
Has commendable suction
Convenient for quick dirt pick up
Thoroughly cleans any surface type
Easy dirt disposal
Cons
The power cord is not retractable
No storage for the tools
Click here to see its current price.
Have you found the ideal vacuum for your family on our list? We certainly hope so. If not, let's look at a few features that will help you decide on a suitable vacuum for your family.
Features to look out for in the best vacuum for a large family
Although vacuums come in varying designs, there are those features that cut across all and can help you make the right decision. Here are some of them.
Suction
We like to emphasize this feature in every review because regardless of how expensive or sleek a vacuum is, if the suction is weak, you will loath it. If you have carpets especially suction is non-negotiable because it determines whether the vacuum can collect debris hidden in the carpet's fibers.
Power cord length
Unless you are going for a robot vacuum or a central vacuum system, this is a key consideration. You most likely have medium to large-size rooms. So, you need a vacuum that can cover the entire house without having to keep plugging and unplugging it.
Alternatively, you can make use of extension cords – they work but may be cumbersome to deal with.
Dirt capacity
Another very important factor to keep in mind is how much dirt your vacuum of choice can hold. The larger the family, the more the dirt that you need to clean. It would be very tedious to keep making stops to empty the dirt as you vacuum.
So, go for large-capacity vacuums to save time and avoid stress. Typically, canister vacuums and uprights have large capacities, and that's why they dominate our list.
Filtration
You never go wrong with effective filtration; protect your family from allergens that could cause respiratory disorders especially in children. HEPA filtration offers the best efficiency rate so be sure to look out for it.
Also, bagged vacuums, while expensive to maintain, help to fight allergens because of mess-free cleaning. Once full, you just need to get the bag out and place it in the trash.
Versatility
Instead of investing in different vacuums for different purposes, find a vacuum that cleans all floor types. Also, check out which accessories it comes with. This will make cleaning above-floor surfaces, corners, crevices, and stairs easier. The most common accessories include a crevice tool, a dusting brush, and an upholstery tool.
Also, I'd go for a vacuum with an accessory bag or onboard storage. This will save you a lot of headaches.
Weight
Weight can be compensated by the ease of maneuverability. For instance, if the vacuum has wheels or a cart. Also, some uprights have Swivel steering that makes them easy to use even though they are heavy. A good example is the Shark APEX AZ1002.
So, as you choose, ensure that the vacuum is user-friendly for your household. A vacuum can be bulky as a whole but have the option to be transformed into a handheld. Shark's lift-away technology is a good example of this capability.
Warranty
Before you make that purchase, ensure you are covered if the vacuum does not serve you well while it's still new. If you want to know manufacturers that stand behind their product, check the warranty period. The longer the period, the more trustworthy it is.
Conclusion
We hope these features will guide you in choosing a great vacuum. In our opinion, the Miele Complete C3 Marin a perfect fit for any family. It's quiet yet extremely effective. It is also highly versatile and easy to clean with under furniture.
Additionally, it comes with helpful accessories to make your home's cleaning seamless. Miele Complete C3 footswitch controls also make it unique and easy to manipulate. There are also other options to choose from if you feel that a canister doesn't cut it for you.
Handheld vacuums like the Shark Rocket Ultra-Light Hand Vacuum (HV292) come in handy for quick cleanups. So, even if you buy a regular vacuum, consider acquiring a hand vac – either corded or cordless. This will ensure that the above-floor areas and small messes are quickly taken care of.
As a recap, these are the best vacuums for large families in 2023:
Miele Complete C3 Marin Canister HEPA Canister Vacuum Cleaner
Shark APEX DuoClean Powered Lift-Away Zero-M (AZ1002)
Hoover Commercial Lightweight Backpack Vacuum C2401
WORKSHOP WS1600SS 16 Gallon 6.5 Peak HP Wet/Dry Vacuum Cleaner
Oreck XL2100RHS Commercial Upright Vacuum Cleaner XL
iRobot Roomba i7+ (7550) Robot Vacuum
OVO Heavy Duty Powerful Central Vacuum System
Shark Rocket Ultra-Light Hand Vacuum (HV292)