Without a doubt, the Shark Rotator Professional Lift-Away Upright Vacuum (NV501) is still one of the best Shark vacuums ever made. But how does it compare to the Shark Rotator Powered Lift-Away TruePet Upright Vacuum (NV752)? Today, we look at Shark NV501 vs NV752 in depth.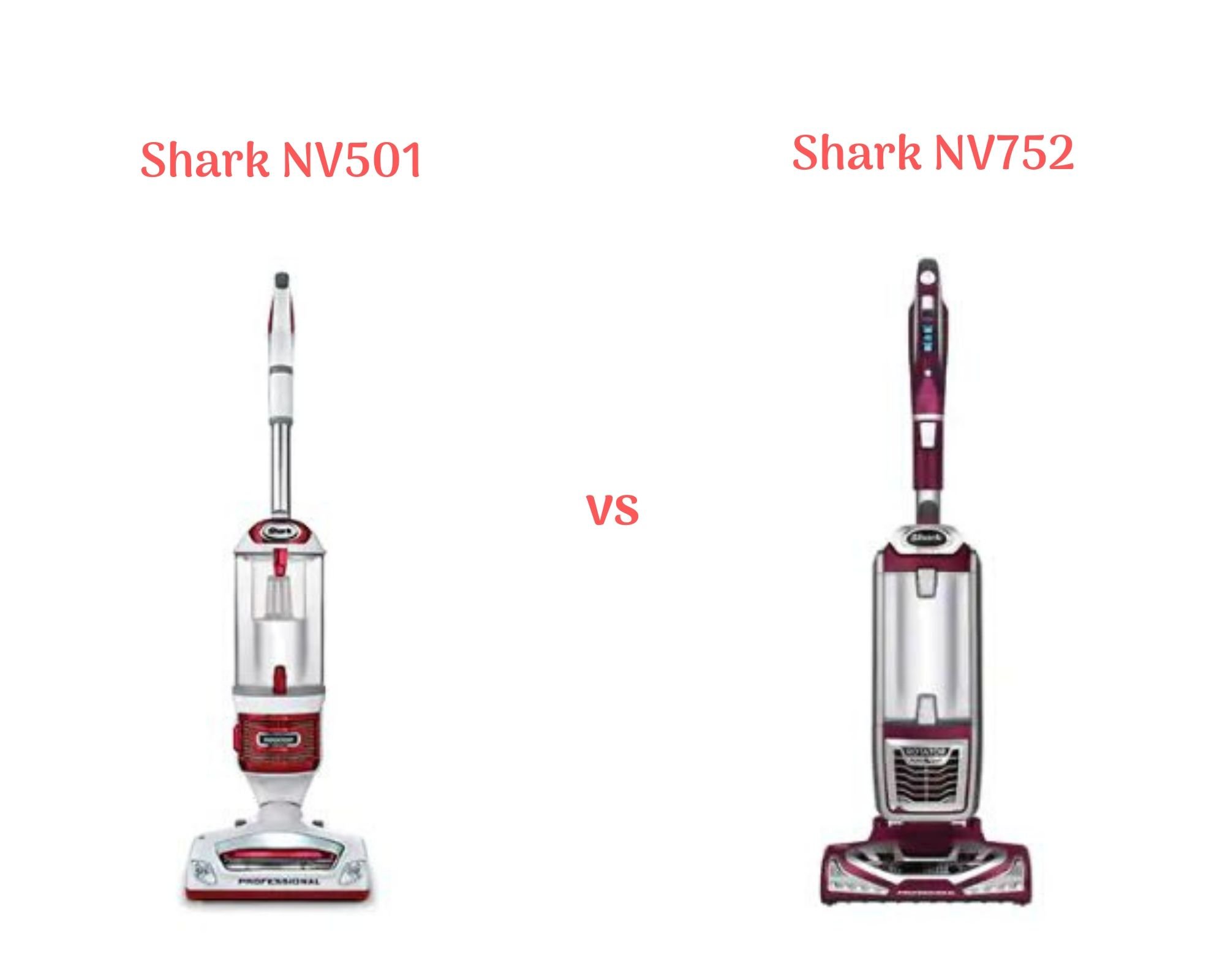 For sure, Shark produces some of the best vacuums on the market – uprights, sticks, hand vacs, and even robots. But Shark uprights are generally better than most other brands in terms of design and performance.
So, by comparing these two Shark Rotator upright vacuums, we are only looking to find out the few things that set them apart.
However, be assured that you'll get more or less the same outcome from either. They also fall within the same price range, with the Shark NV752 being slightly more expensive. In the next section, we look at the features and specifications of each, while pointing out any differences and similarities.
Side by Side Comparison of Shark NV501 vs NV752
There is plenty to love about Shark Rotator vacuums. But what is the difference between Shark Rotator NV752 and Shark Rotator NV501?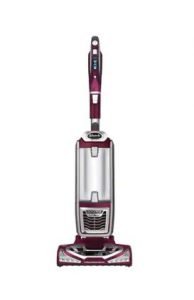 A detailed description of the various features will help you understand what the vacuums are all about. Also, you will get to know whether both options have the same specifications under each feature, or there is a disparity.
Two of the best Shark technologies found in other vacuums such as the Shark APEX AZ1002 include Zero-M Anti-Hair Wrap and DuoClean. Unfortunately, neither the Shark NV752 nor the NV501 has these advanced features.
This is because they were launched way earlier than the AZ1002 and other newer models. The good news is that the two vacuums will be cheaper than the newer models. Therefore, you'll get to save a few coins for your next buy.
Nonetheless, I'm sure you are keen to find out about the functionality of the two vacuums – what do they have to offer? So, let's begin.
Lift-away technology
Shark's Lift-away technology allows you to quickly detach the canister from the wand. This leaves the vacuum compact and narrow. So, it becomes very easy to clean under the couch, tables, and other furniture.
Because it essentially transforms into a light portable vacuum, cleaning stairs also becomes stress-free.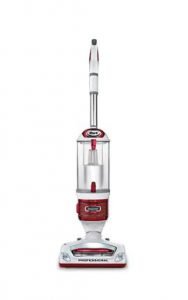 The Shark Rotator NV501 has the standard lift-away feature. On the other hand, the NV752 uses the more advanced powered lift-away technology. But what's the difference between lift-away and powered lift-away?
On lift-away mode, brushrolls don't work, leaving the vacuum to rely on suction alone. However, powered lift-away means that power continues to be delivered directly to the floorhead. So, the brushroll will keep spinning even in lift-away mode.
Filtration
There are many ways of keeping allergens at bay. And one of them is using HEPA vacuums. HEPA filters keep pollutants as small as 0.3 microns in diameter trapped inside the vacuum. So, buying a vacuum that has HEPA-standard filtration can go a long way in keeping you healthy.
Fortunately, whichever unit you decide to pick between the two, you'll be sorted out. Both the Shark Rotator NV752 and the NV501 have washable HEPA and foam filters. In addition to that, Shark has developed an Anti-Allergen Complete Seal system that makes both vacuums airtight.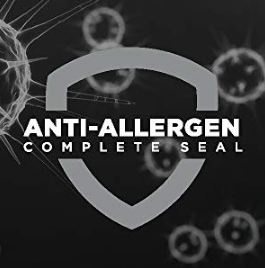 So, once dust, pollen, and other pollutants have been sucked into the vacuum, they won't find their way back into the indoor air that you breathe.
Power source
Corded upright vacuums have taken over most homes – and rightly so. Not only do they offer powerful, consistent suction, but they also allow you to clean for as long as you need. The same cannot be said about their cordless counterparts.
These two Shark uprights make use of high-quality power cords. However, the NV501's power cord is shorter (25 feet) than that of the NV752 (30 feet). If you need to vacuum small to medium-sized rooms, the NV501 will be sufficient. However, for large-room cleaning, the NV752 takes the cake.
Retractable power cords offer convenience when moving a vacuum from one spot to the other and also during storage. We expect Shark to consider this when making new models because these two units lack that feature.
This means that you have to wrap the cord manually around the vacuum when you're done. Cumbersome, right?
Weight
If you need a lightweight vacuum, uprights are not the right option for you. But why? In terms of the design, upright vacuums are made to handle more dirt. So, they are generally heavier than other types of vacuums (over 10 pounds). However, not all Shark uprights weigh the same.
While both vacuums are relatively heavy, the Shark Rotator NV501 is slightly lighter. It weighs 15.5 pounds. On the other hand, the Shark Rotator NV752 weighs 16.7 pounds. If weight is a key consideration for you, then it's pretty straightforward which direction you need to go.
You'll need to push or carry the whole 16.7 pounds, right? Wrong! As mentioned above, the vacuums have a lift-away capability that allows you to separate the canister from the wand. Therefore, the weight is drastically reduced.
Also, Swivel steering makes it very easy to maneuver the vacuum around obstacles such as tables, chairs, beds, and couches as you clean the room. So, weight becomes a non-issue – unless you are a senior or you have arthritis (see the best vacuums for arthritis sufferers).
Dirt capacity
When looking for a good vacuum cleaner, one of the main aspects you check is the capacity. The larger the better, especially if you need to vacuum lots of dirt and debris. And that applies to people who live in dustier environments.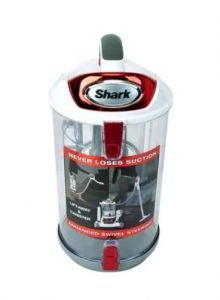 Both these vacuums have a "Max Fill" line that lets you know when it's time to empty the trash. However, it's not advisable to let your vacuum fill up. When it's about 50% full, you can empty and clean the dirt canister for the next use.
If you let the canister fill up, suction may be hampered. Also, some types of dirt start emitting odors if left in the vacuum for too long.
In terms of size, you can collect up to 1.3 quarts of dirt with the NV501 before emptying. On the other hand, the NV752 is slightly bigger – it can hold up to 1.3 quarts of dust, dirt, and debris. The difference is negligible, especially if you don't vacuum often.
LED lights
If you're wondering why you still find dust on your soles as you walk from one spot to the other, it means you didn't pick up all dirt. When vacuuming, you may leave some dust especially in the darker areas of the room.
What's the solution? Get yourself a vacuum with some lights, especially on the floor nozzle. These will help to illuminate any pending dust and dirt so that you can pass over that spot one more time.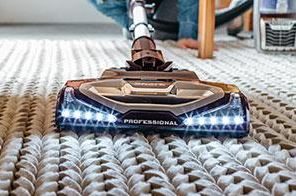 The Shark Rotator NV501 has LED headlights on the floor head that help with this. The NV752 does it one better by having LED headlights on both the floor nozzle and the handle. So, you will not only spot hidden dust and dirt on the floor but also on above-floor surfaces.
Cleaning path
While it may not be a major point of concern for most people, some users are particular bout how wide the floor head is. Why? Because the wider the cleaning path is, the fewer the passes you need to make to finish cleaning.
However, a wide vacuum may prevent you from passing through narrow gaps between your furniture – and most couches are really heavy. Also, moving furniture around so many times may weaken them. So, a narrow vacuum will do better.
The NV501 has a narrower cleaning path (9.5 inches) than the NV752. The NV72's cleaning path measures 10.5 inches. The one extra inch could make a whole lotta difference.
Pets and pet hair
About 38% of households in the US have dogs while about 25% have cats (source: AVMA). So, you can imagine how much pet hair and dander there is in most homes. Apart from pets, humans also shed hair from time to time.
Therefore, when looking for a vacuum, one of the most important factors to consider pet hair pick-up. A vacuum that deals with pet hair and dander efficiently will win any vacuum cleaner contest – for sure.
These two vacuums have an impeccable ability to pick up pet hair on the floor. Also, a lot of hair can be found on furniture, upholstery, and other above-floor areas. Trust any of the two units to get the job done. This is made possible by powerful suction and well-designed brushrolls.
Also, you get several pet attachments as described below.
Accessories
Lastly, we take a look at the attachments and accessories that come with each vacuum cleaner.
In addition to an 8.4-foot hose, the Shark NV501 comes with a dusting brush, a 12-inch crevice tool, a premium pet power brush, a wide pet upholstery tool, and a canister caddy. With all these tools, you can kiss pet hair and dander goodbye.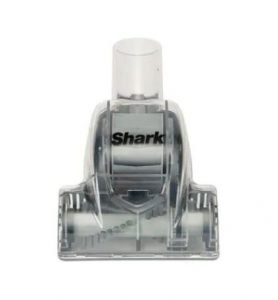 On the other hand, the NV752 has a motorized TruePet pet tool, a TruePet brush, a dusting genie (an extendable crevice tool), a dusting brush, and a pet upholstery tool. For sure, whichever option you go with, dealing with pet hair will be a breeze.
Comparison Table – Shark NV752 vs NV501
What's the difference between the Shark Rotator NV752 and NV501? Well, the below table shows a summarized side-by-side comparison of the two Shark uprights. So, if you need to quickly identify what sets them apart, here's where to do it:
| Features | Shark NV501 | Shark NV752 |
| --- | --- | --- |
| | | |
| DuoClean technology | No | No |
| Lift-away technology | Yes | Yes |
| Powered lift-away technology | No | Yes |
| Anti-Allergen Complete Seal | Yes | Yes |
| HEPA filter | Yes | Yes |
| Power cord length | 25 ft. | 30 ft. |
| Power cord retractable? | No | No |
| Wattage | 1200 | 1150 |
| Amps | 10 | 9.5 |
| Weight | 15.5 lbs. | 16.7 lbs. |
| Dirt capacity | 1.3 quarts | 1.5 quarts |
| LED lights on floorhead | Yes | Yes |
| LED lights on handle | No | Yes |
| Cleaning path (inches) | 9.5 in. | 10.5 in. |
| Hose length | 8.4 ft. | 6 ft. |
| Dimensions (L X W X H in inches) | 12.1 X 12.2 X 45.7 | 13.2 X 11.9 X 45 |
| | | |
So, which one should you buy?
Picking between two almost identical products can be a nightmare. While the two upright vacuums may look the same in terms of design, it all boils down to the specifics. What is it that you need in a vacuum? The answer to that question will ultimately help you make the right decision.
When it comes to performance, both options have powerful motors that generate strong suction that lasts as long as you clean. They also have excellent HEPA filtration coupled with Anti-Allergen Complete Seal to keep pollutants and allergens at bay.
However, we tend to like the NV752 more because of the powered lift-away feature that allows the brushroll to keep spinning even in lift-away mode.
Other features that make the NV752 a superior are the long power cord, and the fact that the dirt capacity is a bit bigger. Also, you get a wider cleaning path and LED lights on both the handle and the floor nozzle.
However, power cord length should not really be an issue especially if you have small to medium-size rooms. Also, the NV501 is a bit lighter than the NV752. If you care about how heavy a vacuum is, then the NV501 beats the NV752 in that aspect.