What is the best vacuum for arthritis sufferers? Finding the best vacuum for arthritis patients can be a time-consuming, even exhausting exercise. Today, the search will definitely end on a good note. We have selected 5 options that are ideal for this condition.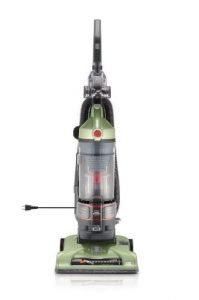 Arthritis is said to be the leading cause of disability in the United States. The Arthritis Foundation indicates that about 54 million adults and 300,000 children have already been diagnosed with arthritis or a rheumatic condition – osteoarthritis being the most common of all. Not many people understand how much a friendly vacuum means to these people. Luckily, we do.
This article seeks to explore the best vacuum cleaner for arthritis patients. We will look at why they are deemed to be the best, their weaknesses and strengths, and also their features. We will also check out some of the factors that you need to critically consider when choosing the best arthritis-friendly vacuum.
Let's get right into it by looking at a summarized list.
Best vacuum for people with arthritis comparison table
Before we get into the product reviews, here is a summary of the best vacuums for arthritis patients:
Reviews of the Best Vacuums for Arthritis Sufferers 2023
After careful consideration, we have finally settled on a few worthy options. These are the best vacuums for arthritis sufferers in 2023:
1. Hoover T-Series WindTunnel Rewind Plus UH70120 – Best vacuum for arthritis sufferers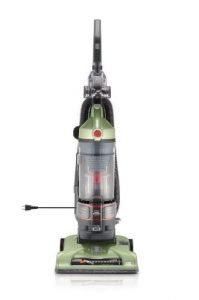 A good vacuum for arthritis sufferers is one that is simple to use, easy to maneuver and light. And the Hoover T-series UH70120 fits the bill.
Then, if a vacuum is excellent in sucking debris, you will have very little to complain about. Consider this; the Hoover T-series UH70120 upright vacuum does not need a lot of effort to push around. But it still cleans amazingly well. It's also quite easy to climb stairs with.
Also, its versatility when cleaning various surfaces is superb. The availability of a 5-position height adjustment makes it render maximum performance for carpets as well as bare floors such as hardwood or tiles. With just a little adjustment, you can change from low – meant for hard floors – to high, which works for high pile carpets.
The Hoover T-series WindTunnel Rewind Plus UH70120 is the easiest to fix (in case of an issue). It is also quite easy to clean in comparison to most vacuums we've featured so far. Apart from the HEPA filter – which does not need frequent cleaning, the other parts open easily, the wind tunnel pops out easily allowing you to clean it plus the bin.
The 25ft cord is easily activated for use and also auto-retracts easily for storage. You also get some attachments that allow you to clean all corners of the house. These include an extension wand, a crevice tool, a turbo tool, and a dusting brush.
Features
Type: upright, bagless
Weight: 16.5 pounds
Filtration: Uses HEPA Filter – its system checks and alerts when to clean filter
Good for low pile and high pile carpets as well as hard floors
It uses WindTunnel technology
Power cord: 25 feet
Pros
Lightweight
Affordable
Powerful suction
Self-winding cord
System check indicator
Two-year limited warranty
The hose is easily detachable thus makes it easy to clean the ceiling, drapes and the like
Cons
The power cord could be a bit longer
The dirt canister is relatively small
Click here to see its current price.
2. iRobot Roomba i7+ (7550) Robot Vacuum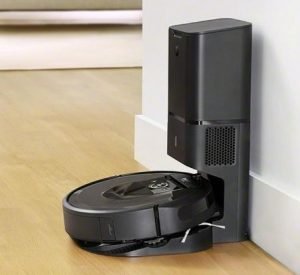 If you are looking for the best vacuum for arthritis sufferers, it's because your current vacuum is unbearable to handle (obviously). Why not get an alternative that actually doesn't require you to use your hands?
That's exactly what you'll get with the iRobot Roomba i7+ (7550). Not only does it clean automatically, but it also empties itself. You can read our iRobot Roomba i7+ review for comprehensive details about this amazing robot vacuum.
This is how you get the most out of Roomba i7 Plus. On the first use, Roomba will map-out your house and store this information on the iRobot Home. When it's done, name each room and partition them as per your preference.
After naming the rooms, preset the vacuum on how to clean each room. You can schedule each room at a specific time or even the entire house. The Roomba can recall up to 10 diverse floor plans. After this initial setup, all you need to do is issue instructions using your iRobot app. You can also activate Google assistant or Alexa for convenience use.
Among robot vacuums, iRobot i7+ is the best vacuum for arthritis patients for its extra-ordinary suction ability. Also, it orients the cleaning plan to match the alignment of your house and it hardly gets stuck. It also maneuvers easily around the obstacles in the room.
Lastly, a premium 3-stage cleaning system enables it to clean thoroughly under the furniture and along the walls; picking up all the debris and pet hair.
Features
Type: robot
Weight: 7.45 pounds
Filtration: extra-high efficiency filters
Wi-Fi connectivity
Imprint Smart Mapping
Virtual Wall technology
Extra-large dirt capacity – equivalent to 30 bins (0.7 liters)
Maps out your house and its environs on the first use using its full range sensors
You can instruct it using either iRobot home app, Alexa or Google assistant
Pros
Automatic dirt disposal
High suction power
Fights allergens
Can clean specific rooms by name and on schedule
Good with both carpets and bare floors
Efficiently cleans crevices, corners and under furniture
Excellent at sweeping hardwood surfaces
Cons
It's a bit pricey
May be a bit complex for people who are not tech savvy
Click here to see its current price.
3. Oreck Commercial XL Commercial Upright Vacuum Cleaner XL2100RHS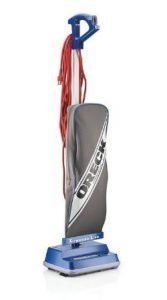 The Oreck XL Commercial Upright Vacuum is among the best vacuum cleaners for arthritis sufferers because of its ergonomic design, weight, and ease of use. Being lightweight and compact, it fits under furniture and between cabinets easily.
Also, it is a great vacuum for all surfaces whether laminated, hardwood, carpeted or tiled. It has a commendable coverage of 12 inches. Therefore, it cleans quicker than most of its peers. Oreck increased the versatility of this vacuum by adding the Microsweep feature. This allows you to switch swiftly between various surfaces.
The Oreck XL commercial Upright vacuum also has a cord guard. This lengthens the lifespan of the cord by preventing its damage. Finger-tip controls also available to enhance the vacuum's versatility. It has a top-fill bag with a large capacity of 630 cubic inches that ensures no suction is lost.
Features
Type: upright, bagged
Weight: 8.2 pounds
Power cord: 35 feet
Cleaning path: 12 inches
Side edge brushes
Non-marring bumper
Low-profile design
Pros
Lightweight
Powerful suction
Long power cord
Fairly priced
Excellent cleaning for all surface types
Disposal bags are easy to change
Fit for commercial purposes
One-year warranty
Cons
It has no attachments for above-floor cleaning
Noisier than most of its peers
Click here to see its current price.
4. VonHaus 600W 2 in 1 Stick & Handheld Vacuum Cleaner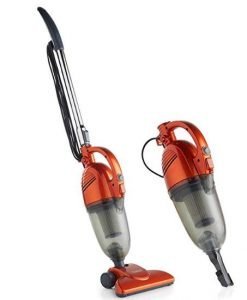 The VonHaus 600W 2-in-1 vacuum is another great option for arthritis sufferers. It is fantastic for all flooring types – laminates, hardwood, low pile carpets, vinyl, or tiles. The fact that it doubles up as a stick vacuum and a handheld makes it even better.
It has great suction and comes with sufficient accessories for all surfaces cleaning. These are a hose, an effective dusting brush, and a crevice tool. Without such tools, cleaning above-ground areas becomes a nightmare.
The beautiful thing about VonHaus 600W is that you can work with it at full length or without extending it. Also, it's an easy to empty bagless vacuum with 1.3-liter capacity best suited for domestic use.
It is no wonder that this unit is our top pick in our best vacuums under $50 category.
Features
Type: stick/handheld, bagless
Weight: 5.6 pounds
Filtration: HEPA
Doubles as an upright vacuum and a handheld vacuum
Power cord: 19.5 feet
Dust capacity: 1.3 liters
Pros
Lightweight
Has ample attachments
Hygienically advanced filtration using HEPA technology
It's quite easy to empty
Convenient storage
Works perfectly both as a handheld vacuum and a stick vac
Cons
Relatively loud
The cord is short making it a little inconveniencing when cleaning larger rooms
Click here to see its current price.
5. Bissell Featherweight Stick Lightweight Bagless Vacuum 2033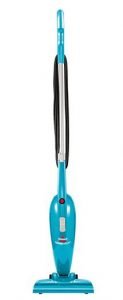 Bissell Featherweight stick vacuum 2033 makes the list for best vacuum cleaner for arthritis sufferers because of two characteristics. One, it is among the most versatile stick vacuums and also, it is high-quality. This is the vacuum to go for when you need quick, efficient and tireless cleaning.
You may have noticed that Bissell is a top brand, especially with vacuum cleaners. The company has been in business for over four decades. So, the engineers have a good grip on the do's and don'ts as well as their customers' expectations. They also thoroughly test their units before releasing them to the market.
Having said that; we noticed that for this vacuum to be featherweight Bissell may have avoided using very sturdy material.  This is not so much a concern since it's a vacuum for simple home use (not heavy duty work). Also, the cord is shorter compared to other vacuums. You may need to move the plug from outlet to outlet if you are cleaning a large room.
The reason we vouch for it is because it is thorough on various surfaces. Hardwood floors especially have a tendency of staining due to spills, Bissell Featherweight stick vacuum ensures you clear all types of mess from the floors to crevices no matter how tiny they are. It also cleans great under furniture, slide doors, corners, automobile mats, and upholstery.
Features
Type: hand/stick, bagless
Weight: 3 pounds
Power cord: 15 feet
Cleaning path: 9.5 inches
Dirt capacity: 0.67 liters
A combination of a crevice tool and a floor nozzle
Converts easily between handheld to stick vacuum
Versatile on all types of flooring
Pros
Ultra-lightweight
Easy to store
Strong suction
Easy to convert from hand to stick vacuum
It cleans all floor types
It's not so loud
Fairly priced
One-year limited warranty
Cons
The cord is quite short – not convenient for large rooms
The dirt capacity is quite low at 0.67 liters
Not efficient on high pile carpets
Click here to see its current price.
What to look for when purchasing the best vacuum cleaner for arthritis
What is the purpose of all this jargon and tech titles we see online? Do you understand the technical vocabulary? You may end up buying a vacuum that is highly priced thinking it performs optimally, only for you to get disappointed.
Anyway, that's why we're here. Whether choosing a good vacuum cleaner looks complicated or straightforward, this guide will help you make a well-informed decision. If you follow these guidelines you will be on the right track.
1. Check the filtration system
Vacuums suck in dirt and debris as you clean; some of those particles being microscopic. They could be tobacco smoke or dust, pet fur, pollen, dust mites, various allergens, or food particles. A good filtration system ensures that once they are trapped, they are not released back to the indoor air.
Most manufacturers use HEPA (High-Efficiency Particulate Air) filters to trap all those particles inside as you keep cleaning. The HEPA filtration system has over 99.9 percent efficiency in ensuring that the exhaust port does not let out the particles back into the air.
This technology is very friendly to arthritis sufferers and especially to people who live with allergies. Gadgets with HEPA filter have the acronym "HEPA" indicated on them.
2. Does the weight matter?
This concerns especially handheld and stick vacuums. Normally, uprights have wheels that ease maneuverability. When choosing a stick vacuum or a handheld vacuum, choose one whose weight you can manage. Assuming it takes you an hour to clean your house, can you survive a whole hour of carrying it around?
If you are planning to purchase a robot cleaner, weight should not be an issue. You can ignore it as long as it cleans efficiently. Most robot vacuums retract to their charger or to their storage space after use so no need to worry about carrying it around. In fact, our best robot vacuum for arthritis sufferers pick even empties itself!
3. Versatility matters
How well does the vacuum adapt to various activities? Probably some of your surfaces are wooden, you have rugs and carpets (both low pile and high pile), and some tiled rooms. In addition, you may need to vacuum your car's interior or upholstery. Can the vacuum you choose handle all that?
Consider the surface area. Can it handle your house?  Is it able to reach under furniture, clean stairs, corners, and crevices? All these are questions that you need answers to before you make your purchase.
4. Suction power is key
Suction power is not synonymous with wattage power. Wattage shows how much electrical energy a particular gadget uses. Suction, on the other hand, is measured by comparing the difference in pressure between the vacuum's internal pressure and the normal outward pressure.
Suction is mostly measured in Pascal (Pa) units. The higher the suction is, the better the vacuum's ability to pick up dirt and debris.
If you don't have high pile carpets, you can consider a vacuum with low suction since it's well able to pick dirt from hard floors and low pile carpets. However, you may need more suction to get rid of the dirt that is deeply embedded in high-pile carpets.
5. Attachments/Accessories
I don't know about you but I like to have a one-stop solution for a particular need. I wouldn't want to buy separate cleaning accessories for my automobile, and others for the house.
It's important to know what accessories come with your vacuum. Most manufacturers enclose a crevice tool, an upholstery tool, a dusting brush, an extension wand, and a motorized brush head. For battery-charged vacuums, the manufacturer may also provide extra batteries.
6. The price
Finally, you want to get a vacuum cleaner that is efficient and at the same time within your budget (pocket-friendly). There's one thing you can be sure of though – there are many options in the market for your budget. Just take your time and search our through our vacuum by budget section.
Conclusion
Looking for the best vacuum for arthritis sufferers is not a walk in the park. Since buying a vacuum is a long-term investment, you need to take your time so that you can buy the perfect unit. Luckily, we've done all the hard work for you, and narrowed down the list to five.
One of the things you need to note is that there is no one size fits all vacuum. Your needs should dictate your choice. Even if you are an arthritis patient, you must not only buy the best vacuum for arthritis patients, but you must buy the best one in terms of performance.
These are the best vacuums for arthritis sufferers in 2023:
Hoover T-Series WindTunnel Rewind Plus UH70120
iRobot Roomba i7+ (7550) Robot Vacuum
Oreck Commercial XL Commercial Upright Vacuum Cleaner XL2100RHS
VonHaus 600W 2 in 1 Stick & Handheld Vacuum Cleaner
Bissell Featherweight Stick Lightweight Bagless Vacuum 2033
Given the nature of these vacuums, we also recommend them for people with Carpal tunnel syndrome (CTS).