iRobot is well known all over the world for its revolutionary robot vacuums – the Roombas. Actually, the progress has been remarkable over the last few years. From the 400 series to the 900 series, all Roombas have been a cut above their peers. Today, we look at a comprehensive iRobot Roomba i7+ Review.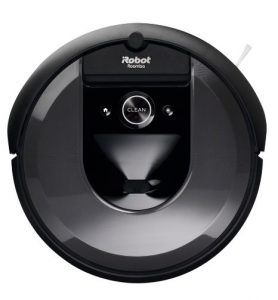 This vacuum is also known as the iRobot Roomba 7550.
The iRobot Roomba i7+ Review
This is one of the most advanced robot vacuums in 2023. Its performance features and specifications are second to none. So, what makes the Roomba i7+ 7550 stand out? Let's take a look.
Automatic dirt disposal – newest and best feature
Can you imagine this? Well, neither could we. But it is true. With the iRobot Roomba i7+, you don't have to worry about emptying the dust cup every time it fills up. Once full, the robot returns to the Clean Base to empty dirt, debris, and hair.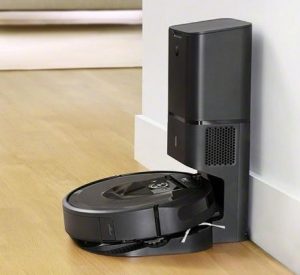 Amazingly, the Clean Base Automatic Dirt Disposal can hold up to 30 times the capacity of the robot's dirt cup. You can imagine how often you have to intervene – once every few weeks at least. Once full, you just lift the bag from the disposal unit and put it in the trash – completely mess-free.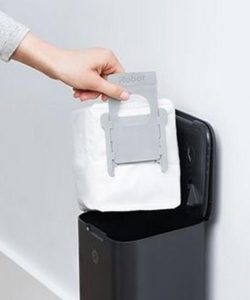 Recharge and resume
One of the main reasons people buy robot vacuums is so that they avoid frequent manual intervention. The Clean Base also acts as the charging station. Once the charge is depleted, the vacuum makes its way back for a recharge. If the task isn't complete, the robot continues cleaning.
Navigation
The part that most robot vacuum manufacturers struggle with is navigation. Most vacuums tend to get stuck under furniture or fall off the stairs and edges – not the Roomba i7+. This robotic vacuum uses the iAdapt 3.0 Navigation with vSLAM technology.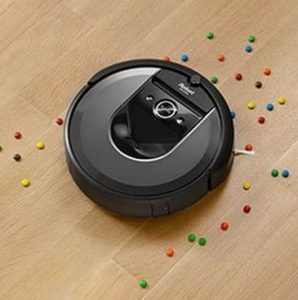 Using this navigation system, the vacuum is able to map out the entire room and clean it effectively. Also, the Imprint Smart Mapping technology helps the vacuum to learn and recall all the rooms in the house for efficient cleaning.
A good example is that it can discern the kitchen form other rooms such as the living room or bedroom. So, you can instruct the vacuum to clean a specific room using the iRobot HOME App, Google Assistant, or Amazon Alexa.
Filtration
This is a very crucial aspect of any vacuum. An inferior filtration system is usually a deal breaker especially for allergy sufferers and the asthmatic. A good vacuum should be able to prevent pollutants and allergens from getting back into the air.
The iRobot Roomba i7+ uses a 3-stage cleaning system to trap up to 99 percent of pollen, dust, and other allergens inside the vacuum. The fact that the vacuum also empties itself adds to this cause.
Versatility
The Roomba i7 Plus comfortably picks up dirt and debris from hard floors and carpets. This is thanks to its two multi-surface rubber brushes. Also, if you have pets, this is one of the best vacuums when it comes to picking up pet hair.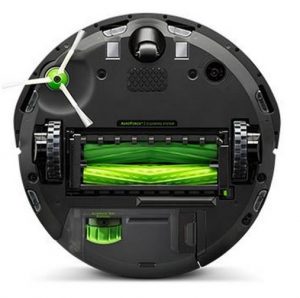 Cleaning schedule
When it comes to cleaning the house, you can either instruct the vacuum to get to work immediately or on a specified schedule. Furthermore, unlike older models such as the Roomba 980 or 890, you can schedule cleaning by room.
Click here to see how much the Roomba i7 Plus costs.
Features summary
This is a summary of what to expect from the Roomba i7+
Clean Base Automatic Dirt Disposal (also used for charging)
10X power-lift suction compared to Roomba 600 and 700 series
iAdapt 3.0 Navigation with vSLAM technology
3-stage filtration system
Dual multi-surface rubber brushes
Imprint Smart Mapping
Wi-Fi connectivity
Virtual Wall technology
Instant or scheduled cleaning
You can use the iRobot HOME App
Voice control (Amazon Alexa or Google Assistant)
Cleans carpets and hard floors
One-year warranty from authorized sellers
A comparison of iRobot Roomba i7+ and other select models
As mentioned earlier, iRobot has produced Roomba vacuums for a long time (since 2002). During this period, the Roomba vacuum has evolved from the 400 series to the 900 series. The latest models are the i7, i7+ and e5 series.
In this section, we take a look at the different features each of the select vacuums has. Given that there are many Roombas out there, we may not be able to compare the Roomba i7+ with each and every Roomba in the market.
Comparison table: Roomba i7+ vs. i7 vs. 980 vs. 960 vs. 890
This is how iRobot Roomba i7+, Roomba i7, Roomba 980, Roomba 960, and Roomba 890 compare:
| | Roomba i7+ | Roomba i7 | Roomba 980 | Roomba 960 | Roomba 890 |
| --- | --- | --- | --- | --- | --- |
| Carpets, hard floors, pet hair | | | | | |
| 3-stage cleaning system | | | | | |
| Advanced dirt detect | | | | | |
| iAdapt navigation | | | | | |
| vSLAM technology | | | | | |
| Imprint Smart Mapping | | | | | |
| Recharge & resume | | | | | |
| Wi-Fi & Smart Home connected | | | | | |
| Virtual Wall | | | | | |
| High-efficiency filter | | | | | |
| Cleaning reports | | | | | |
| Clean or schedule | | | | | |
| Clean or schedule by room | | | | | |
| Automatic dirt disposal | | | | | |
| | Check price | Check price | Check price | Check price | Check price |
iRobot Roomba i7+ Review: Pros and Cons
Just like any other home appliance, there are merits and demerits associated with the Roomba i7+.
The pros & cons are listed in the table below:

Pros
Cons

It empties itself!
Powerful suction
Great with pet hair
Multi-surface cleaning
Helps to fight allergens
Remote and voice control
Automatic recharge and resume
Excellent navigation and mapping
Cleaning can be scheduled

It is expensive
The Clean Base is bulky
You have to buy replacement bags for the Clean Base occasionally
So, should you buy the iRobot Roomba i7+?
In conclusion, this is the most advanced robot vacuum in the market. iRobot has really gone out of its way to innovate a great vacuum that beats the rest hands down. The major downside is that it is damn expensive. However, it does well to justify its over-1000-bucks price.
Therefore, if you can afford it, I highly recommend that you go for it. The iRobot Roomba i7 Plus 7550 will certainly give you value for money.
Click here to see its current price.
Alternatively, you can consider cheaper Roombas by visiting this page. Some of the best iRobot vacuums include:
iRobot Roomba i7
The iRobot Roomba 980
Roomba 960
The Roomba 890
iRobot Roomba 690
Credit for images and the YouTube video: iRobot.