As you try out different recipes in the kitchen, you are bound to get dirt strewn all over the place. Regular cleaning of the kitchen floor, countertops, and other areas is therefore very necessary. Otherwise, you may expose yourself and your family to disease-causing germs. Apart from a mop, you need a good vacuum. So, what is the best kitchen vacuum cleaner?
Today, we take you through the Sweepovac Review, arguably the best kitchen vacuum (built-in).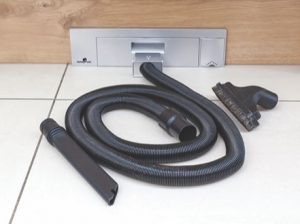 When looking for a good vacuum for your kitchen, there are many options. However, the Sweepovac Built in Kitchen Vacuum stands out as the best kitchen vacuum cleaner.
Best Kitchen Vacuum – Alternatives to the Sweepovac
Before we review the best vacuum cleaner for kitchens, we are going to list a few options that are available to you.
i) Handheld vacuums
More often than not, you just need to clear small messes such as dust or spilled spices. Instead of dragging your 15-pound upright vacuum into the small kitchen space, you can use a hand vac. There are many hand vacuums out there, but you need to identify the best in terms of price and performance.
Our detailed review of corded and cordless hand vacuums will help you pick the best dustbuster for kitchens.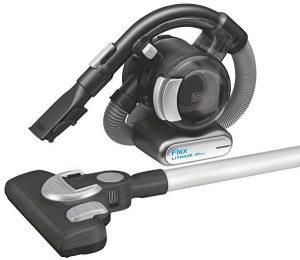 ii) Stick vacuums
Stick vacuums are preferred for quick cleanups in the kitchen. This type of vacuum is very light and compactly designed, making it quite easy to use. However, do not despise a stick vacuum due to its slender design. The best stick vacuums are very powerful and effective in picking up kitchen messes.
Actually, most stick vacuums have dual functionality. At the push of a button, you can convert some stick vacuums into handheld vacuums.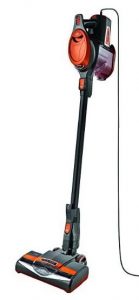 iii) Central vacuum systems
Central vacuums are used for general house cleaning. Ideally, a large canister is placed in the basement or garage. Then, pipes are distributed to inlets in various rooms through the walls. Every time you need to clean a room, you just connect a hose to the inlet and use appropriate attachments to pick up dirt.
This can also be useful in kitchens. You can see some of the best central vacuums for kitchens in our central vacuum review.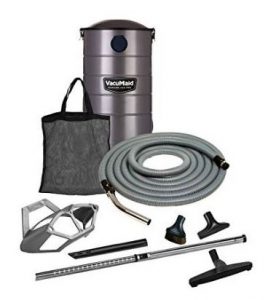 iv) Wet/dry vacuums
While these are not very necessary, they may come in handy for getting rid of accidental spillages. A mop is usually enough for cleaning water of the floor, but some times the amount may be too much. Wet/dry vacuums are powerful, high-capacity cleaners that can pick up liquids and large debris with ease.
We have done extensive research and prepared a wet/dry vacuum review for your reading.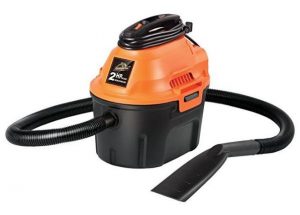 Sweepovac Built in Kitchen Vacuum Review – the Best Kitchen Vacuum 2023
After hours of research, we have settled on the Sweepovac as the best vacuum cleaner for kitchens. In this Sweepovac Review, we are going to look at the various features and specifications that make it stand out.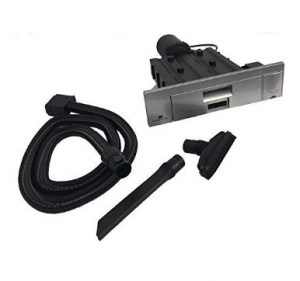 Built-in
Unlike regular vacuums, this cleaner can be installed in the wall. So, it works more or less in the same way as a central vacuum. Ideally, it should be set up in the in the toe kick of the kitchen's base cabinets or in a kitchen island. It can also be installed under the kitchen counter.
In a very short duration, you can fit this vacuum in any kitchen, RV or motorhome.
Durable
No one wants to install a device in their wall/cabinet, only to have to remove it after a few months. That's why Sweepovac kitchen vacuums are made of durable material. To show the confidence that the manufacturer has with the product, a 2-year warranty is available.
Versatile & powerful
This vacuum is as versatile as any good kitchen vacuum should be. It can powerfully pick up all kinds of dirt and debris from your kitchen. Human hair, pet hair, and cat litter are also not spared. So, if you have any pet and/or people who shed hair, this is a huge plus.
Easy to use
This is one of the easiest vacuum cleaners to use. Once installed, cleanup is a walk in the park. First, you need to sweep the dirt towards the opening of the vacuum. The, switch it on and let it take care of business. Amazingly, you don't have to bend to switch on the device. Just kick it using your foot.
You can also sweep dirt toward the inlet after you have switched the vacuum on.

You can also plug in the hose into the vacuum's inlet for extended cleaning. With this model, you also get two accessories that help you to reach dirt that is hidden in tight spots. The vacuum comes with a crevice tool and a brush attachment.
Dirt bag
Because the Sweep o Vac vacuum installed in the wall/cabinet, it would be pointless to keep dislodging it to empty dirt and debris. So, this vacuum uses a spun bound bag. Once the bag is full, you simply remove it and empty the dirt into the trash. There is a full bag indicator that prompts you to empty the bag.
Furthermore, the bag is made of anti-bacterial material that helps to fight germs and odors. A post-motor filter also adds to the efforts of germ elimination.
Sweepovac Review: Pros and Cons
Just like any other human-made appliance or equipment, the Sweepovac vacuum has its own merits and demerits. As part of our Sweepovac review, these are the pros & cons:
Pros
Powerful suction
It's durable
It saves space
Full bag indicator
Fights germs and odors
The bag is reusable
Has useful attachments
Simple DIY installation
You don't have to bend to switch it on
The hose is extendable to 18 feet
Two-year warranty
Cons
The inlet could be wider
It's not for cleaning liquid/wet messes
Click here to see its current price.
Sweepovac Review: How to install the Sweepovac Kitchen Vacuum
As mentioned earlier, installation is a breeze. You can undertake this as a DIY project for your home instead of calling in a professional – you really don't have to. The whole process is estimated at about 30 minutes max. You just need to have the right tools and follow the instructions keenly.
All you need is a marking pen, a tape measure, a drill, a reciprocating saw, and a screwdriver. A tracing template is provided. Below is a YouTube video by Sweepovac on how to install this amazing under-cabinet kitchen vacuum.
Conclusion
Even if you have another vacuum – say an upright or a robot, you need something specific to the kitchen. The Sweepovac review points you in the right direction. If by any chance, you feel that this one is not the right kitchen vacuum for you, you can explore the alternatives we have listed at the beginning of the article.
Once you buy the Sweepovac V2.0, bending over to clean up dirt with a dustpan will be a thing of the past. This toe kick kitchen vacuum is steps ahead of its peers.