After this new Roomba was released on 12th July 2019, we felt that it was necessary to do a simplified iRobot Roomba s9+ review. Also, we will highlight the iRobot Roomba s9+ vs i7+ comparison so that you know what to expect.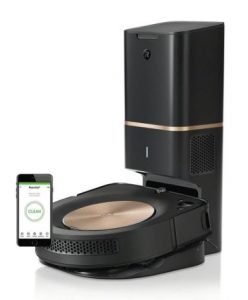 For the first time, we are seeing iRobot move away from the iconic circular Roombas. The latest Roomba, the s9+ (9550), is D-shaped. This means that it looks more like the Neato Robotics D7 Connected than the usual Roombas.
So, you already know one difference – the shape. Also, you must expect the Roomba  s9+, being a newer model, to be a bit more expensive than the Roomba i7+. That being said, we will first review the s9+ in detail before looking at the similarities and differences.
iRobot Roomba s9+ Review
With every new release, iRobot aims to retain the "best robot vacuum cleaner" tag. And the same can be said about the s9+. While it is damn expensive, it has the right features to back the price up. So, what should you expect with the iRobot Roomba s9 Plus?
It empties itself!
Just like the Roomba i7+, the s9+ (9550) also requires minimal intervention. Once the dirt bin is full, the robot vacuum makes its way to the Clean Base Automatic Dirt Disposal. If the work is still incomplete, it gets back to work.
Amazingly, the Clean Base holds up to 30 dirt bins. This means that you can stay for weeks without participating in the vacuum cleaning process. Also, the cleaning base is the charging station. If power runs out, the robot goes back for recharge and resumes cleaning automatically.
Improved deep cleaning
While the earlier models, such as the 600 series could also clean all flooring types well, the s9+ is many times better. Its 3-stage cleaning system leaves all your bare floors spotless. More importantly, with so much suction, it deeply cleans carpets. So, even deeply embedded dirt will be picked up.
Also, the vacuum has wide dual multi-surface rubber brushes that make it easier to clean all floor types. Therefore, the s9+ is ideal for all kinds of dirt and debris – from dust to pet hair. So, if you have cats and dogs, this is the right robot vacuum for you.
Amazing edge cleaning
One of the complaints with the previous Roomba models is the fact that cleaning edges and tight corners is difficult. However, this is a thing of the past with the Roomba s9+. This robot employs PerfectEdge Technology to ensure that this is not a point of concern.
This technology uses a combination of advanced sensors and a special corner brush that sweeps all dirt from all edges and corners.
Excellent filtration
There are quite a number of people struggling with asthma and allergies. Even if you are not one of them, a relative or a visiting friend may be a sufferer. So, it's always good to have home appliances geared towards getting rid of allergens from the indoor air.
Apart from buying a good air purifier, your vacuum can also play a part. A vacuum with a good filter (or filters) prevents pollutants from being blown back into the air. And that's what you get with the Roomba s9+.
The iRobot Roomba s9+ uses an Anti-Allergen Technology System to trap up to 99 percent of allergens. So, dust, pollen, mold, and other pollutants are trapped inside the vacuum, leaving the indoor air fresh.
Advanced navigation system
Apart from PerfectEdge Technology, there are other navigation features that allow the robot vacuum to clean effectively and efficiently. For example, vSLAM navigation technology allows the robot to map out and clean the entire room.
On the other hand, Imprint Smart Mapping is on hand to help the robot to determine the best way to vacuum clean the whole house (all rooms).
Imprint Link Technology
This is one of the most advanced inventions in the home cleaning space. Imprint Link Technology takes cleaning to the next level. This allows you to put both the Roomba s9+ and the iRobot Braava jet m6 Ultimate Robot Mop to the task. While you do other things, the cleaners get busy on your behalf.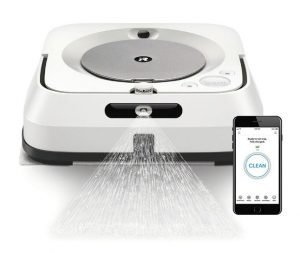 The two robots will map the house, clean the rooms, vacuum them, and guess what? The Braava then mops the floors. Amazing, isn't it?
Control using an app or voice control
User-friendliness is the name of the game for iRobot. And that is why the company has made it their business to bring convenience to the table. Just like the Roomba i7+, the iRobot Roomba s9+ is very easy to control.
First, you can use the innovative iRobot HOME App to issue instructions. Also, if your hands are busy on other tasks, you can simply talk to the robot vacuum since it's compatible with Alexa and Google Assistant.
Roomba s9+ Review: Pros and Cons
Before we get to the comparison of the Roomba s9+ (9550) and i7+, we need to point out its merits and demerits.
Pros
There are many things to like about the Roomba s9+. These include:
Empties itself
Strong suction
Better edge cleaning
Longer battery life
Requires minimal intervention
Excellent navigation system
Multi-floor cleaning
Great with pet hair
Easily cleans under furniture
Cons
Like everything else, there are a few demerits that you need to keep in mind:
Click here to see how much the Roomba s9+ costs.
iRobot Roomba  s9+ vs i7+ Comparison
By now, you may have an idea of some of the similarities and differences between Roomba i7+ and s9+. However, a tabular representation will be easier and quicker to grasp. But if you need more details about the Roomba i7+, you can check out our in-depth Roomba i7+ review.
Roomba s9+ vs i7+ Comparison Table
There are just a few differences when it comes to Roomba i7+ vs s9+. In this table, we list all Roomba features and specs then compare the two, side by side.
| Features | Roomba s9+ | Roomba i7+ |
| --- | --- | --- |
| | | |
| Shape | D-Shaped | Round |
| Weight | 8.15 lbs. | 7.44 lbs. |
| Dimensions (inches) | 12.25W x 3.5H | 13.34W x 3.63H |
| Suction power (vs 600 series) | 40X | 10X |
| Deep clean carpets w/ Power Boost | Yes | No |
| Anti-Allergen System | Yes | No |
| PerfectEdge Technology | Yes | No |
| Edge-sweeping brush | Corner brush | Yes |
| 3-Stage Cleaning System | Yes | Yes |
| Dirt Detect Technology | Yes | Yes |
| vSLAM Advanced Navigation | Yes | Yes |
| Recharge & Resume | Yes | Yes |
| Wi-Fi & Smart Home Connected | Yes | Yes |
| Clean or schedule by room | Yes | Yes |
| Automatic Dirt Disposal | Yes | Yes |
| Imprint Link Technology | Yes | Yes |
| Price | | |
You may also want to see Roomba i7+ vs Roomba 980.
iRobot Roomba s9+ vs i7+: Which one should you buy?
Well, the Roomba i7+ does almost everything that the s9+ does. However, there are some improved features that are specific to the Roomba s9+. These include Power Boost, Anti-Allergen System, and PerfectEdge Technology. Also, the D-shape of the s9+ makes cleaning of edges and corners better.
Overall, the two vacuums are perfect for carpets, hard floors, and pet hair. The s9+, however, uses Power Boost to remove even the toughest dirt that is deeply embedded in carpets. So, it wins the Roomba s9+ vs i7+ battle in that regard.
Therefore, if you can afford the slightly more expensive s9+, you should go for it. It offers a bit more in terms of performance and efficiency. However, if you are on a tight budget, the iRobot Roomba i7+ will still do a magnificent job for you.