Shopping for a vacuum can be tasking. You have all these commercials wooing you to the core yet you only need one machine. Luckily, the commercials do not have to confuse you anymore. Go through this list of best vacuums under 300 dollars and you will have nothing to worry about after.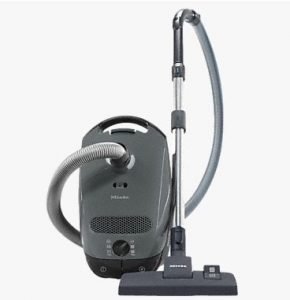 In this summarized article, we review the best vacuum cleaners under 300, we check out the leading vacuum cleaner manufacturers like Shark, Miele, Dyson, Bissell, eufy and Severin. We also review features that make the products outstanding, their pros and cons. Also, we'll teach you how to maintain your choice vacuum.
Before we delve into these discussions, maybe you are not sure what a good vacuum should do for you. Let's look at what characteristics the right vacuum should have.
What should the best vacuum under 300 help you with?
Generally, a good vacuum must help with all kinds of surfaces. It's as simple as that. How?
Removing hair and all types of fur from your carpets and rugs.
Getting rid of all particles/debris from the surfaces.
Cleaning crevices, corners, and hard-to-reach areas.
Eradicating all those nasty odors so your house smells fresh and pleasant.
Cleaning allergens like pollen and dust mites from all surfaces using the various filter technologies.
Getting rid of stubborn stains on hard floors, rugs, walls, and carpets.
Finally, saving you lots of energy and cleaning time. Thus, you have more time to do other chores.
Not all vacuums deliver excellent results with ease and speed. That's why it is important for you to go through this review. If you are looking for the best vacuum cleaner under 300 Dollars, you will get your ultimate choice below.
Best Vacuum under $300 – Comparison Table
Before we get into the reviews, here's an overview of the best vacuums under $300 this year:
***Click on the product name to see its current price***
Reviews of the Best Vacuums under $300 in 2023
There are so many vacuums that cost less than 300 bucks, but only a few made the list. These are the best vacuum cleaners under $300 in 2023:
1. Shark DuoClean Powered Lift-Away (NV803) – Best Vacuum under 300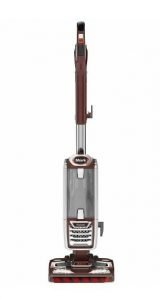 If there's one vacuum that is great with multiple floors, it is Shark DuoClean NV803. This model amazes me because apart from deep cleaning carpets, it is epic on hard floors. Shark has combined a soft brushroll with a bristle brush. Then, you're able to use buttons placed conveniently at your fingertips to help you navigate diverse surfaces.
Shark's DuoClean NV803 engages polished floors so perfectly it leaves them sparkling. The soft brush roll then gathers all the debris, especially the bigger particles, while the bristle brush deep cleans all the rugs and carpets.
Cleaning under furniture has been made easy with Shark DuoClean NV803, it has an under appliance wand that sweeps every dirt under and reaches far corners. Then, powerful LED lights on the vacuum's nozzle assist to gain a view of the darkest corners.
It's also perfect in filtration. Using the HEPA filter technology, it assures users of 99.9% effective allergen control.
Lastly, the NV803 is impressively versatile. When you disconnect the wand, it becomes easy to dust the ceiling fans, clean crevices, stairs, and around furniture. The fact that the NV803 is one of the top Shark vacuum cleaners is, therefore, not surprising.
Features summary
Type: upright vacuum
Weight: 15 pounds
Power cord length: 30 feet
1150W motor
HEPA filter
Capacity: 0.9 dry quartz
Anti-allergen seal technology
Soft brush and a bristle brush
A hair cutting tool
7-year warranty
Attachments: pet multi-tool, under-appliance tool, motorized pet tool, a duster crevice tool
Pros
Strong suction
Long power cord
Easy, flawless steering even where there are edges and under furniture.
Easy hair removal with the hair cutting tool
Flawless button-press shifting between soft brush and bristle brush
Suitable for effective cleaning of carpets, rugs, hard and polished floors
Cons
The dirt canister could be bigger
Click here to see its current price.
2. Bissell Pet Hair Eraser 1650A Upright Vacuum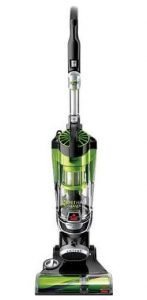 It's no mistake that Bissell decided to refer to this technology of vacuums 'Pet Hair Eraser'. Pet lovers know how terrible it can be with tangled hair and fur all over the place. If you are madly in love with pets, then this is your choice vacuum.
The Bissell Pet Hair Eraser 1650A has a new invention – the turbo eraser tool that helps pick even what you can't see. Also, this vacuum has a 2 in 1 pet brush and a tangle-free brush roll. Its 8ft hose and 12.3 inches cleaning also helps to ease your work.
Features summary
Type: upright vacuum
Weight: 18 pounds
Power cord length: 30 ft.
Pet turbo eraser tool
SmartSeal allergen system
Febreze pet odor filtration
Dirt capacity: 1.5 liters
Pros
Powerful edge-to-edge suction
Made specially to remove embedded hair
Efficient on pet hair removal
Gets rid of bad odor as you clean
Cons
It's quite heavy compared to its peers
Click here to see its current price.
3. Shark IONFlex 2X DuoClean Cordless Ultra-Light Stick Vacuum IF251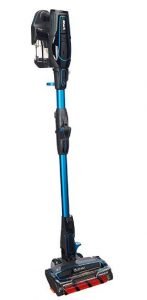 Shark IONFlex 2X is among the 11 best vacuums under $300 mostly for its multiFLEX technology. It's one of Shark's most-versatile vacuums. The wand bends easily and enables you to access hard to reach areas with ease. For the places the wand can't reach, the vacuum converts easily into a handheld device.
Cord-free cleaning convenience is another plus for the Shark IONFlex 2X IF251. It makes work so much easier. However, you need to keep charging the batteries especially if you are cleaning for long. Ensure you also charge while you take a break.
Features summary
Type: stick vacuum
Lightweight: 8.7 pounds
Cordless
Capacity: 0.3 dry quartz
2 rechargeable lithium-ion batteries
Easy to transform into a handheld vacuum
Thorough on both carpets and hard floors
Pros
 

You can continue working as you charge one battery

It combines the soft brush roll and the bristle brush to help transition between surfaces
Up to 50 minutes of runtime
You can unlock it and fold for storage in an upright position
It comes with a pet multi-tool, and an anti-allergen dust brush
5-year limited warranty for the vacuum, 2 for the batteries
Cons
It may not serve very large surfaces well
The batteries last for a relatively short time
Small dirt cup
Click here to see its current price.
4. SHARK ION Robot Vacuum R75 (RV750)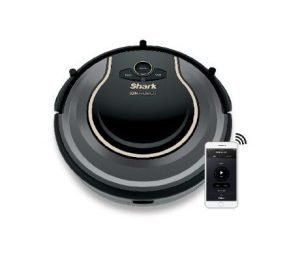 Shark ION innovation is one of the most versatile and effective in robot vacuums. It uses a long life lithium-ion battery to run and can manage a whole hour of cleaning before recharge. That's more than a single cleaning session right?
Shark ION Robot R75 is run using Wi-Fi connection. Using a single-touch, smart sense navigation; you are able to clean all surfaces: carpets, rugs, and hard floors.
One can also operate it using Amazon Alexa voice device to control it. The voice device is sold separately though. The vacuum also has optional software that uses smartphones to schedule cleaning times.
Maneuvering under furniture is easy with this vacuum since it's thin in nature – it cleans perfectly under the furniture. It also doesn't tangle easily when it comes to long hair.
Features summary
Type: robot vacuum
Weight: 5.51 pounds
Wi-Fi connectivity
Smart-sense navigation
All surfaces cleaning
Uses lithium-ion battery
Capacity: 0.38 liters
Pros
Strong suction
Easy and efficient automatic cleaning
Uses self-grooming technology to untangle hair and fibers
Easy to access dustbin
1-year limited warranty
Cons
Click here to see its current price.
5. eufy (Boost IQ) Robovac 15C Robot Vacuum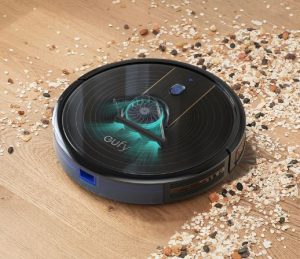 eufy BoostIQ Robovac 15C is one of eufy's impressive vacuums. It's a perfect cleaner for low and medium pile carpets as well as hard floors. This intelligent vacuum has wheels that enable it to climb door ledges and short stairs. Though it's possible for it to disappear in the house, it has this 'find my robot' button that helps trace it with minimal effort.
Robovac 15C can topple over but that's close to impossible because its large wheels enable it to ascend door ledges and roll over carpets and rugs. When it gets to the risky edges like stairs, its drop sensing technology restricts it from falling.
Another winning characteristic of the eufy Robovac 15C is that it's self-charging. Whenever its power diminishes, it retreats to its charging base to re-charge in readiness for the next cleaning round. Once full, it can run for another 100 minutes before the next charge. So, you can clean your whole house on a single charge.
Robovac 15C's technology also allows you to preset the vacuuming time. Therefore, you can take on other chores as it cleans the house. It has multiple cleaning modes and combines two filters to thoroughly get rid of all dirt and debris.
Lastly, its dust bowl measures 0.6 liters. Even though it is small, it can hold enough dirt for a whole cleaning session if this is done regularly.
Features summary
Type: robot vacuum
Weight: 9.4 pounds
Height: 2.85 inches
Dust box capacity: 0.6 liters
Max suction power: 1300 Pa
Wi-Fi equipped
100 minutes of continuous cleaning
Self-charging- 2 AAA lithium-ion batteries
Pros
Powerful suction
Quiet (almost the same noise level as a microwave)
Effortless auto-cleaning scheduling
Multiple cleaning modes
Alexa compatible (uses voice instructions)
100 minutes of continuous cleaning
Effectively cleans under furniture
Cons
Not ideal for high pile carpets
Click here to see its current price.
6. Miele Classic C1 Pure Suction Canister Vacuum Cleaner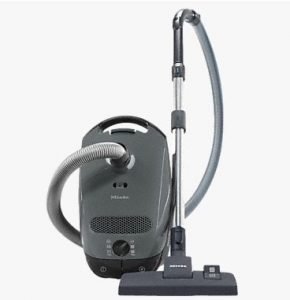 Among the best vacuums under $300, Miele products prove unbeatable when it comes to durability, versatility, and efficiency. The 6-setting rotary dial on Miele Classic C1 is one of the best solutions so far. When cleaning, it enables you to seamlessly adjust the suction power as you switch between various surfaces.
This compact canister vacuum also uses a Vortex motor (1200W) which heightens the suction power. Although not suitable for deep cleaning high piled carpets, the Miele Classic C1 is impressive on hard floors and low pile carpets. It uses the SBD285-3 rug and floor combined nozzle to get rid of stains and debris from hard surfaces, low pile carpets, and low pile rugs. Also, it has a foot switch that enables you to quickly switch between surfaces.
One more plus for the Miele C1 Pure Suction Vacuum cleaner is the metal sole plate. Some vacuum cleaners require a lot of energy to maneuver, but not this one. It glides across surfaces with ease. Its rubber-made wheels also enable swift movement without grazing the floor.
Features summary
Type: canister, bagged
Weight: 11.4 pounds
Filter bag capacity: 4.76 quartz
Motor Power: 1200W
Cleaning Radius: 29.5ft
Power cord: 21 feet
Accessories: upholstery tool, crevice tool, AirClean filter, dusting brush, and a combination floor tool
Pros
It has strong suction
Fairly priced for its performance level
Easy to maneuver with the foot switch
It's light and easy to store
Cons
It can't effectively clean deep high pile carpets
The power cord is relatively short
Click here to see its current price.
7. Shark Rocket Corded Ultra-Light Vacuum with Zero-M Anti-Hair Wrap ZS351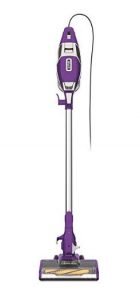 Shark developed Zero-M technology to meet its customers' needs by making the vacuums comfortable and hygienic.
This technology uses a combing device attached to the brushroll alongside bristle guards. This device is able to detach and get rid of tangled hair from the brush roll and direct it to the dust cup. Therefore, you do not have to stop cleaning midway to untangle the brushroll with fingers or scissors.
The Shark Rocket Corded Ultra-Light Vacuum Anti-Hair Wrap ZS351 converts easily to a handheld vacuum. It's a perfect choice for cleaning your car, rugs, carpets, and upholstery. Also, its extra-large dust cup enables extended cleaning without needing to empty.
Further, its weight compliments it. At only about 9 pounds, moving it around, cleaning up crevices, corners, stairs, and around furniture is much easier.
Lastly, it deep cleans carpets and cleans hard floors quite effectively. It also has exemplary control. At the press of a button, this vacuum switches into a handheld vacuum.
Features summary
Type: stick, handheld
Weight: 8.8 pounds
Cord length: 25 feet
Zero-M technology
Capacity: 0.8 quarts
LED headlights
Excellent control – has advanced swivel steering
Pros
Powerful suction
Excellent in carpet deep cleaning
Easy to maneuver
LED headlights illuminate dark areas in the room
Transforms into a lightweight handheld vacuum at a button press
Five-year limited warranty
Cons
A bit noisy
Relatively small dirt cup
Click here to see its current price.
8. Severin Germany Special Bagless Vacuum Cleaner MY7118
Severin vacuums carry on Germany's fame of producing world-class machines. This bagless cleaner is made using modern damping material. Its motors are also in perfect balance, therefore, reducing the noise substantially.
Severin Germany Special Bagless Vacuum Cleaner joins our list of best vacuums under 300 in 2023 mostly because of its superb accessories. For starters, it has an Eco floor nozzle that is made with rollers to ensure dust is absorbed optimally. It also has a claw-collect system that removes hair and dirt with ease.
Its parquet nozzle – meant for polished floors and other sensitive hard floors is gentle yet thorough. The jet-drive turbo brush is the most powerful of them all. It's the one that deep cleans carpets and mattresses.
Severin Germany Special Bagless Vacuum Cleaner uses HEPA 14 filter to keep your house free of pollen, dust mites, mold and even absorbs almost 100% of odors.
Features summary
Type: canister, bagless
Weight: 23.9 pounds
2-part accessory set (Parquet and eco-floor nozzle)
HEPA 14 filter- eliminates odor
Capacity: 1.8 liters
Suitable for both hard floors and carpets
Top-notch suction
Pros
Quiet and comfortable to use
Provides excellent suction
HEPA filtration eliminates odor
Simple to detach and attach
It's sensitive on hard floors but thorough on picking debris.
Has a large upholstery tool that allows convenient hair, fiber and dirt capture.
Cons
Click here to see its current price.
9. Bissell Air Ram Cordless Vacuum 1984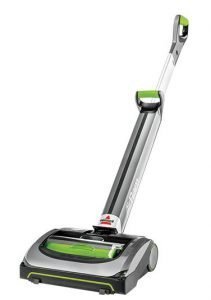 This lightweight vacuum serves both carpet and hard floors. It uses a lithium-ion battery and has over 30 minutes of suction across various floors before the next recharge. It has indicator lights that will help you know when the battery is due for a recharge.
Bissell AirRam has swivel steering and the handle can lie flat to reach under furniture and far corners. Additionally, it has wide and bright LED lights to help you maneuver dark corners.
The vacuum uses a motorized brush roll with a sizeable on/off foot pedal that makes cleaning seamless. It also has an easy-to-empty removable dust bin that has a slider to push out debris. Therefore, emptying and cleaning the vacuum is not messy.
Features summary
Type: stick vacuum
Weight: 7.75 pounds
Cordless
Uses 22V lithium-ion battery
Capacity: 0.6 liters
Over 30 minutes of non-stop cleaning
Engineered for both hard surfaces and carpets
Pros
Ergonomic design
Efficient in cleaning both hard floor and carpets
Allows over 30 minutes of non-stop cleaning
The handle can lie flat to allow under the furniture cleaning
It's lightweight and thus easy to maneuver
Cons
The motorized brush roll is manual and therefore does not turn off automatically
Click here to see its current price.
10. Dyson V7 Car + Boat Cord-Free Handheld Vacuum Cleaner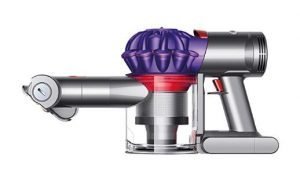 This Dyson V7 hand vacuum is powered by Dyson's digital motor V7. It's probably the most powerful and efficient handheld vacuum you'll come across. The fact that it's cordless makes it a smooth operator in every area.
To begin with, it's a very convenient cleaner for cars, cracks, underneath, and in between furniture. Its crevice tool reaches the most awkward gaps. Also, it has a hygienic dirt disposal system that uses a hygienic ejector. This simplifies removal of trapped debris and dust so you can clean faster and effectively.
Dyson V7 Car + Boat handheld vacuum has also been ranked among the best vacuum cleaners under 300 Dollars for its ability to clean-up pet hair. Using its motorized tool, Dyson V7 effortlessly cleans stuck dirt and debris as well as pet fur and hair.
Features summary
Type: handheld
Weight: 3.77 pounds
Cordless
Battery: lithium-ion batteries
30 minutes suction to the next recharge
Hygienic dirt ejector
Capacity: 0.5 liters
Multiple cleaning tools; car charger, mini motorized tool, extension hose
Maximum suction power: 100W
Pros
It's very light
Being cordless, it's easy to maneuver
It's hygienic
The digital motor makes it quite a powerful tool
2-year warranty
Cons
Not suitable for cleaning bare floors – it has no soft brush roll
While in max mode, the run time reduces drastically
A bit tiring to use as the user has to keep holding the trigger to keep it on
Click here to see its current price.
11. Bissell Pet Hair Eraser Turbo Plus 24613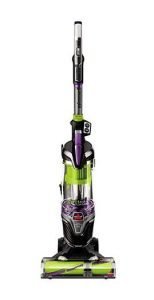 Bissell pays lots of attention to pet lovers. And this vacuum is no exception – it is exceptional in picking up pet hair without requiring too much effort. The Bissell Pet Hair Eraser Turbo Plus 24613 could be lightweight but it's thorough on messes like stains and debris. Also, its extension wand makes cleaning far corners (hard-to-reach areas) quite easy.
This unit uses SmartSeal filter technology to keep your home free from fine dust, pollen, and other allergens. It also has a spooling system that reels stubborn hair. So, you don't have to touch it.
Another technology that ranks this vacuum among the best vacuums under 300 Dollars in 2023 is the introduction of Febreeze. Febreeze is a unique filter that gets rid of pet odors. Though it's an optional accessory, pet lovers will find it a necessity.
Features summary
Type: upright vacuum
Weight: 14.2 pounds
SmartSeal Allergen System
Powerful suction
Easy to maneuver
30-foot power cord
Febreeze-pet odor eliminator filter
Pros
Excellent in maneuverability
Easy to empty
Long power cord
The pet hair attachment is top-notch
Above average suction
Cons
Somehow bulky to store since the turbo tool is stored separately
Click here to see its current price.
How do you maintain the best vacuum under $300?
These are the 5 basic tips of maintaining a vacuum cleaner. It's important to note that maintaining it well lengthens its lifespan of service and heightens safety during use.
Don't leave it plugged after use (even if it's off) – this weakens the battery and may cause overheating. Unplugging it also saves power.
Check the waste bag regularly and empty while it's about halfway full (bagged vacuums).
Keep checking the brush-roll for tangling. Most manufacturers are adding accessories that remove excess hair, but you still need to do regular checks.
Keep checking the filters, clean and replace regularly for optimum service.
A clogged hose is the most common source of inadequate suction. Try removing any obstructions inside, and do it mildly so that you don't puncture/tear it.
Conclusion
Finding the best vacuum under 300 Dollars is not a walk in the park. However, we hope that this article makes it easier for you. Clearly, the accessories for various vacuums differ. It's always advisable to check the manufacturer's manual so you know what you have and how to use the vacuum attachment.
Before you make your purchase, ensure you consider the surface type and also the surface area. There's nothing as frustrating as having the wrong vacuum. Ensure you get your perfect match.
In summary, these are the best vacuums under $300 in 2023:
Shark DuoClean Powered Lift-Away (NV803)
Bissell Pet Hair Eraser 1650A Upright Vacuum
Shark IONFlex 2X DuoClean Cordless Ultra-Light Stick Vacuum IF251
SHARK ION Robot Vacuum R75 (RV750)
eufy (Boost IQ) Robovac 15C Robot Vacuum
Miele Classic C1 Pure Suction Canister Vacuum Cleaner
Shark Rocket Corded Ultra-Light Vacuum with Zero-M Anti-Hair Wrap ZS351
Severin Germany Special Bagless Vacuum Cleaner MY7118
Bissell Air Ram Cordless Vacuum 1984
Dyson V7 Car + Boat Cord-Free Handheld Vacuum Cleaner
Bissell Pet Hair Eraser Turbo Plus 24613