What's a vacuum without attachments? While a few vacuum cleaners arrive in isolation, most are accompanied by extra attachments. These tools make the vacuum cleaner a complete cleaning machine. We've often been asked to explain how to use vacuum cleaner attachments, and where to use them.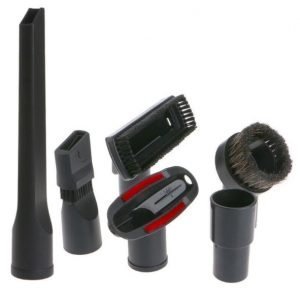 This article seeks to answer in detail:
What attachments are usually bought together with vacuums?
How and where do we use each attachment?
Where can you buy new or replacement attachments?
Importance of Vacuum Cleaner Attachments
When you buy a vacuum cleaner, your mind is usually fixated on the floor. The main unit is for cleaning different flooring types, carpets, and rugs. What about the areas that are above the ground? How do you vacuum such surfaces?
Well, the vacuum attachments solve this dilemma. Above-ground places like stairs, drapes, curtains, cupboards, bookshelves, upholstery, and so on need vacuum cleaner attachments. These tools also come in handy if you need to clean the interior of your car.
How to Use Vacuum Attachments
As mentioned above, there are so many tools that can be attached to a vacuum to make the task complete. However, the number and nature of attachments vary from one manufacturer to the other and from one model to the other.
While some vacuums have numerous attachments, some have zero. So, what kinds of attachments are there? Find out below:
1. Extension wand
Often referred to as telescopic or telescoping wand, this is a very crucial tool. Sometimes, you need to clean tight spots that are not easy to reach, such as under/behind appliances. In this case, the extension wand can be attached to the vacuum's hose (at the end). Then the appropriate attachment is fixed onto the extension wand.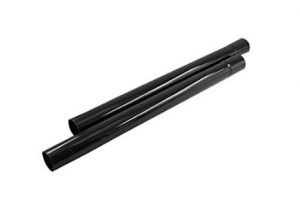 2. Crevice tool
This is among the most common attachments. It is thin, narrow, and has an angled tip. The length varies depending on the manufacturer and vacuum model.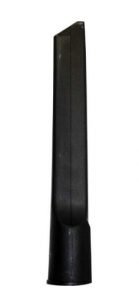 As the name suggests, a crevice tool helps to clean crevices, cracks, and other tight spots. Most manufacturers make 12-foot crevices. This allows you to reach dirt no matter how far it is.
Also, once you attach a crevice tool, you can vacuum tricky corners, in between car seats and sofa cushions, along baseboards, and vents. If there's any place the hose can fit, simply attach the crevice tool and you'll be good to go.
3. Upholstery tool
Upholstery refers to fabric that is fixed onto furnitures such as sofas and armchairs. So, an upholstery tool is great for cleaning your seats, cushions, mattresses, and so on. Therefore, if you need to quickly dust any fabric-covered surface or remove lint and fur, this is the right tool.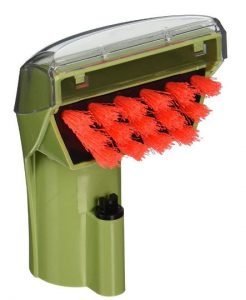 An upholstery tool is ideally flat with short stiff brushes. These brushes are the ones that agitate dirt such as dust before it's sucked into the vacuum via the hose.
4. Dusting brush
A dusting brush is typically a small, round/oval tool with soft bristles. The bristles on the dusting brush are longer than the stiff bristles found on an upholstery tool.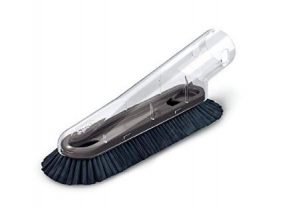 This vacuum attachment is ideal for delicate vacuum cleaning. So, you can use on windowsills, curtains, blinds, drapes, lampshades, baseboards, bookcases, door molding, and framed art. Basically, any surface that you must vacuum but don't want to leave any scratches.
5. Turbo/Turbine brush
Depending on the manufacturer, this vacuum attachment may be referred to as the power brush. Some have even modified these brushes to deal more efficiently with pet hair. In this case, you will get a "pet power brush".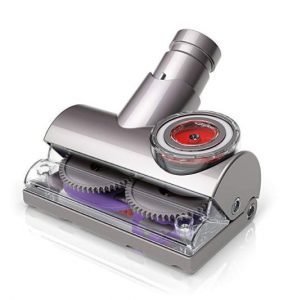 This attachment is often square or rectangular, but may also be made round/oval (rarely). The terms "power" and "turbo" indicate that this tool is motorized. Therefore, the bristles actually rotate as you clean.
The turbo brush can be used to vacuum stairs, upholstery, car interiors, and even mattresses. However, they shouldn't be used for dusting delicate surfaces. A dusting brush would be ideal for such.
6. Other attachments
Apart from the five most common vacuum cleaner attachments, there are some manufacturers that provide even more. Some specialized attachments include pet grooming tool, ceiling fan tool, and mattress tool.
Some vacuums may also have specialized floor attachments such as a hard floor attachment. This is designed to leave bare floors clean, polished, and without a scratch.
Summary of how to use vacuum attachments and where
This is a summary of where you can use each vacuum attachment:
| | |
| --- | --- |
| Attachment | Where to use it |
| Extension wand | Hard to reach areas e.g. under/behind appliances |
| Crevice tool | Crevices, cracks, tight corners, in between cushions, along baseboards, radiators, vents, car interiors |
| Upholstery tool | Seats, cushions, mattresses, pillows |
| Dusting brush | Door molding, windowsills, curtains, drapes, blinds, lampshades, baseboards, bookcases, art |
| Turbo brush | Stairs, upholstery, car interiors, mattresses |
| Mattress tool | Mattresses, pillows |
| Pet grooming tool | Pets e.g. cats and dogs |
| Ceiling fan tool | Ceiling fans |
Where to buy new or replacement vacuum attachments
After long usage, your vacuum cleaner attachments may wear out or refuse to fit on the hose or the extension wand. Also, you may want to buy an attachment that isn't usually provided by the manufacturer.
Just like any home appliance, you can buy vacuum attachments from the manufacturer's website or online stores. Better yet, you can purchase them at a local physical store – and promote the local economy while at it!
Conclusion
Often, people buy vacuum cleaners without an idea of what all the extra accessories are for. After reading this article, we are sure that is no longer a mystery. Instead of focusing on vacuuming the floor, always provide a cleaning touch to other areas.
With all the tools mentioned here, every corner of the house will be spotless. These vacuum cleaner attachments enhance experience and effectiveness.
As a recap, these are the vacuum cleaner attachments you need to have:
Extension wand
Crevice tool
Upholstery tool
Dusting brush
Turbo brush
Mattress tool
Pet grooming tool
Ceiling fan tool