As we continue to review the best Shark vacuum cleaners in the market, today we focus on the Shark NV801. This is the most comprehensive yet simple Shark DuoClean Powered Lift-Away Speed NV801 Upright Vacuum Review.
By the end of this article, you should be able to make up your mind on whether this Shark upright vacuum is the right one for you. After going through its main features and specifications, we'll also highlight the major pros and cons of the Shark Speed NV801.
This will enable you to make the best decision on how to spend your money on a long-term investment.
Shark NV801 Review: Main Features
What does the Shark NV801 Speed Upright Vacuum have to offer? We answer this question by listing all the features that make it one of the best upright vacuums to buy.
DuoClean Technology
Ever felt frustrated that a vacuum can only clean bare floors? Well, worry no more. DuoClean technology solves that problem in the best way. What this means is that the Shark NV801 can clean both carpets and hard floors with ease.
In this case, there are two brushrolls to cater for each flooring type. First, a bristle brush properly cleans carpeted floors. Then, a soft brushroll is available when you want to vacuum your bare floors, leaving them spotlessly clean.
Powered Lift-Away Technology
Sometimes, you want to the more vacuum difficult areas such as upholstery, drapes, as well as under furniture and appliances. With most uprights, this is not possible because of the large canister. However, this is not an issue that you can face with the Shark DuoClean NV801.
At the simple touch of a button, you can separate the canister from the rest of the unit. So, you are practically left with a light stick vacuum that makes the task so much easier.
Filtration
According to the CDC, allergies are number 6 in the list of leading causes of chronic illness in the United States of America. While you or your family may not be directly suffering from any allergy or asthma-related complications, your visitor may.
One of the few ways to fight allergies and asthma is to buy a good vacuum cleaner. And among the main characteristics of a good vacuum is excellent filtration. Thankfully, the Shark NV801 features a HEPA filter together with an Anti-Allergen Complete Seal Technology.
Once dust and debris have been sucked into the dirt canister, they are trapped inside, alongside allergens. So, you no longer have to worry about dust, pollen, and other disease-causing pollutants in the air as you vacuum.
Remember to clean the shark NV801 filters regularly in order to maintain their efficiency.
Dust Cup
It's important to note that the Shark NV801 is a bagless vacuum. This means that you don't have to deal with dirt bag removal and disposal. Also, you get to avoid the costs and stresses associated with finding and buying replacement bags.
The dust cup can hold up to 0.9 dry quarts of dirt. Then, it's quite easy to empty. Whenever dirt reaches the "Max Fill" line, just hold it over the trash, press the bottom door release button, and you're done.
Headlights
To be honest, not many manufacturers consider this a necessity. However, we believe that any good vacuum must have headlights on the floor head. This is because every home must have some dark areas that often don't get the attention they deserve.
Luckily, the Shark Speed NV801 is not one of them. It has LED headlights that power on when you switch on the vacuum. So, any dust and debris hiding in dark corners get found out. Therefore, every cleaning job leaves every inch of your house sparkling clean. This is a huge plus over the Shark NV360.
Lifetime belts and filters
Once you purchase this vacuum, rarely will you need to worry about maintenance costs. Filters may look old with time, but they will always be as effective as new.
On the other hand, the Shark NV801 intelligently shuts off when there is a blockage on the brushroll. This allows you to switch off and unplug the vacuum from the power outlet before sorting out the blockage. So, belt maintenance is not a problem that you have to worry about.
Attachments
What's a vacuum without accessories? With at least one vacuum attachment, it becomes easy to clean above-ground surfaces. These include upholstery, stairs, drapes, windowsills, shelves, and so on. The Shark NV801 vacuum has multiple attachments that are quite easy to use.
Expect to get an under-appliance wand, a duster crevice tool, and a pet multi-tool. However, there are so many other attachments available for use with the NV801, which can be bought separately.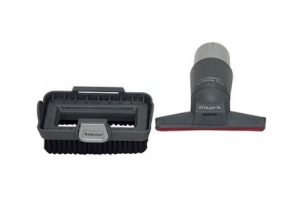 Shark NV801 features & specifications summary
There is a lot more you need to know about the Shark DuoClean Powered Lift-Away Speed NV801 Upright Vacuum.  What are the dimensions, for example? Find out below:
Bagless
Weight: 15 lbs.
30-foot power cord
DuoClean technology
Lift-Away technology
HEPA filter
Anti-Allergen Complete Seal Technology
Brushroll shutoff
LED headlights
Swivel steering
Dirt capacity: 0.9 dry quarts
Measures 11.8 by 11.9 by 46.1 inches
Shark NV801 Review: Pros and Cons
There is no home appliance that lacks some merits and demerits. Similarly, the Shark DuoClean Powered Lift-Away Speed NV801 Upright Vacuum has its pros and cons.
Pros
There are many positives to look forward to with the Shark Speed NV801.
Powerful suction
It's easy to use
Detachable canister
Multi-floor cleaning
Helps fight allergies
Washable filters
Picks up pet hair well
Easy to empty and clean
Not very expensive
Long power cord
Easy to maneuver
Comes with some useful attachments
Click here to see its current price.
Cons
There are a few demerits that we found with the NV801:
The dust cup could be bigger
It could use a longer hose
So, should you buy the Shark DuoClean NV801?
In conclusion, we feel that Shark has really invested a lot of time in making this upright vacuum. It has so many features that separate it from its peers. It can clean carpets and hard floors as well as hard-to-reach areas. On the other hand, we think that the dust cup could have been made a little bit bigger.
Would we buy it? All factors considered, this Shark NV801 review brings to the fore the many positives. So, yes we would buy it. Apart from being fairly priced, it is easy to use and has powerful suction to pick up all kinds of dust, dirt, and debris from the floor.
Lastly, with the pet multi-tool, you can clean pet hair, dust, and dirt from above floor areas conveniently. What's not to like?