This is among the most popular Shark vacuums in the market. Since its release a few years back, it has become a household name. Thousands of homes are now cleaner thanks to the Shark NV360. This is a comprehensive Shark Navigator Lift-Away Deluxe NV360 Review.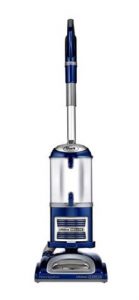 In this Shark NV360 review, we shall be looking at the features and specifications that are unique to the product. Also, we shall list all the pros and cons so that you make an informed decision. By the end of the article, you should have an idea of whether it's a good investment or not.
Shark Navigator Lift-Away Deluxe NV360 Upright Vacuum Review: Features
In this section, we discuss the main features of the Shark Navigator NV360.
Lift-Away technology
Among the most recent innovations by SharkNinja is the Lift-Away feature. At the push of a button, you can separate or "lift away" the dirt canister from the main unit. This allows you to vacuum areas that would normally be hard to reach. Above-floor areas such as stairs and furniture also become easy to clean.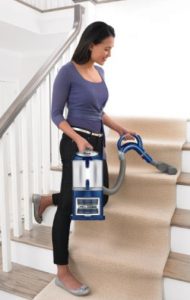 Multi-floor cleaning
What a find it would be if you can get your hands on a multi-purpose vacuum! By multi-purpose, I mean a vacuum that can clean bare/hard floors as well as carpets. It would be cumbersome and expensive to buy separate vacuums for different floor types. Luckily, the Shark NV360 is powerful enough to clean up both hard flooring and carpets with ease.
The suction power is adjustable. So, the transition from hard floors to low-pile carpets to high-pile carpets is a breeze. You can also switch the brushroll on or off depending on which surface you're cleaning – on (II) for carpets and off (I) for bare floors.
Swivel steering
While ordinary vacuums are difficult to use in a room with a lot of furniture, the Shark NV360 is not. The vacuum is very easy to maneuver around furniture because of swivel steering technology. This is a huge plus for anyone looking to clean up quickly, efficiently, and with minimal effort.
Filtration
A good vacuum should be able to contain allergens inside the unit. If pollutants are going to be blown back into the air, then you might as well use a broom to clean the floor. Actually, a good filtration system is critical for anyone trying to fend off allergens such as dust and pollen.
The Shark NV360 uses a HEPA filter and an Anti-Allergen Complete Seal Technology combo. This ensures that almost 100 percent of disease-causing particles are trapped inside the vacuum. Furthermore, the filters are washable and reusable thus saving you some cash.
It is very easy to clean shark vacuum filters.
Attachments
You shouldn't have to buy extra accessories in order to clean every inch of your house. A proper vacuum cleaner must come equipped with the necessary attachments. These help to clean tight spots and above-floor surfaces with ease.
The Shark Navigator NV360 comes with a Pet Power brush that is ideal for picking up pet hair and debris. A dusting brush for quick dust pickups on shelves, drapes, window sills, and so on. Also, a crevice tool is available in case there's any dirt hiding in cracks and crevices. An extendable under-appliance wand ensures that you have that extra reach if needed.
Dust cup
This unit comes with a relatively small dirt cup. Even though the total capacity is 3 dry quarts, it is recommended that you empty the dirt when it reaches the max or fill line. This is about 1.2 dry quarts of dirt. If you let the dirt accumulate further, the performance may be affected.
The vacuum is also very easy to empty. We have done a comprehensive article on how to empty a Shark Navigator vacuum.
Shark NV360 features & specifications summary
Here is a quick overview of what to expect with the Shark Navigator Lift-Away Deluxe NV360 Upright Vacuum:
Total weight: 12.5 lbs.
Canister weight: 7.5 lbs.
Lift-Away technology
Swivel steering
HEPA filter
Brushroll shutoff
Dirt capacity: 1.2 dry quarts
Motor: 1200W, 10 Amps, 120V
Power cord length: 25 feet
Crevice tool: 5.5 inches
Cleaning path: 11 inches
Anti-Allergen Complete Seal Technology
Shark NV360 Review: Pros and Cons
Lastly, we take a look at the pros & cons of the Shark Navigator NV360. There's no perfect item out there. So, you need to take time to decide if you can live with the cons of this vacuum.
Pros
These are the pros to look forward to:
Powerful, adjustable suction
Easy to maneuver
Removable canister
Multi-floor cleaning
Great for fighting allergies
Quieter than most vacuums
Has some useful attachments
Washable filters
Picks up pet hair
Easy to empty and clean
Fairly priced
Click here to see its current price.
Cons
These are the cons that you have to endure:
No headlights
Small dust cup
Easily tips over when using the hose
The power cord could be longer
Conclusion: Should you buy the Shark Navigator NV360?
Well, after reading our extensive Shark NV360 review, you now know what to expect. Carefully evaluate the pros and cons. There are many pros, but there are also a few cons. While there's no appliance that is 100% okay, the cons should be manageable.
So, you need to go through each and every negative aspect and see if you can live with it. If satisfied, you can buy the vacuum here. Alternatively, you can look at some of the best shark vacuums in the market.
Would we buy the Shark NV360? Given our research and the fact that the pros largely outweigh the cons, ours is a resounding YES. We would definitely invest in this product because it guarantees value for money.