The Shark APEX DuoClean Powered Lift-Away Upright Vacuum with Zero-M AZ1002 is identical to the AZ1000W. Though the Shark APEX AZ1000W is an efficient tool, its counterpart, AZ1002 is your choice upright vacuum. It's effective, has great suction power, great airflow and is definitely much more worthy of your investment.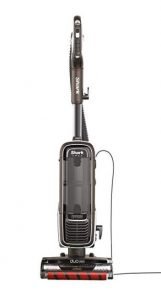 The main reason for this is that it has more attachments than AZ1000W. As you may be aware, the more the attachments are, the easier it will be to clean above-ground surfaces such as stairs and upholstery.
Without a doubt, the Shark APEX Upright AZ1002 totally stands out; mainly because of its accessories and efficiency. In this review, we reveal its set of features, their application plus its pros and cons.
Shark APEX AZ1002 DuoClean with Zero-M Review: Main Features
In addition to being super-easy to assemble and its outstanding powered lift away, below are other features that make it the vacuum of choice.
Zero-M Anti-Hair Wrap Technology
This new technology has been greatly disputed due to its ineffectiveness in several other vacuums. Luckily, it works perfectly with Shark APEX AZ1002. If you have long hair or have pets that do, this accessory works favorably for you.
Zero-M technology uses tiny protrusions at the nozzle. These protrusions are designed to continually remove any hair wrapping around the brush. What does this mean? You will rarely need to keep pausing to untangle wrapped hair from the vacuum using your hands.
Zero-M effectively clears all types of hair wrapped to the brush roll. Therefore, it enables you to clean faster and more efficiently. The self-cleaning capability is absolutely hygienic and convenient.
DuoClean Effectiveness
Shark APEX Upright AZ1002 also uses DuoClean technology. This means that apart from the standard brush, the head of the cleaner also has a soft roller attached. This soft roller is specifically made to be used on hard floors. It cleans up large particles, fine dust, fur, and every other debris. Once the dirt is picked up, it's trapped in and the surfaces are left spotless.
The innovative DuoClean system ensures your hard floors are thoroughly polished and your rags and carpets are deep-cleaned as well. The duo brush roll system eradicates stains firmly but safely. Thus, the vacuum does not scar the floor.
Also, the Shark APEX AZ1002 enables convenient switching between various surfaces. Let's say from a high pile carpet to hard flooring or seats' fabric. It does this by adjusting the suction and the speed of the brush roll to achieve 'apex' performance.
Motorized Deep Cleaning
You probably find it daunting to clean your fabric seats or cushions. The Shark AZ1002 pet power deep cleaning brush is a master at this. It easily gets rid of all the fur from pets along with all embedded dirt especially on tables, upholstery, and most importantly, stairs. This highly effective Deep-Cleaning Motorized Pet Tool is run by a powerful motor.
The pet power brush is accompanied by another tool – a bristle brush. The firm bristle brush eliminates stuck-on fragments from all types of surfaces. If need be, you can separate the bristles and use the upholstery tool to clean any persistent pet hair.
Ease of Use Courtesy of Lift-Away Technology
Most upright vacuums discourage us from cleaning due to the difficulty in reaching far corners and underneath furniture. On the contrary, with Shark APEX DuoClean AZ1002, its Lift-Away technology enables you to maneuver every area of your house.
Once you separate the canister, the rest of the unit becomes easy to manipulate at just a button-press. Note that the brush roll remains powered on lift-away mode. However, it may feel slightly light especially on carpets.
An Assorted Attachment Set
As mentioned at the beginning of the article, we discovered that the attachment set for Shark APEX AZ1002 has more tools than the AZ1000W. According to the manufacturer, your package should at least have a crevice tool and a pet multi-tool. You also get a deep-cleaning motorized pet tool that is ideal for carpets.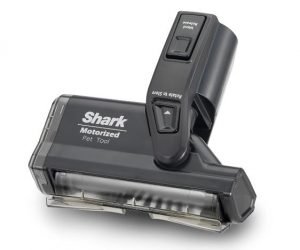 The beauty of having this assortment of tools is that it makes it easy to clean various fabrics and surfaces. Given the wide array of attachments available at your disposal, this vacuum should be enough for all your cleaning. Also, this is a welcome addition just like in most of the top shark vacuums.
See the Shark APEX DuoClean vacuum in this maintenance video by Shark:
Shark APEX DuoClean AZ1002 Review: Features Summary
While there are many features to review for this vacuum, we found the following features most outstanding.
Dimensions: 11.2 L X 12.2 W X 46 H (inches)
Non-stop Zero-M self-cleaning brush roll
1.5 Quarts dust cup capacity
Power cord – 30 feet long
Hepa filter
Advanced (non-leaking) anti-allergen complete seal technology
Inbuilt bright LED lights – one on the floor nozzle and another on the handle
Weight – 17.1lbs
Easy to detach the lift-away canister
A 12-inch crevice tool
Active glide technology – this simplifies maneuvering
Noise reduction technology – reduces high pitch sounds
Motor – 1350 Watts
Powerful suction – 101 inches of water lift
Bagless system – no clogs
A small motorized pet tool
A motorized brush roll with handle controls
Manufacturer's warranty – 5 years (limited)
Pros and Cons of Shark APEX DuoClean AZ1002
Expectedly, there is no perfect home appliance. So, expect many great things from the Shark APEX DuoClean AZ1002 but also a few not-so-good things. Here are the main merits and demerits of this Shark APEX vacuum.
Pros
These are some of the things we love about the Shark AZ1002:
A powerful vacuum yet easy to maneuver – using finger-tip controls

Fairly easy to assemble
Considerably well priced
Zero-M anti hair wrap technology
HEPA filtration and complete sealing – for all dirt and allergens
Efficient cleaning on multiple floor types
A sizeable canister
Improved long-lasting rubber wheels
Lift-away technology – perfect for cleaning under furniture, car interiors and tight corners
Lengthy power cord – 30 feet
LED lights provide great visibility for under furniture and other dark areas
Cons
There are only a few traits to consider as demerits
It's weighty – a petite person or one who has joint challenges may find it cumbersome.
The DuoClean roller has a forward pull and takes quite some effort to restrain back (consider using the vacuum on standard mode while cleaning carpets to minimize the forward pull effect).
Click here to see its current price.
Conclusion: Should You Buy the Shark APEX DuoClean AZ1002?
There's so much to vouch for with Shark APEX AZ1002 but I think above every other aspect, this vacuum's power is incredible. The way it handles its business zealously yet so easily and quietly is amazing.
Another trait of Shark APEX AZ1002 to love is the rubber wheels. Most vacuums have plastic ones that tend to wear out too fast. The wheels upgrade to rubber is a huge plus. We think it will lengthen its already long expected lifespan. The hose also looks upgraded and feels sturdy. Clearly, this is the way SharkNinja is going by the latest models.
There definitely can't lack a worthy competitor in the market. However, for us at Best Vacuum Guide, the Shark APEX AZ1002 is a game changer. So, should you buy the Shark APEX AZ1002? Ours is a resounding YES. Happy shopping!