What is the best Miele vacuum cleaner?
Most people have a misconception that the device appearance is proof of quality. When it comes to vacuums, this is not obvious. Good quality is evidenced by value for money, versatility, and efficiency. Owing to superb engineering, Miele products set the pace in the market today. But what's the best Miele vacuum?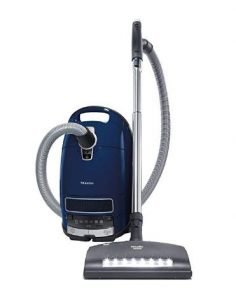 In this article, we feature the best Miele vacuums 2023 and explore their functionality, merits, and demerits. This way, you get a chance to make an informed choice. Before we review the products, let's first briefly take a look at the Miele brand.
A little bit about Miele Vacuums
Can you believe that Miele is over a hundred years old? In 1899, Carl Miele, an engineer and Reinhard Zinkann, a businessman, founded a manufacturing company in Herzebrock Gutersloh Germany. With only a handful of machines, they signed a contract with the intent of constructing cream separators. Miele evolved year by year, introducing several products and refining their technology.
The meteor butter churn was Miele's first invention in 1900. However, by the year 1930, Miele had already introduced to the market, several models of washing machines, hand-carts, motor cars, and single motor milk processors.
The first vacuum cleaner was birthed thereafter, in 1931, and it had tremendous uptake. Needless to say, technology has eased manufacturing processes and greatly perfected the end products.
Carl Miele and Zinkann's family have not relented. Up to this day, they continue delivering exceptional household machines. They have also received countless awards for their innovation and product excellence including the most recent WHICH award for largest Home Appliance Brand 2019.
In this article, we review the best Miele vacuum cleaners in the market. So, you won't go wrong with any of our five picks.
Best Miele Vacuums – Comparison Table
Before we get to the reviews, this is an overview of the best Miele vacuums to buy in 2023:
**Click on the product name to see its price**
Reviews of the Best Miele Vacuums 2023
After careful consideration, we have handpicked the best options for you. These are the top 5 best Miele vacuums of 2023: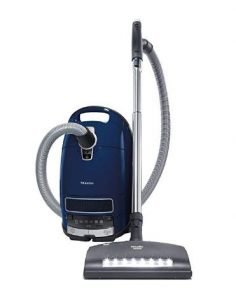 There are several wins for the Miele Complete C3 Marin Canister Vacuum. First, it has the finest electro brush of all canister vacuums. This enables it to efficiently scrub various surfaces: your smooth floors, rugs, and carpets. Another plus is that it is quite easy to maneuver.
Marin's accessories include a parquet twister brush, which is a perfect tool for delicate/smooth surfaces. Its bristles are natural hair and polyamide. Then, it is quite gentle and glides so easily yet does optimum cleaning.
Also, it is so swift you need no effort to turn it around. Its floor head easily maneuvers to all the hard-to-reach corners. The parquet brush has a double swivel, this means it can lay flat and clean under furniture including the low ones.
Miele's C3 Marin parquet twister enables it to swiftly rotate up to 180 degrees. The foot switch technology also greatly improves accessibility. It also has an automated self-adjusting setting which helps to easily transition between hard floors and carpets or rugs.
Pros
Efficient for all floor types
Powerful suction using the own-adjusting power
Good for large spaces
HEPA filter
Lengthy electric cord
Bagged
Smooth and swift rubber wheels
Cons
Not only is the Miele C3 the best Miele canister vacuum, it is currently the best canister vacuum overall. You can click here to see its current price.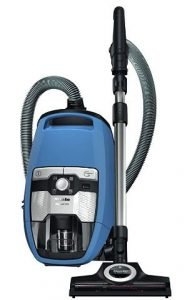 Miele's Blizzard CX1 competes closely with Marin Complete C3 in terms of efficiency. Its floor head is specially designed for power cleaning. How? Its motor uses Vortex technology. Amazingly, the 1200-Watt motor produces up to 62mph of airflow.
This vacuum cleaner is Miele's first venture into the bagless arena. You can look at bagless vacuums in two dimensions. First, you have no bag to deal with after vacuuming. Secondly, you won't need to spend more cash on replacement bags.
Whichever way you look at it, don't dismiss it. Blizzard CX1 has a myriad of favorable features.
Its turbo Teq brush is driven by air (not motorized). Also, it has a fairly rigid bristled brush roll, and it's efficient on hard floors and medium to low-pile carpets. It also has powerful suction – 62 miles/hour as earlier mentioned. This suction is adjusted while cleaning different surfaces using a 4-options rotary dial.
Miele Blizzard CX1 amasses all dust with the Gore CleanStream filter. The filter is self-cleaning and therefore leaves no room for exposure to dust and other allergens.
Alongside the HEPA filter, it has a hygienic emptying that boosts dust capturing. Here, fine dust is separated from coarse dust and debris so that there's no spillage or escape. Thus, allergic people need not worry because this technology ensures that they are safe.
It comes with an automatic rewind power cord, two cleaner/floor heads (parquet twister and turbo Teq), extension cord – stainless steel, and a dusting brush which has been integrated into the handle. You also get an upholstery nozzle, filters, and a crevice tool.
Pros
Minimal dust exposure
Powerful and adjustable suction
Terrific maneuverability
Little noise
Good for getting rid of pet hair
Efficient transitioning to various surfaces
Simple but powerful attachments
High-class filtration using a HEPA filter, GORE clean stream and a hygiene lifetime pre-filter. Note: these filters can last you a lifetime if you don't use soap on them. Always rinse them with clean water.
Cons
Not efficient with high pile carpets
A bit pricey
Click here to see its current price.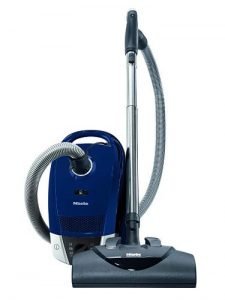 Miele tirelessly puts in the effort to ensure each of its products exceeds expectations. Why do I say this? The unveiling of Miele C2 canisters introduced to the market the most convenient lightweight vacuum cleaner. The Miele Compact C2 Electro+ Canister Vacuum only weighs about 10lbs, costs much less than its peers but delivers superb results.
This is a premium canister vacuum that suits multi-surface cleaning. First, it has a hard floor tool – the parquet brush. The brush is soft, with natural bristles that deliver optimum cleanliness without scratching the floor. It's definitely a good choice for polished floors. Its rubber wheels also make it easy to use while leaving the floors spotless.
The Miele Compact C2 Electro+ is excellent with soft plush rugs/carpets. Actually, it does well with all carpet types whether high pile or low pile. The convenient on/off brush roll placed on the handle makes it easy to operate. In addition, there is a 6-setting rotary dial that helps you adjust the suction power to desired levels for various surfaces.
Pros
It's an all-round vacuum (efficient on hard surfaces, low, medium and high pile rugs and carpets)
Powerful suction with ease of control
Lightweight – superb for petite/weak people
Excellent filtration
Minimal noise
Fairly priced
Cons
Its hose is slightly short and can be a bit stiff
The power cord and crevice tool are short compared to its peers
Click here to see its current price.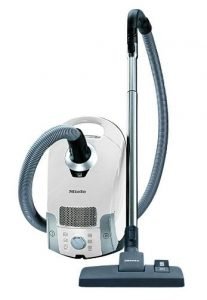 The Miele Compact C1 Pure Suction is a great canister vacuum for bare floors and hard surfaces but not the best for piled carpets. That's because there's no brush roll attached to the cleaner head. It's also not meant for cleaning very large areas. So, it's advisable that you purchase it for small apartments/homes.
Apart from being lightweight, this Miele Compact C1 canister has great suction and is easy to maneuver as you clean. The hose, wand, and nozzle are also relatively easy to put in place. Changing bags and filters is very easy as well.
This vacuum's package has a crevice tool, upholstery tool, and air clean filter, onboard clip for tools, and a dusting brush. A flexible hose is also included alongside an all-teq combination floor tool and the vacuum itself. It also has a telescoping wand (stainless steel) and a 3D dust bag (Air clean).
Pros
It's a lightweight vacuum
Cleans bare floors perfectly
Affordable
Quiet
The power cord is powerful and rewind-able
Commendable suction
Its nozzle head is easy to maneuver
The extension wand is light and easily moved
Cons
Unfit for large areas and piled carpets or rugs
Some people feel that it's a bit too light
Click here to see its current price.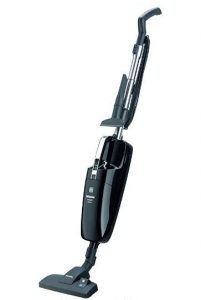 This is one terrific vacuum, and there are many things you will love about it. First, it's easy to convert into a handheld vacuum and operate it in that mode. It makes sense why some markets refer to it as a broom but in my view, that's a serious understatement.
However, this aspect makes it so much easier to carry around and clean far-to-reach areas. Its design, size, and weight come in handy, especially if you need to carry it upstairs. Also, it has an SBD285-3 rug and floor combination tool. This makes it an excellent choice for wooden and tiled floors.
The Miele Swing H1 Tactical stick vacuum is not ideal for rugs and high piled carpets. Though it picks debris in between vacuuming, it needs to be attached to an electric power brush to efficiently clean piled carpeted areas. It's generally an ideal tool for handling small areas and cleans an approximate radius of 28ft.
Also, it comes with an upholstery tool, a crevice nozzle, and a telescoping wand. It also has a handle that enables easy storage (suspended) and a two-clip system (released with a simple twist). This two-clip system aids in holding the cord while not in use.
The cord also has its storage hook. Miele Swing H1 Tactical is so versatile that it can use any vacuum head that is Miele made. So, when you change your flooring, you only need to purchase a new floor head instead of buying a new machine.
Pros
Easy to carry around
Can be also be used as a hand vacuum
Durable
Can use any Miele vacuum head
Cons
Not efficient with carpets – especially high pile carpets
Click here to see its current price.
Best Miele Vacuum Cleaner Buyer's Guide
You are now familiar with the best Miele Vacuums in the market this year. However, you may still be wondering how one gets to make the right choice before purchase. Below is a brief guide on what to consider.
What to check when shopping for a good vacuum
The plain truth is, most of us are not tech-survey and when we talk about how many Watts a motor has, you can only nod because you don't know how the heck that relates to your need. So, in the simplest terms possible, here are the main things you need to know before you purchase a vacuum.
a) Floor type
What is your floor type? It doesn't have to be complicated. All you need to know is that the brush roll is the main cleaning accessory. It's the one that loosens dirt on the floor then the dirt is sucked and moved to the canister. Simple!
So, if your floor has a high pile carpet (heavy with lots of fiber), then you need a vacuum with a powerful brush roll in order to clean efficiently. If your rugs are delicate, avoid vacuuming them and use other cleaning methods. You can even hand wash them.
b. Bagged vs bagless
Which vacuum is better, bagged or bagless? For starters, a bagless vacuum holds dirt and debris in a canister. On the other hand, bagged vacuums come with a bag that you empty and replace. In my opinion, either works pretty well.
You are the one who will decide whether you want to be buying disposable bags or not. Just remember, disposal of collected dirt reduces the need for frequent maintenance and filter replacement.
c. Vacuum type
What is the difference between upright, canister and handheld vacuums? The most common vacuum cleaner is the upright vacuum. It's normally pushed in front of the user. Also, expect to get various tools. They mostly are suitable for hard floors and low pile carpets.
A canister vacuum can be pushed in front or pulled behind the user. They normally have a long hose and their motor and filters are separate. Besides, most canister vacuums are well equipped for all types of surfaces including high pile carpets.
Handheld vacuums are normally small and they are used for minor domestic jobs. They are mostly plugged into a power source to use or use a cordless battery that is rechargeable. So, if you have a lot of above-floor surfaces to clean, you may need to buy a good handheld vacuum. Alternatively, you can get a 2-in-1 vacuum such as the Miele Swing H1 Tactical Stick Vacuum.
d. Filtration
A good vacuum must have excellent filtration. This helps fight allergies and asthma. While most vacuums are good on this front, we recommend that you buy one that uses HEPA filtration. Bagged vacuums are also generally better at fighting allergens.
e. Attachments
Apart from cleaning your floor, you may need to take care of stairs, drapes, upholstery, and other above-ground places. Tools such as a crevice tool and an upholstery tool will come in handy in this case. A good pet brush is also necessary if you have a cat or a dog.
Conclusion
Miele outdoes itself in delivering only top-notch gadgets. In addition, the machines are tested rigorously before being introduced into the market. Apart from being a German company, Miele has over a hundred years of growing with technology.
Having said that, you will note that these products may be a bit pricey but that's because they are tried and tested. No wonder the warranty period for most Miele products is 7 years and above. This stamps the mark of excellence on their products.
In summary, these are the best Miele vacuums to buy in 2023:
Miele Complete C3 Marin Canister Vacuum
Miele Blizzard CX1 Turbo Team Bagless Canister Vacuum
Miele Compact C2 Electro+ Canister Vacuum
Miele Compact C1 Pure Suction Canister Vacuum
Miele Swing H1 Tactical Stick Vacuum