From our extensive Dyson V8 vs V10 comparison, it's clear that the Dyson Cyclone V10 is more superior. This is clear in the way it picks up dust, dirt, debris, and pet hair. In this Dyson V10 review article, we take a look at the Dyson V10 Animal vs Absolute vs Motorhead comparison.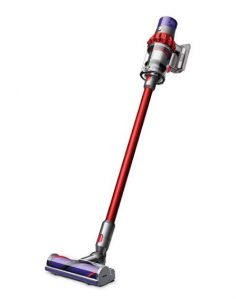 It is the immediate predecessor of the Dyson V11, the latest in the Dyson Cyclone series of stick vacuums. Of course, there are improvements in the Dyson V11 cordless stick vacuum, but that doesn't mean that the Dyson V10 isn't up to the task. It is still among the best stick vacuums in the market.
Dyson V10 Animal vs Absolute vs Motorhead – Comparison Table
What is the difference between Dyson V10 Animal, Absolute, and Motorhead? The three Dyson V10 vacuums may look similar, but there are a few notable variances. This is a quick overview of the main features and specifications of the three Dyson V10 vacuums:
| | Dyson V10 Animal | Dyson V10 Absolute | Dyson V10 Motorhead |
| --- | --- | --- | --- |
| | | | |
| Filtration | Advanced whole machine | Advanced whole machine | Advanced whole machine |
| Cyclone technology | 14 concentric cyclones | 14 concentric cyclones | 14 concentric cyclones |
| Motor | Dyson digital V10 | Dyson digital V10 | Dyson digital V10 |
| Max run time | 60 minutes | 60 minutes | 60 minutes |
| Bin size | 0.77 liters | 0.77 liters | 0.77 liters |
| Height | 9.5 inches | 9.5 inches | 9.5 inches |
| Length | 49.2 inches | 49.2 inches | 48.85 inches |
| Width | 10.1 inches | 10.1 inches | 10.1 inches |
| Weight | 5.88 lbs. | 5.88 lbs. | 5.88 lbs. |
| Charge duration | 3.5 hrs | 3.5 hrs | 3.5 hrs |
| Transforms to hand vac | Yes | Yes | Yes |
| Direct drive cleaner head | No | No | Yes |
| Torque drive cleaner head | Yes | Yes | No |
| Soft roller cleaner head | No | Yes | No |
| No. of attachments | 4 | 4 | 2 |
| | Check price | Check price | Check price |
Dyson V10 Animal vs Absolute vs Motorhead Side by Side Comparison
In this section, we take a look at the overall features of the Dyson Cyclone V10 cordless stick vacuums. While at it, we'll point out any difference among the three Dyson V10 models – the V10 Absolute, V10 Animal, and V10 Motorhead versions.
Suction
Any good vacuum must suck, literally. The most important thing to check when shopping for a good vacuum is suction power. Powerful suction is the key to getting rid of all kinds of dirt and debris. Whether the dirt is loose to deeply embedded in your hard floors, rugs, and carpets, a good vacuum must be able to pick it up.
Luckily, all the Dyson V10 vacuum cleaners have very strong suction. This is due to the use of the powerful Dyson Digital Motor V10.
Battery
Cordless stick vacuums have one limitation – run time. Unlike their corded peers which are plugged directly into power outlets, cordless vacuums use batteries. So, instead of having the advantage of cleaning for as long as you wish, you are actually limit yourself to a specific duration.
All three Dyson V10 vacuums can reach up to 60 minutes of run time. However, this is drastically reduced especially when using high settings (meaning more suction). Similarly, the run time will be curtailed whenever you use the motorized tool.
To save power, you press a trigger that turns on the vacuum just when you want to clean. This can be tiresome since you have to press the trigger continuously. However, it is a great advantage over other cordless stick vacuums that don't allow you to control the run time.
There are a few complaints that Dyson needs to provide dual removable batteries to boost run time. While the company investigates on the viability of this, however, the current option tends to work pretty well. Once you are done, just place the vacuum back to its wall mount, which doubles up as storage and charging area.
Click here to see the current price of the Dyson V10 Animal.
Cleaning modes
The Dyson V10 cordless stick vacuum has three suction modes for all the three types – Absolute, Animal, and Motorhead. These cleaning modes are optimized for different flooring types such as bare floors and carpets as well as the type of dirt you want to clean.
The first mode is Suction Mode 1 that is ideal for hard floors, low-pile carpets and hard to reach areas such as drapes. Secondly, Suction Mode 2 offers extra suction power that allows you to pick up dirt and debris from all floor types.
Lastly, Boost Mode is perfect for tough, heavy duty jobs especially when vacuuming carpets. This mode can also be called Max Suction Mode.
2-in-1 functionality
Would you rather have a multi-purpose vacuum or buy separate units? Of course, you're gonna pick a 2-in-1 vacuum any day, every day. All the three versions of the Dyson V10 stick vacuums can be converted into hand vacs.
At the press of a button, you can easily detach the hand vacuum from the rest of the unit. This comes in handy for touch-and-go tasks like picking up small messes. Also, handheld vacuums make it very easy to clean above-floor areas like upholstery, shelves, stairs, drapes, and so on. Cleaning car interiors also becomes a walk in the park.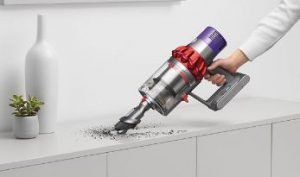 Design
A good product designer must aim at bringing out both performance and attractiveness. In terms of the looks, all the Dyson V10 versions are pleasing to the eye. If you have a V10, you don't need to tuck it away in a dark corner or under the bed when it's not in use. You can hide it in plain sight.
More importantly, the overall design of the Dyson V10 vacuum cleaner is geared at optimizing performance. The stick and the dirt cup are placed in a straight line. This makes it very efficient since all dirt follows a straight line directly into the dirt canister.
The lightweight, balanced design also allows you to clean tough areas like cupboards, curtains, walls, and even under low-lying furniture.
Cleaner head
The fourth feature that we must talk about is the floor head. This is a bit different for each type. First, the Dyson Cyclone V10 Animal uses a torque drive cleaner head to capture dust, dirt, and debris from all flooring types. Then, if you need to deep clean your carpets, stiff nylon bristles are in place (Suction Mode II).
Secondly, the Dyson Cyclone V10 Absolute has two options – a soft roller cleaner head and a torque drive cleaner head. This means that you can clean your bare floors such as polished hardwood or vinyl without fear of leaving scratches. The torque drive cleaner head, on the other hand, takes care of carpets.
Lastly, the Dyson Cyclone V10 Motorhead uses a direct drive cleaner head. This is suitable for both hard floors and carpets. The reason for this is that you can engage stiff nylon bristles to deep clean carpets in Suction Mode 2.
Attachments
Any vacuum that boasts of performance must be focused on more than just the floor. For wholesome cleaning, one needs to vacuum upholstery, shelves and cupboards, drapes, stairs and much more. Car interiors also need quick dusting some times. And this cannot happen with just the vacuum cleaner.
Even though the Dyson V10 vacuum can be transformed into a hand vac, you need attachments for such areas. Accessories such as a crevice tool and an upholstery tool will make this task much easier. Each version has attachments, but these may vary from one V10 type to the other.
For example, both the Dyson V10 Animal and the Dyson V10 Absolute come with four attachments. These are a combination (2 in 1) tool, a crevice tool, a mini motorized tool, and a soft dusting brush. However, the Dyson V10 only has two tools – a combination tool and a crevice tool.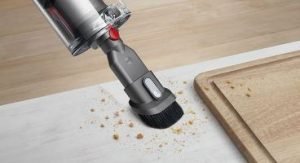 Filtration
The Dyson V10 vacuums employ an advanced whole-machine filtration system that is excellent at fighting allergens. The vacuum can swiftly and efficiently deal with pollutants that cause health conditions such as allergies and asthma or make them worse.
Even though the manufacturer doesn't label the filtration as HEPA, it is similar. This is because particles as small as 0.3 microns in diameter are captured and retained inside the unit.
Dirt bin
Finally, it's crucial that we remind you that the Dyson V10 is a bagless vacuum. In this case, dust and dirt go into a dirt bin and not a disposable bag. The sizes vary depending on the Dyson V10 variant (see the comparison chart below).
While the size is not as big as many of us would want, this may not be a big problem if vacuum cleaning is a routine exercise. Also, Dyson dirt bins are among the easiest to empty. You just need to hold the canister over the bin, press a button and empty the contents – simple and hygienic.
Dyson V10 Review: Pros & Cons
As expected of any home appliance, the Dyson V10 also has its advantages and disadvantages. Let's break down the Dyson V10 Pros & Cons.
Pros
There are many things we like about the Dyson V10 cordless stick vacuums. These are:
Very light
Strong suction
Multi-surface cleaning
Amazing with pet hair
Convenient storage
Excellent filtration
Relatively long run time
Attachments are available
Quite easy to empty
Two-year manufacturer's warranty
Cons
There are a few things to contend with when you buy the Dyson Cyclone V10 cordless stick vacuums:
A bit pricey
The dirt bin could be bigger
The run time is relatively short on higher settings
Which One Should you Buy?
This is where we give our verdict. And our answer is simple. If you can afford it, we advise that you go for it. The Dyson V10 cordless stick vacuum is an efficient cleaner that works well for all floor types and tackles all kinds of dirt with ease. For sure, Dyson is a market leader in producing some of the best cordless stick vacuums.
Which is the best among Dyson V10 Animal, Absolute, and Motorhead? While they are almost similar, both the Dyson V10 Animal and Absolute have four attachments. This makes both more appealing than the Dyson V10 Motorhead. However, both cost more money. So, if you are on a tight budget, you can go for the Motorhead.
Lastly, if you want more options when it comes to cleaning heads, the Absolute version stands out. It has both the soft roller and the torque drive floor heads.