What is the best vacuum for vinyl floors?
One vital cleaning rule for vinyl plank floors is to gently clean to avoid scratches. That luster that almost reflects your image can only be managed by acquiring the best vacuum for vinyl plank floors.
Most people confuse vinyl plank floors with vinyl sheet floors and it's understandable since the differences are minimal but there are distinct features that separate the two. Vinyl plank floors resemblance is almost like that of hardwood while vinyl floors are ideally one or two large sheets.
However, the vacuums recommended here can be used for both. So, if you are looking for the best vacuum for vinyl sheet flooring, you're in the right place.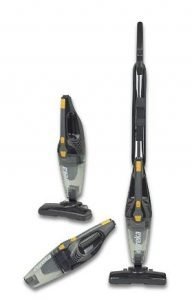 Though vinyl plank floors are moisture-resistant and easy to clean, they pose a challenge as they are prone to damage if exposed to extreme heat or cold. They also tend to lose their sparkle over time and not even refining or polishing will bring it back. This is why you need to carefully choose the best vacuum for luxury vinyl plank floors.
In this review, we're going to list 10 of the best vacuums for vinyl floors, their unique features, pros, and cons. And as a bonus, we give you a few tips on how to lengthen the life span of your vinyl plank flooring.
Comparison of the Best Vacuums for lvp Floors
Before we review the specific products that we recommend as the best vacuums for luxury vinyl floors (lvp floors), here is a summary:
Reviews of the Best Vacuums for Vinyl Plank Floors 2023
When you install luxurious vinyl plank flooring, you need a vacuum that will leave it sparkling clean. Also, the vacuum must not leave any scratches. These are the best vacuums for vinyl plank floors in 2023:
1. Shark Navigator Lift-Away Professional NV356E – best vacuum for vinyl plank floors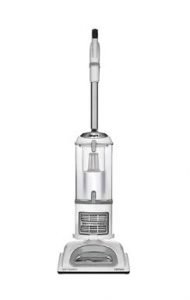 Many tests have been done on the Shark Navigator Lift-Away Professional NV356E and it's amazing how various suppliers have the same view. They all get surprised at how efficient this vacuum is. It owes its performance to its great accessories (the crevice tool, the upholstery tool, the pet power brush, and the dusting brush).
The Shark Navigator Lift-Away Professional NV356E has a 25-foot power cord. So, you can certainly reach wall to wall using a single power outlet. The suction supported by the hose enables you to have a great pickup of the debris, pet hair, and allergens. Also, HEPA technology supports this by trapping all that dirt and pollutants in so that they don't escape back into the air.
Also, the fact that you can move it around easily makes it a suitable solution for both domestic and commercial use. It picks debris fast and effectively.
Then, the lift-away feature adds to the versatility of this vacuum. In case any debris is not picked first-time, especially under furniture, you can separate the canister from the rest of the unit, making it quite easy to reach tough corners.
Features
Type: upright, bagless
Weight: 14 pounds
Power cord: 25 feet
HEPA filtration
Cleaning path: 11 inches
Anti-Allergen Complete Seal Technology
Dirt capacity: 2.2 dry quarts
1200 Watts
Pros
It's quite affordable
Easy to maneuver
Strong suction
Brush shut-off
Large dust cup capacity
Versatile as it cleans multiple floors superbly
Efficient at pet fur and hair pick-up
Comfortably long power cord
Easy to empty and clean
Up to 99.9% effective filtration using HEPA technology
Cons
A bit heavy for some
It could use some LED lights
Without a doubt, the Shark NV356E is the best vacuum for lvp floors. Click here to see its current price.
2. Hoover WindTunnel Air Bagless Upright Vacuum UH70400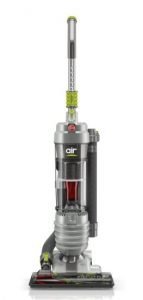 The recliner feature makes the Hoover WindTunnel UH70400 a unique vacuum. It reclines as smoothly to the floor as it tackles dirty carpets, floors and corners and stairs. This makes it easy to clean under furniture.
Also, its 30-foot cord adds to the versatility since you can cover large areas without needing to change power outlets.
The Hoover WindTunnel UH70400 upright vacuum has a combination of multi-cyclonic and WindTunnel technology. These systems help to create and sustain consistent suction throughout your cleaning experience. So, it has a great ability to loosen and clear embedded dirt as well as remove and suck up large and small debris from both hard floors and carpets.
The vacuums hose is easy to quickly release (at a button's touch). Therefore, you can easily reach areas far above the floor, edges, corners, and in-between furniture. With this vinyl plank vacuum, you will surely enjoy smooth transitioning between multiple floors.
Lastly, like any good vacuum, this one also has a few necessary attachments. It comes with a telescoping wand, a stair tool, and a three-in-one combination tool.
Features
Type: upright, bagless
Weight: 12.4 pounds
Power cord: 30 feet
1200 Watts
Uses WindTunnel technology
Multi-cyclonic technology
Standard sealed allergen system
Secondary HEPA filter
3-in-1 combination tool
Pros
Powerful, consistent suction
Efficient at pet fur and hair picking
Easy to maneuver
Has brushroll shut-off, essential for vinyl plank floors
The filters are washable and replaceable
You can easily access under and in-between furniture
Excellent filtration system
Long power cord
Cons
The dirt cup could be a bit bigger
Attachments may fall off occasionally
Click here to see its current price.
3. Shark Flex DuoClean Ultra-Light Upright Corded Vacuum HV391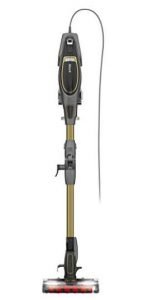 FLEX technology probably gives this vacuum more flexibility than most of its peers. It's freestanding and the reach under furniture is epic since you can bend/fold it easily. You will also enjoy compact storage with this vacuum as a result.
This is how the Shark FLEX HV391 works:
It's fitted with a bristle brush alongside a soft brushroll – both engineered to work uniformly. This system is referred to as DuoClean technology. The resultant effect is a combination of deep cleaned, polished surfaces with no scratches, pending dust, dirt, or debris.
This finish is further perfected by clean air resulting from 99.9% trapping of all allergens using Anti-Allergen Complete Seal Technology. Additionally, the Shark Flex DuoClean HV391 is excellent at hair, fur, and dander pickup based on ASTM 1977.
Also, the Shark FLEX HV391 switches swiftly between upright and handheld. This makes cleaning corners, crevices, stairs, and above the floor effortless. Active-Glide Technology offers smooth and quick maneuverability as you clean.
Features
Type: stick/handheld, bagless
Weight: 9.8 pounds
Power cord: 30 feet
Uses 1 lithium-ion battery
Dust cup capacity: 0.4 dry quarts
Uses Anti-Allergen Complete Seal Technology
Active-Glide technology
DuoClean technology
Pros
Powerful suction
Easy to maneuver
It's lightweight
Perfect results with DuoClean Technology
Excellent hair pick-up
Effective filtration
Long power cord
Cons
Small dust cup
The vacuum may easily topple over
Click here to see its current price.
4. iRobot Roomba 980 Robot Vacuum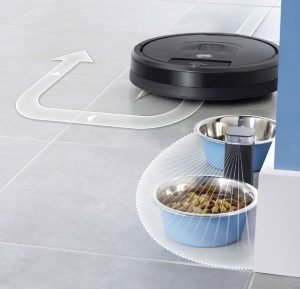 If you are looking for a good robot vacuum for your vinyl plank flooring, this is it.
The iRobot Roomba 980 vacuum brings you convenience, comfort, and cleanliness – all at a go. Using either Google Assistant or Alexa, you can instruct your device to move around your house picking dirt and debris. Also, it maintains tracks of where it has cleaned and where it's yet to clean.
This robot vacuum uses a powerful motor and multi-surface brushes to clean and pick up fur, dander, and hair. Everything about this vacuum is amazing; from the way it transitions between multiple-surfaces, to reaching under furniture– all while leaving no debris behind.
The Roomba 980 also has a power-boost option that increases its power when it reaches carpets. The vacuum also uses HEPA-standard filtration to deliver close to 100% of allergen trapping. So, if you need to fight allergies and asthma while keeping your floor clean, this is a perfect partner.
Features
Type: robot
Weight: 8.7 pounds
HEPA filtration
Voice control (Alexa And Google Assistant)
Notifies you on your smartphone when it's done with cleaning
Multi-surface brushes
Auto-height adjustment for smooth adaptation to different surfaces
Pros
Hands-free freedom
Very strong suction
Excellent filtration
Efficient on hair and dander pickup
Thorough cleaning using multi-surface brushes
Cleaning head auto-height adjusts to clean various surfaces
Up to 120 minutes of continuous cleaning – automatically returns to base for recharge
Supports scheduled cleaning
Cons
Click here to see its current price.
5. Shark Navigator Upright Vacuum for Carpet and Hard Floor NV352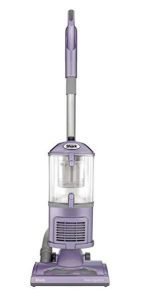 The Shark Navigator NV352, though gentle, has just the right suction for your vinyl plank flooring. It has a suction regulation feature that allows you to choose the right suction amount for optimum results.
Apart from great debris pick-up, it has detailed, thorough pet hair pick-up. It is as great on carpets as it is on hard floors (such as vinyl, of course). The lift away option adds to its versatility so you can trust this vacuum to reach all crevices, in between corners, under furniture, and above-floor areas.
Also, the Shark Navigator Upright Vacuum NV352 has both a HEPA filter and an Anti-Allergy seal. So, close to 100% of all allergens such as dust and pollen are trapped inside the unit.
In the course of cleaning, you have the option of using the turbo brush. However, if you are cleaning a small area, it's better to release the suction and reduce its effect on the floor nozzle to avoid pulling and pushing the area rugs.
Features
Type: upright, bagless
Weight: 12.5 pounds
1200 Watts
HEPA filtration
Power cord: 25 feet long
It comes with a pet upholstery tool
Dirt capacity: 1.2 dry quarts
Swivel steering – easy to maneuver
Pros
Great suction
Effective on multiple floors types
Excellent hair and fur pick up
Convenient to use for hard-to-reach areas
Brushroll shut-off enhances leaves vinyl floor unscathed
Long power cord – makes cleaning large areas possible in a single plugging
Cons
May topple over because it's top-heavy
The power cord could be longer
Click here to see its current price.
6. BISSELL CrossWave Floor and Carpet Cleaner Wet-Dry Vacuum 1785A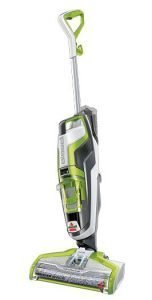 When you think of the Bissell CrossWave 1785A vacuum, imagine cleaning with a bucket and a sponge mop. This is how this vacuum uses its Nylon and Microfiber brushroll. It's a Dual Action multi-surface cleaner.
The vacuum effectively picks all types and sizes of debris leaving the surface sparkling. If necessary, you can mop the floor after you finish vacuuming. Also, swivel steering enables you to maneuver easily as you clean.
The Bissell CrossWave 1785A Upright Vacuum uses two-tank technology to keep the dirty water separate from clean water. So, you will always have a consistent supply of clean water with the cleaning formula. Then, it is as good on hard floors as it is on area rugs and carpets.
To switch surfaces, you use the smart touch controls that are placed on the handle. It also has an on-demand control for the cleaning solution.
The machine dispenses just the right amount of cleaning solution for a particular surface. It's easy to empty the dirt can and rinse the brushroll and filters. When you dock Bissell CrossWave and activate the brush roll, it cleans itself.
Lastly, it comes with two brush rolls and their drying stand.
Features
Type: upright, wet/dry vacuum
Weight: 11 pounds
Power cord: 25 feet
3500 RPM dual-action brush
Water tank: 28 oz.
Dirt tank: 14.5 oz.
Cleaning path: 12 inches
Pros
Easy to assemble and use
Thorough on hair and debris pickup
Swift and easy to maneuver
Great for both vacuuming and mopping the floor
It separates dirty and clean water
Cons
The power cord could be longer
A bit loud and heavy
Click here to see its current price.
7. Hoover T-Series WindTunnel Rewind Plus Bagless Upright Vacuum UH70120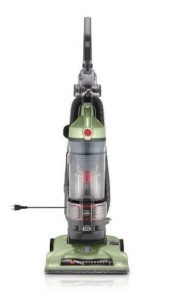 First of all, Hoover's 5-position height adjustment feature already positions the Hoover T-series UH70120 ahead of a majority of its peers. Here, you can transition swiftly and smoothly from high pile carpets to low pile carpets to hard floors.
This versatility is what makes it nearly top the list of the best vacuum for vinyl flooring – especially if you have bits and pieces of carpet and area rugs.
Concerning suction, you have nothing to worry about. This vacuum sucks all debris perfectly. It's also not hard to move which makes it easy to use. The Hoover T-series UH70120 also uses washable filters.
Amazingly, the vacuum indicates when it's due for cleaning or the dust cup needs emptying.
Features
Type: upright, bagless
Weight: 16.5 pounds
Power cord: 25 feet
5-level height adjustment
HEPA-standard filtration
WindTunnel technology
Pros
Powerful suction
Excellent filtration system
Eases the work of cleaning the ceiling, drapes and other above-ground areas
Easy to store after use especially because of its retractable cord
The power button is conveniently placed
Cons
No brushroll shut-off
Small dirt bin
The power cord could be longer
Click here to see its current price.
8. Bissell PowerEdge Pet Hardwood Floor Bagless Cleaner 81L2A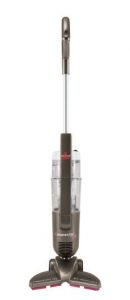 The Bissell PowerEdge 81L2A is a corded vacuum (20 feet long). It has a V-shape design that adds to its versatility. Reaching edges becomes easier which results in swift and thorough cleaning. The wipers at the base of the vacuum are made of a material that attracts hair. This makes it efficient at hair and dander pickup.
Also, this stick vacuum has a swivel head that gives it flexibility. Unlike most vacuums, however, it doesn't use a brush roll. Instead, cyclonic technology is what enables it to efficiently pick up dirt and debris.
Another plus of Bissell poweredge81L2A is the ease of assembling (quick-to-fix). It's also very easy to empty and clean.
Features
Type: stick, bagless
Weight: 7.5 pounds
Power cord: 20 feet
Filtration: cyclonic
Cleaning path: 11.35 inches
V-shape design
Pros
Inexpensive
Decent suction
Swivel steering
Lightweight – easy to carry up and downstairs
The V-shape design allows easy access to tight spots
Easy to empty and clean
Uses minimal power
Cons
Not a good vacuum for carpets and area rugs
The power cord is a bit short
Click here to see its current price.
9. BLACK+DECKER Dustbuster Cordless Vacuum CHV1410L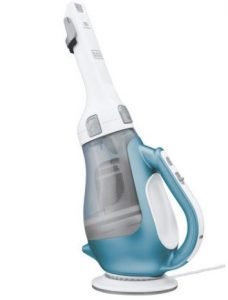 BLACK+DECKER evolved from a tiny machine store in Baltimore. It has now grown into a global industry leader for home and commercial products. The BLACK+DECKER CHV1410L is one of its dynamic innovations. It offers unbeatable suction for both hard floors and carpet cleaning. Its hair and pet fur pick up are epic.
So, if you need a handheld vacuum for your vinyl plank flooring, this is the best pick. It's no wonder that it is one of the best cordless hand vacuums.
This hand vac uses lithium-ion batteries and can run up to 18 months before the next charge. The smart-charge technology allows you to conveniently leave the charger on. It protects the vacuum by auto-shutting once the battery is fully charged. It takes approximately 4 hours to recharge.
This is your pick and use vacuum because it allows you to instantly clean in case of spills. The fact that it's so light yet so efficient enables you to keep your house spotless. Also, you can see the dirt collected in the translucent dirt bowl. So, you will know when to empty. It's also quite easy to empty and clean.
Features
Type: handheld vacuum
Weight: 2.6 pounds
Cordless (uses rechargeable lithium-ion battery)
6 oz. dirt capacity
2 Watts, 16V
Removable, washable bowl and filters
Smart-charge technology
Cyclonic technology
Translucent bagless dirt bowl
Pros
Powerful suction
Lightweight
Cleans multiple surfaces
Easy to empty dirt and clean
Convenient to use, travel with, and store
It comes with a crevice tool and a brush
2 years limited warranty
Cons
Though the battery has long-life, you cannot replace it, which renders the vacuum useless if the battery dies
Its extended reach falls short for spaces way above the floor, especially the ceiling
Click here to see its current price.
10. Eureka NES210 Blaze 3-in-1 Swivel Lightweight Stick Vacuum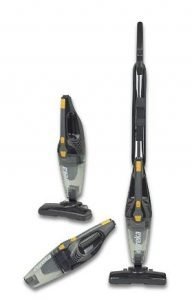 Light vacuums are assumed to be ineffective. However, that's not the case with this vacuum, that's not the case. The Eureka NES210 Blaze 3-in-1 vacuum has amazing suction, whether you are using it as a hand or a stick vac. It also passes the test when it comes to dirt, dust, debris, and hair pick-up.
This vacuum also offers great swivel steering, and maneuvers easily along and under the furniture. Its power cord measures 18 feet. While this is not too convenient for large rooms, it works pretty well for most homes.
As mentioned above, you can easily convert Eureka NES210 Blaze from a stick to hand vacuum and back. This enables you to easily handle above-floor cleaning.
It also has a very important attachment – you can use the crevice tool to handle the difficult spots to reach. It could be between couches, under furniture, corners, cracks, and crevices. You can also use it for cleaning motor vehicles, stairs, cushions, and kitchen surfaces.
Features
Type: stick/handheld, bagless
Weight: 3.2 pounds
18-foot power cord
Cleaning path: 9.44 inches
Motor: 240W, 2 Amps
3-in-1 functionality
Swivel steering
Washable filters
Capacity: 0.55 liters
Pros
Lightweight
Quite affordable
Easy to use
The nozzle offers great suction for all debris
It's a multi-surface cleaner
Great on vinyl plank floors
Easy to maneuver with swivel steering
Cons
Very short power cord
The dirt bin could be bigger
Click here to see its current price.
Tips on How to Maintain Vinyl Plank Floors
First, let's start with the critical part: DO NOT drag furniture on your vinyl plank flooring. This is the simplest way to tear and damage your beautiful floor. So, when it happens, don't blame it on fragility. Just take caution ahead of time.
Secondly, make it a habit to regularly sweep, mop or vacuum. Only use the best vacuum for vinyl plank flooring because it will lengthen your floor's life span. If your vinyl plank floor is newly installed, give the adhesive time (at least 3 days) to hold.
Lastly, in case of a tear, take remedial action fast before it spreads. Over time, you will notice it helps to retain the floor's beauty. A seam sealer will repair just fine. In case of spills, try to wipe it off quickly before it dries to avoid stains.
Conclusion
What is the best vacuum for vinyl floors? Well, there are plenty of options, but only a few are really worth your time. Whichever you decide to pick from these 10, you won't be disappointed.
Nothing will save the day like a good vacuum. So, get one that has a powerful but steady suction. Most preferably, you need a lightweight that is easy to maneuver so you don't use force to clean. These are the best vacuums for vinyl plank floors in 2023:
Shark Navigator Lift-Away Professional NV356E
Hoover WindTunnel Air Bagless Upright Vacuum UH70400
Shark Flex DuoClean Ultra-Light Upright Corded Vacuum HV391
iRobot Roomba 980 Robot Vacuum
Shark Navigator Upright Vacuum for Carpet and Hard Floor NV352
BISSELL CrossWave Floor and Carpet Cleaner Wet-Dry Vacuum 1785A
Hoover T-Series WindTunnel Rewind Plus Bagless Upright Vacuum UH70120
Bissell PowerEdge Pet Hardwood Floor Bagless Cleaner 81L2A
BLACK+DECKER Dustbuster Cordless Vacuum CHV1410L
Eureka NES210 Blaze 3-in-1 Swivel Lightweight Stick Vacuum