Today, we look at the BISSELL Crosswave 2306A vacuum in depth. What should you expect from it? What features make it stand out? We answer these and more questions in our detailed BISSELL Crosswave Pet Pro All in One Wet Dry Vacuum Cleaner 2306A Review.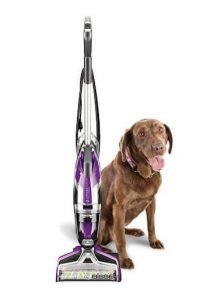 BISSELL is one of the best vacuum cleaner brands in the world. The company manufactures different kinds of vacuums – robotic, cordless, canister, upright, canister, and even garage vacuums. However, the upright vacuums stand out because of the number of households that choose them.
It is no coincidence, therefore, that we have chosen to dissect this amazing BISSELL upright vacuum cleaner. It has a lot to offer as you shall see in the next section.
Features of the BISSELL Crosswave Pet Pro All in One Wet Dry Vacuum Cleaner 2306A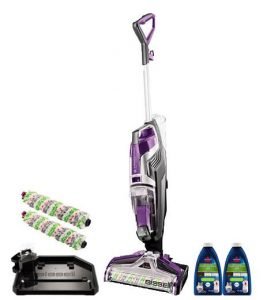 To grasp everything that the BISSELL 2306A vacuum offers, you need to know the features and specifications. Later on, we will summarize the pros & cons so that you can make a sensible decision.
Below are the features of this amazing vacuum.
Wet/dry vacuum and mop combo
This is a rare find in the vacuum world. More often than not, you need to mop your bare floors. So, instead of buying a vacuum and mop separately, why don't you get a combo? For sure, it will do a better job (and more conveniently), than a mop and bucket.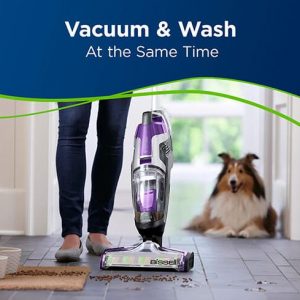 A two-tank technology helps to separate dirty water from clean water. This way, when mopping, only a clean mix of water and the cleaning formula is released. So, it is a good option if you have hard floors or a combination of hard floors and carpets plus area rugs.
A true pet pro
The manufacturer is right by labeling it 'Pet Pro'. Without a doubt, this is a gem for any pet guardian – for many reasons.
First, the vacuum has a tangle-free brushroll. Of course, it will not be perfect but it will certainly reduce the number of times you need to pull hair that is wrapped around the brushroll. You also get a pet hair strainer that prevents your sink from clogging as you clean the vacuum.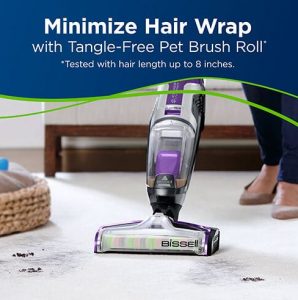 Secondly, you have the option of purchasing the vacuum together with Multi-Surface Pet Formula that has Febreze Freshness. This helps to clean and eliminate all odors associated with pets, living your home sparkling and fresh.
The one thing that has disappointed us a little is the lack of attachments. A pet hair brush, for example, would have helped to book its place among the best vacuums for pets.
Multi-surface cleaner
Apart from being a 2-in-1 vacuum and mop, this unit is capable of cleaning different floor types. It is excellent on hard floors such as linoleum, laminate, concrete, sealed wood, and tile floors. Also, the vacuum does a commendable job on low-pile carpets, rubber floor mats, and area rugs.
Lightweight design
Most uprights are heavy. This makes it difficult for people with problems such as back pain and arthritis to vacuum. Also, if you are healthy but petite, you may struggle to clean your house with a heavy vacuum.
However, that is not the case with the BISSELL Crosswave Pet Pro 2306A. It weighs only 11 pounds. Also, fingertip controls make it very easy to use. Switching from one mode to the other as you transition between different floor types, therefore, is a piece of cake.
Furthermore, it has swivel steering capability. So, maneuvering around obstacles as you clean becomes a walk in the park. A carry handle is also available for even more convenience.
It's a corded vacuum
Corded vacuums have a huge advantage over cordless ones – you can clean for as long as you want. Unlike cordless vacuums that are limited by the battery capacity, corded vacuums allow you to get going as long as there is power.
The BISSELL Crosswave Pet Pro 2306A All in One Wet Dry Vacuum Cleaner has a 25-foot power cord. Well, that is sufficient for small to medium-sized rooms, but may not be the best for large rooms. I wish they added like 5 more feet.
However, you can use an extension cord if your house is big – or simply plug into the nearest power outlet as you vacuum from one corner to the other. Also, the power cord is not retractable. So, storage and movement from one area or room to the next become a bit cumbersome.
BISSELL Crosswave Pet Pro All in One Wet Dry Vacuum 2306A – Features & Specs Summary
Below are all the details you need to know about this incredible upright vacuum:
Type: bagless, vacuum & mop
Weight: 11 pounds
Power cord: 25 feet
Power rating: 4.4 Amps
Two-tank technology
Water tank capacity: 28 oz
Dirt tank capacity: 14.5 oz
Swivel head
Pet hair strainer
Tangle-free brushroll
Cleaning path: 12 inches
Carry handle
BISSELL Crosswave Pet Pro 2306A Review – Pros & Cons
Like all other vacuums, this one has its merits and demerits. You must know its strengths, but it is also crucial to know its drawbacks. This way, you will understand what kind of appliance you acquire, and how to live with it.
Pros
Commendable suction
2-in-1 functionality
Great for pet owners
Easy to maneuver
It is compact and lightweight
Easy to empty and clean
Multi-surface cleaner
Tangle-free brushroll
Pet hair strainer
A long 3-year warranty
Cons
It lacks attachments
Not ideal for high-pile carpets
The power cord is not retractable. It could also use a few more feet.
Click here to see its current price.
Verdict
Should you buy this vacuum cleaner? Well, there is no straightforward answer. The best way is to look at the features, as well as the pros and cons. This way, you have a better understanding of what the vacuum can do and what it cannot do.
Apart from the lack of attachments, we see it as a worthy buy for anyone looking for an efficient yet lightweight upright vacuum. Also, it can double up as a mop. More importantly, it is great for pet owners because it picks up pet hair like a pro, eliminates odors, and also prevents tangling of hair on the brushroll.
If you have bare floors, it is a very good option. However, it is not the best for a fully carpeted house – especially if you have high-pile carpets.