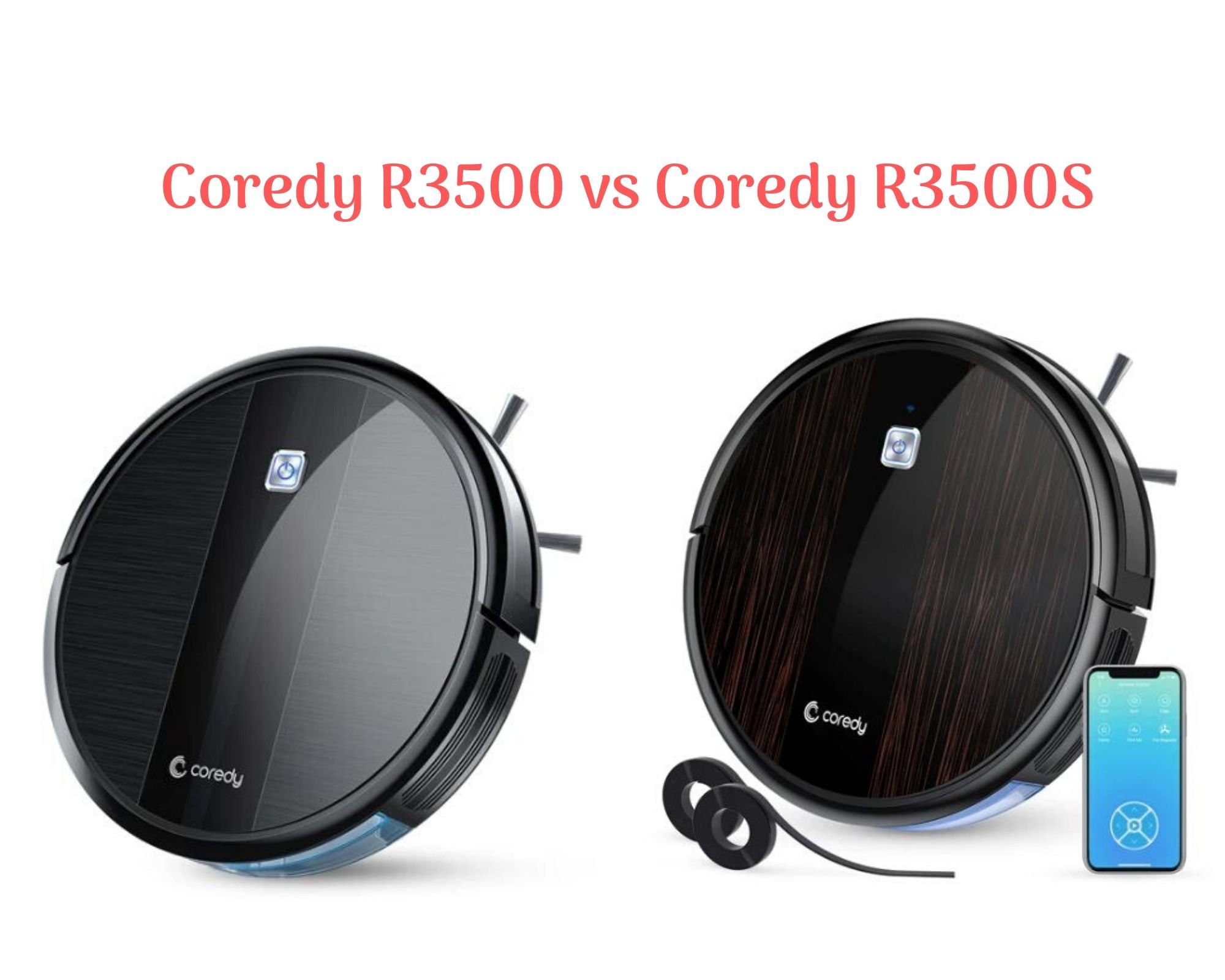 In a market flooding with tons of new robot vacuums, it may be difficult to know which one to pick. Today, we do a simple comparison of the Coredy R3500 and its upgraded sibling, the R3500S – Coredy R3500 vs R3500S.
Coredy has stormed the market to become the go-to brand for those looking for a budget robot vacuum. There are different Coredy models such as R300, R500, R550, R650, and R750. However, today we will focus on two of Coredy's best products – R3500 and R3500.
Coredy Robot Vacuum Review: R3500 vs R3500S Comparison Table
Before we get into more details, below is a tabular representation of what sets the two robot vacuums apart:
| | Coredy R3500 | Coredy R3500S |
| --- | --- | --- |
| | | |
| Max suction | 1700 Pa | 1700 Pa |
| Battery capacity | 2600mAh | 2600mAh |
| Runtime | 120 min. | 120 min. |
| Thickness | 2.7 inches | 2.7 inches |
| Climbing ability | 0.6 inches | 0.6 inches |
| Dirt capacity | 550 ml | 550 ml |
| Navigation | Random | Random |
| Anti-collision sensors | Yes | Yes |
| Anti-drop sensors | Yes | Yes |
| Virtual wall | No | No |
| Boundary strips | No | Yes (2) |
| Washable HEPA filter | Yes | Yes |
| Automatic recharge | Yes | Yes |
| Automatic resume | No | No |
| Noise level | 45-65dB | 45-65dB |
| Cleaning modes | 4 | 4 |
| Wi-fi connectivity | No | Yes |
| App & voice control | No | Yes |
| Running route & map saving | No | No |
| | | |
A Side by Side Comparison of Coredy R3500 vs R3500S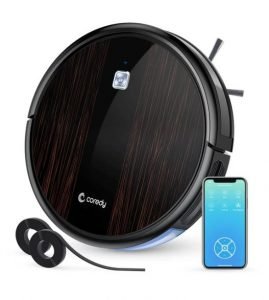 For you to grasp what separates the two, you need to break down all features. Under each feature, we'll indicate if the two robots have the same capability/specification. Also, we will point out any difference under each point.
1. Suction power
First of all, both robot vacuums have enough suction to pick up dust, debris, pet hair, and other dirt from your floors. We are amazed that you can get such suction in these budget robot vacuums.
Both robot vacuums produce 1700 Pa of suction which is sufficient for cleaning the average home.
2. Control
The R3500S is Wi-Fi compatible. So, apart from using the remote control, you can use the Coredy JoyHome app, Alexa, or Google Assistant to give it instructions. The only downside is that it is only compatible with 2.4 GHz Wi-Fi.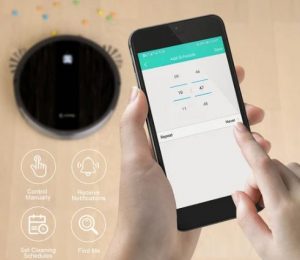 However, the same cannot be said about the Coredy R3500. Lack of Wi-Fi compatibility means that you can only use the remote control to tell the robot what to do. I don't know about you, I'd rather have the option of talking to the robot without having to hunt for the remote.
3. Runtime
If you buy a robot vacuum, you want it clean for as long as possible so that it can pick up all dirt and debris. However, robot vacuums are battery-powered and can only run for so long. But the longer the runtime, the better.
Both robots use 2600mAh Li-ion batteries that can go for up to two hours. Typically, that is long enough to get the job done.
4. Boundary strips
Most budget vacuums cannot create virtual no-go zones. While high-end robot vacuums create virtual barriers/boundaries, the same cannot be said of their cheaper alternatives. But it's a small price to pay for saving hundreds of Dollars.
Luckily, the R3500S comes with 2 boundary strips to help you create no-go zones manually. Dual-hall sensors help the robot to detect the strips. Each boundary strip measures 6.6 feet in length.
However, the R3500 lacks both virtual barriers and boundary strips. So, you have to use things like furniture to prevent it from going over some areas.
5. Sensors
Without sensors, robot vacuums would need to be replaced on a monthly (if not weekly) basis. The chaos would be extreme. With all the furniture in the house, the vacuum would be destroyed because of bumping into the obstacles without control.
However, robot vacuums have sensors that prevent such occurrences. Both the R3500 and the R3500S use anti-drop and anti-collision sensors that prevent them from falling off cliffs and hitting furniture.
6. Automatic recharge & resume
Another feature I'd be looking for in a good robot vacuum is the ability to return to its base for a recharge. If the robot can automatically return to work, that's a huge plus.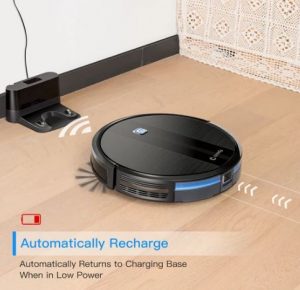 These two budget robot vacuums can return to the dock for a recharge. However, you have to instruct them to continue cleaning. So, do not expect automatic recharge & resume when you decide to go for the R3500 or R3500S.
Well, that's not too bad. At least by the time you ask the robot to get back to cleaning, it will have recharged.
7. Multi-floor cleaning
Both robot vacuums clean various flooring types – bare floors, low-pile carpets, and medium-pile carpets. Besides, there are four cleaning modes at your disposal. These include Automatic, Edge Cleaning, Spot, and Max Vacuuming.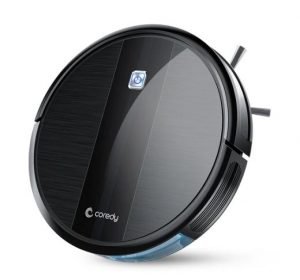 However, the robots will struggle with high-pile carpets. Also, it's not advisable to purchase if you have dark-colored carpets.
8. Scheduled cleaning
With both the R3500 and R3500S, you can schedule cleaning. This is a useful feature because you don't have to be there when you want the house to be cleaned.
9. Dirt big
All robot vacuums are bagless. Therefore, expect the dirt to be collected in a dirt bin for both the R3500 and R3500S. Also, the dust box size is usually small because robot vacuums are usually compact in design.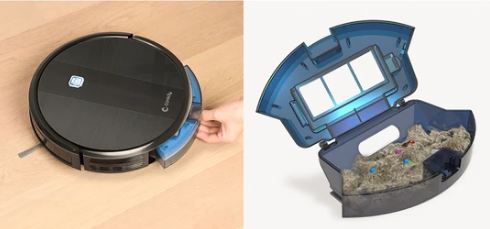 It is not a surprise, therefore, that both robots have a 550ml dirt box. This is sufficient for most homes, especially if cleaning is done regularly. Also, it is quite easy to empty and clean the two robot vacuums.
Coredy Robot Vacuum Review: Pros & Cons
By now, you must have picked the merits and demerits of these two robot vacuum cleaners that are almost identical. Below, we summarize what we like and what we don't like about the two Coredy models.
Pros
Inexpensive
Strong suction
Multi-floor cleaning
Easy to set up and use
Voice control on the R3500S
Easy to empty and clean
Low-profile (slim) design
Scheduled cleaning
Long runtime
Cons
No virtual barriers
Relatively loud
Not ideal for high-pile and dark-colored carpets
The R3500 doesn't have voice control
The navigation is random
So, which one should you buy?
Of course, there are better robot vacuum cleaners out there. However, when you want to save some cash, you must be ready to give up some luxury features. Nonetheless, Coredy has tried to squeeze in the most important features, especially in the R3500S.
Based on the fact the R3500S is Wi-Fi compatible and it can be controlled from the app as well as via Google Assistant and Alexa, it carries the day. Besides, it costs almost the same as R3500.
So, between the two, I'd go for the Coredy R3500S.