Bissell has dedicated a lot of time and resources to produce some of the best pet vacuums in the market. So, any pet guardian looking for a good vacuum for pet hair, the Bissell Pet Hair Eraser 1650A is one of the best picks. This article focuses on the Bissell Pet Hair Eraser 1650A Upright Vacuum Review.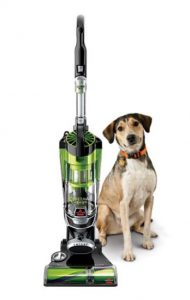 Apart from elaborating the main features of the Bissell 1650A, we'll look at the pros, cons, and why you should or shouldn't buy this vacuum. Of course, this vacuum is not only for pet-related messes buy also general dirt and debris in the house.
Bissell Pet Hair Eraser 1650A Review: Main Features
What features make the Bissell 1650A popular? Apart from the common features that are present in most vacuums, this unit has a few unique capabilities.
Tangle-free brushroll

It's very hard to find a vacuum whose brushroll doesn't get wrapped with hair – from humans or pets. Usually, you must have a pair of scissors at arm's length to cut off the stands of hair on the brushroll. Then, you have to pull the hair off by hand and throw it into the trash. Kinda messy, isn't it?
The good news with the Bissell Pet Hair Eraser 1650A is that there's no need for manual intervention. Pet hair doesn't get wrapped around the brushroll.
Cyclonic Pet Hair Spooling System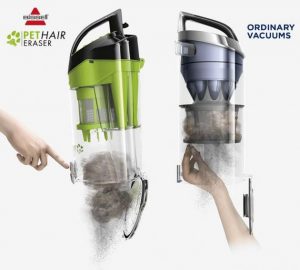 This is another great feature that helps with pet and human hair. Hair is separated from other dirt and debris and then lumped together. This makes it very easy to empty. Instead of using your hands to pull out the hair, just hold the canister over the trash and tap or shake the canister gently to empty.
Filtration
When it comes to wholesome cleaning, indoor air quality is a crucial part. With a vacuum that has a good filtration system, you can be assured that no pollutants will be allowed back into circulation. The Bissell 1650A uses a SmartSeal Allergen System for this purpose.
This filtration system ensures that most allergens such as pollen and dust are kept at bay. However, it is not HEPA-standard. HEPA filters are currently the most superior when it comes to trapping disease-causing particles inside the vacuum.
Apart from that, the vacuum has a Febreze Pet Odor Eliminator filter that helps to keep the room fresh while you clean.
Attachments
The vacuum also has an array of tools that help with above-floor cleaning. These include a quick-release wand, a crevice tool, a 2-in-a pet hair brush, and a pet TurboEraser tool. Amazingly, the crevice tool also has an LED light – a rare thing to find in crevice tools.
Multi-surface cleaning
It's always advisable to buy a vacuum that can do virtually everything, unless you have one flooring type all over the house. Given that most homes have a mix of bare floors, carpets and area rugs, getting a vacuum that can handle them all would be a masterstroke. Thankfully, the Bissell 1650A is one such vacuum.
Because it has a 5-level height adjustment, you can use it on low and high pile carpets as well as hard floors with ease. The transition from carpet to hard floors and vice versa is even better because you can switch the brushroll on or off. Also, swivel steering makes it easy to avoid obstacles such as tables and couches as you clean.
Lastly, Bissell's SuctionChannel technology maximizes pick-up of dirt, debris, and pet hair. Unlike most vacuums whose suction is at one end of the floor head, this vacuum has edge-to-edge suction.
Bissell 1650A Pet Hair Eraser Review: Features and Specifications Summary
These are all the features and specs of the Bissell 1650A vacuum:
It's bagless
Weighs 18 pounds
Tangle-free brushroll
Motor: 8.5 Amps
Cleaning path: 12.375 inches
8-foot hose
30-foot power cord
Swivel head
Capacity: 1.5 liters
5 height settings
SmartSeal allergen system
Cyclonic pet hair spooling system
Febreze pet odor eliminator
Edge-to-edge suction
Bissell Pet Hair Eraser 1650A Review: Pros and Cons
There are many things we liked about the Bissell 1650A Pet Hair Eraser. There are, however, a few issues of concern that you need to know.
Pros
It has decent suction.
Hair doesn't get tangled on the brushroll.
It's easy to maneuver.
Good for both carpets and bare floors.
It has a long power cord.
The hose is quite long.
You can use it to deep-clean carpets.
LED lighting on the crevice tool is amazing.
The vacuum is great for pet guardians.
Emptying and cleaning is easy.
The warranty is five years long.
Click here to see its current price.
Cons
There are no LED lights on the floor head.
The wand could be longer.
It is heavier than most uprights.
The belt location means that you may have to pass over the same spot more than once.
The knob for selecting the hose/brush suction is located near the bottom of the vacuum. You may forget or have to bend far to reach it.
So, Should you Buy the Bissell 1650A Pet Hair Eraser?
Well, there are a few issues to contend with – e.g. no HEPA filtration, weight, and the suction knob location. However, the overall performance is great, especially on carpets. Whether you want to pick up light messes or deep-clean your low or high-pile carpet, this vacuum won't disappoint you.
On the other hand, if 18 pounds is too much for you or you feel that you must have HEPA filtration, you may have to look elsewhere.
The bottom line is that this is a great vacuum for pet guardians and homes with multiple floor types. This is a rare find in a sea of vacuums. It has a large capacity, it's easy to use, and is very easy to empty and clean.