Coredy is growing exponentially as a go-to brand for people looking for inexpensive robot vacuums. Today, we explore the Coredy R300 vs R550 vs R600 vsR650 vs R750 robot vacuums in detail. Being the latest model, expect the R750 to outdo the rest. Also, it will obviously cost slightly more than the others.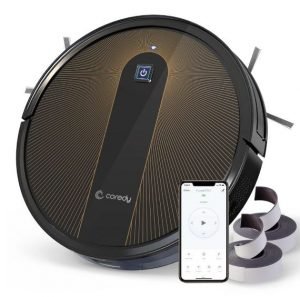 With about 10 years' experience in the robot vacuum industry, Coredy has kept innovating to improve its products. And we really like the intricacy with which the company manufactures and presents the vacuums.
For sure, they are a great fit for the standard home. But which one is the best? A detailed look at how they compare will answer this question.
It's important to note that Coredy R550 is also referred to as Coredy R500+.
Coredy R300 vs R550 vs R600 vs R650 vs R750 – Comparison Table
Before we dig deeper into each feature (and what each vacuum has or doesn't have), an overview will be great. In this table, you'll get to see all the features and quickly see what differentiates the five robots.
Here is an overview of the main features: (scroll sideways for more)
| | R300 | R550 (R500+) | R600 | R650 | R750 |
| --- | --- | --- | --- | --- | --- |
| | | | | | |
| Max suction | 1400 Pa | 1400 Pa | 1600 Pa | 1600 Pa | 1600 Pa |
| Max runtime | 110 min. | 110 min. | 120 min. | 120 min. | 120 min. |
| Battery capacity | 2600mAh | 2600mAh | 2600mAh | 2600mAh | 2600mAh |
| Dirt capacity | 300ml | 500ml | 500ml | 500ml | 500ml |
| HEPA filtration? | No | Yes | Yes | Yes | Yes |
| Thickness | 2.7 in. | 2.7 in. | 2.7 in. | 2.7 in. | 2.7 in. |
| Climbing height | 0.64 in. | 0.64 in. | 0.64 in. | 0.64 in. | 0.64 in. |
| Anti-drop sensors | Yes | Yes | Yes | Yes | Yes |
| Anti-collision sensors | Yes | Yes | Yes | Yes | Yes |
| Boundary strip detection | No | Yes | No | Yes | Yes |
| Boundary strips provided? | No | No | No | Yes | Yes |
| Max noise level | 69 dB | 69 dB | 69 dB | 69 dB | 69 dB |
| Automatic recharge | Yes | Yes | Yes | Yes | Yes |
| Automatic resume | No | No | No | No | No |
| Cleaning schedule | Yes | Yes | Yes | Yes | Yes |
| Boost Intellect | No | Yes | Yes | Yes | Yes |
| Mopping | No | Yes | No | No | Yes |
| Remote control | Yes | Yes | Yes | Yes | Yes |
| Wi-Fi connectivity | No | No | No | No | Yes |
| App control | No | No | No | No | Yes |
| Voice control | No | No | No | No | Yes |
| Price | | | | | |
Coredy R300 vs R550 (R500+) vs R600 vs R650 vs R750 – a Side by Side Comparison
The best way to know the features that Coredy has inculcated into these vacuums is to look at each one separately. Then, under each feature, we will point out if all the models have identical specifications or if there is an exception.
Suction
When you buy any vacuum – an upright, canister, stick, or handheld vacuum, the most important thing to check is suction. After all, what is a vacuum without proper suction? The same applies to robot vacuums. The stronger the robot is, the more dirt it will pick up.
All five items have enough suction to get your home clean. However, the suction power is not identical. Both the R300 and R550 (R500+) generate a 1400 Pa suction power. On the other hand, the R600, R650, and R750 generate up to 1600 Pa of suction.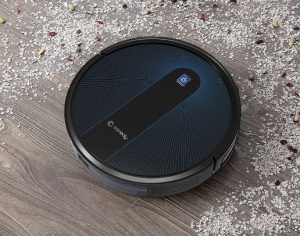 Strong suction ensures that the robot vacuum picks up dust, pet hair, dirt and debris efficiently from your floors.
Multi-floor cleaning
After knowing that the suction is enough to get rid of dust, dirt, and debris from your floors, another important question must be asked. Can it clean both bare floors and carpets? You see, this is very important since most homes have a combination of both.
We recommend any of these robots for both hard floors and carpets. They clean low-pile to medium-pile carpets and rugs thoroughly. While the robots may yet do a commendable job on high-pile carpets, they often leave deeply embedded dirt untouched.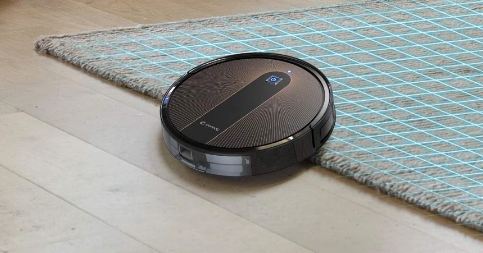 Also, Coredy has developed Boost Intellect technology that helps the robot vacuum to automatically increase suction once it detects carpet flooring. Unfortunately, this technology is not present in all the 5 models. The good news is that it is present in all but the Coredy R300.
Edges are also not spared – edge-cleaning brushes take care of that. What's more, the R750 offers up to 5 cleaning modes. These include Spot, Single Room, Edge, Max, and Manual Cleaning modes.
Lastly, all 5 robots have a low-profile design that allows them to get under furniture easily. So, gone are the days when dust and dirt could accumulate under your seat for months on end. The robots also have large wheels that allow them to climb over obstacles measuring up to 0.64 inches.
This is perfect for transitioning from bare floors to carpets and rugs.
Filtration
While the role of vacuums is to clean the floor, we also go for ones that help to keep indoor air at its best. So, a vacuum with a good filtration system is a welcome addition to any household. The R300 uses a high-performance filter while the other four use washable HEPA filters.
Without a doubt, HEPA filters are superior. They are known to capture and trap up to 99.97 percent of allergens such as dust, pollen, and so on. So, they are ideal for fighting allergies and asthma.
Runtime
A very critical feature of robot vacuums is the battery capacity. This, in turn, dictates how long the vacuum can clean before needing a recharge. The more superior the battery, the longer the vacuum will last. So, it is a good idea to find out exactly how long the vacuum can run – especially if you have a lot of space to cover.
The R300 and R550 (R500+) have a maximum runtime of 110 minutes. The R600, R650, and R750 have a slightly longer runtime of 120 minutes. 10 minutes could make a huge difference for sure. The vacuums use high-capacity lithium-ion batteries (2600mAh).
Control
For a vacuum to be called a robot, it means you have as little manual work to do as possible. While seated on your cozy couch, you should be able to instruct the robot vacuum to get to work. But what are the options?
There is a wide range of ways to control robot vacuums – remote control, smartphone apps, and voice control (Alexa or Google Assistant).
But only a few vacuums (the ones with Wi-Fi connectivity) can be controlled via phones and voice. Out of the five, only the Coredy R750 has Wi-Fi connectivity. So, it has the advantage of having options – you can use your smartphone, the remote control, or voice control.
However, all the other models have only one possibility – the good old remote control!
Sensors
As a robot vacuum cleans, there are tons of problems it may encounter. For example, the vacuum could fall down the stairs. Or it could hit table legs, seats, you, or your kids and pets. But how can they survive all this? The answer is simple – sensors.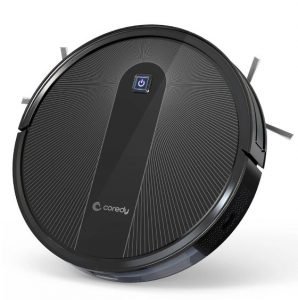 Luckily, all these Coredy models have both anti-drop sensors and anti-collision sensors.
No-go zones
In any home, there are areas that you may not want to be vacuumed at any one time. Or areas that are simply out of bounds to the robot. But how do you demarcate these areas?
Well, there are a few options. First, you could block the robot using household items – even seats that the robot can't fit under. Secondly, you can use boundary strips (usually magnetic) to create no-go zones.
The most convenient way, however, would be virtual barriers/boundaries – these are usually created by the robot vacuum itself. Out of the five models, none can create virtual walls. However, all but the R300 and R600 can work with boundary strips.
Coredy R550, R650, and R750 have dual-hall sensors that enable them to detect boundary strips and stay within the desired area.
Automatic recharge and resume
Most advanced robot vacuums can automatically return to the charging dock once power starts to run out. Some even go a step further to resume cleaning automatically – where they left off. All the 5 Coredy models can automatically go back to recharge.
However, none of them can automatically resume cleaning. It means that you have to instruct the vacuum to get back to work once full. Good examples of robot vacuums that have both automatic recharge & automatic resume capability are the Roomba i7+ and 980.
Mopping
Most robot vacuum manufacturers try to combine wet/dry cleaning. That explains why we are seeing more and more vacuum-mop combos enter the market. And Coredy has not been left behind. Both the R550 (R500+) and R750 have an intelligent mopping system.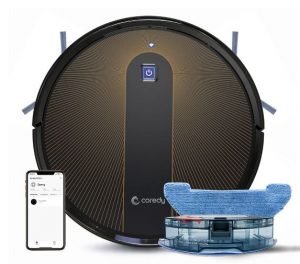 This is very good news especially if you have hard flooring in your home. The other three vacuums do not have this feature.
Scheduled cleaning
Another lovable thing about robot vacuums is that you can plan to clean at a specific time in the future – sometimes even when you're not at home. Thankfully, all the 5 Coredy models allow you to schedule cleaning as you may prefer.
Dirt capacity
Last but not least, you need to know how much dirt each of the five options can hold. Generally, however, robot vacuums have a very small dirt bin. The largest we have seen measures about 750ml. so, do not expect much from Coredy robot vacuums – understandably.
The smallest dust bin is the R300's which measures just 300ml. All the other four have a larger capacity of 500ml, which is more or less the industry average.
Coredy R750 vs R650 vs R600 vs R550 (R500+) vs R300: which one to buy?
While the R300 may be cheaper, the R750 takes the cake. Being the latest model of the 5, it has superior features. For example, it is the only one out of the five that has Wi-Fi connectivity. So, you can control it using your smartphone or voice, in addition to the remote control.
Other than that, it has very little else to offer over the other models, especially the R550 (R500+), R600, and R650. But if you want a vacuum and mop combo, the R750 is the best pick.
However, if you just want any robot vacuum cleaner, we recommend the R650. It has similar features to the R750. The only disadvantage is that it lacks Wi-Fi connectivity. So, the only way to give it instructions is to use the remote control.