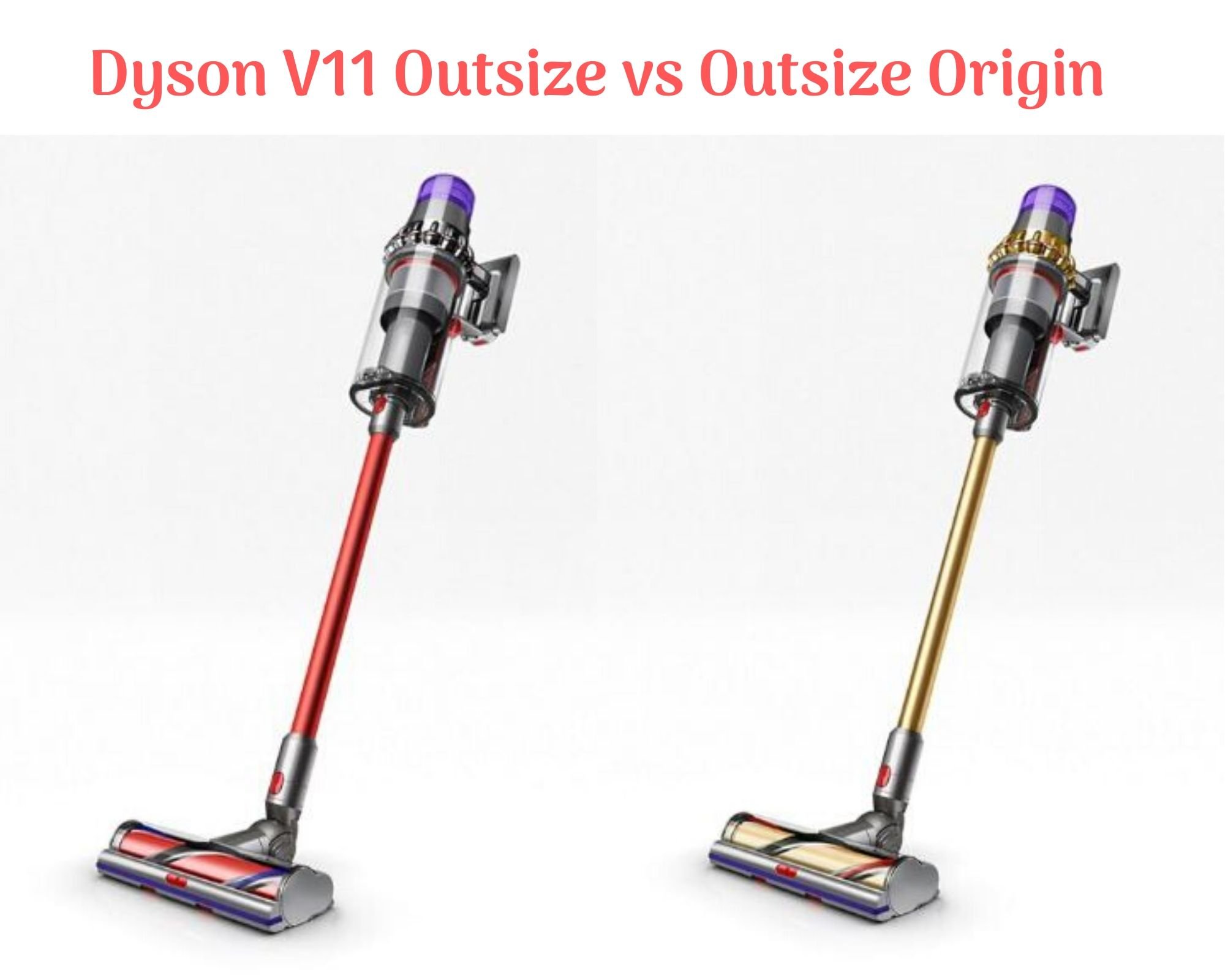 If you thought that the Dyson V11 Animal and Torque Drive are beasts, then you will love the Dyson V11 Outsize Cordless Stick Vacuum. Today, we take a look at the Dyson V11 Outsize Review (Dyson Outsize vs Origin) in detail.
After the V6, V7, V8, and V10, Dyson wowed us with the V11 Series – Animal and Torque Drive. And after dominating the cordless stick vacuum market for a long time, Dyson has decided to go even bigger (think "size").
The V11 Outsize outshines all other Dyson cordless stick vacuums by offering larger dirt capacity and, more importantly, a wider cleaning path that many have been craving. The floorhead is not the usual size – it is full-size.
However, the Dyson V11 Outsize comes in two versions – Dyson V11 Outsize and Outsize Origin. They are almost identical, with only a handful of differences.
Dyson V11 Outsize vs Outsize Origin – Comparison Table
As we review the Dyson V11 Outsize, we will look at all the features and point out where there are differences between the two. This occurs in just a few instances, as you will see in the table below.
For example, the V11 Outsize Origin has one less battery and, therefore, lasts for a shorter duration. Also, it has fewer accessories. Other than that, the two are identical.
| | Dyson V11 Outsize | Dyson V11 Outsize Origin |
| --- | --- | --- |
| | | |
| Color | Red | Gold |
| Motor | 125,000rpm | 125,000rpm |
| Radial Root Cyclone technology | 18 cyclones | 18 cyclones |
| Suction force | 79,000g | 79,000g |
| Weight | 7.85 lbs. | 7.85 lbs. |
| Click-in batteries | 2 | 1 |
| Battery type | Nickel-cobalt-aluminum | Nickel-cobalt-aluminum |
| Runtime | 120 min. | 60 min. |
| Charging time | 4.5 hrs | 4.5 hrs |
| Tools & accessories | 11 | 8 |
| Dirt bin capacity | 0.5 Gallon | 0.5 Gallon |
| Cleaning path | 12 inches | 12 inches |
| Cleaning modes | 3 | 3 |
| Multi-surface cleaning | Yes | Yes |
| Good for pets? | Yes | Yes |
| Digital display | Yes | Yes |
| Wall-mount dock | Yes | Yes |
| Dyson DLS technology | Yes | Yes |
| 6-layer filtration | Yes | Yes |
| In-line configuration | Yes | Yes |
| Cleaner head | High Torque XL | High Torque XL |
| Dimensions (LxWxH inches) | 50.63 x 11.7 x 12.5 | 50.63 x 11.7 x 12.5 |
| Warranty | 2 yrs | 2 yrs |
| | | |
Dyson V11 Outsize Review and Comparison of Outsize vs Outsize Origin
The two variants are identical in design and performance. However, as indicated below, there are a few differences that must be pointed out. In this section, we look at each feature of the Dyson V11 Outsize Cordless Stick Vacuum in detail.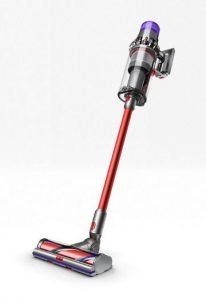 Because most features are the same, we'll only mention the difference where there's any.
Suction
When it comes to suction, Dyson beats other cordless stick vacuums hands down. The Dyson Outsize uses the high-tech Hyperdymium motor to generate enough suction to powerfully pick up dust, dirt, and debris from carpets and bare floors alike. It spins at a rate of up to 125,000rpm.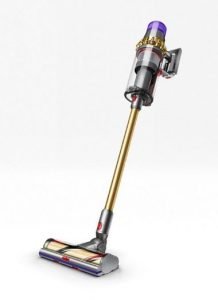 To prevent loss of suction, Dyson's Radial Root Cyclone technology prevents dust and other dirt from clogging the filter. So, the suction remains constant from start to finish.
Also, just like the V11 Animal and Torque Drive, the V11 Outsize employs a straight-line design to emphasize the powerful suction. Here, the dirt bin, the motor, and the cyclone have been aligned. Therefore, dust and other dirt move straight from the floorhead to the bin.
Runtime
For any cordless vacuum, one of the most important things to consider is runtime. That is, how long you can clean before recharging the batteries. For this model, Dyson has gone with 7-cell nickel-cobalt-aluminum click-in batteries.
However, Dyson Outsize uses two batteries while Dyson Outsize Origin has one. Consequently, the Outsize Origin only runs up to a maximum of 60 minutes. On the other hand, the Dyson Outsize can clean for a maximum of 120 minutes.
Please note that the runtime depends on which kind of floor you're cleaning, the attachment in use as well as the cleaning mode engaged.
Also, the charging time is about 4.5 hours. Therefore, ensure that the vacuum is charged well in advance of vacuuming. Luckily, Dyson provides a wall-mounted dock that assists in convenient storage as well as charging.
Floorhead
As hinted in the introduction, the term 'outsize' can be attributed to the fact that Dyson has made some parts bigger. And the High Torque XL cleaner head is one of them. Being about 25 percent bigger than the V11 Animal and Torque drive, you can rest assured that vacuuming will take a shorter period.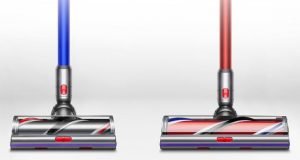 The cleaning path measures about 12 inches wide.
Dirt bin
Another component that has benefited from this new vacuum is the dirt bin. A major complaint among stick vacuum owners is how often they have to empty the dirt. And tiny bins are understandable because an enormous canister fitted on a stick vacuum would result in an ugly output.
Also, stability would be affected, meaning that the vacuum would keep toppling over. However, Dyson has struck a balance between the two. While maintaining the attractive, compact design, the company has managed to tremendously increase the size of the dirt bin.
Believe it or not, the V11 Outsize dirt bin is 1.5 times larger than that of the V11 Animal & Torque Drive. Its capacity is 0.5 Gallons. Despite the increase in size, emptying and cleaning remain as easy as always.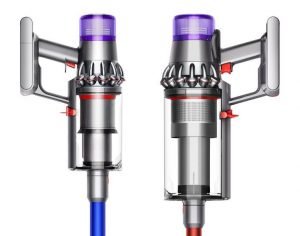 Multi-surface cleaning
The Dyson V11 Outsize can clean a variety of floor types – bare floors such as hardwood and tile, as well as carpets. There are three cleaning modes – Eco, Auto, and Boost. While Eco will be ideal for bare floors, Boost is perfect for carpets. You can engage Auto if you have both carpets and hard floors.
Besides, Dyson has developed a new technology dubbed Dynamic Load Sensing (DLS) for homes with more than one type of flooring. If you transition from one flooring type to the other, DLS automatically adjusts suction accordingly.
So, you will benefit from the convenience of excellent suction at all times coupled with well-managed runtime.
LCD screen
Just like the V11 Animal, the V11 Outsize also has an LCD screen. This digital display serves an array of purposes. First, it shows which cleaning mode you have selected. Apart from that, it helps you to keep track of the vacuum's runtime so that you can plan accordingly.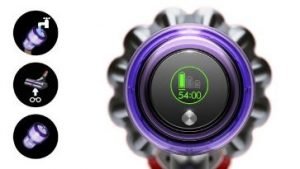 Also, it displays maintenance alerts so that you can keep the vacuum in shape. With this info, this hefty investment will not be short-lived.
Filtration
A good vacuum must be able to keep the indoor air clean and fresh. If a vacuum releases dust and other pollutants back into the air, it can cause unprecedented problems for anyone struggling with allergies and asthma.
So, when shopping for a good vacuum cleaner, this is a critical factor to consider.
The Dyson V11 Outsize has excellent filtration. The advanced whole-machine filtration consists of a 6-layer filter. This filtration system captures and traps particles as minute as 0.3 microns in diameter. Therefore, almost 100 percent of dust, pollen, and other allergens are prevented from causing any harm after you vacuum.
The Dyson V11 Outsize is also perfect for pet hair. So, any allergens that are usually found on pet hair are also taken care of.
2 in 1 functionality
More often than not, you need to do quick pick-ups. Some dust here, some debris there, and so on. The ideal tool for that purpose is a good handheld vacuum. However, with the Dyson V11 Outsize, you don't need to buy a vacuum and a separate hand vac.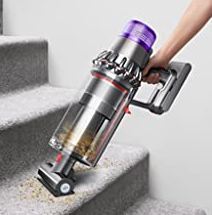 This cordless stick vacuum can be quickly transformed into a handheld vacuum. So, cleaning your upholstery, stairs, and car interiors will be an easy task.
Accessories
Well, a vacuum without attachments may leave you feeling incomplete. Considering that a lot of dust and dirt settle on above-floor surfaces, you need tools to help you vacuum such areas. Without these, cleaning upholstery, window sills, baseboards, drapes, and so on can be a real pain.
The Dyson Outsize comes with a total of 11 accessories. On the other hand, Dyson V11 Outsize Origin has three fewer accessories.
Some of the accessories provided with the V11 Outsize include a high torque XL cleaner head, a crevice tool, a combination tool, a stubborn dust brush, a mini soft dust brush, a mini motorized tool, a wand storage clip, and a docking station. You also get an extra click-in battery and 2 chargers.
The Dyson V11 Outsize Origin lacks the wand storage clip as well as the extra battery and charger.
Weight and dimensions
It's good to know how much a vacuum cleaner weighs. Also, the dimensions come in handy. This way, you get to know how easy it will be to use, carry, and store it.
Both options weigh about 8 pounds (7.85 to be exact). Being this light, you don't need to have a lot of muscles to use the vacuum. Cleaning and carrying the vacuum from one area to the next or up and down the stairs is a walk in the park.
The dimensions of the Dyson V11 Outsize are 50.63 x 11.7 x 12.5 (Length x Width x Height in inches).
Warranty
Lastly, a good vacuum manufacturer must be able to back its products. And Dyson is one such manufacturer that believes in what it sells. The company offers a 2-year warranty for parts and labor.
Also, you get a 90-day money-back guarantee.
Dyson V11 Outsize Review – Pros & Cons
It's crucial that you know the good and the bad. This way, you will be able to make a good decision. So, what should you expect from the Dyson V11 Outsize?
Pros
Powerful suction
Lightweight
Full-size cleaner head
Large dirt capacity
Long runtime
Attractive design
Excellent filtration
Numerous attachments
Cleans different floor types
The dirt bin is easy to empty and clean
Easily converts into a handheld vacuum
It's easy to maneuver
Cons
It's pricey
No LED headlights on the cleaner head
You must press the trigger continuously to keep it running
Click here to see its current price.
Dyson V11 Outsize Review – Conclusion
When looking for a good cordless stick vacuum cleaner, you may get a headache because there are tons of options. However, Dyson is one of the top brands when it comes to such. And the V11 Outsize is among the best Dyson Cordless Stick Vacuums out there.
Dyson Animal and Torque Drive are also quite good, but the Outsize offers a full-size cleaner head alongside a full-size dirt bin. But if it comes down to the Outsize or Outsize Origin, it's obvious that the Outsize (without the word Origin) carries the day.
Apart from having all the amazing features such as powerful suction, excellent filtration, and Dyson DLS technology, it has more accessories and offers a longer runtime. What's not to like?