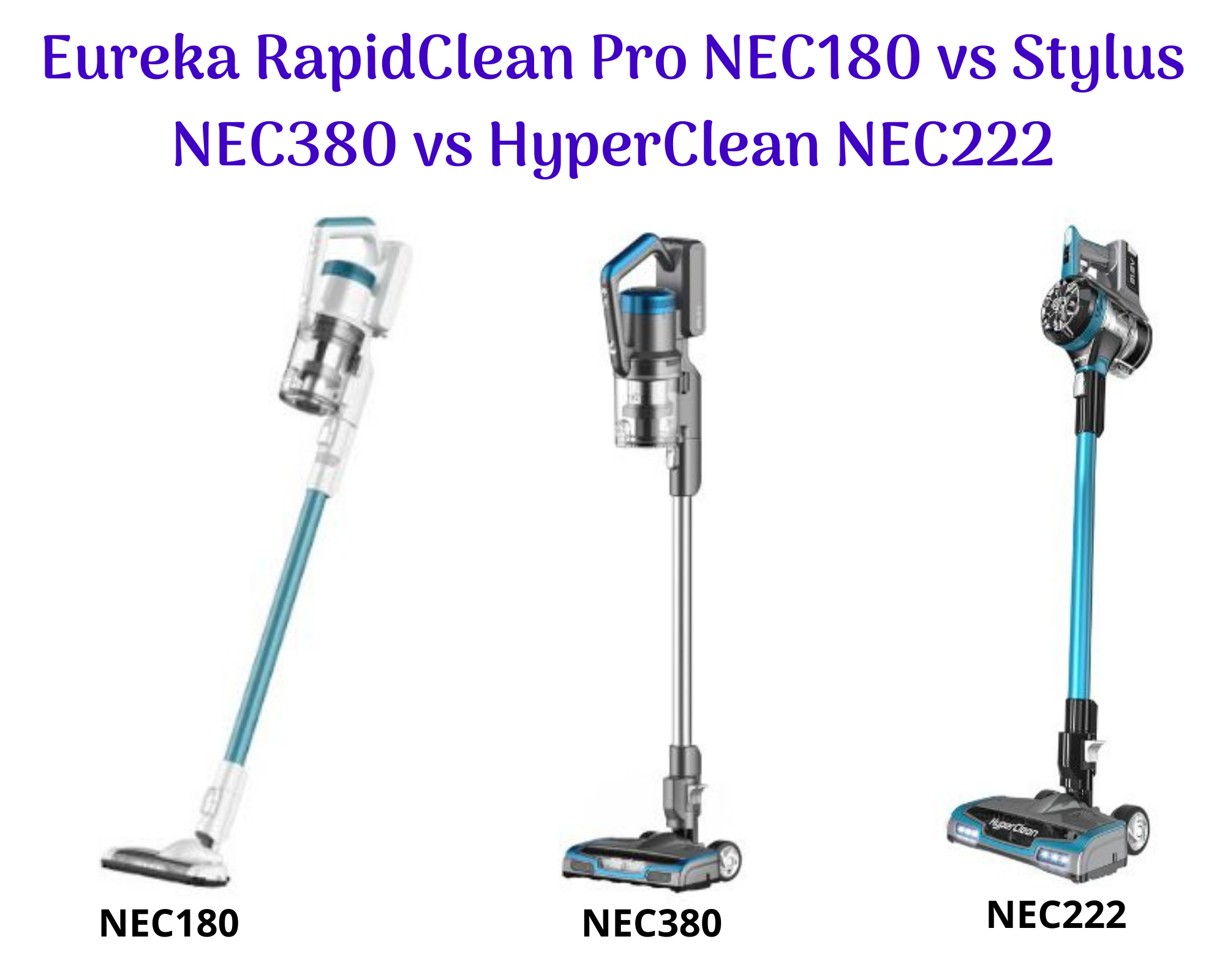 If you are looking for a lightweight cordless stick vacuum, then you should give one of these three a try. As we compare Eureka RapidClean Pro vs Stylus vs HyperClean (NEC180 vs NEC380 vs NEC222), you'll learn more about each one and what is unique about it.
Over the last century or so, Eureka has blessed us with powerful yet user-friendly vacuums and vacuum cleaner accessories. Apart from uprights, canisters, and handheld vacuums, the brand has grown to become one of the best at making cordless vacuums.
Today, we look at three of their recent products in detail – RapidClean Pro NEC180, Stylus NEC380, and HyperClean NEC222. What are their best features? And what are their differences?
Eureka RapidClean Pro vs Stylus vs HyperClean Comparison Table
Before we get into a detailed review of the three units, here is an overview of their main features. You can clearly but quickly see what is unique on each vacuum to save some time:
| Features | RapidClean Pro NEC180 | Stylus NEC380 | HyperClean NEC222 |
| --- | --- | --- | --- |
| | | | |
| Type | Stick, bagless | Stick, bagless | Stick, bagless |
| Converts to hand vacuum | Yes | Yes | Yes |
| Weight | 5.6 lbs | 6.4 lbs | 6.5 lbs |
| Battery type | 25.2V li-ion | 25.2V li-ion | 21.6V li-ion |
| Max runtime | 40 minutes | 45 minutes | 30 minutes |
| LED headlights | Yes | Yes | Yes |
| Motor type | 150W DC Motor | 350W BLDC Motor | 220W Digital Motor |
| Floor type | Hard floor, low-pile carpet | Hard floor, carpet | Hard floor, carpet |
| Cleaning path | 9.8 inches | 11 inches | 9.5 inches |
| Dirt capacity | 0.7 liters | 0.6 liters | 0.6 liters |
| Swivel steering | Yes | Yes | Yes |
| Cleaning modes | 2 | 3 | 2 |
| Brushroll on/off | No | No | No |
| Anti-Allergen Complete Seal | No | Yes | No |
| Filtration system | Cyclone | Cyclone | Cyclone |
| Filter type | Foam | Foam, HEPA | Foam, Anti-allergen |
| Washable filter? | Yes | Yes | Yes |
| Attachments | Crevice tool, 2-in-1 dusting brush | Crevice tool, 2-in-1 dusting brush | Crevice tool, 2-in-1 dusting brush |
| Wall mount | Yes | Yes | Yes |
| Dimensions (inches) | 9.8W x 6.3D x 43.5H | 11.1W x 7.9D x 43.3H | 9.5W x 8.5D x 43.5H |
| | | | |
A Side by Side Comparison of Eureka NEC180 vs NEC380 vs NEC222
What we like doing in our comparison articles is to go through the features one by one while pointing out any difference among the vacuums in question. So, you'll be able to learn about the amazing technologies used by Eureka as you go, and know which vacuum falls short in which respect.
a) 2-in-1 capability
Apart from a few, most stick vacuums can be easily transformed into handheld vacuums for quick cleanups. The same applies to these three Eureka cordless stick vacuums. If you want to pick up small messes instantly, you just press a button and use the vacuum in handheld mode.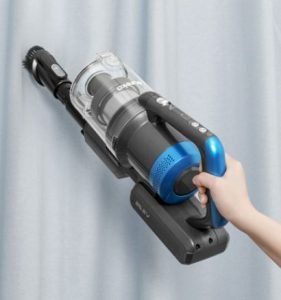 This option also comes in handy when you want to clean upholstery, furniture, stairs, and car interiors.
b) Power source and runtime
While cordless vacuums remove the stress of dealing with cords, the main point of concern is how the battery is made and how long it can last. Therefore, you'll be pleased to learn that the three vacuums use lithium-ion batteries.
Lithium-ion batteries are known to last long regardless of the appliance. RapidClean Pro NEC180 and Stylus NEC380 both use 25.2-volt batteries while HyperClean NEC222 uses a 21.6-volt battery.
When it comes to runtime, the maximum you can get is 45 minutes courtesy of Eureka Stylus NEC380. On the other hand, Eureka RapidClean Pro NEC180 lasts up to 40 minutes. Lastly, the HyperClean NEC222 can only vacuum up to a maximum of 30 minutes.
While the runtime is commendable, you can be sure that it'll be much less when you use Max suction when cleaning carpets and rugs. If you are disappointed with such runtimes, you may want to consider a corded stick vacuum.
c) Ideal flooring types
The three vacuums are powerful enough to pick up dust, dirt, pet hair, and debris from a variety of floors. They are all excellent of hard floors and do a pretty decent job on low-pile carpets. However, we are not so enthusiastic about their effectiveness on high-pile carpets.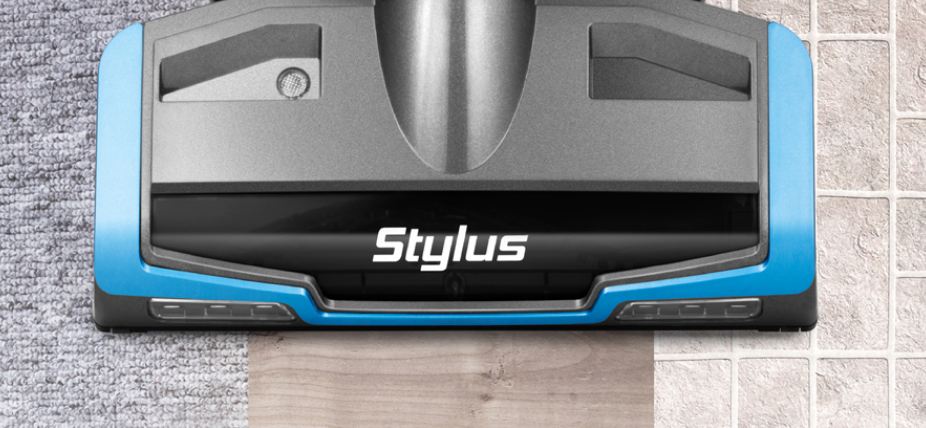 Besides that, if you have very delicate flooring, you may need to look elsewhere because you can't turn off the brushroll. However, engaging the hard floor setting reduces the spin thereby protecting bare floors from scratch marks.
Swivel steering also allows you to easily maneuver around obstacles such as chairs, tables, and seats as you vacuum the floor. Besides, the vacuums can lie flat to allow you to vacuum under furniture easily.
Out of the three vacuums, the Eureka Stylus NEC380 has the most powerful motor. It also has three cleaning modes while the others have two. Besides, it has the widest cleaning path measuring11 inches. However, if you need to fit through tight spots, the other two vacuums are narrower (less than 10 inches wide).
See the Eureka Stylus in action below: (YouTube video courtesy of Eureka)
d) Filtration system
A good vacuum must also prevent allergens from being blown back into the indoor air. Granted, most vacuums will achieve this – including the three Eureka vacuums we're discussing here. The three vacuums use a Cyclone filtration system to keep allergens at bay.
However, only the Eureka Stylus NEC380 goes a step further to use a HEPA filter to trap up to 99.97% of pollutants inside the vacuum. This means it's a really great option for people who are struggling with allergies and asthma.
On the other hand, the HyperClean NEC222 traps up to 99% of allergens using a foam filter and an anti-allergen filter. Unfortunately, the Eureka RapidClean Pro NEC180 only has a foam filter and, therefore, is beaten hands down by its two siblings.
Lastly, the filters are washable meaning that you save a lot of money over the vacuum's lifetime. They are also easy to replace once they wear out.
e) LED headlights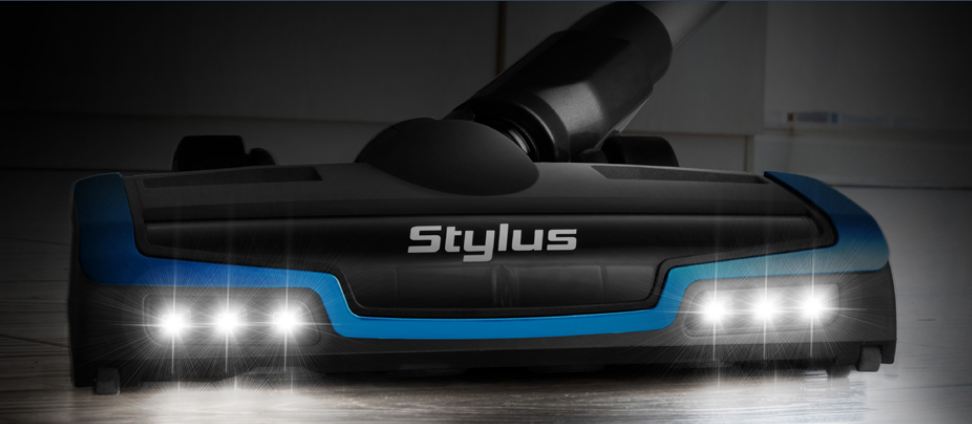 More often than not, we tend to leave patches of dust and dirt especially in the darker spots of the room. Instead of using a torch to figure that out, why not buy a vacuum that has headlights? Well, if you are in for any of these Eureka cordless vacuums you're in luck. All three units have headlights to help you spot any hidden dirt.
f) Weight
I would be shocked to see a stick vacuum weighing anywhere near 10 pounds! In fact, a stick vacuum should not be heavier than a stick haha! When you go shopping for a stick vacuum, one of the main drivers is that you are tired of pushing a heavy upright.
Luckily, all three options are very light. The RapidClean Pro NEC180 weighs just 5.6 pounds while the Stylus NEC380 and HyperClean NEC222 weigh 6.4 and 6.5 pounds respectively. You can just imagine how light the vacuum will be once you convert it into a handheld vacuum.
g) Dirt capacity
Do not expect these vacuums to hold two or three liters of dirt. Most stick vacuums are compact, and fitting a large dirt canister would greatly compromise their stability. So, most manufacturers fit dust cups ranging anywhere from 0.3 to 0.7 liters in size.
Eureka RapidClean Pro NEC180 has the largest capacity – 0.7 liters. On the other hand, both Stylus NEC380 and HyperClean NEC222 can only hold up to 0.6 liters.
Always remember to empty the dirt when it's about half-way or three-quarters full. This way, you will be guaranteed fade-free suction as you vacuum. Also, you'll prevent unwanted odors from building up inside the vacuum.
h) Attachments
Welcome to the chorus of all our songs! Vacuum Cleaner Attachments! Needless to say, a vacuum without attachments can be a really poor investment. You see, apart from the floor, other surfaces also need vacuuming.
Upholstery, walls, window sills, furniture, drapes, shelves, and even car interiors need some love from time to time. And that's where these accessories come in handy. Luckily, all three vacuum cleaners come with a couple of attachments to sort you out.
These include a 7-inch crevice tool and a 2-in-1 dusting brush. Also, you get a wall-mount for convenient storage.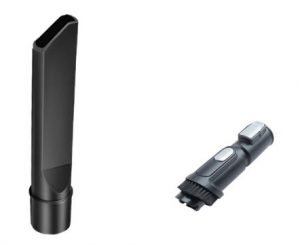 Pros and Cons of these Cordless Stick Vacuums
With only a few differences among them, the three units have almost similar strengths and weaknesses.
Pros
Commendable suction
Lightweight
Cordless convenience
Ideal for hard floors and low-pile carpets
They are inexpensive
The maximum runtime is relatively long
Come with attachments for above-floor cleaning
Swivel steering
Excellent filtration system
Easy to vacuum under furniture
You can convert them into handheld vacuums
LED headlights help to illuminate dark areas
Cons
May not be the best for vacuuming high-pile carpets
Cordless vacuums have the risk of the battery running out before you finish vacuuming
Verdict – Which one Should You Buy?
If you're looking for the cheapest option, you can go for the Eureka RapidClean Pro NEC180. However, after going through the features one by one, there is only one clear winner – the Eureka Stylus NEC380.
While it has almost the same features as the other two vacuums, it lasts longer (up to 45 minutes) and has a wider cleaning path. Therefore, it would take you a shorter time to vacuum the same room if you use the Eureka NEC380 instead of the alternatives.
Also, it is the only one with a HEPA filter. We feel that this is a huge plus since most people are struggling to minimize allergies and asthma attacks. HEPA filters usually trap up to 99.97% of allergens inside the vacuums.
So, if we were to pick only one out of the three Eureka cordless stick vacuums, we would definitely go for the Eureka Stylus NEC380. It is also cheaper than the Eureka HyperClean NEC222 which takes second place.