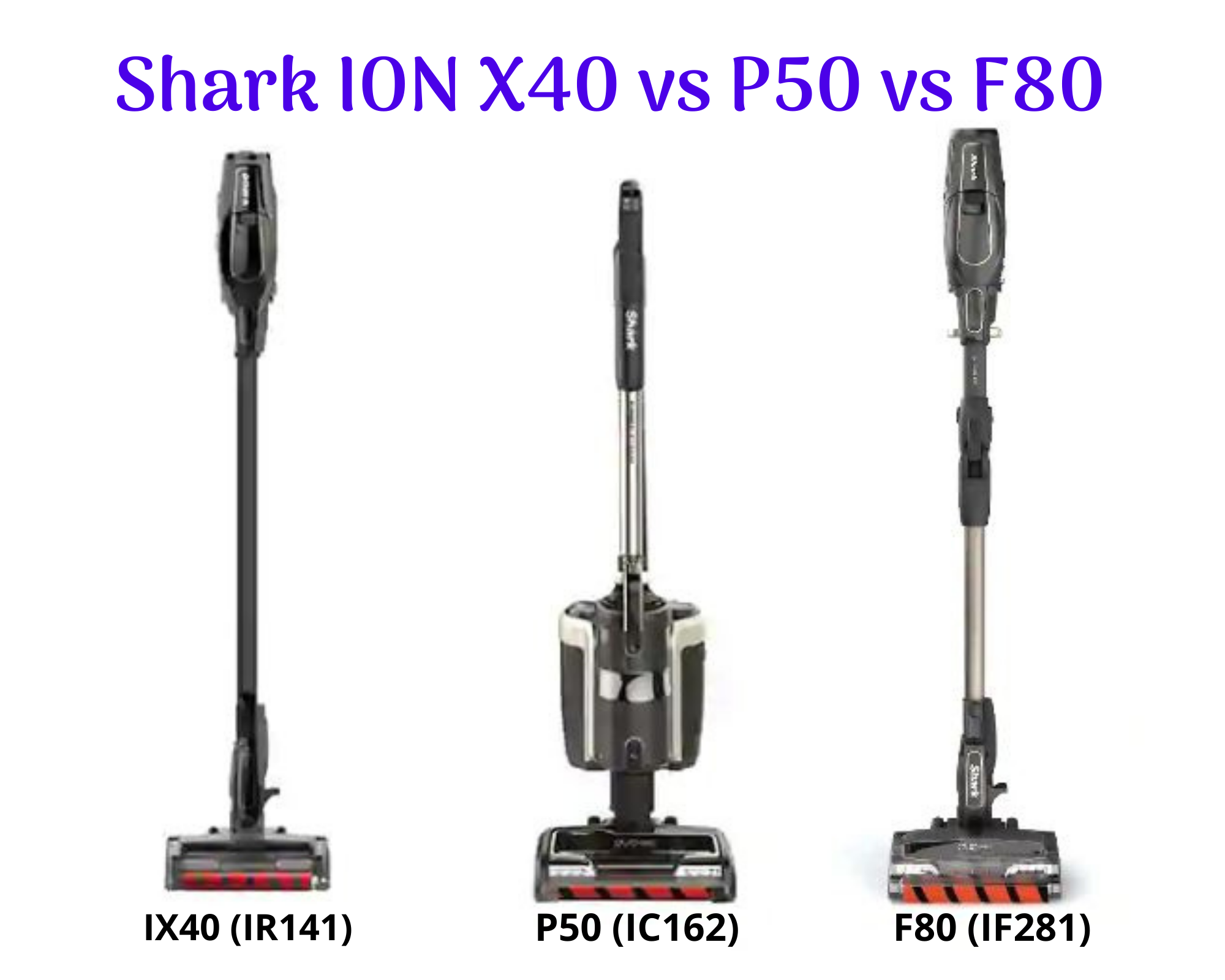 Today, we compare three cordless vacuums in the Shark ION line. If you're looking to buy one of these, you need to know if there is any advantage over the other. And that's why we have prepared a detailed review of the Shark ION X40 vs P50 vs F80.
While the Shark ION X40 and F80 are stick vacuums, the P50 model is an upright vacuum – one of the few cordless uprights on the market.
The Shark X40 is also known as IR141, the Shark ION P50 is also called IC162, while the Shark ION F80 can also be referred to as IF281. So, this is also a Shark ION IR141 vs IC162 vs IF281 comparison depending on what you  call the vacuums.
For your information, the name 'ION' has been derived from the fact that Shark uses a battery pack of powerful lithium-ion batteries in this line of stick vacuums.
Shark ION X40 (IR141) vs P50 (IC162) vs F80 (IF281) – Comparison Table
Before we look at each feature side by side, a summary is the quickest way to know what distinguishes one from the others. Here is a quick overview of the three cordless vacuums:
| Features | X40 (IR141) | P50 (IC162) | F80 (IF281) |
| --- | --- | --- | --- |
| | | | |
| Type | Stick, bagless | Upright, bagless | Stick, bagless |
| Converts to hand vacuum | Yes | Yes | Yes |
| ION battery packs | 1 | 1 | 2 |
| Max runtime | 40 min | 50 min | 80 min |
| Charging duration | 3.5 hrs | 3.5 hrs | 3.5 hrs |
| Wattage | 300 | 260 | 300 |
| Amps | 11.9 | 9 | 11.9 |
| DuoClean technology | Yes | Yes | Yes |
| Multi-surface vacuum? | Yes | Yes | Yes |
| MultiFLEX technology | No | No | Yes |
| Powered lift-away technology | n/a | Yes | n/a |
| Anti-Allergen Complete Seal | No | Yes | No |
| HEPA filter | No | Yes | No |
| LED lights | No | Yes | Yes |
| Dirt capacity | 0.3 quarts | 0.54 quarts | 0.3 quarts |
| Weight | 8.7 lbs | 12.03 lbs | 8.7 lbs |
| Attachments | crevice tool, upholstery tool | duster crevice tool, dusting brush, upholstery tool | crevice tool, upholstery tool |
| | | | |
A Side by Side Comparison of Shark ION X40 vs P50 vs F80
Overall, we think that SharkNinja has done a tremendous job on these cordless vacuums. Of course, the company's reputation is up there with the best, having dominated the upright vacuum world for ages.
So, expect to be wowed by the cordless options that have grown in leaps and bounds over the last few years. While the three options possess core Shark technologies, the fact that they are cordless offers you great convenience because you are not limited by cords and power outlets.
Instead, you can clean as far as you want, up and down the stairs, or even your car interiors as you please. But what sets them apart?
Let's find out…
a) Source of power
As hinted above, these vacuums are cordless. Therefore, expect freedom from handling power cords when vacuuming or the usual cumbersome storage. Instead, these units use batteries that are branded as Shark ION power packs.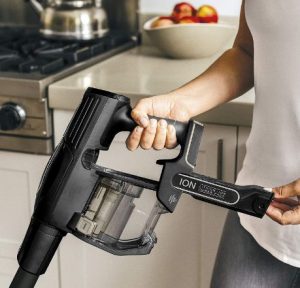 The Shark ION X40 and P50 both come with one battery pack while the Shark ION F80 has two. So, expect to vacuum longer using the F80 stick vacuum. Even though both X40 and P50 have a single battery pack, you can get a pretty sufficient run time from both.
Shark ION X40 runs for a maximum of 40 minutes while the Shark ION P50 can vacuum for up to 50 minutes in handheld mode.
However, when using the floor nozzle to vacuum bare floors or carpet, expect this runtime to reduce drastically. What I mean is, the higher the suction (or the tougher the task), the shorter the battery life.
Nonetheless, if you can get an average of 30 minutes runtime from a cordless vacuum, that should be sufficient especially if you vacuum regularly.
Lastly, you must charge the ION pack before you start vacuuming. Well, that's one downside of cordless vacuums because you can't just 'plug and play'. Each battery pack takes up to three and a half hours to fully charge, which is pretty standard for cordless vacuums.
b) DuoClean technology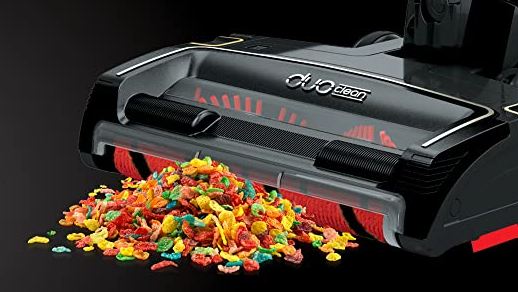 This is one of Shark's best innovations aimed at taking care of all flooring types. It is what makes Shark vacuums ideal for people who have bare floors together with carpets and area rugs. How does DuoClean work, you ask?
DuoClean involves the use of two unique brushrolls in the floor nozzle – and Shark has been able to do that with perfection. One brushroll has tough bristles that help to dislodge tough dirt from carpets, while the soft brushroll leaves bare floors polished.
All this is done while ensuring that dust, dirt, and debris of all sizes are powerfully sucked into the vacuum.
c) MultiFLEX technology
With most vacuums, it is nearly impossible to reach under furniture. Well, not anymore. Shark's MultiFLEX technology allows you to bend the vacuum at the wand so that you can reach any dirt hiding under the couch.
Besides, once you finish vacuuming, you can simply fold the vacuum over in the standing position. This reduces its size and prevents toppling over, making storage a walk in the park.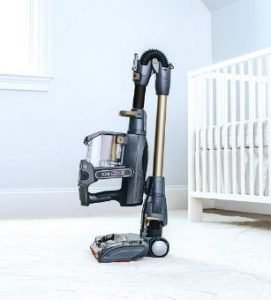 Unfortunately, among the three, this technology is available only on the Shark ION F80 (IF281). The X40 simply lacks this feature while the P50 model takes advantage of another technology that we discuss next.
See how it works below: (YouTube video courtesy of Shark Cleaning)
d) Powered lift-away technology
This is one feature that changed how traditional upright vacuums work. To make the vacuum lighter, more compact, and friendlier, Shark developed a technology that allows you to 'lift-away' or separate the canister from the rest of the unit.
What you are left with is a vacuum that can easily reach under furniture, clean the stairs, and take care of above-floor areas with much less effort. Out of the three units, the Shark ION P50 is an upright vacuum and, therefore, needs to have this technology.
Unlike the 'lift-away' feature found in earlier shark vacuums, this unit has a 'powered' lift-away. This means that even after removing the canister, power is still supplied to the floor nozzle and the brushrolls keep spinning.
e) Transformation into a handheld vacuum
Instead of having to deal with a full-size vacuum cleaner and a separate hand vacuum, why not buy a 2-in-1 unit? Well, whichever option you pick among the three, you have the option of converting it into a handheld vacuum. And that is critical to above-ground vacuuming.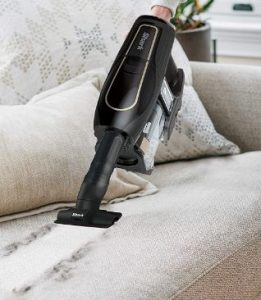 While the Shark ION P50 simply uses lift-away technology to transform into some kind of a handheld vacuum, the other two are more conventional.
The Shark ION F80 and X40 can be easily converted into the traditional hand vacuum at the press of a button. So, instead of carrying the canister on one hand and using the other to vacuum as you would with the P50, you just need to use one hand.
f) Filtration system
Generally, Shark vacuums have outstanding filtration systems. However, if you are struggling with allergies and asthma, you need a vacuum with HEPA filtration. HEPA filters capture and trap over 99 percent of allergens in the vacuum.
Another technology by Shark that enhances filtration is the Anti-Allergen Complete Seal. Unfortunately, only the Shark ION P50 has both features and clearly stands out. However, if you don't suffer from allergies, that should not be a deal-breaker because the other two also do a pretty decent job of keeping pollutants in check.
g) LED headlights
Depending on your home's setup or location, there could be some dark spots. If not well taken care of, they could harbor unimaginable dirt. And that's where LED lights come in – they illuminate dark areas so that you leave the entire room spotless.
Shark ION X40 (IR141) lacks headlights. So, if this is a must-have feature, you can go for either the F80 or P50 model.
h) Weight
Stick vacuums are typically compact and lightweight. So, expect Shark ION X40 and F80 to be lighter than the P50 which is an upright vacuum. The two stick vacs both weigh 8.7 pounds while the P50 cordless upright vacuum weighs 12.03 pounds.
While it may seem heavy in comparison to the two, it is lighter than most upright vacuums on the market.
i) Dirt capacity
All three options are bagless. Therefore, they have dirt cups where dust, dirt, and debris go once they're sucked into the vacuum. Shark ION X40 and F80 have small dirt cups as expected of stick vacuums, both measuring 0.3 quarts.
On the other hand, Shark ION P50 has almost double the capacity – 0.54 quarts.
j) Attachments
Have you been wondering how to vacuum your upholstery, furniture, drapes, shelves, walls, and other above-floor surfaces? Well, that's where vacuum cleaner attachments come in. A good vacuum must have at least a couple of attachments if not a combo tool.
Luckily, all three options have attachments. The two stick vacuums (X40 and F80) come with two attachments – an 8-inch crevice tool and an upholstery tool. On the other hand, the Shark ION P50 upright vacuum comes with a duster crevice tool, an upholstery tool, and a dusting brush.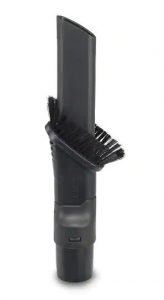 If you were to decide based on that alone, which one would you choose? Let us know in the comment section.
Verdict – which one should you buy?
All three vacuums are great options for anyone looking for the best cordless stick vacuum. However, when you go down to the specifics, you'll find that they are not equal.
Depending on the type of vacuum you like, there are two clear favorites – the P50 and F80. The F80 is the one to go for if you love cordless stick vacuums, while the P50 is the top pick for fans of cordless upright vacuums.
While the F80 has a longer runtime and makes storage easy thanks to MultiFLEX technology, it lacks a few crucial features available on the Shark ION P50. These include Anti-Allergen Complete Seal technology and HEPA filtration.
Besides, the dirt capacity is quite small and it has one less attachment. So, overall, we recommend the Shark ION P50 as the best choice out of the three magnificent Shark cordless vacuums.