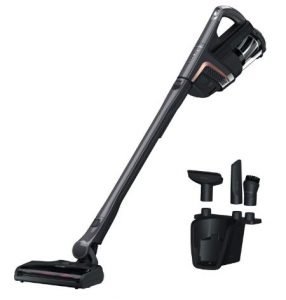 This is Miele's first cordless stick vacuum and as usual, Miele keeps proving a worthy brand. The TriFlex HX1 offers superior performance almost similar to an upright vacuum. In our detailed Miele TriFlex HX1 Stick Vacuum review, you are going to learn exactly what sets it apart from the rest.
Miele offers premium designs, epic usability, and powerful results and we think this vacuum boasts all those qualities. The 3-in-1 design of this stick vacuum is especially genius and its configuration seamless. Also, it is very easy to use unlike some of its peers.
Miele TriFlex HX1 Cordless Stick Vacuum Review: Main Features
Today, we present an extensive Miele TriFlex HX1 review focusing on its features, pros, and cons. This is a brief description of the vacuum's main features:
3-in-1 design (TriFlex)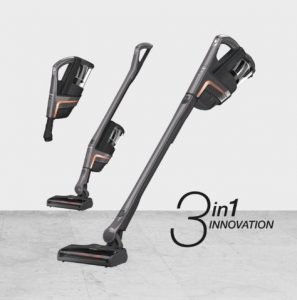 Miele TriFlex HX1 offers three cleaning modes. First, you can vacuum on stick mode which is ideal for vacuuming large areas on the go. To transform to stick mode, dislodge the handle from the main unit using the button on the inner side of the handle, attach the wand first then re-fix the handle.
This moves most of the weight to the bottom of the vacuum and makes it effortless to maneuver. The second mode is the maximum reach mode which helps with above-floor vacuuming. You can attach various accessories to clean shelves, curtains, and the ceiling.
The third mode is the compact/handheld mode. To use it, detach the wand and attach accessories instead. This mode helps in cleaning furniture, upholstery, mattresses, or your car's interior.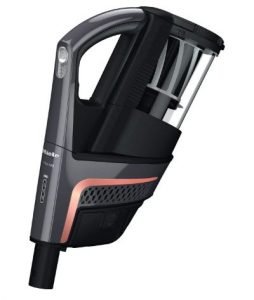 Power supply
Miele TriFlex HX1 uses a rechargeable VARTA lithium-ion battery. Since the battery is removable, you can charge it separately or as part of the unit. Also, it takes up to four hours to charge fully – pretty standard for cordless vacuums.
The charging dock (PowerUnit) is mountable and can also be used in two different ways. You can either charge the vacuum at the lower position or the upper position depending on the current mode.
Further, you get one battery with this unit but you can buy an extra one separately. A fully charged battery gives you up to an hour of cleaning time. To know if it's fully charged, check whether all the indicator lights are on. Please note, however, that the indicator goes off after a while.
Filtration System
While this system doesn't have a HEPA filter, it efficiently captures and traps over 99% of particles. So, allergy and asthma sufferers are protected from the effects of allergens such as dust and pollen.
These are lifetime filters and should not need maintenance or replacement for the whole of the product's life cycle. To maintain premium suction, dislodge them after every use and brush off the dust or tap mildly for the dust and dirt to fall off.
3-speed setting
This vacuum can be set to clean on low, medium, or high speed depending on the surface type or how dirty the area you are cleaning is. The low setting is ideal for bare floors while medium and high setting suit carpets. In our view, Miele TriFlex HX1 is one of the best stick vacuums for carpets and rugs.
One of the characteristics we love about this vacuum is that its low setting is remarkably powerful – you can do most of your cleaning in this mode. Besides, most users will not need the high setting unless when vacuuming high pile carpets and rugs.
Maneuverability
This is a low-profile vacuum thus it lies flat to clean under furniture. Also, the cleaner head is swift and moves effortlessly around objects. However, we find it relatively wide so you may need to use attachments to access tight spots.
We would recommend Miele TriFlex HX1 to petite people or those who have health conditions such as arthritis. It's user-friendly and all the pieces snap easily into each other and it is ultra-light.
Multi-floor cleaner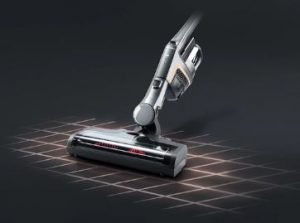 This is an all-floor vacuum cleaner designed for quick picks. The extra-large electro brush automatically senses when you are transitioning from one surface to another and adjusts suction to match the surface you're vacuuming.
The vacuum's ability to pick debris (large or small), collect pet hair, and embedded dirt is impressive. The accessories also make it possible to clean multiple surfaces effortlessly. We discuss this next.
Attachments
In addition to a wand, Miele TriFlex HX1 comes with an upholstery nozzle, an adjustable dusting brush, a mini-electro brush, and a crevice tool. As expected of stick vacuums, there is no hose and the wand is not extendable. However, the accessories clip easily to the wand to offer extended reach.
Similar to modern Miele vacuum cleaners, this unit's electro brush is impressively effective. It removes pet hair and debris on all surfaces including carpet, area rugs, furniture, stairs, and other above-floor areas. Overall, it's an efficient cleaner for pet hair and pet dander.
Disposal system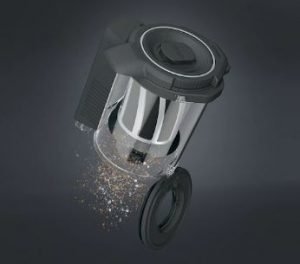 Miele TriFlex HX1 is fitted with a transparent 0.5-liter dirt can. While it's easy to empty and clean, we find it pretty small in size. So, you may have to stop midway to empty if you're dealing with a large room or plenty of dirt.
Miele TriFlex HX1 Stick Vacuum: Features and Specs Summary
In summary, this is what you need to know about this compact yet powerful cordless vacuum by Miele:
Type: stick vacuum, bagless
Color: graphite grey
Weight: 7.9 pounds
Vortex technology (suction)
It's cordless (uses VARTA li-ion battery)
Battery capacity: 2500 mAh
Charging time: 4 hours
Maximum runtime: 60 minutes
Cleaning area: 150 square meters
3-level slide control
Cleaning path: 11 inches
Hygiene lifetime filter
Low-profile design
Dirt capacity: 0.5 liters
Self-parks in an upright position
Wattage: 63 watts; Voltage: 25.2 volts
Dimensions (inches): 8.75 x 11 x 45.3
Made in Germany
Miele TriFlex HX1 Review: Pros & Cons
Well, there are many things that you'll love about this innovative piece of art. However, like any other appliance, there are a few drawbacks. Let's find out…
Pros
Commendable battery run-time of up to one hour
Cleans all surface types exceptionally
Efficient filtration – the vacuum boasts over 99.9% allergens capture
Low maintenance – the filters do not need replacing or maintenance over the vacuum's lifetime
Easily to maneuver around obstacles
Easy to assemble – parts clip into the unit easily
It stands unsupported on stick mode
You get the convenience of cordless cleaning
Great for pet hair picking – comes with a special electro brush
Comes with helpful attachments for above-floor vacuuming
Durable – made with hard plastic
Convenient storage
Ergonomic handle with easy-to-use fingertip buttons
Low-profile – can lie flat to access areas below furniture
Cons
Relatively expensive
The runtime is relatively short especially when vacuuming carpets
Click here to see its current price.
Our verdict
We love the Miele TriFlex HX1 stick vacuum for its epic functionality. The 3-in-1 design ranks it among the best cordless stick vacuums in terms of versatility, maneuverability, and ease of use.
One advantage of cordless stick vacuums is the friendly weight; you can clean for longer without experiencing fatigue. Miele also enhanced this vacuum's comfort by designing it with an ergonomic handle.
On stick mode, the weight is mainly at the bottom making it possible to stand unsupported. It also has superb swivel ability despite the wide floor head. So, you can easily get past obstacles as you vacuum the floor.
Also, Miele applies one of the best filtration systems in this vacuum. Using a hygienic lifetime filter enables it to capture and trap over 99% of all allergens. Therefore, it is great for anyone struggling with allergies.
Another attribute that consumers love is that it's an all-floor cleaner with superb ability to deep clean. It's efficient enough to serve as the only vacuum cleaner and offers up to 60 minutes run-time.
Additionally, you will enjoy this vacuum's flexibility, multiple accessories, and its ability to stand upright without support. We are also impressed by its high performance especially when we compared it to peer stick vacuums.
Although it's a little expensive, it's a worthy investment. Without a doubt, it can give Dyson V11 Animal and Torque Drive stick vacuums a run for their money.