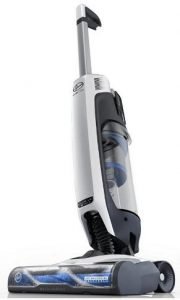 This is essentially an upright vacuum with the feel of a stick vacuum. In today's Hoover ONEPWR Evolve Pet Upright Vacuum Review, we present an innovative vacuum cleaner that offers cordless convenience while offering superb cleaning performance.
Hoover's ONEPWR vacuum cleaner series is an awesome line of products that use high-capacity lithium-ion batteries as a source of power.
These batteries give these vacuums strong and consistent suction. Their run-time is longer compared to their peers in the market plus they charge quicker. The fact that they are removable also enhances their convenience. This means that you can buy an extra battery pack to lengthen your cleaning time.
As the name suggests, this cordless vacuum is very good at handling pet hair and dander and is a great pick for pet owners.
In this review, we explore the Hoover ONEPWR Evolve Pet vacuum all around. Feel free to skip to its features and specifications summary, pros, and cons for a quick review, or allow us to walk you through each feature in detail. Let's get to it!!!
Hoover ONEPWR Evolve Pet Cordless Upright Vacuum BH53420PC Review: Features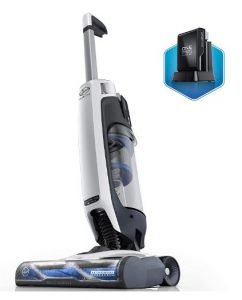 The Hoover ONEPWR Evolve Pet is one of the best upright vacuums for floors. It's a high performer and has terrific features thanks to the latest innovations that are common in the best Hoover vacuums on the market.
Here are the features that rank it among the best vacuum cleaners for families with kids and pets:
a) Power and Suction
Hoover ONEPWR Evolve Pet is a cordless upright vacuum – a rare find. It uses one 4000mAh detachable lithium-ion battery pack. The removable battery is ultra-light and takes three and a half hours to charge fully. Then, you can use it for up to 35 minutes.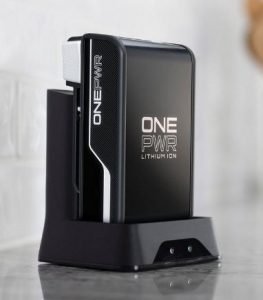 Besides cordless convenience, the vacuum produces strong suction thanks to Power Vortex technology. The suction remains consistent throughout your cleaning session. Of its three cleaning modes, the carpet mode has the strongest suction. When you select a high-suction setting, the battery will naturally drain faster.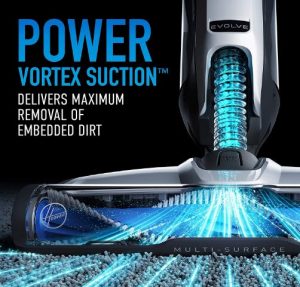 b) Detailed multi-surface cleaning
The vacuum is extremely efficient especially on hard floors because you can switch off the brushroll. This prevents debris from scattering and allows you to vacuum clean with fewer passes. Besides, brushroll shut-off helps to protect delicate floors such as vinyl from scratches and marks.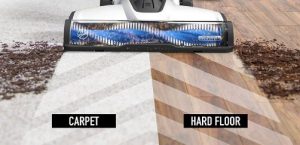 Another impressive attribute is the vacuum's ability to deep clean carpets. You will also love its detailed pet hair pick up and smooth gliding enabled by the soft wheels. So, this is an ideal vacuum for pile carpets, rugs, and bare floors.
Also, you can recline it to reach under furniture. That's a huge plus considering that most upright vacuums are bulky.
c) Advanced swivel steering
The vacuum is suitable for petite users and seniors as it moves effortlessly. It glides so smoothly over all floor types it's almost self-propelling. You also don't need to worry if you have immovable furniture. The vacuum's swivel head allows you to avoid obstacles and vacuum around corners with ease.
d) Versatility
The ONEPWR Evolve Pet has 3-in-1 cleaning modes. The Multi-Surface mode allows you to transition from bare floors to carpets with ease, without affecting the vacuum's performance. Also, it helps to preserve the battery.
Secondly, the Brush Off mode is ideal for bare floors. Because the brushroll stops rotating, the vacuum's suction picks up dust, debris, pet hair, and other dirt leaving your hardwood, marble, or vinyl floor spotless and unscathed.
Then, Carpet mode focuses on deeply embedded dirt on carpets. The brushroll agitates the dirt, making it easy for the vacuum to suck it up.
On the downside, Hoover ONEPWR Evolve Pet does not come with accessories and is not equipped with a hose. Also, it has a removable handle but does not transform into a hand vacuum. So, if you were planning to replace your all-purpose vacuum, this vacuum may not ideal.
Hoover ONEPWR Evolve Pet is mainly a floor vacuum and you need an extra unit for your furniture, upholstery, drapes, walls, ceiling, and other above-ground areas. A handheld vacuum with attachments can serve you well for such tasks.
e) High-functioning brushroll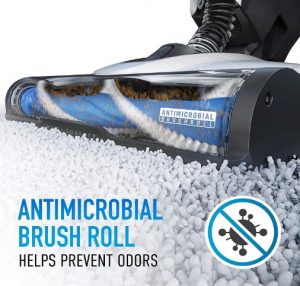 The brush roll has a QuickPass design which makes it more efficient as you can pick lots of debris on one pass. The Power Vortex suction technology generates high-speed airflow that combines with this brush to dig out embedded dirt on rugs and carpets leaving them spotless.
f) Filtration system
The vacuum doesn't have a HEPA filter. However, it uses a multi-cyclonic filtration system to help with fighting pollutants.
Besides, the antimicrobial brushroll reduces odors as you vacuum the floor. Also, the vacuum has a removable and washable pet filter that captures and traps dust, dirt, and all contaminants associated with pets.
g) Disposal system
Hoover ONEPWR Evolve Pet vacuum uses an easy to empty bottom release dirt cup. It is one of the most hygienic designs since you don't interact with dirt. This also goes a long way in ensuring that you avoid getting into contact with allergens, though it's not 100% effective.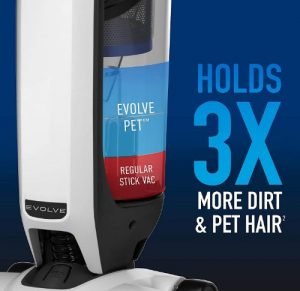 Also, the dust cup holds up to 1 liter of dirt thus can serve you for several routine vacuuming sessions. However, we recommend emptying after every use to maintain powerful and consistent suction. Also, odors tend to build up if dirt stays in the vacuum for too long.
Hoover ONEPWR Evolve Pet Features and Specifications
Here's a quick summary of everything you need to know about the vacuum:
Type: upright vacuum, bagless
Weight: 8.6 pounds
Cordless (uses lithium-ion battery)
Charging duration: 3 to 4 hours
Maximum runtime: 35 minutes
11-Amp motor
Power Vortex suction
Cleaning path: 11 inches
Dirt cup capacity: 1 liter
Hygienic emptying (bottom-release)
Advanced swivel steering
Removable anti-microbial brushroll
Washable pet filter
Scatter guard
Soft wheels
3 cleaning modes – Brush Off, Carpet, Multi-Surface
Brushroll on/off option for hard floor cleaning
Dimensions (WxHxD): 11 x 44 x 9.5 inches
Hoover ONEPWR Evolve Pet BH53420PC Review: Pros & Cons
Many things can make you fall in love with this cordless vacuum cleaner. However, just like any other relationship, you'll have to learn to live with a few imperfections.
Pros
Lightweight and compact design
Strong, consistent suction
You enjoy cordless convenience
It's a multi-surface vacuum
Very easy to set up and use
Has on/off option for the brushroll
Great for pet hair
A swivel head makes vacuuming a walk in the park
Sizeable dirt cup that is easy to empty and clean
Lies almost flat to clean under furniture
The removable battery allows you to charge an alternate battery as you continue cleaning
Shares battery with other Hoover vacuums
Deep cleans carpets effectively especially on carpet mode
3-year warranty on motor
Cons
It doesn't have a hose and attachments
You may have to buy an extra battery to enjoy vacuuming for long
Click here to see its current price.
Our verdict
Hoover ONEPWR Evolve Pet can be considered one of the best cordless upright vacuums. It's lightweight, user-friendly, and offers cordless convenience without compromising the suction power.
The vacuum's swivel head and low-profile design allow you to glide smoothly across all floors, access tight spaces, and clean under furniture. But, here's a challenge, you have no accessories or hose to help with cleaning the drapes, upholstery, your car, and other above-floor surfaces.
So, we consider this a fantastic floor only vacuum.
With the three cleaning modes at your disposal, however, you can adjust the suction and optimize the brushroll to match the floor type you're vacuuming. Besides, it powerfully picks up all manner of dirt from bare floors and carpets.
Lastly, when it comes to picking up pet hair, only a handful of vacuums can match the Hoover ONEPWR Evolve Pet. Therefore, despite its lack of attachments, it's a fantastic vacuum overall. If you have to vacuum above-floor surfaces, you can get a handheld vacuum of your choice to complement it.