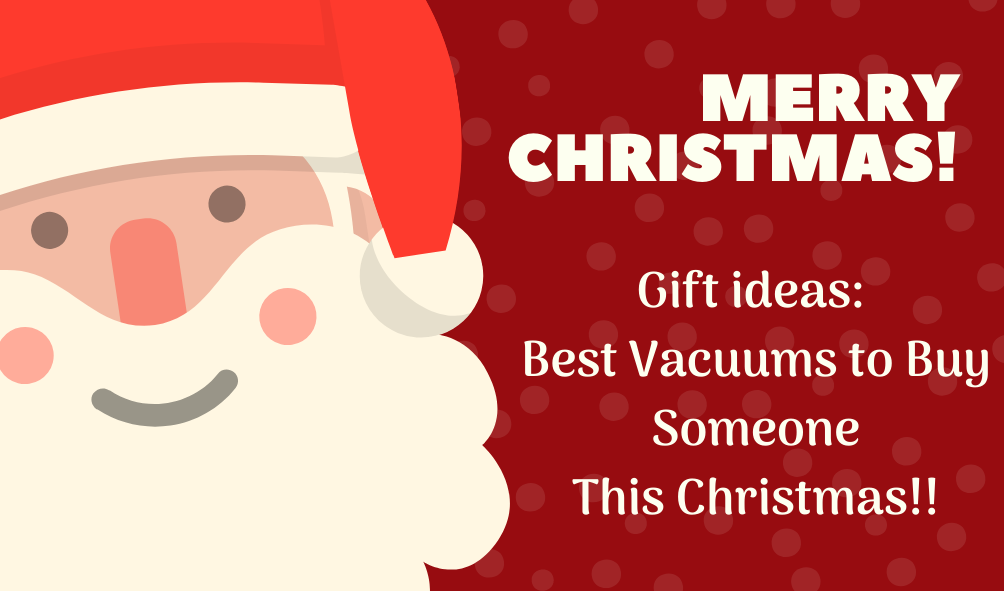 Christmas is around the corner…and as Santa goes around giving presents, you may also want to buy your friend, mom, brother, sister, dad, or your significant other a special gift. Believe it or not, a vacuum cleaner can be an awesome Christmas gift.
Today, we'll try to point you in the right direction on which vacuum to buy for your friends or family. However, it will help you a great deal if you have a slight idea of what the person of interest loves and also the flooring type they have installed in their home.
Also, if you can, find out if they already have a vacuum, and which one they own. You don't want to buy someone a present that they already have, and which has probably annoyed the hell out of them already.
Why a Vacuum Can be a Fantastic Christmas Present
Well, who buys a vacuum cleaner as a present, let alone as a Christmas gift? You're likely to have been asking yourself that question several times already. However, rest assured that it's not an idea out of this world.
People have been buying each other vacuum cleaners as gifts for various occasions over the years, for several reasons:
A vacuum is a practical gift. It's something that they'll use often around the house, and it will always remind them of you. Therefore, it's very critical to choose a vacuum that will not break down after a couple of uses.
While some vacuums are expensive, there are plenty of affordable options on the market. You can even buy a vacuum for 30 bucks. So, if you've had a tough year and you don't have much at your disposal, you can still get your loved one an awesome Christmas gift. Besides, you can get plenty of offers and deals around this time.
Most people like 'cool' gifts, especially attractive or techy ones (yes, even adults). Ever heard about robot vacuums? I'm sure you have if you don't own one yourself. A robot vacuum can be the perfect Christmas gift because it ticks so many boxes in the 'ideal' holiday gift checklist.
That said, you can now confidently go ahead with your quest for the best vacuum cleaner to buy as a Christmas gift.
Comparison of the Best Vacuum Cleaner Christmas Gifts
Before we briefly review each vacuum and why it can be a great present, here's a quick overview:
9 Top Vacuums to Buy Someone this Christmas
There are tens of vacuums on sale, but finding the ideal gift can be a nightmare, especially on short notice. After thorough research, these are the best options that we recommend:
1. iRobot Roomba s9+ (9550) Robot Vacuum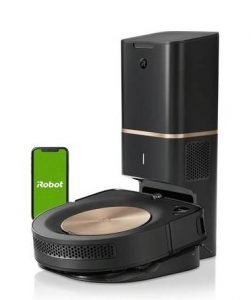 As mentioned above, a robot vacuum can be the perfect gift for your friends or family. Presently, iRobot Roombas dominate the market, and none is more advanced than the s9+.
Not only does it have the capabilities of the predecessors, but it also empties itself! So, it is completely hands-free, until the Clean Base is filled up – which can take up to 2 months. This is a perfect gift for anyone who loves technology. And living in a clean house, of course.
The robot vacuum comfortably cleans bare floors as well as carpets. Also, its D-shape allows it to vacuum along the edges well. Being an intelligent vacuum, be sure that it can map out where to clean and get the job done without your intervention – even when you are not at home.
You can instruct the vacuum via your smartphone or even via Alexa. Besides, you can schedule cleaning to match your diary.
One thing that may scare you about this robot is the price. It's more expensive than most robot vacuums, but it's definitely worth it. However, there are cheaper Roombas that can equally be a good gift. A good example is the Roomba i3+.
Click here to see its current price.
2. ILIFE V3s Pro Robot Vacuum Cleaner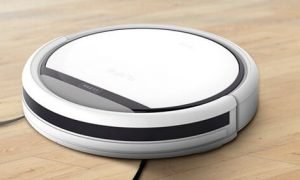 Roombas have become a household name in the robotic vacuum space. But let's be honest, some Roombas cost an arm and a leg. But when you have a lot of people to buy gifts, the cheaper the better.
Fortunately, there are many Roomba alternatives. A good example is ILIFE V3s Pro. Not only is it affordable, but it is also very effective for vacuuming hard floors. Also, you can use it for low-pile carpets. If your giftee has thick (high-pile) carpets, however, you may want to look elsewhere.
Other than that, this robot has so much to like. It has sensors that prevent it from bumping into obstacles and falling off stairs. Besides, it recharges itself and you can schedule cleaning.
Unfortunately, once it goes back for a recharge, you have to manually restart it. Also, you have to empty the small dust bin every time (no self-empty) and it lacks the voice-control feature of the Roomba s9+.
Click here to see its current price.
3. Dyson V11 Torque Drive Cordless Vacuum Cleaner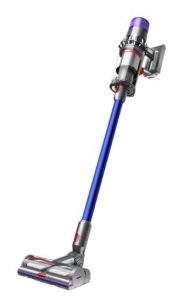 Away from the robot vacuums now. Over the last few years, everyone has been trying to make gadgets and tools as small as possible. Even buyers are shifting towards smaller and sleeker devices. One keen manufacturer, Dyson, has taken note of that.
Of course, the company still manufactures upright vacuums, but you can sense that there is more dedication to Dyson's flagship cordless vacuums. The latest in the line of these cordless stick vacuums is the Dyson V11 series, and any of the three V11 versions can be a great Christmas present.
Little separates Dyson V11 Animal, Torque Drive, and Outsize (see our Dyson V11 comparison here). However, Dyson V11 Torque Drive interests us more for a few reasons.
First, you can use it for all floor types – bare floors, carpets, and rugs. Secondly, it comes with lots of attachments that come in handy when cleaning above-floor surfaces such as walls, stairs, upholstery, drapes, furniture, and even car interiors.
Secondly, you can convert it into a handheld vacuum for quick pick-ups of small messes. Besides, the vacuum has an excellent filtration system hence it is ideal for fighting asthma and allergies.
Click here to see its current price.
4. Eureka Flash Lightweight Stick Vacuum Cleaner NES510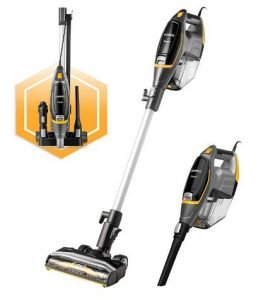 This is a very good alternative to the Dyson V11, especially cost-wise. It is not only affordable, but it's also one of the most versatile vacuum cleaners on the market.
First, you can use it for hard floors as well as carpets. Then, you can quickly convert it into a handheld vacuum cleaner to pick up small messes on the go. Besides, you get a couple of tools that will help in cleaning upholstery, shelves, drapes, stairs, and other above-ground surfaces.
Another advantage is that the floor nozzle has bright LED headlights that illuminate the floor so that no dust is left uncollected. This feature also adds to its attractive design that makes the Eureka Flash a tremendous Christmas gift.
Lastly, while the Dyson V11 Torque Drive allows you to vacuum as long as the battery is charged, the Eureka Flash is the opposite. Being a corded stick vacuum, you can vacuum as long as there is no power outage.
Click here to see its current price.
5. BISSELL Pet Hair Eraser Lithium Ion Cordless Hand Vacuum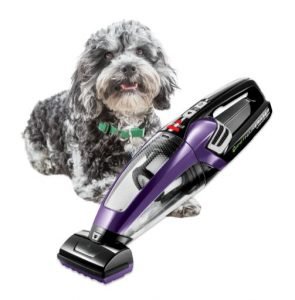 Now, what do you buy someone who just recently bought a vacuum? Or someone whose vacuum is still in good shape? Find out if they have a handheld vacuum. If not, this little champ, BISSELL Pet Hair Eraser, can be the ultimate Christmas gift.
There are tons of handheld vacuums, but this one is among the best. First, it is very light and compact. Despite its small size, it has a surprisingly large dirt cup (700 ml). Also, the design is quite awesome and would look good in any home.
Another advantage is that it has three attachments that are useful when it comes to vacuuming upholstery and the like. These include a crevice tool, an upholstery tool, and a motorized brush. Overall, it is very strong, especially when dealing with pet hair.
Also, it offers the user cordless convenience because it is battery powered. Even though the runtime is limited, it is suitable for its intended purpose.
Click here to see its current price.
6. Miele Classic C1 Turbo Team Canister Vacuum Cleaner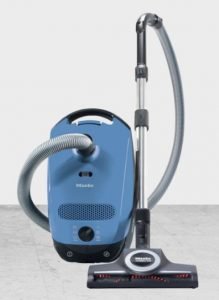 If you're looking to gift someone who struggles with allergies, this is a perfect pick. It uses an AirClean FilterBag to ensure that all allergens are trapped inside the vacuum. Also, bagged vacuums are generally better at handling pollutants such as dust, because emptying is mess-free.
Aside from that, Miele Classic C1 Turbo is quite powerful and effectively vacuums hard floors, low pile carpets, and medium pile carpets. Also, you get a range of attachments for above-ground vacuuming. These include a dusting brush, an upholstery tool, and a crevice tool.
We picked this option out of the best Miele vacuums because it is quite powerful and will be easy on your pocket. So, buying this for one of your friends or family members will leave room for other beneficiaries of your good heart :).
Click here to see its current price.
7. Shark Vertex AZ2002 DuoClean PowerFins Upright Vacuum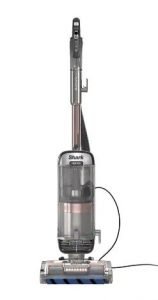 For lovers of upright vacuums, the Shark Vertex is a great gift. Being one of the latest Shark vacuums is a clear sign that it packs the best features and technologies. And this is true based on our findings.
First, it is very powerful and can clean all types of floors – hard floors, carpets, and rugs thanks to Shark's DuoClean technology. Secondly, the PowerFins brushroll leaves your floors neat and tidy by picking up all types of dirt. At the same time, hair is actively removed preventing tangling.
So, unlike most vacuum cleaners which use regular bristles, your loved one will seldom turn the floor nozzle upside down to pull out tangled pet and human hair. The floorhead also has LED lights which help to illuminate dirt and dust in the darker spots of the room. Besides, they add to the beauty of an already sleek vacuum.
Lastly, this unit uses Anti-Allergen Complete Seal Technology alongside HEPA filtration to capture and trap almost 100 percent of allergens. Therefore, it is a superb choice for someone who has to deal with allergies and asthma.
Click here to see its current price.
8. Dyson Ball Animal 2 Upright Vacuum Cleaner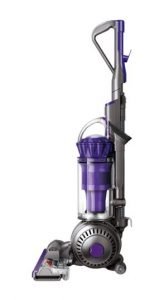 What's a Christmas list without a Dyson upright vacuum?
While we indicated earlier that Dyson has so much attention on the cordless vacuums, the Dyson Ball Animal 2 is still one of the best upright vacuums that you can buy. Therefore, it is a good alternative to the Shark Vertex, especially if you intend to gift a Dyson enthusiast.
When vacuuming, the floor head automatically adjusts its height to match the surface. So, it is a great option for carpets, vinyl, or hardwood.
Apart from powerfully picking up dirt and dust, it's also great for pet hair. Besides, it has exceptional filtration and would be a great choice for allergy sufferers. It is also one of the few vacuums that have been certified by the Asthma and Allergy Foundation of America (AAFA).
Click here to see its current price.
9. Bissell Symphony Pet Steam Mop and Steam Vacuum Cleaner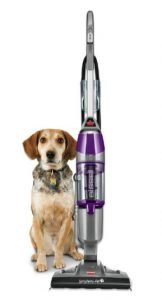 A vacuum-mop combo is also a terrific gift to buy someone. Only a few exist, but we feel that the Bissell Symphony is better than most.
Please bear in mind that since it is a vacuum and steam mop, it is not the best pick for someone who has carpet flooring. However, it is perfect for hardwood, marble, linoleum, granite, and ceramic floors.
It is also very light and the design is attractive. Therefore, it would add to the aesthetics of your loved one's house this Christmas.
Click here to see its current price.
Verdict
This list is by no means exhaustive, but we feel that these are some of the best vacuums to buy as Christmas gifts for your loved ones. If the one you want to wow this Christmas already has a vacuum, you can buy a handheld vacuum to complement the existing one.
Otherwise, any of the remaining eight options will be a worthy present. The one vacuum that fits the bill in terms of attractiveness, latest technology, and hands-free cleaning is the iRobot Roomba s9+. Not only does it have smart features, but it also empties itself into a Clean Base that can collect up to 60 days' worth of dirt.
In summary, these are the Christmas gift ideas for friends and family who love vacuum cleaners:
iRobot Roomba s9+ (9550) Robot Vacuum
ILIFE V3s Pro Robot Vacuum Cleaner
Dyson V11 Torque Drive Cordless Vacuum Cleaner
Eureka Flash Lightweight Stick Vacuum Cleaner NES510
BISSELL Pet Hair Eraser Lithium Ion Cordless Hand Vacuum
Miele Classic C1 Turbo Team Canister Vacuum Cleaner
Shark Vertex AZ2002 DuoClean PowerFins Upright Vacuum
Dyson Ball Animal 2 Upright Vacuum Cleaner
Bissell Symphony Pet Steam Mop and Steam Vacuum Cleaner