When looking for a good vacuum for your home, the big names always come to mind. But there are some hidden gems in the market that present great value for money. And one of them is the ONSON. In this ONSON cordless stick vacuum review, you'll get to understand this little champion in depth.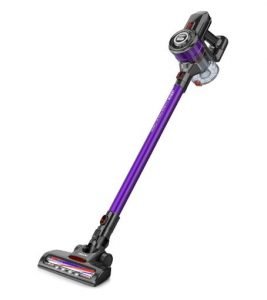 First things first – it is a cordless vacuum. So, if you are a fan of corded stick vacuums, you may need to look elsewhere. However, if you are in search of a budget cordless stick vacuum that offers great suction found in high-end models, this is a good option.
Features of the ONSON Cordless Stick Vacuum
In this section, we narrow down on the best features of the ONSON stick vacuum. This way you will be able to know what to expect in terms of the design, quality, capacity as well as performance.
A simplified overview should help you to make up your mind on whether to go for it or not. So, let's jump straight into it!
1. Powerful suction
The sole purpose of your pursuit of a good vacuum is to clean efficiently and quickly. But without good suction, a vacuum may prove to be a total waste of time. Luckily, ONSON stick vacuums tend to live up to expectations in this regard.
The stick vacuum uses a powerful, 250-Watt-rated motor to generate enough force to pick up even the most stubborn dirt. The suction generated measures up to 20 kPa, which most stick vacuums struggle to reach.
The suction is also adjustable.  Therefore, you conveniently can pay more attention to the high traffic areas without necessarily having to go over them several times.
2. Lightweight
One reason you are reading this is that you don't want to go near the heavy uprights and canister vacuums. Stick vacuums are generally lighter and easier to use. They also offer storage due to their small size and the availability of mounting brackets.
You won't believe this! Weighing just 3.08 pounds, the ONSON stick vacuum is half the weight of the Dyson V11. In fact, it is lighter than most common stick vacuums on the market. So, cleaning or carrying it for storage is a piece of cake – even for petite people.
You can either store in at a corner somewhere, or use the easy-to-install wall mount provided. Of course, I'd go for the wall mount.
3. 2-in-1 functionality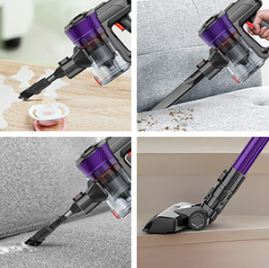 Instead of buying a hand vac separately, most people go for a 2-in-1 cleaner. A vacuum that can be easily converted into a handheld vacuum helps to easily clean above the floor. So, cleaning stairs, drapes, curtains, upholstery, shelves, window sills, and so on becomes a walk in the park.
4. Attachments
What's a vacuum without attachments? Well, it becomes just a basic floor cleaning tool. But cleaning is not about the floor only. Other above-ground areas also need attention as highlighted above.
These attachments make it easier to quickly pick up dust and dirt from furniture, stairs and so on. In addition to the handheld mode, you get a dusting brush and a crevice tool to make your work easier. They could have added a few more tools, but that still better than none.
5. Runtime
Cordless vacuums run on batteries. Different manufacturers use different battery types/brands. The capacity, as well as the number of batteries, also varies. Further, the battery may be removable for exchange and/or charging.
Other vacuums use inbuilt batteries. For example, the ONSON cordless stick vacuum uses one built-in lithium-ion battery for power. It takes between 4 to 5 hours to charge fully; from which you should get 20 to 40 minutes runtime.
The problem with cordless vacuums, however, is that the run time is dependent on how much suction you generate. For example, if you are cleaning carpets, you may have to switch to Max mode. So, the vacuum will only last for a few minutes and may not reach the expected maximum runtime.
Therefore, the ONSON stick vacuum is ideal if you have a small to medium-size apartment or if the house is not fully carpeted. Otherwise, you may have to recharge it before completing the task.
6. Ease of use
Apart from being powerful, the vacuum offers convenient cleaning. First, it is very easy to maneuver because you can steer the floor head up to 180 degrees. Then, it has LED headlights to help illuminate dark areas so that no dust, dirt or debris remains.
7. Two floor heads
Versatility is another selling point for the ONSON cordless vacuum. More often than not, homes have a combination of bare floors and carpets. With this in mind, ONSON provides 2 brush heads with each unit – one for carpets and the other for hard floors (tiles, hardwood, etc.).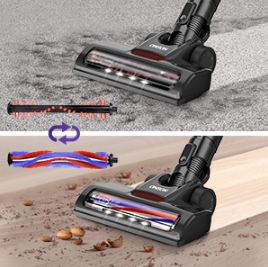 The only downside of this is having to interchange between the two whenever the need arises.
ONSON Cordless Stick Vacuum Review: Features summary
Below is an overview of the features and specifications that you can expect:
Type: stick, bagless
Cordless
2V lithium-ion battery (inbuilt)
Motor: 250 Watts
Max suction: 20 kPa (adjustable)
Weighs 3.08 lbs.
Washable filter
Mounting bracket
Headlights
Power supply: 100-240 Volts
Battery level indicator
Pros & Cons of the ONSON Cordless Stick Vacuum
Well, like every other vacuum, there are advantages and disadvantages to owning the ONSON. Let's take a look …
Pros
Ultra-light
Strong, adjustable suction
Easy to maneuver
Converts to a hand vacuum quickly
Easy to empty and clean
It's quite affordable
Convenient storage
Has attachments
Attractive design
It's easy to monitor the charge left
Great with pet hair
Multi-floor cleaning
You don't have to keep your finger on the trigger as you vacuum
Click here to see its current price.
Cons
Could use a one or two more attachments
Expect the battery to run out fast as is the case with most cordless vacuums
Verdict: Should you buy the ONSON Cordless Stick Vacuum?
The simple answer is yes. And this is simply because the vacuum's pros outweigh the cons by far. Apart from being quite powerful, it is light and easy to use. Also, its price is quite attractive for a 2-in-1 stick/handheld vacuum.
However, because it uses a battery, it has a limitation that is non-existent in corded vacuums. With this, you are limited by the battery. So, it may not be the best option if you have a big house or if you need to vacuum a lot of dirt – especially on carpets.