When you have a bad back, even the thought of vacuuming can trigger pain. What happens then? You need a back-friendly vacuum. But what's the best vacuum for a bad back?
A good vacuum for bad back needs to be light, easy to maneuver, and store. If your budget allows, the best alternative would be a hands-free vacuum. If not, several vacuums, in the market can save your day – especially stick vacs.
In this review, we feature 6 of the best vacuums that are great for people with a bad back. Skim through their features, pros, and cons to see which one suits you best.
Best Vacuum for Bad Back 2023 – Comparison Table
There are many options out there, but the following six are the best of the bunch:
Reviews of the Best Vacuums for Bad Back 2023
As mentioned above, the best option is a robot. However, if you still prefer conventional vacuums, we have found some good stick vacuums for you. One suitable upright also makes the list. These are the best vacuums for bad back in 2023:
1. iRobot Roomba 960 Robot Vacuum – Best Vacuum for Bad Back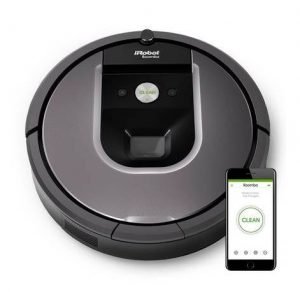 A robot vacuum is the best option if you have the occasional back pain. In fact, there are robot vacuums that also empty themselves, such as the Roomba S9+. However, we chose the Roomba 960 for its efficiency as well as affordability.
iRobot Roomba 960 robot vacuum is a combination of multiple technologies. For example, the Dirt Detect technology helps the robot sense the dirty areas and clean them up. The smart navigation technology enables the Roomba 960 to navigate the whole house, each room at a time.
Apart from that, iAdapt 2.0 Navigation with VSLAM technology enables the Roomba 960 to map it's surrounding and save that to memory for continuous cleaning. Its amazing sensors also prevent the vacuum from running into obstacles and tumbling downstairs and other cliffs.
Roomba 960's multiple surface rubber brushes coupled with powerful suction deliver premium cleaning efficient dirt and debris pickup. Also, its filters enable it to capture over 99% of allergens leaving the air fresh and allergen-free.
Lastly, the iRobot Roomba 960 is WiFi-enabled. So, you can use Google Assistant or Alexa to give instructions to the bot. That is in addition to the reliable iRobot Home app.
Features
Type: robot vacuum, bagless
Weight: 8.6 pounds
Over 99% allergen capturing with HEPA filtration
Multiple cleaning brushes
Imprint technology – enables the robot to clean sequentially
5X air cleaning power
Wi-Fi compatible: uses iRobot home app, Alexa and Google Assistant to navigate
Maps the rooms using iAdapt 2.0 Navigation
Pros
Time and energy saving with hands-free control
Efficient HEPA filtration – picks allergens efficiently
Excellent cleaning using multiple brushes
Multiple surface cleaner
Cleaning head auto-height adjusts to clean various surfaces
Maps rooms and saves data for continuous cleaning
Intelligently docks after cleaning
Automatically recharges and resumes cleaning
Cons
A bit pricey
Occasionally stalls if it bumps into furniture
Click here to see its current price.
2. Shark ION F80 Lightweight Cordless Stick Vacuum (IF281)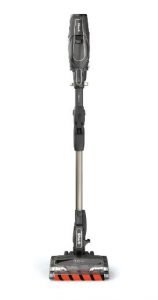 If you like a hands-on approach or you need to take care of above-floor areas such as stairs and upholstery, go for a stick vacuum. And this lightweight Shark stick vacuum is one the best stick vacuums for a bad back. It will make you want to clean more often than you care to.
Shark ION F80 MultiFLEX flex 'fold' feature does the bending for you so you don't have to strain reaching under furniture. Also, the vacuum's head is relatively small thus fits in small spaces and penetrates small areas easily. So, you don't have to move furniture when vacuuming.
Being a cordless vacuum, maneuverability is much better so you get to finish your cleaning faster. Besides, you can transform it into a handheld vacuum in a snap. This plus the extended wand helps you to reach the ceiling, drapes, and other above-floor areas quicker and easier. The Turbo Boost feature also helps to deep clean and remove stubborn dirt.
Shark ION F80 MultiFLEX has great suction especially on hard floors, picking up all debris effectively for a maximum of 80 minutes. You can either have both batteries fully charged before you start cleaning or charge one then start cleaning as you charge the alternate battery.
Features Summary
Type: stick/handheld, bagless
Weight: 8.51 pounds
Cordless
80 minutes of cleaning time on regular power mode
Slim vacuum head
MultiFlex technology – enables you to reach under furniture effortlessly
Best for hard floors – cleans carpets as well but consumes batteries faster
DuoClean technology
Dirt capacity: 0.3 quarts
Foldable for compact storage
Pros
You enjoy minimized bending because of the MultiFlex feature
Converts easily to handheld to enable above-floor cleaning
Lightweight – easy maneuverability in the absence of a power cord
A slim head that fits easily under and around furniture
Up to 80 minutes of non-stop cleaning while both batteries are fully charged
Great suction
Cleans all floor types exemplary well (use turbo boost for carpets)
Compact storage
Thorough at picking debris
 Cons
Strains to clean fully carpeted houses
Topples if left standing – but the MultiFlex feature allows you to fold it for storage
Click here to see its current price.
3. Dyson V11 Animal Cordless Vacuum Cleaner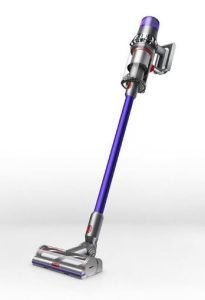 The Dyson V Series stick vacuums have been a game-changer. They are not only powerful but also deliver top-notch efficiency. So, if you need an alternative to the SharkION F80, this is it.
The Dyson V11 Animal makes cleaning much easier with its high Torque cleaner head, as you transition from one floor to another. The dynamic load sensor system automatically switches the motor speeds to fit the new floor.
Also, it offers versatility cleaning using the mini-motorized tool, the hard brush for stubborn dirt, the combination tool, and the crevice tool. You can also switch to handheld mode for quick clean-ups and above-floor vacuuming.
Further, Dyson V11's filtration is also near perfect at a 99.97% efficiency rate. The battery runs for up to 60 minutes consistently thus you can enjoy un-interrupted cleaning. However, this time varies depending on the power mode and also the attachments in use.
Dyson V11 Animal has a relatively long wand and a slim-sized head which makes it move easily between and around furniture. It is designed to quickly deep clean and transition between floors so that your back doesn't hurt.
Lastly, the conveniently placed dirt ejector also makes it easy and hygienic to empty.
Features Summary
Type: stick/handheld, bagless
Weight: 6.68 pounds
Cordless
Up to 60 minutes of cleaning time depending on power mode
Torque cleaner head – automatically adjusts motor speeds as you change floors
Suitable for all types of floors
Mini-motorized tool for getting rid of stuck hair and particles
Hygienic dirt ejector
Acoustically designed to minimize noise
Pros
Lightweight – you won't strain when vacuuming
Easily switches to handheld mode for above-floor cleaning
Slim floor head enables you to clean conveniently under furniture
Up to 60 minutes of non-stop cleaning while the battery is fully charged
Commendable suction
Hygienic emptying with the dirt ejector
Cleans all flooring types
Convenient docking station – for both storage and charging
Considerably quiet
 Cons
It is a bit pricey
No off/on button – you must press on the trigger as you vacuum
Click here to see its current price.
4. Tineco Pure ONE S12 Cordless Stick Vacuum Cleaner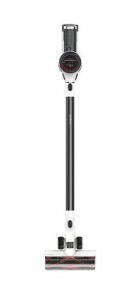 Another great stick vac option is the Tineco Pure ONE S12. It is not only light but it is powerful enough to get the job done quickly.
This stick vacuum is designed with two complimenting brushes. The first one is a hard-drive brush that aggressively deep cleans and gets rid of embedded debris. You also get a softer brush that helps you to effortlessly clean your hard floors. The iLoop sensor helps to detect hidden dirt and auto-adjust suction power that helps you to thoroughly pick dirt and debris.
Using two 2500mAh lithium-ion detachable batteries, the Tineco Pure ONE S12 offers up to 100 minutes of consistent power cleaning. It does this at a controlled noise level of 71 dB. Meanwhile, you have an all-in-one display of the cleaning status on the LED screen.
Another unique feature the Tineco Pure ONE S12 offers is a special rinse-free filter cleaning tool so that you have uninterrupted cleaning. Additionally, you have upgraded accessories to boost your cleaning plus a Tineco app to enable you to monitor performance in real-time.
Using the app, you can keep track of your cleaning schedules, get reminders, troubleshoot, and access support when you have issues. Given the many likable features, it deserves a spot in any best vacuum for back pain list.
Features Summary
Type: stick/handheld, bagless
Weight: 6.6 pounds
Cordless
Two 2500mAh batteries
Up to 100 minutes runtime
Strong suction – 150W
2 cleaning brushes: a hard drive brush and a soft brush
iLoop sensor – senses hidden dirt
LED display to help you monitor your cleaning routines
Noise level of 71 dB
Pros
Thorough removal of embedded dirt using the hard-drive brush
Smart suction – excellent debris pick up with iLoop dirt sensor
Allows you to monitor cleaning on the app and the LED display
Lightweight – easy to maneuver
The wall mount offers safe storage and charging dock
Sufficient cleaning time – up to 100 minutes
Fit for all floor types and above the floor cleaning
Convenient docking station – for both storage and charging
Not too loud
 Cons
The upgraded accessories may feel complicated at first – they are great to use once you get used to them.
Click here to see its current price.
5. Eureka NES210 Blaze 3-in-1 Swivel Lightweight Stick Vacuum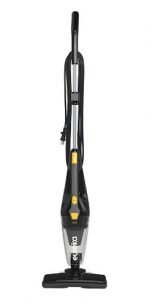 If you are looking for a stick vacuum but don't want the limitation of batteries, this is the right option. While looking for a corded stick vacuum for a bad back, we settled on the Eureka NES210 Blaze 3-in-1. It is not only light and powerful but also quite affordable.
Weighing less than 4 pounds, cleaning with the Eureka NES210 Blaze is almost therapeutic. Your back will also have a smooth experience with its swivel steering. Reaching under the furniture and far corners becomes easy with this vacuum.
It easily transitions between hand vacuum and stick vacuum to help you clean hard-to-reach areas. The crevice tool also adds to its versatility so that corners, stairs, and crevices are cleaned thoroughly. Also, the vacuum's nozzle is epic at debris pick-up whether on hard floors or carpets.
Lastly, its 18-foot power cord makes cleaning large rooms easy since you only need to plug once.
Features
Type: stick/handheld, bagless
Weight: 3.97 pounds
Cleaning path: 9.44 inches
Dust cup: 0.55 liters
18-foot power cord
Motor: 240W, 2 Amps
3-in-1 tool – also has a crevice tool
Pros
Lightweight
Fairly priced
Compact storage
Powerful suction
Converts into a hand vacuum easily
The nozzle offers great suction for pet hair, dust, food particles, and other allergens
It's a multi-surface cleaner: hard floors, low pile carpets, and area rugs
Easy to maneuver – has swivel steering technology
Cons
Does not have a motorized brush
The power cord is not sufficient for large rooms
Click here to see its current price.
6. Oreck XL2100RHS Commercial Upright Vacuum Cleaner XL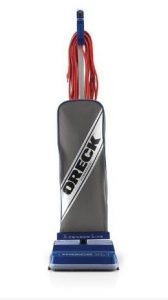 While robots and sticks may be the best for someone with back problems, the convenience of an upright bagged vacuum may be hard to resist. However, finding the best upright vacuum for a bad back is quite tasking.
But the good news is that we have found a perfect fit – the Oreck XL2100RHS Commercial Upright Vacuum Cleaner XL.
The powerful Oreck XL2100RHS uses micro-sweep technology to offer automatic floor adjustment. So, transitioning smoothly between carpets and bare floors will not be an issue. Its 35-foot power cord also offers absolute ease while cleaning large rooms. You can clean the whole house with a single plug.
Also, the Oreck XL2100RHS is a multi-surface cleaner operated using simple finger controls. It has a wide cleaning path and uses a high-speed roller brush and side edge brushes to clean your floors thoroughly.
While it is labeled as a commercial vacuum, it makes for a great home cleaning companion especially for someone struggling with back pain.
Features
Type: upright, bagged
Weight: 8.2 pounds
Power cord length: 35 feet
Cleaning path: 12 inches
Non-marring bumpers to shield your walls from damage
Side-edge brushes for cleaning edges and corners
Suitable for home and commercial purposes
Pros
Quite light for an upright
Powerful suction
Inexpensive
Excellent filtration
Has a specially made (comfortable to use) handle
Good for low-pile carpets and hard floors
Cleans large rooms with a single plug
It has a cord guard – protects the cord from getting damaged
Maintains high-power even as the bag fills
Compact storage
Cons
Emptying and replacing bags can be tedious and expensive
Click here to see its current price.
Hopefully, you have found an ideal vacuum for your home. Let's now check out the common causes of back pain and how you can manage it.
Sources/causes of back pain and possible remedies
Back pains are a common challenge for many people. Their causes range from medical issues, extreme activities like sports, or strains from daily activities. Of course, getting the best vacuum for back problems is a huge plus.
Strain
This refers to an overstretched muscle or tendon. It can be caused by extreme sporting, carrying heavy objects, or falling. To speed up recovery, you need to rest as much as possible. However, if the pain is extreme, you can also place a cloth with ice for 10-15 minutes. Pain-relieving medicine can also help to reduce pain. If this doesn't work in a few days, you need to see a doctor.
Disk hernia
This is when the cushioning disk between the vertebrae slips from its place and exerts pressure on nearby nerves resulting in a burning sensation and pain. This could be caused by improper twisting, heavy lifting, falling, long drives, smoking, or being overweight. It can be treated through exercising, physical therapy, epidural steroid injections, or surgery in severe cases.
Medical cases
Some medical conditions such as arthritis cause back problems. These necessitate medical observation and treatment. The doctor can prescribe medication, therapy, or surgery where necessary.
Regardless of the cause of pain, if it persists, have a medical checkup done. The earlier an issue is diagnosed the better. In the meantime, rest more and avoid straining.
Conclusion
If your back already hurts, even minimal vacuuming will be irritating. In this view, our top pick for the best vacuum for a bad back is iRobot Roomba 960 Robot Vacuum. The ease of control using your voice or an app, its efficiency in capturing allergens and deep clean are impressive. You also save a lot of time and energy.
As a recap, these are the best vacuums for bad backs in 2023:
iRobot Roomba 960 Robot Vacuum
Shark ION F80 Lightweight Cordless Stick Vacuum (IF281)
Dyson V11 Animal Cordless Vacuum Cleaner
Tineco Pure ONE S12 Cordless Stick Vacuum Cleaner
Eureka NES210 Blaze 3-in-1 Swivel Lightweight Stick Vacuum
Oreck XL2100RHS Commercial Upright Vacuum Cleaner XL