Roborock E25 vs E35 (Xiaowa E2 vs E3) – which one should you buy? Well, today, we explore the two robots in-depth to help you make an informed decision.
Just like the Roborock S Series robot vacuums, the E Series is taking the industry by storm. Roborock has taken a keen interest in the growing robot vacuum market and is producing some of the best options at an affordable price.
Kindly note that the two robots also bear the name "Xiaowa". The E25 and E35 are the black Roborock Xiaowa E2 and E3 respectively. The white alternatives are called E20 and E30 respectively. Confusing? We think so, but with time, you'll surely grasp the labeling.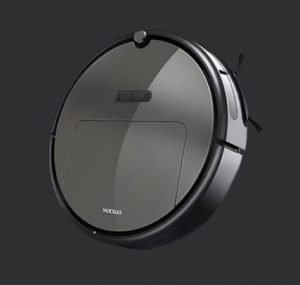 So, feature-wise, this article is, in fact, a comparison of the Roborock Xiaowa E2 vs E3. Or Roborock E20 vs E30. However, since most people prefer black robot vacuums, we have chosen to present this comparison as E25 vs E35.
Since the E35 (Xiaowa E3) is the newer model, expect that it will outdo its predecessor in some aspects. However, the upgrades may not be so much of a big deal to put you off the E25 (Xiaowa E2) – especially since you get to save a few coins by choosing an older model.
Take your time to go through all the features and take note of the similarities as well as improvements on the newer robot. This way, you'll get to make a wise decision.
Roborock E25 vs E35 (Xiaowa E2 vs E3) – Differences & Similarities
In this section, we list all the features that both robot vacuums have. Also, we'll indicate whether the feature is available in both vacuums or any improvement that comes with the E35. Before we go into the details, we need to clarify something.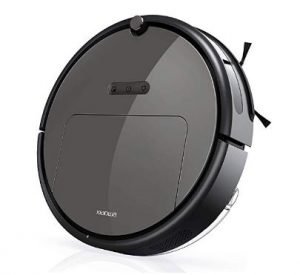 You can also head straight to our comparison table where we break down the similarities and differences in summary.
1. Cleaning system
Both the E25 and E35 robot vacuums intelligently map out and clean your rooms. This is made possible by a dual-gyro system in conjunction with 13 dual-optical motion tracking sensors (electric eye tracking). This way, they can map out the rooms and clean more efficiently.
There are different cleaning modes that you can choose from depending on the kind of dirt at hand, or the flooring type. These are Quiet, Mopping, Carpet, Balanced, Turbo, and Max modes.
2. Battery capacity & runtime
How long can the robot vacuum clean non-stop? This is a major question posed by potential buyers all over the world. And the longer the vacuum can last, the more it will attract clients. With this in mind, Roborock has significantly improved this feature in the E35 model.
While the E25 has a 2600mAh battery that can last for up to 100 minutes, the E35 has a 5200mAh battery. On lower settings, the Roborock E35 can clean for up to 150 minutes. Impressive, right? However, do not expect the vacuum to give you maximum runtime on Carpet, Turbo or Max mode.
3. Suction
A vacuum without suction can be the most annoying thing. It shouldn't even be called a vacuum in the first place. Both the E25 and E35 are equipped with powerful motors. So, picking up dirt, dust, and pet hair is a walk in the park.
However, at 57 Watts, the E35 is slightly more powerful than the E25 which produces 54 Watts of power. Overall, the E35 generates a suction of 2000Pa which is higher than the 1800Pa produced by the E25.
4. Dealing with obstacles
Another important consideration when shopping for a robot vacuum is how it handles obstacles. Luckily, the two robots can easily climb over items as high as 0.8 inches. This is made possible by possession of large wheels.
Also, while cleaning, the robot can sense obstacles and slow down such as pets, children, or furniture. This helps to avoid any damage or injury (feature available in both the E25 and E35).
5. Mopping capability
This is a very good feature that is not common in other brands. However, Roborock has been able to strike a balance between vacuuming and mopping. The two robots have a water tank that comes in handy when you switch to Mopping mode.
Also, the water tank is made in such a way that it only allows water to pour once the cloth is dry. So, the robot vacuum won't leave puddles of water behind as it glides along your bare floors.
6. Spot cleaning
Is there a specific spot in your house that is dirtier than the rest? Most high-traffic areas require more attention, and Roborock has this in mind. Both vacuums have the spot-cleaning feature that concentrates on leaving a 1.2-meter diameter area spotless.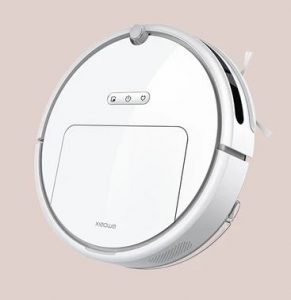 To engage spot cleaning, you can either use the "Spot Clean" button or the Mi Home app. On the app, simply tap on "Spot Clean".
7. Recharge & resume
Sometimes the room is big or there's a lot of dirt. In this case, the vacuum may not be able to finish cleaning on a single charge. However, this is not a major issue. Both options can sense low battery levels and return to the docking station for a quick recharge.
Then, the robot automatically gets back to work, until the task is complete.
8. Tangle free
One pain point for vacuum owners, whether robot or upright, is dealing with hair. While most vacuums get tangled, the E25 and E35 robot vacuums don't. The wheels and the brushes prevent hair-wrap. So, you get to avoid unnecessary maintenance issues and stops during cleaning.
On the rare occasion that the wheels or brushes get tangled, there is an accessory that you can use to cut the hair.
9. Filtration
The two robot vacuums boast of excellent filtration. While the E11 air filter is not HEPA-standard, it captures up to 99.2 percent of pollutants such as dust. This is not so bad considering that it is only a few decimal points less that HEPA filtration (about 99.97 percent).
Also, the filter is washable. Therefore, maintenance costs reduce drastically because you only need to buy replacement occasionally.
10. Carpet boost
Carpets always harbor all manner of dirt, deeply embedded within the fibers. So, normal suction just won't cut it. Roborock has been able to find a way to clean a house that has both bare and carpet floors effectively.
As soon as the robot touches a carpet, the suction is automatically increased. Then, the suction automatically returns to normal upon transition to the hard flooring.
Roborock E35 vs E25 (Xiaowa E3 vs E2) – Comparison Table
Below, we present a simplified summary of the features of the two robot vacuums. So, you can quickly see the improvements that come with the E3 (E35).
| | Roborock Xiaowa E2 (E20 or E30) | Roborock Xiaowa E3 (E25 or E35) |
| --- | --- | --- |
| Navigation | Inertial | Inertial |
| Dual electronic compasses | Yes | Yes |
| Battery capacity | 2600mAh | 5200mAh |
| Runtime | 100 min. | 150 min. |
| Power Rating | 54W | 57W |
| Max suction | 1800Pa | 2000Pa |
| Ideal floor size (sq. m.) | 120-150 | 120-200 |
| Climbing height | 0.8 inches | 0.8 inches |
| Dirt capacity | 640 ml | 640 ml |
| No. of sensors | 13 | 13 |
| Cleaning modes | 6 | 6 |
| Noise level (balanced mode) | 62 dB | 62 dB |
| Real-time robot location | Yes | Yes |
| Carpet boost | Yes | Yes |
| App & voice control | Yes | Yes |
| Mopping | Yes | Yes |
| Recharge and resume | Yes | Yes |
| Wi-fi connectivity | Yes | Yes |
| Washable filter | Yes | Yes |
Roborock E35 vs E25: which one to buy?
Evidently, Roborock E35 is a bit more superior. It has more powerful suction and has a high-capacity, longer-lasting battery. Besides, it is ideal for larger rooms (up to 200 square meters) while the E25 is recommended for rooms measuring up to 150 square meters.
Other than that, the E25 has all the features found in the E35 – after all, the E35 is just an upgrade. So, if you don't have a lot of dirt to deal with, the E25 can be a good buy. However, we do recommend the Roborock E35 because it has better features and overall performance. Also, the price difference is negligible.
However, if you need to save a few bucks for another appliance, you can still go for the Roborock E25.