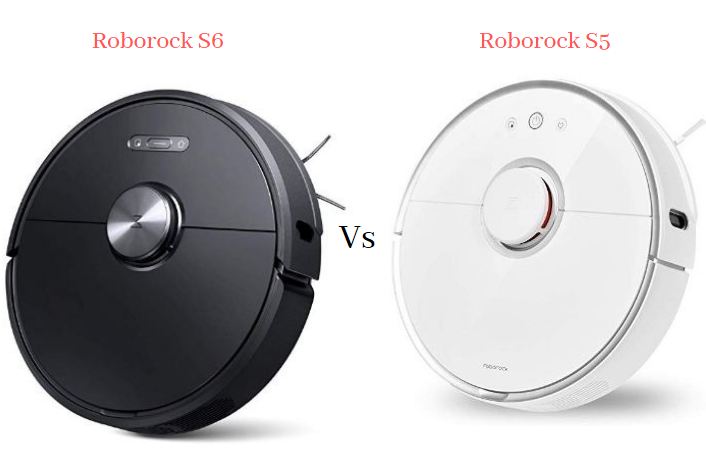 One of the most vibrant players in the robot vacuum market is Roborock. And the company's flagship robot vacuums are giving market leaders a run for their money. In this article, we compare the Roborock S6 and S5 robot vacuums in depth.
What is the difference between the Roborock S6 and S5? Today's quick comparison of the Roborock S6 and S5 will demystify this question so that you can make an informed decision.
The Roborock S6 is the newer model. So, expect that it will naturally have slightly better features. At the end of it all, you should be able to discern what you can get from each. We will look at one feature at a time and point out any similarity or difference.
Roborock S5 vs S6 – Differences & Similarities
The best way to compare these two vacuums is by looking at them side by side in regards to their features. Later on, the similarities and differences will be presented in a summarized table format.
1. Navigation and mapping
Well, anyone looking to buy a robot vacuum is looking for hands-free cleaning. It would be very disappointing to have to intervene every so often. On the contrary, you expect the robot vacuum to take up instructions and get the job done.
Luckily, the Xiaomi affiliated Roborock robot vacuums do exactly what they are supposed to do thanks to a robust navigation system. The navigation system is dubbed "LDS Smart Navigation" where a range of laser sensors map out the entire room.
This is possible because of SLAM technology that helps to generate a real-time map. Also, once the robot cleans, it can save routes, apartment layout as well as the cleaning maps.
While there is no noticeable difference in the movement, the Roborock S6 robot has a total of 14 sensors compared to 13 sensors in the S5. Also, these sensors help to avoid drops off any cliffs or stairs in the room.
Lastly, when it comes to issuing cleaning instructions, you can either use the app or voice control – Alexa comes in handy here.
2. Selective room cleaning
Another difference between the two robot vacuums is selective room cleaning. With the Roborock S6, you can select the specific room or rooms to be cleaned and let the robot do the work. You can even schedule the cleaning of a specific room or rooms to be done at different times.
However, this is not possible with the Roborock S5.
3. Climbing ability
Well, this is not a feature that you will find in many robotic vacuums. However, it is a trademark feature of Roborock robot vacuums. Both robots have large wheels that allow them to go over obstacles and continue cleaning. This is also ideal for homes with both carpets and hard floors.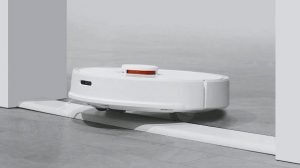 Both vacuums can climb obstacles that measure up to 0.8 inches (2 centimeters).
4. Carpet boost
Apart from climbing ability, the two Roborock robot vacuums have an additional feature that helps to clean carpets effectively. Using the app, you can switch to Carpet Mode to enjoy this 'carpet pressurization' feature.
This mode helps the vacuum to identify carpets and automatically switch to maximum suction. So, your carpet will be left spotlessly clean. Then, once the robot returns to the bare floor area, suction is automatically reduced to normal.
If there is a line of robot vacuums giving the Roombas a run for their money, it's the Roborock vacuums.
5. Battery life
One of the improvements you always expect with a new version of a robot vacuum line is the runtime. And Roborock has put this into consideration but slightly improving the cleaning-time of the Roborock S6. While both vacuums use a 5200mAh battery, the Roborock S6 lasts a bit longer.
The S5 runs for up to 150 minutes on bare floors when the suction is low (Quiet Mode). On the other hand, the Roborock S6 can last up to 180 minutes. However, keep in mind that this may be drastically reduced when dealing with tough messes and/or on Carpet, Turbo or Max Mode.
6. Suction
A robot vacuum with weak suction just won't cut it in today's competitive market. So, any robot vacuum manufacturer must ensure that their product can pick up dust and dirt without much struggle. With this in mind, the manufacturer has ensured that the Roborock vacuums (S4, S5, and S6) are very powerful.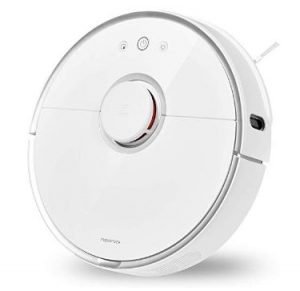 With both producing 2000Pa suction, you can be sure that no dirt will be left behind. However, for both vacuums, you can be sure that you'll be able to hear each other cleaning is going on. Both vacuums are relatively silent, especially on Quiet Mode.
7. Mop and vacuum combo
If you are looking for a robot that can vacuum as well as mop your bare floors, look no further. You can quickly transform either of the robots into a mop. Simply slide a damp cloth into the water tank and snap it into place on the robot's belly. Then, let your robot do the rest.
8. Recharge and resume
Another must-have feature for robot vacuums in the current market is the ability to recharge and continue working. Fortunately, both robot vacuums can sense low battery power. Once this happens, they automatically go back to the dock station for a refill.
Once at the charging station, the vacuum recharges up to 80% and carries on cleaning.
Roborock S6 vs S5 – Comparison Table
After a step-by-step review of the features of the Roborock line of robot vacuums, it's time for a summary. Below is an overview of the similarities and differences between the two Roborock robots:
| | Roborock S5 | Roborock S6 |
| --- | --- | --- |
| Navigation | Smart LDS | Smart LDS |
| No. of sensors | 13 | 14 |
| Apartment layout | Yes | Yes |
| Running route & map saving | Yes | Yes |
| Max suction | 2000Pa | 2000Pa |
| Battery capacity | 5200mAh | 5200mAh |
| Runtime | 150 min. | 180 min. |
| Climbing height | 0.8 inches | 0.8 inches |
| Selective room cleaning | No | Yes |
| Virtual no-go zone and barriers | Yes | Yes |
| Mopping | Yes | Yes |
| Washable filter | Yes | Yes |
| Recharge and resume | Yes | Yes |
| Dynamic brush | Yes | Yes |
| Cleaning modes | 6 | 6 |
| Carpet boost | Yes | Yes |
| Voice control | Yes | Yes |
Finally – Roborock S6 vs S5: which one to buy?
While there is no much improvement in terms of suction, the Roborock S6 beats its predecessor in a few areas. First, it can last up to 30 minutes more in Quiet Mode. Also, you can select specific rooms or a combination of rooms that you want to be swept or mopped.
Overall, Roborock S6 is a better option. It can compete well with market leaders such as the iRobot Roombas. However, it's more expensive compared to the S5. So, if you feel that the Roborock S6 is out of reach, the Roborock S5 is definitely a worthy Roomba alternative.