Which one is better between a cordless vacuum and a cordless vacuum? This is one of the many questions potential vacuum owners ask themselves. Today, we will delve deep into the cordless vs corded vacuum comparison.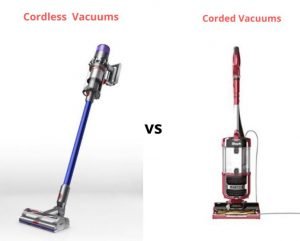 At the end of the article, you should be able to distinguish the two. Also, you will know the pros and cons of each, so that you can make a sensible decision.
What is a corded vacuum?
In simple terms, a corded vacuum is one that draws power from your home's power source. Your home may be powered by sustainable means such as solar or connected to the grid. Occasionally, you may use a generator. Corded vacuums come with a power cord that can be plugged into a power outlet.
A good example of corded vacuums is the Shark Navigator AZ1002 upright vacuum.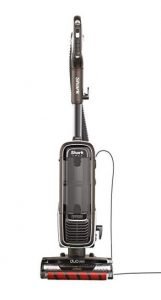 What is a cordless vacuum?
Instead of using power directly from the power outlet, cordless vacuums use batteries. Whereas different batteries are preferred by different manufacturers, the most common are the lithium-ion batteries.
The batteries can either be permanent or removable. Removable batteries make it easy to charge and replace in case of damage. The Dyson V11 stick vacuum is a great example of how cordless vacuums work.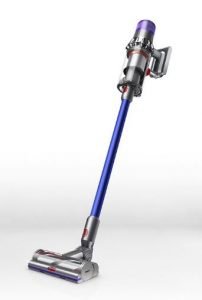 Cordless vs Corded Vacuums – the Pros & Cons
The best way to compare corded and cordless vacuums is to look at the advantages and disadvantages of each. Like any other item, both kinds of vacuums have pros and cons. It is by exploring them that you will know which is the lesser devil for you.
Pros and cons of corded vacuums
There are many things to like about corded vacuums. However, there are also a few things you may have to contend with if you decide to go this route.
Pros
Corded vacuum cleaners are generally known to have very strong suction power. This can be attributed to connection to the mains power plus the use of powerful motors. However, this is not the case for all units, since some cordless options can match their corded peers.
With a corded vacuum, you can clean for as long as you want. The fact that no batteries are involved, the only thing that can force you to stop is a power outage. Otherwise, you can vacuum till you're done.
Overall, corded vacuums tend to have more dirt capacity – well, if you're looking at uprights and canisters. However, there is no much difference in capacity when it comes to stick vacuums.
The price of corded vacuums is also comparatively low. While some cordless vacuums cost hundreds of dollars, it is very rare to find a very expensive corded vacuum.
Cons
While corded vacuums don't have restrictions on how long you can clean, the cord itself is a limitation. If you have a large room, you may have to keep pausing and transferring the plug to a different outlet. However, this can be overcome by using an extension cord or buying a vacuum with a long cord.
Corded vacuums are known to be generally heavier than cordless ones. So, if you are petite or have any issues with your joints, you may want to get a cordless vacuum. However, corded sticks and hand vacuums will tend to be as light as their counterparts.
When it comes to portability and storage, corded vacuums lose some points. Imagine having to wrap a 30-foot cord around the vacuum! However, some manufacturers have a solution for this – automatic cord rewind.
Pros and cons of cordless vacuums
New cordless vacuums are hitting the market every day, thanks to technological advancement around the world. As you will see in this section, there are many advantages. Of course, there are also a few things you may not like about cordless vacuums.
Pros
Cordless vacuums, in general, are lighter and more compact. Therefore, they are easier to maneuver when cleaning or moving from one spot to the other.
Being cordless, this type of vacuum will allow you the freedom to clean large rooms, go up and down the stairs as much as you like, or even go outdoors! So, cleaning areas such as car interiors becomes a walk in the park.
While corded vacuums may be quite strong, some cordless vacuums also produce powerful suction that helps to pick up even the toughest dirt. For example, Dyson and Shark cordless stick vacuums are quite effective.
Unlike corded vacuums, cordless ones are very easy to store. Apart from being compact, the absence of a cord makes the task way easier. Also, some cordless vacuums come with convenient wall-mounts.
Cons
Because cordless vacuums use batteries, the cleaning time will be limited. For most cordless vacuums, the longest you can vacuum is 60 minutes – and that is in the lowest setting. If you run the motor at the highest setting, only a few can last for 30 minutes.
When it comes to dirt capacity, cordless vacuums typically have less room. So, you may have to empty the bin more frequently – some times during a cleanup exercise if there's a lot of dirt.
Cordless vacuums tend to be more expensive than their corded counterparts. This can be credited to the use of the latest technology as well as growing demand. So, your favorite cordless vacuum may cost upwards of 500 bucks.
So, which one should you buy?
Finally, we need to come up with our verdict. Unfortunately, we cannot pick a side with a 100% conviction. So, you need to carefully look at the pros and cons of each – especially the cons. Which ones can you live with?
One would prefer corded vacuums for their unlimited cleaning time, affordability, large dirt capacity, and strong suction. However, you must contend with the bulky nature and weight, limited reach, as well as cumbersome storage.
On the other hand, cordless vacuums offer lightweight and compact handling, unlimited reach, convenient storage. Newer cordless vacuum models also tend to have strong suction. However, they have limited runtime as well as dirt capacity. Also, some models can be quite costly.
Therefore, as stated earlier, both options will certainly help you clean your home effectively. However, since the two types have advantages and disadvantages, ensure you pick the option whose drawbacks you can stomach.