Are you familiar with PUPPYOO? If not, welcome to the brand that associates cleaning with happiness and fun. In this PUPPYOO T10 Home cordless stick vacuum cleaner review, you're going to learn a lot.
PUPPYOO is an emerging international manufacturer whose brand has spread to over 86 countries. Only a few vacuum users have interacted with their powerful vacuums, but don't worry. We're about to unveil everything you need to know about the PUPPYOO T10 Home.
One unique thing about this growing international brand is that they have a touch of class. Looking at the PUPPYOO T10 Home vacuum is enough to prove this. They have a great line of robotic vacuums, canister vacuums, cordless vacuums, as well as stick vacuums.
And PUPPYOO T10 Home is one of their newest innovations. It is a high-power, sleek and versatile stick vacuum that is still (sort of) making a debut into our homes. Let's discover more about it in this review.
PUPPYOO T10 Home Stick Vacuum Review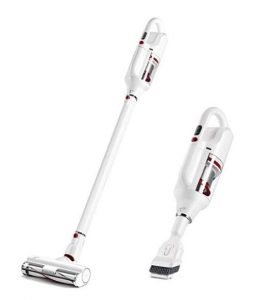 It's amazing how PUPPYOO T10 Home vacuum has so much value in such a small gadget. In this article, we will review its features, how it functions, and the accessories it comes with. Let's dive in.
Cordless – battery powered
The PUPPYOO T10 stick vacuum uses 7 Samsung 2500mAh Lithium batteries. Unlike most cordless stick vacuums, it only takes up to 2.5 hours to charge fully. This, in turn, offers around 45 minutes of standard cleaning time. However, the same charge may take much less time –about half the time to clean in Max Mode.
Also, PUPPYOO adds the intelligent BMS safety system so that you don't have to worry about the battery overcharging.
Suction
What's a great vacuum without a powerful suction to back it up? At 17500Pa, the PUPPYOO T10 Home stick vacuum does an incredible job. Most of us have the notion that if a gadget is inexpensive, it will underperform.
However, the incredible PUPPYOO T10 Home will prove you wrong on this.
Brushless motor
The PUPPYOO T10 Home stick vacuum adopts a high-powered 250W brushless motor. This unique vacuum offers high-speed exceptional cleaning without a brush. While we're used to powerful brushes but now we have a different technology offering the same or even better results.
Versatility
Owing to its weight and compact storage-ability, this PUPPYOO T10 Home stick vacuum is a handy tool when it comes to traveling. The vacuum also transforms from stick to handheld at a button-press.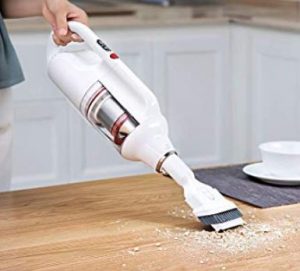 The accessories attach and detach conveniently as well, making reaching around furniture and under immovable items seamless. The extension wand helps to clean hard-to-reach areas like the ceiling, corners, and drapes.
Stunning design
Apart from being light-weight, the PUPPYOO T10 Home stick vacuum cleaner is skillfully designed. It has an exquisite look and is anti-wear resistant.
Contrary to most vacuums, this one isn't constructed with traditional PVC. Instead, the manufacturer uses high-level PC material. It's resistant to scratches so you can be sure it will look new for long.
Additionally, the vacuum's handle design makes it easy for everyone to use.
Multi-floor/surface cleaner
Finding a vacuum that can handle a variety of flooring installations is liking hitting the jackpot.
Luckily, this vacuum delivers great pick-up for an array of floors. It has great reviews for excellently cleaning carpets, hard floors, rugs, and above-floor surfaces. Owing to its weight, the PUPPYOO T10 Home stick vacuum makes a good companion for your car, stairs, crevices, ceiling, drapes, and furniture.
Filtration
The PUPPYOO T10Home Stick vacuum works perfectly for all – even those prone to allergies. It uses H12 HEPA filtration to separate dust and trap it in so that it doesn't escape back into the air.
HEPA filtration has been proven to achieve up to 99.97% efficiency in dealing with allergens. So, this vacuum clears your house's odors leaving the air smelling fresh and pollutant-free.
PUPPYOO T10 Home Stick Vacuum Review: Features & Specs
Here's is a summarized list of the features that make the PUPPYOO T10 Home vacuum a worthy choice:
Type: stick vacuum/handheld, bagless
Weight: 14.4 pounds
Dimensions: 29.2 X 14.2 X 7.5 (inches)
H12 HEPA Filtration
7 lithium batteries (2500mAh, Samsung brand)
Charge time: 2.5 hrs.
Max cleaning time: 45 minutes (15 minutes on Max Mode).
Suction: 17.5KPa (17500Pa)
Dust cup capacity: 600ml
250W Nidec brushless motor
Noise level: less than 75dB
Made of high-end PC material
Automatic LED light – senses when you near dark corners and lights up
Accessories include: a crevice tool, a 2-in-1 combination tool, an extension wand, and an EVA hose
Wall mount accessory – used for charging and storing the vacuum
PUPPYOO T10 Home Review: Pros and Cons
For the PUPPYOO T10 review to be complete, we need to mention the merits and demerits. Of course, every good thing must have a few drawbacks.
Pros
Lightweight – you won't tire when cleaning stairs or above the floor. This is good for the petite and seniors
It's sleek – made of non-abrasive, non-fading material
Great handle design – easy to use for all, small-handed or otherwise
Up to 45 minutes of uninterrupted cleaning time in Standard Mode
Cordless: you enjoy the convenience of moving around the house and up the stairs
Well priced compared to other cordless stick vacuums that offer the same quality
Much quieter in comparison to its peers
Compact and easy to store
It comes with user-friendly accessories that are easy to attach and detach
The wall-mount dock enables convenient charging and storage
Click here to see its current price.
Cons
Not fit for commercial use
Battery run-time may be limiting while cleaning large homes or in Max Mode
The dirt cup could be bigger
Two ways you can maintain the PUPPYOO T10 Home stick vacuum
This vacuum will only serve to its expected lifespan and potential if you carefully safeguard it. Luckily, this does not take a lot of effort. Here are 2 pointers to what you can do:
Empty the dirt can in good time
Working while the dirt can is full causes the vacuum to overwork as air struggles to spin through the debris. Therefore, this lowers its efficiency. It also makes the vacuum overheat, which could eventually cause damage.
So, ensure that you empty the bin before it hits the 1/3 mark. This way, the suction remains consistent, dirt pick up is thorough, and the vacuum is safe.
Clean and replace the filters as directed by the manufacturer
Filters vary – some need cleaning annually, some monthly, and others after every 2 weeks. Maintaining clean filters enables your vacuum to capture all pollutants leaving you in an allergen-free environment. Filters also require timely replacement when worn-out.
However, how often you change filters depends on how often you clean the house. The more often you use your vacuum, the more frequently you have to clean and/or replace the filters.
Conclusion
In a market flooded with top brands such as Sharks and Dysons, there are some hidden gems. And the PUPPYOO T10 Home stick vacuum remains a top-pick among these for its efficiency and affordability.
Its sleek design also leaves it a mark higher than its peers. Also, this vacuum offers versatility that is not common in most units. Here, you get both a stick vacuum and a hand vac. So, quick clean-ups of above-floor areas will no longer be a struggle.
So, should you buy the PUPPYOO T10 stick vacuum? Going by the features, design and its pricing, we recommend this vacuum as a good option for anyone looking for an all-round cordless stick vacuum.