Does the thought of vacuuming make you feel overwhelmed? If yes, it's time to invest in a good vacuum cleaner. Whether you are changing from a previous model or buying one for the first time, you need a vacuum now. Today, we look at the Shark APEX DuoClean Zero-M ZS362 Stick Vacuum Review.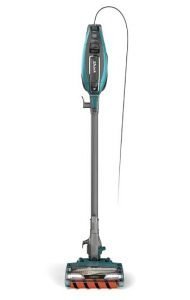 Vacuuming isn't supposed to be tedious, time-consuming and heart-wrenching. It's one of those chores that you should handle on the go. Manufacturers like Shark have made it possible for families all over the world to keep their homes neat and safe. By safe I mean free of germs and allergens, no greasy floors or stuffy air.
The Shark APEX DuoClean Zero-M ZS362 stick vacuum brings this safety to reality. Shark combines the latest technologies and their expertise to make this epic vacuum. It is, therefore, one of the best stick vacuums in the market today.
In this review, we explore the features that make Shark APEX DuoClean ZS362 with Zero-M a great vacuum. Additionally, we list its pros and cons plus our verdict.
Shark APEX DuoClean Zero-M ZS362 Stick Vacuum Review
In our Shark ZS362 review, you will end up understanding all there is to know about this stick vac. We start with its amazing features.
Advanced swivel steering and powerful suction
Swivel steering helps you experience smooth movement from one surface to the other. Cleaning around furniture also becomes easy. You also don't need to struggle to reach under immovable furniture. Swivel steering reduces your cleaning time and minimizes fatigue as well.
Besides steering, Shark APEX DuoClean Zero-M ZS362 most popular feature is its suction. It has superb ability to pick up all debris – from the largest to the tiniest ones. The vacuum's suction also remains consistent regardless of the surface being cleaned.
Zero-M technology
It's hard to make progress when the vacuum keeps tangling; you will need to stop each time and free the brush by cutting out tangled hair. Thanks to Shark's innovation, however, you no longer need to use your hands or scissors.
Zero-M feature ensures back to back hair removal as you continue cleaning. So, no more stopping mid-way to clear hair from the brush.
DuoClean technology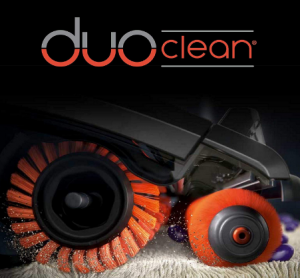 The vacuum has a soft brush that takes in the smaller debris and the larger tough brush to remove embedded dirt and capture any stubborn debris. This technology enhances carpet deep cleaning and thorough hard floor engaging. Dust, small and large particles are cleared at a go using the dual particle cleaning system.
Filtration
Unlike other models, the Shark APEX ZS362 DuoClean with Zero-M has no HEPA filter. Although Shark did not include this feature, the vacuum still serves superbly.
Power supply: corded
The Shark APEX DuoClean with Zero-M (ZS362) is a corded stick vacuum armed with a 30-foot cord. Though cords tend to tangle, 30 feet is a relatively good length for any room size. You can actually clean from a single socket for most homes.
Multi-Surface Cleaner
Shark APEX DuoClean Zero-M ZS362 uses its bristle brush to scrub and clean carpets in-depth, thereby removing stuck-on dirt. Its soft brush also cleans wooden floors thoroughly without scathing them.
Actually, the vacuum has been tested on vinyl floors, cement floors, and tile floors. And it has engaged them thoroughly leaving a polished look every time.
Pet hair pick-up
We do love our pets but we are also aware that they contribute to almost half the dirt in our houses.
Having a vacuum that effectively picks all that fur from the carpet, furniture, in the car, and all over our bedrooms is a huge plus. The Shark ZS362 offers ultra-powerful pick up for pet hair anywhere you clean.
Versatility
Most families use a single vacuum cleaner to tackle all the cleaning tasks around the home. You want a vacuum that cleans the car and tackles above floor cleaning like the drapes, curtains, ceiling, stairs, furniture, and more. Luckily, the Shark APEX ZS362 will do that and much more.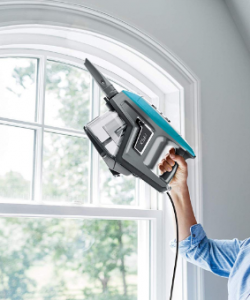 As you switch between handheld and stick mode, you will manage to maneuver everywhere without getting awfully tired. The handheld mode also enhances portability. You can also add extensions like the wand while cleaning far-to-reach areas.
LED headlights
Shark made sure you have no reason to leave any dirt behind. For all the dark corners or night cleaning, the LED lights illuminate and expose any hidden dirt. The lights are fixed both on the floor nozzle and on the hand vac.
Therefore, regardless of the mode you are using, these lights will reveal all concealed debris.
Shark APEX DuoClean Zero-M ZS362 Features & Specs Summary
In this section, we briefly take a look at the features and specifications of this efficient corded stick vacuum. This is what to expect from the Shark APEX DuoClean ZS362 with Zero-M:
Type: stick/handheld, bagless
Weight: 10 pounds
DuoClean technology
Zero-M self-cleaning technology
Dimensions: 10.2 L X 9.8 W x 46.4 H (inches)
Filtration: washable foam and felt filters
600 Watts, 5 Amps
Power cord: 30 foot
Cleaning path: 8.5 Inches
Handheld and floor nozzle LED lights
Dirt cup capacity: 0.74 quarts
Shark APEX DuoClean Zero-M ZS362 Pros and Cons
Pros
Lightweight and versatile
Powerful suction and smooth swivel steering
Efficiently switches between stick and handheld mode
Ably cleans multiple floors and excels at pet hair pick up
The removable dirt cup is easy to empty and clean
Brushes are made with Zero-M self-cleaning technology
The long cord is adequate to clean in a single plugging
LED lights help find dirt in dark corners and under furniture
Compact size easily fits under furniture and in between objects
Long warranty (5-year limited)
Click here to see its current price.
Cons
It has no HEPA filter
The suction is not adjustable though strong
It is top-heavy, so it may topple over
Our Verdict
No HEPA filter? Unfortunately, Shark didn't include HEPA filters that are key in capturing up to 99.97 percent of all allergens. However, the explanation could be that it would increase the weight and size of the hand vac.
This omission, however, does not mean that the filtration is bad. In fact, it's only that "HEPA" has become synonymous with vacuum cleaners that we feel it has become a necessity – especially for asthmatic people and allergy sufferers.
Shark APEX DuoClean Zero-M ZS362 has great and consistent suction regardless of the surface type. The only challenge is that it's not adjustable. If you are looking for a powerful, multi-surface vacuum with the newest technology, this is it.
So, all factors considered, this vacuum scores well overall. We recommend it to anyone looking for a powerful, lightweight, 2-in-1, versatile corded stick vacuum.