While in pursuit of efficient, user-friendly and more affordable vacuum cleaners, we have been stumbling upon a few new brands. The other day we introduced you to PUPPYOO T10 Home stick vacuum, this time we present to you the MOOSOO brand.
So, this article will be a detailed MOOSOO Cordless Stick Vacuum Review.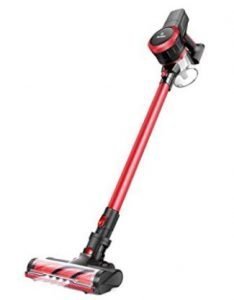 We have your interest at heart so we are only looking for the best vacuum cleaners. These emerging manufacturers seem to have studied the market thoroughly. They have produced a variety of top-notch vacuums at an affordable price. No wonder their names are slowly but steadily changing the trends.
MOOSOO (our latest discovery) has placed a lot of emphasis on the emerging technological advancements. One such technology is the 'brushless motor'. In this review, we explore the MOOSOO K17 cordless stick vacuum. We intend to un-wrap its features, its pros & cons, as well as share our verdict.
MOOSOO Cordless Stick Vacuum Review
Features define to what extent a vacuum will be effective. They also tend to be user-specific and, therefore, this is what you (as a buyer) need to pay close attention to. In this section, we delve into what makes the MOOSOO Cordless Stick Vacuum deserving of your attention.
Multiple surface cleaner
Except for high pile carpets, this vacuum efficiently cleans all other floors. It offers great pet hair and fur pick-up too. It is also good at collecting debris. You may need to slow down a bit when it comes to large debris but the minor particles are picked up quite fast. If the floor head misses the larger debris, you can use the hose to pick it up.
Apart from the floor, this vacuum is splendid during above-floor cleaning. That is, working on upholstery, drapes, and so on. The wand extends to about 3 feet thus enabling you to reach the ceiling, far corners, stairs, drapes, and furniture. It also helps greatly in car cleaning.
Upgraded motorized LED floor head
MOOSOO Cordless stick vacuum uses an upgraded 2-in-1 LED floor head that has a combination of in-built aggressive nylon bristles and softer bristles. The stiff bristles scour the carpet to ensure all debris is picked up. They also combine efforts with the suction nozzle and get rid of stubborn, trapped dirt.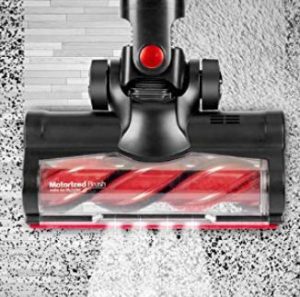 Also, brushless motor technology is thorough but mild. You do not have to worry about scathing your floor. Additionally, the LED lights enhance visibility in every corner of the house.
Battery charged vacuum
The MOOSOO Cordless Stick Vacuum comes with a single, long-lasting detachable battery. On average, it runs for about 30 minutes on Standard mode and around 15 minutes on the Maximum setting.
One minor challenge with the charging system is that you have to charge the battery on the machine. That will inconvenience you if you are in the middle of cleaning. So, this necessitates getting an extra battery if your cleaning time is longer. When you have both batteries fully charged, then you only need to interchange when one dries up.
MOOSOO has also adopted the mountable charging base concept. Here, the fixture doubles up as a charging base and a storage option.
To make your work easier, the manufacturer encloses some mounting accessories. The package contains anchors and screws – 4 pieces each. You will only need the anchors if you are installing the charging base on a concrete wall.
Versatility
One of the most appealing qualities of a good vacuum is the ability to serve many purposes. As mentioned earlier, besides the convenience of being cord-free, this vacuum is a multi-purpose cleaner.
Apart from that, it swiftly converts from a stick to a handheld vacuum and back. This enables you to comfortably reach any part of your home.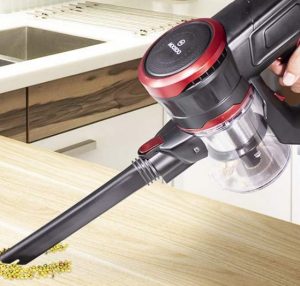 The MOOSOO Cordless Vacuum also prides itself on swivel steering. The floor head freely rotates with minimal guidance so you can reach those tight spots and under furniture. Besides, the vacuum is lightweight and is made with snap-on tools thus making it a choice vacuum for petite or ailing persons.
Therefore, you never have to struggle.
Filtration
Vacuuming can never be complete without effective filtration. MOOSOO Cordless Stick vacuum uses a 4-stage HEPA system (2 x HEPA Filter plus 2 x Screen). This filtration system has been tested and proven to have up to a 99.97 percent success rate in capturing all types of allergens.
The vacuum also uses complete-seal design to seal-in all trapped dust, mites and other allergens. This process ensures no allergens escape back to the air. The manufacturer advises users to replace filters every 2 to 3 months for the vacuum to maintain optimal performance.
Accessories
MOOSOO package comes with the vacuum (K17 model), an alloy tube made of aluminum, a crevice nozzle, an upgraded floor head, a 2-in-1 square brush, and a 2-in-1 cleaning brush. Also, the charging base accompanied by its mounting accessories and wall holder.
The upgraded Moosoo K17 Cordless Stick Vacuum has more attachments. Apart from the original K17 accessories, you get a lightweight aluminum alloy tube, a stretchable hose, and a mini motorized head.
MOOSOO Cordless Stick Vacuum Review: Features & Specs
Below is a summary of all the features and specifications of the MOOSOO cordless stick vacuum:
Type: stick/hand vacuum
Weight: 2.84 pounds
Dimensions: 49.2 X 10.8 X 9.4 (inches)
Filtration: 4-stage HEPA
It's cordless
Charging time: 4 hours
Max runtime: 30 minutes on Max mode
Motor suction: Max 17kpa, Standard 10kpa
Brushless motor technology
LED lights
Wall-mounting bracket for storage/charging
Power: 22.2V/2200mAh
Bagless
Dust cup: 0.4 liters
Noise level: 65dB
MOOSOO K17 Cordless Stick Vacuum Review: Pros & Cons
While there are many positives, no product lacks a few disadvantages. In this section, we elaborate on what we like about this unit, in addition to a few issues of concern.
Pros
Fairly priced
Powerful and consistent suction
Lightweight – great for the elderly, ailing or petite people
Quick and convenient to assemble and take apart
Swivel steering enables convenience while cleaning around furniture and hard-to-reach areas
Relatively quiet – averages 65 decibels
Great convenience with cord-free cleaning
Brushless motors have higher power than brush motors and require minimal maintenance. Also, this new technology has extended life expectancy up to 800 hours
Efficient filtration
Great at hair and pet fur pick-up
It's bagless thus needs no bag replacements
The dust bin is easy to empty and clean
Convenient storage with the mountable charge base
Click here to see its current price.
Cons
30 minutes cleaning time may be too short for a spacious home – you have the option of using a spare battery
It takes 4 hours to charge which is a long time considering charging can only be done on the vacuum. This means you need to schedule your charging time way before cleaning. An extra battery is a better alternative
The dust bin is small especially if you have a lot of dirt to pick up
Our verdict
The MOOSOO K17 Cordless Stick Vacuum ranks highly among the newest cordless stick vacuum brands. We love it because of these three qualities:
Its 2-in-1 brushes enable seamless, thorough cleaning
The filtration is top-notch
It's a quiet vacuum – parents with little children can do all their cleaning while the babies sleep
The vacuum is light yet has great suction and delivers similar or better performance than most high-end gadgets
Other than the listed benefits, the new brushless technology also makes MOOSOO Cordless Stick Vacuum a great choice for any household. Therefore, we recommend it for anyone looking for an affordable yet efficient stick vacuum.