Is it true that corded vacuums have a stronger suction than cordless vacuums? This could either be true or biased anti-cordless propaganda. In our MOOSOO Corded Stick Vacuum Review, we present a little-known yet efficient vacuum cleaner.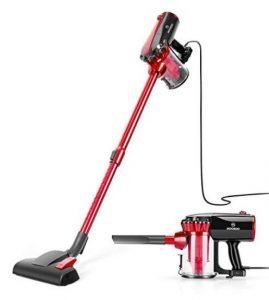 Regardless, the MOOSOO D600 Corded Stick Vacuum is one of the most popular of MOOSOO's products. It has two major appealing qualities. First is the newest brush technology combined with powerful suction. With this, it becomes the to-go-to vacuum.
Secondly, it's made with a rotating brush head which boosts its versatility significantly. Besides this, the advanced 4-level filtration and the extendable tube feature make it user-friendly.
In this article, we seek to review the features that have made it popular in the market currently. We also look at the advantages it has over its peers as well as the disadvantages.
MOOSOO D600 Corded Stick Vacuum Review
Many features make this vacuum compete with well-known brands such as Shark and Dyson.
Filtration
The MOOSOO D600 corded stick vacuum's efficiency is complemented by a great filtration system. HEPA technology records up to 99.97 percent efficiency in allergen trapping.
Once air goes into the vacuum, the larger dirt particles are filtered first, followed by odors. The odors are filtered using a designated carbon filter. Finally, the anti-bacterial HEPA filter works on all the microscopic allergens.
Also, the HEPA filter should be detached and washed often. The same goes for cylinder filtration.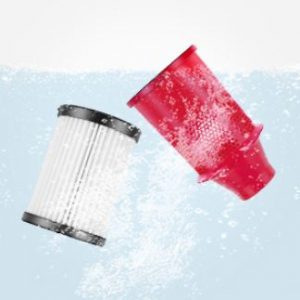 According to the manufacturer, this should be done weekly. However, this may not be strictly followed if you don't clean the house often. Filters require to be left in the open until they are completely dry before re-installing. Additionally, they need to be replaced regularly for the vacuum's optimum performance.
Bagless (uses 0.8-liter dust cup)
Bagged vacuums require that you keep purchasing bags that fit your cleaning schedule. This can be torturous especially in instances where you run out of bags and remember only when you want to vacuum.
With the MOOSOO Corded Stick Vacuum, however, you don't need to worry about that. The vacuum is fitted with a 0.8 dirt cup, which is larger than in most stick vacs. You can vacuum any day and as long as you wish.
The only thing you need to do is to empty the dirt cup before it fills up to maintain powerful suction throughout your cleaning session. After vacuuming, you can remove the dirt cup, rinse it, and re-install it onto the unit.
High powered brush motor
This vacuum also boasts the newest brush motor with fast and powerful motor speeds. Although MOOSOO has recently adopted the brushless technology, they opted to fit MOOSOO D600 with this brush technology.
Nonetheless, the brush has been upgraded and can be trusted to deliver impressive results.
Vacuum accessories
The vacuum's package comes with a crevice nozzle – for hard-to-reach corners and crevices. It also has an adjustable extension tube (this helps when cleaning above-floor areas like ceilings) and a cleaning brush.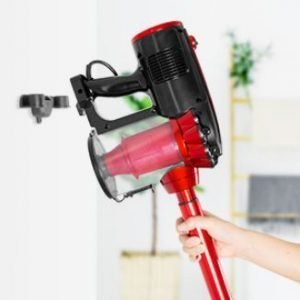 There is a brush head (rotatable), the main motor and the wall mounting bracket. The manual is also enclosed.
Compact storage
MOOSOO provides a wall bracket for storing the vacuum. The package also includes screws and anchors – 3 pieces each. If you will install on concrete, you will require a concrete bit and anchors but if it's wood, you just need the screws.
Flexible extension tube + power cord
You need a tube that extends enough to reach the ceiling, corners, fans, high drapes and under furniture. MOOSOO D600 provides a tube adjustable between 19 to 31 inches. So, regardless of your height, you will reach all corners of your home.
The power cord also adds to the convenience. It's 17ft long. This is more than sufficient for a standard home. If not, you will only need to unplug once or twice to cover the whole house. Alternatively, you can make use of an extension cord.
Versatile and lightweight
Versatility is one of the best features of the MOOSOO corded stick vacuum. I am sure you don't want a vacuum whose accessories consume your cleaning time. Attaching and detaching these accessories is stress-free.
The vacuum also easily switches from a stick vacuum to a handheld vacuum in the blink of an eye.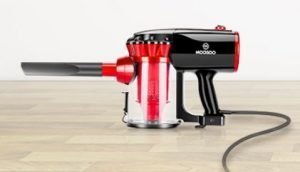 While in handheld mode, the device weighs 2.8 pounds only. Therefore, you can even operate it with one hand and interchange at will. This is also a plus especially for the elderly or ailing persons because you don't require a lot of energy to operate it.
Lastly, the vacuums rotating brush head plus its accessories enable you to clean various surfaces including furniture and cars.
MOOSOO Corded Stick Vacuum Review: Features & Specs Summary
Here is a summary of all you need to know about this interesting cleaner:
Type: stick/hand vacuum
Total weight: 3.3 pounds
Dimensions: 50 X 8.7 X 9.8 (inches)
Filtration: 99.9% efficiency 4-stage filtration (cylinder, cyclone, sponge, HEPA)
Power cord: 17 feet
Extendable tube: 19-31 inches
Rotating brush
New technology brush motors
Power: 500W
Voltage: 60Hz 4A 120v
Bagless
Dust cup capacity: 0.8 liters
Noise level: 80dB
MOOSOO Corded Stick Vacuum Review: Pros & Cons
Every vacuum has its shortcomings as well as advantages. Let's have a look at MOOSOO D600 pros and cons.
Pros
Strong suction
Well priced for its quality of work
Very light – it's a perfect choice for petite, ailing, and elderly people.
Easy to clean under furniture and around the house owing to the vacuum's rotating head
The adjustable tube also helps to reach the ceiling and other above-floor areas
Substantial dirt capacity
The dust cup is easy to empty and clean
Effective (4-level) filtration
Click here to see its current price.
Cons
Not suitable for carpets or area rugs due to its strong suction
The power cord is not ideal for large rooms
Maintenance of MOOSOO D600 Corded Stick Vacuum
The obvious routines like emptying the dirt cup before it fills up will ensure that this vacuum lasts long. Besides, the manufacturer advises that the filters should be washed weekly – depending on the extent of use.
The filters also need to be replaced frequently. Worn out or clogged filters will result in inefficiency and contamination of the indoor air.
Our verdict
Among the emerging brands, MOOSOO has some of the best stick vacuums in the market, both cordless and corded. We're torn between these options because both are equally good. The MOOSOO cordless version has a brushless motor which makes it somehow more popular.
Another concern about this vacuum is that it's not suitable for carpets. So, if your home is carpeted, you may need to check out another vacuum.
Either way, the MOOSOO corded stick vac is a great vacuum to buy. Its suction is epic and it's quite versatile. It has also proven that you don't need to have a high-end vacuum to pick up dust, dirt, and debris effectively. It's able to pick all types of debris and when it comes to above-floor cleaning, it's unbeatable.